Do Your Siblings Have to Be in the Wedding Party?
Keep scrolling for expert insight and advice.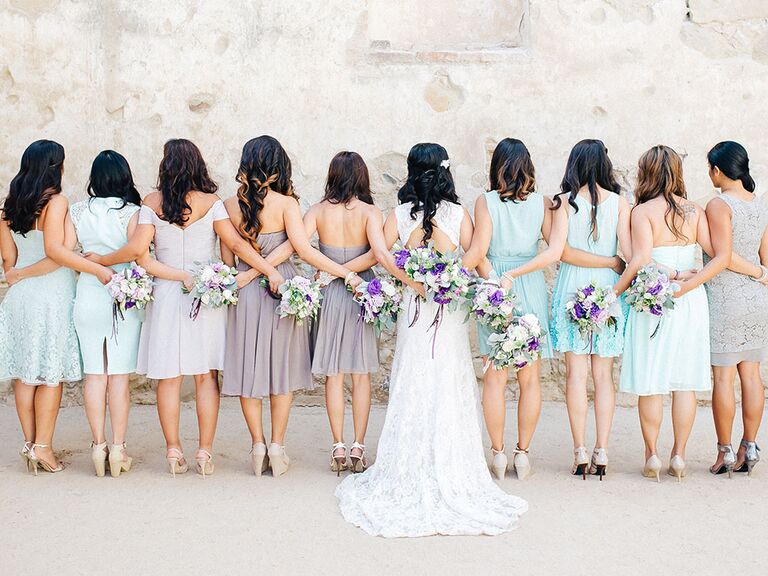 Shutterstock
Sure, wedding planning is exciting, but it can certainly feel overwhelming at times—specifically when it comes time to finalize members of your wedding party. And, if you or your soon-to-be spouse have brothers or sisters, you may be wondering if your siblings have to be included in the wedding party.
The short answer? No. Depending on your relationship with your siblings, you may or may not want to include them as bridesmaids, groomsmen, bridesmen, groomsladies and the like. And even if you opt against having siblings in the wedding party—for whatever reason—you can still include your siblings in the festivities.
Below, we're covering everything you need to know about including siblings in the wedding party, different roles you can offer them instead, and additional advice to ensure things go as smoothly as possible, without a hitch (pun-intended!).
Do Siblings Have to Be in Your Wedding Party?
"While it can sometimes feel like you should include your siblings in your wedding party, it is definitely not a requirement," says Jamie Chang, destination wedding planner and owner of Mango Muse Events in Los Altos, California. "Choosing siblings to be in your wedding party is a choice based on your relationship with your siblings and if they are who you want by your side."
In short, this ultimately comes down to the relationship you have with your sibling(s) and whether or not you want them to be in your wedding party—and whether or not you want a wedding party at all. And, remember, that's a decision only you can make.
However, if you think that not including your siblings in your wedding party would cause a significant uproar among your family members, you might want to include them. If you still don't want to include them, be prepared to explain your reasoning repeatedly to curious guests.
How to Tell Siblings They Aren't in Your Wedding Party
First things first, explains wedding planner Claudia G. de Velasco of A Day To Remember in Houston, Texas: Be open and honest with your siblings about what's going through your head. After all, communication is key!
If your sibling seems upset by your decision, Chang recommends calmly sitting them down, explaining your choice, and offering reassurance by reminding them that you'd still love for them to play an important part in your special day.
How to Include Siblings in Your Wedding Party
"If you decide to include your siblings in your wedding party," says Chang, "you'll want to treat them similarly to your friends/other wedding party members." And, per the pro, this includes what you're paying for and what they're involved in. With this in mind, Chang advises making your sibling(s) a part of the group instead of communicating or reaching out to them separately.
Conversely, it's essential to remember that being a member of the wedding party is a huge responsibility, which is why you want to be transparent with your siblings about etiquette, expectations, responsibilities and obligations (including financial costs). According to de Velasco, "Do not be offended if they can't commit, and don't pressure them to be in your party just because they are your sibling!"
Wedding Roles for Younger Siblings
If you have younger siblings who are under 18—and you aren't quite sure how to make them a part of your big day—we've got a few ideas ahead.
Firstly, wedding planner Tara Fay of Tara Fay Events recommends putting your younger sibling(s) in charge of the photo list to assist the wedding photographer since they know who everyone is. "And, of course," she continues, "flower girls and ring bearers are always adorable, too!"
If your younger sibling is too old to be a flower girl or ring bearer, consider making them a junior bridesmaid or groomsman. That way, says Chang, they still feel included—even though they don't need to do much until the actual day of the wedding.
Other Ways to Incorporate Siblings on Your Wedding Day
Keep in mind that just because your siblings won't be in your wedding party doesn't mean they still can't take part in the fun. In fact, there are still several ways to include siblings in the wedding, such as making a toast, doing a reading at the ceremony, or escorting your grandparents/elderly family members down the aisle.
If none of those roles don't feel right to you, Chang advises that you take some time to reflect on their strengths and best include them in a way that is "happy and comfortable for you both." Similarly, don't be afraid to get creative or think outside the box: For example, says de Velasco, "maybe your [younger] sibling is a musician or has an amazing voice—they could perform at your ceremony or reception."
Additionally, according to de Velasco, some couples may opt to have their sibling perform a reading during the wedding ceremony. Or, if you have lost a parent, consider having your sibling step in and escort you down the aisle. You can also ask them to share a special dance with you at the reception.