7 Fresh Wedding Registry Trends You're About to See Everywhere
Say hello to creative cash funds and experiential gifts.
We have included third party products to help you navigate and enjoy life's biggest moments. Purchases made through links on this page may earn us a commission.
It's no secret that wedding trends evolve year after year. Now, nuptials are more value-oriented than ever: couples are opting for lavish decor, other-wordly venues and individualized experiences that make their big day a highly-customized celebration of love. The same is true of wedding registry trends too. As we emerge from the pandemic, the wedding day itself isn't the only aspect of getting married that's changed for the better. With a renewed focus on homemaking and experiential presents, the latest wedding registry trends are all about gifts that will truly enhance newlywed life.
So, what are the 2022 wedding registry trends you need to know? We've tapped industry experts to share the lowdown on what's to come. Read on to learn about the seven wedding registry trends you're about to see everywhere.
All-in-One Wish Lists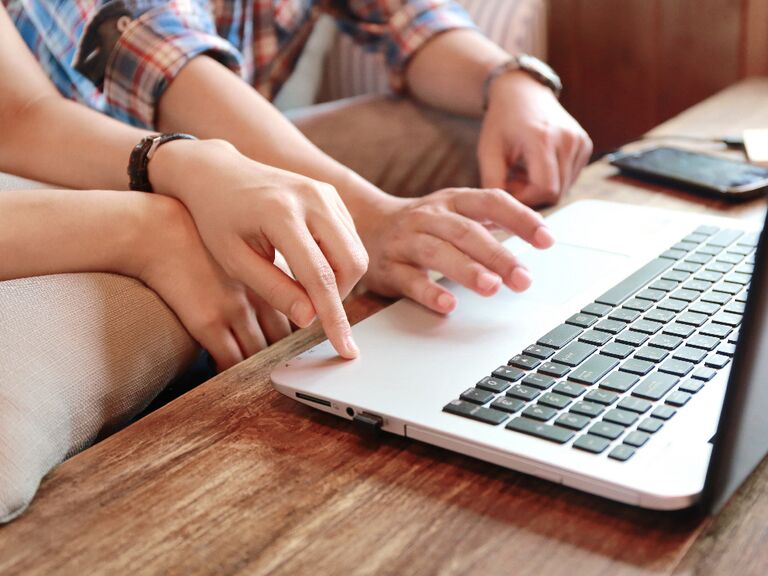 Perhaps the biggest 2022 wedding registry trend is the push toward all-in-one registry tools. Wedding etiquette previously indicated that it's common for couples to set up two to three registry lists to encompass all of their present ideas. But thanks to universal tools like The Knot Registry, there's no need to direct guests to multiple sites when all of your gift requests can live on one, shoppable list. "While registries at a national retailer continue to make up the majority of registry activity, we have seen couples increasingly adopt all-in-one registry programs," explains Steph Whitacre, VP of Merchandising at The Knot Worldwide. "According to The Knot 2021 Registry Study, 37% of couples chose to create a registry with an all-in-one registry program, up from 31% in 2019. Couples are looking for a simple and easy place to create, manage, and share their registry, and an all-in-one registry destination is a convenient way for couples to add products from different places and brands all in one place."
By making your wedding registry on a site like The Knot, you can house every gift idea in one list, from linens to outdoor furniture to cash funds and even gift cards. And, thanks to The Knot Registry Store, guests can purchase items from our website without ever leaving—how's that for ultimate convenience?
An all-in-one service simplifies and streamlines the entire registry process from start to finish. So, not only is it easy for you and your S.O. to keep track of your gifts it's even easier for guests to find a great present they can't wait to give you. And thanks to all the time saved by using a universal registry, you can focus your attention to standout wedding details, like personalized charcuterie boards for cocktail hour or an unforgettable after-after party.
Travel Gifts
After spending the majority of 2020 at home due to the pandemic, couples are looking to make up for lost time. With vaccinations ramping up, the travel industry—both domestic and international—is bouncing back. As a result, 2022 will bring an increase in travel-related registry gifts, from pre-planned experiences to sleek luggage accessories that make flying a breeze.
"Travel gifts are great for all couples, but especially for those that already have those 'traditional' gifts at home," says Simon Rodrigues, Director of Sales & Marketing at Chatham Bars Inn in Massachusetts. Those that won't benefit from extra linens in the closet, for example, may rather be gifted cash funds for a spontaneous weekend getaway or packing cubes for easy organization on their next vacation.
When it comes down to it, any travel-related gift will help couples intentionally set aside time to get away and create new experiences together. Because, as easy as it is to talk about vacation aspirations, a travel-specific gift will help to-be-weds put their plans into motion. "Travel gifts are special because they virtually make the decision for the couple," explains Bill Foster, Regional Director of Marketing for Pelican Grand Beach Resort in Florida. "Time away together is so important—but with a travel-related gift, the trip will actually happen."
Elevated Homeware
While traveling is now a top priority for to-be-weds, there's also a newfound focus on elevated homeware items. As one of the resounding wedding registry trends to come from the pandemic, this one is here to stay. Even as non-traditional gifts rise in popularity, like cash funds and experiences, couples that do want to register for traditional items like decor, cooking appliances or serveware will opt for high-end, elevated pieces that will stand the test of time—and spark a conversation or two.
"Couples are starting to embrace the idea of planning their weddings with purpose and meaning, doing things their way instead of following a trend," says Federika Longinotti Buitoni, registry expert and founder of lifestyle marketplace Collecto. "We're seeing this happen with registries as well. Instead of registering for more traditional tabletop items, couples are looking for unique brands that are not readily available in common stores."
And while some registry gifts will never go out of style (like a standing mixer or a robot vacuum), 2022 will welcome an increased demand for entertaining gifts that bring couples and loved ones together, like elegant glassware, serving dishes and decorative tabletop accents. "Great memories and experiences can be created at home, so we encourage couples to think about their tabletop in unique ways, selecting both versatile and statement pieces that will really make their space stand out from the rest," Buitoni explains.
Experts also predict that couples will register for high quality gifts that'll last long into their marriage. "When choosing registry items, couples are essentially building out their home with pieces that will inhabit their space for the life they're creating together," says Maximilian Riedel, CEO and President of crystal glassware brand Riedel. "It's imperative to invest in high-quality pieces that will last for years. Having pieces you're proud of—and enjoy pulling out for guests—is so important."
Nature-Driven Experiences
In keeping with travel-themed presents, experts predict that couples will prioritize nature-driven experiential gifts in 2022. "Vacations are becoming more about substance and less about flashy experiences," says Jason Dauble, General Manager at Skyline Lodge Highlands in North Carolina. "In relation to the pandemic, travelers feel safer in small towns away from the hustle and bustle of cities. We're particularly seeing travelers gravitate towards smaller mountain towns where the air is fresh, the breeze is in the trees and there are nature activities, like hiking or mountain biking, that offer visitors something to do outside of shopping and eating or drinking indoors." Adds Whitacre: "Experience gifts play into a common theme we've been seeing on the rise: According to our 2021 Registry study, 33% of couples are saying they don't need more things and prefer more non-tangible gifts like experiences and cash. And, after over a year of uncertainty, we're finding that couples are more excited than ever about being able to travel and experience the great outdoors."
Thanks to new gifting options offered by The Knot Registry, it's easier than ever to register for experience gifts. Our curated offerings allow couples to register for pre-planned excursions that take the work out of planning a special trip. When guests contribute to an experience gift on The Knot Registry, the gift will be delivered in the form of an e-gift certificate that can be redeemed at the couple's convenience.
This revolutionary technology makes it easier than ever for couples to enjoy quality time together without the hassle or stress of planning it on their own. And, whether you're a seasoned international traveler or you tend to stay close to home, everyone can benefit from shared travel experiences early in newlywed life. "It's important to prioritize travel early on in marriage, especially beyond the honeymoon," Rodrigues adds. "This allows couples to connect on a different level while providing the opportunity to strengthen their relationship through amazing memories that will be cherished forever."
Ultra-Personalized Cash Funds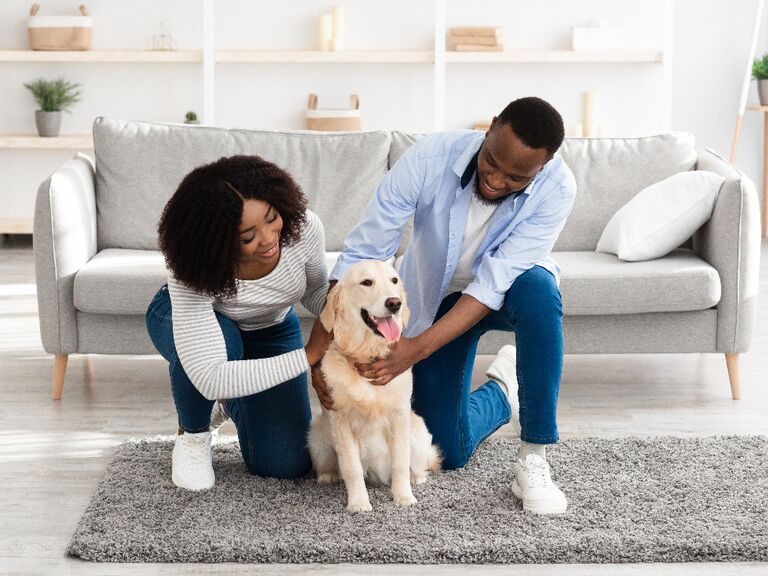 Registering for cash isn't a new phenomenon. In recent years, the popularity of cash fund registries has skyrocketed, especially because asking for money is no longer considered taboo. Couples are encouraged to register for the wedding gifts they truly want most. And since money is perhaps the most versatile gift out there, 2022 will include a shift toward ultra-personalized cash funds.
Cash wedding gifts are most often associated with honeymoons. And, while couples will continue to register for money to support their postwedding vacation, they'll create additional funds for other necessary investments too. There are no rules when it comes to what you can use cash wedding gifts for: those who want to buy a new house might create a cash fund for a down payment, aspiring pet parents can make a cash fund to cover adoption fees, or couples who want to start married life with financial independence may opt to create cash funds to cover student loan payments or pay off remaining debt.
Cash funds can be used to cover more exciting expenses too, from athletic season ticket passes to joint cooking classes or even tech subscriptions. (That monthly HBO Max fee won't pay itself, after all.) The sky is truly the limit when it comes to what cash funds can be used for. And with a refreshed focus on planning for marriage, rather than just the wedding day, couples will be intentional about registering for cash funds that'll fit their lifestyle needs.
Creative Gift Cards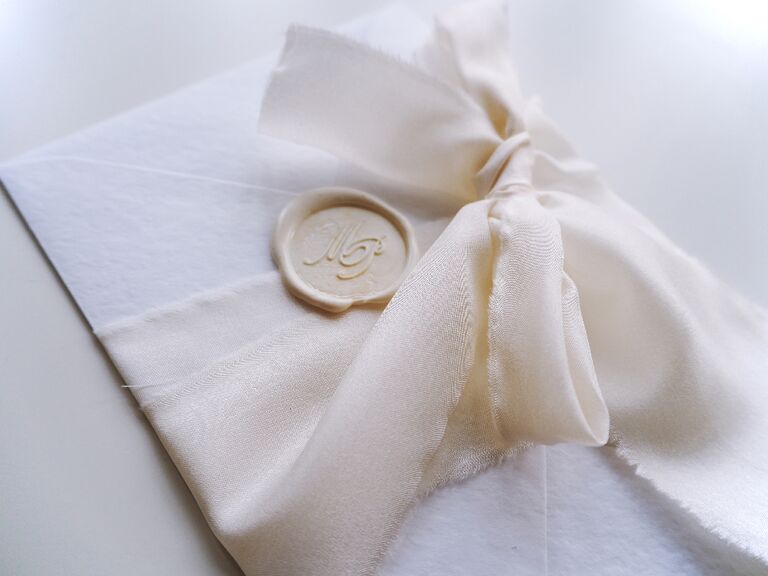 Believe it or not, registering for gift cards is definitely a thing–and it's going to be one of the biggest wedding registry trends for 2022. Those who live together before getting married may not find a need for traditional registry items, especially if they've already accrued the essentials over the years. Or, if you find yourself in a small space without tons of extra storage, it may seem superfluous to register for objects that won't fit in your cabinets. Enter: gift cards. "Although most couples see the benefit of asking for cash, among those who didn't register for cash, over 50% said they didn't feel comfortable asking for money and 40% weren't sure of the etiquette around asking for cash," Whitacre explains. "Gift cards are a happy medium between having the freedom for couples to utilize their gifts in their everyday lives while still giving guests the sentiment around gifting something personal."
While these e-gifts might seem like an unlikely registry addition, it couldn't be farther from the truth. Gift cards allow couples to ask for dedicated funds for the experiences and activities that mean the most to you. If you're planning a postwedding home renovation, for example, you can easily register for a HomeGoods gift card to purchase items you'll eventually need for your kitchen remodel. Or, if you and your S.O. love taking cross-country road trips, you can register for Airbnb gift cards to cover your lodging needs.
You might wonder if there's really a difference between gift cards and cash funds. Ultimately, while both are delivered in the form of e-funds, gift cards come with a bit more personalization than cash funds. While a guest can contribute any amount of money to a cash fund, they often like to know how their donation will be used—and a gift card gives them clarity on exactly what their gift will go toward.
Lifestyle Gifts to Enjoy Together
In keeping with the idea that registry gifts will be more personalized than ever, lifestyle-centric items that can be enjoyed together will be a top priority for to-be-weds. Because, while a brand new set of pots may be a vital kitchen addition, it's not necessarily a gift that can be enjoyed together. And as couples register with intention, they'll select items that complement their specific wants and needs. "When we get married, we all have the same goals: cultivating a relationship that will stand the test of time," reflects Jen Cohen Bogan, founder of Bluejay Bikes. "Gifts that reflect longevity get to the core of what a wedding is all about, which is the celebration of the beginning of a life together."
Bogan, whose company produces eco-friendly electric bicycles, predicts gifts that serve a purpose and can be enjoyed together will be on the top of registry wish lists. "People don't want a lot of clutter or products they may never use in their house, because no one has space for that," she explains. "There's more of an emphasis on spending quality time, having an experience and building memories. Riding bikes, for example, is a fun way for couples to break out of their normal routines and explore new territory."
While a bicycle might not be the first thing that comes to mind when you think of traditional wedding registry gifts, similar additions will rise in popularity as couples curate wish lists that reflect their needs and wants. In fact, intentionality is one of the top trends to come from the pandemic that's here to stay—especially on registries. "We have all realized that life is precious and we can't waste a moment," Bogan says. As a result, these registry trends will fit couples' niche desires to craft a newlywed life that's as unique as their relationship.