9 New Wedding Registry Trends to Inspire Your Wish List
Here's how couples are getting creative with their wedding gifts.
When it comes to things like fashion, stationery, decor and even food, you probably expect a bunch of new wedding trends every year. But what about wedding registry trends? This huge part of the planning process is just as full of surprises. Continuously evolving year after year, the wedding registry space is certainly something to keep an eye on. We're predicting lots of exciting new trends in 2023, from changes to how couples are registering to the things they're actually registering for. With a renewed focus on the future, individuality and home comfort, the latest wedding registry trends are all about finding the best wedding gifts for life beyond the newlywed phase. Keep reading to get the freshest inspiration for your wish list, confirmed by experts at The Knot Registry.
Everything in One Place
In 2023, registering for a wedding is easier than ever before. One of the fastest growing trends is the move toward all-in-one registry tools. If you're not familiar, universal registries— like The Knot Registry—let you consolidate all your wish lists in one convenient place. Nowadays, more and more couples are taking advantage of this clever technology to make the process of selecting and purchasing wedding gifts a simple one. It's a win-win for you and your guests.
By making your wedding registry on a site like The Knot, you can house every gift idea in one list, from linens and outdoor furniture to cash funds and even gift cards. Thanks to The Knot Registry Store, guests can purchase items from our website without ever leaving. But you're also free to sync any other registries you have and add items from different online retailers. How's that for ultimate convenience?
Interiors in Color
This year, couples are making a splash in their homes by choosing colorful items that exude joy and individuality. There are a few reasons why this trend is taking off. "Vintage designs like Depression glass and colorful glassware from brands like Estelle Colored Glass have become more popular among our couples," says Sam Kaplan, Category Manager, Registry at The Knot Registry. The increased popularity of vintage-inspired pieces has led soonlyweds to bolder, brighter design choices.
But vintage lovers aren't the only ones embracing this wedding registry trend. "As couples spent more time at home we have seen a shift from the traditional registry of formal entertaining tableware to more unique colorful tableware that can be used on a regular basis," says Kaplan. Since the start of the COVID-19 pandemic, the way we see and function in our homes has changed. Couples are consciously selecting homeware that adds cheer and personality to their space, while also serving a practical purpose.
Registering for Revenge Travel
Spending the majority of the 2020s at home hasn't just changed the way couples are living day-to-day. It's also led to a significant increase in the desire to get out there and explore—a trend that's been dubbed "Revenge Travel." So, how has this trend rolled over into the registry space? Ultimately, couples aren't just registering for their weddings anymore; they're also registering for their honeymoons.
"We have seen a rapid increase in couples opting for an international honeymoon experience," shares Kaplan. "Couples who have previously lived together typically aren't in need of as many physical gifts and have been opting to curate their honeymoon with experiences like A Foodie Tour Across Naples, Italy or a Waterfall and Hot Spring Tour in Costa Rica," the registry expert shares.
The Knot Registry Store has plenty of cool experiential wedding gifts to choose from. You also have the option to create a cash fund for honeymoon expenses and activities, so registering for revenge travel is a breeze.
Proud Pet Parents
"One of the most delightful things that happened in 2020 and 2021 was the record-breaking amount of pet adoptions," says Kaplan. Fast forward to 2023, and those furry friends are making an impact on how to-be-weds are registering for their big day. Engaged pet parents are making sure their fur babies are taken care of when it comes to curating the perfect wedding gift wish list.
The Knot Registry's selection of pet-friendly gifts continues to grow. According to Kaplan, more couples are including their pets in their wedding celebrations by adding gifts like the Smart Automatic Pet Feeder to their registry. You can also add everyday essentials to your wish list (ahem, poop bags) or embrace the revenge travel trend by registering for a stylish pet carrier.
Making Outdoor Entertaining Essential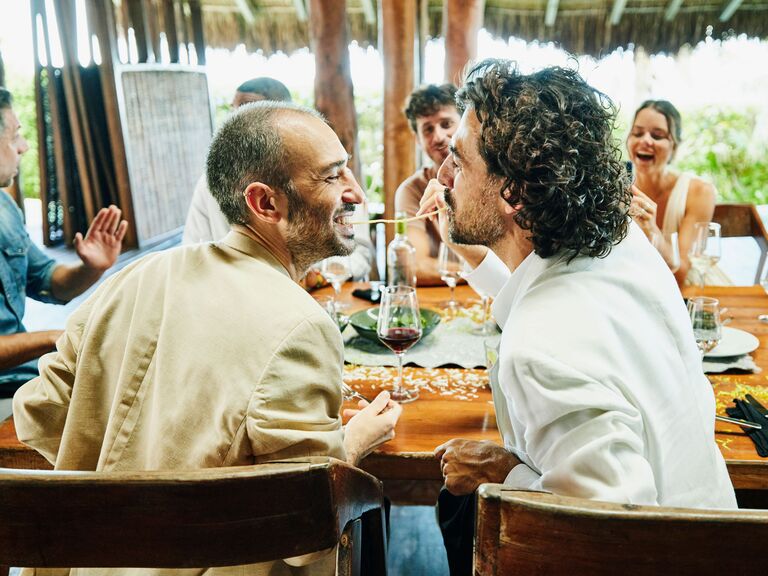 Pandemic life didn't just bring about a newfound appreciation for home interiors, it also highlighted the importance of outdoor spaces. As we head into 2023, Kaplan explains that the outdoors is becoming an extension of couples' homes, making for another fun wedding registry trend. Couples are now able to share those outdoor spaces with their nearest and dearest, leading to a rise in registering for outdoor entertaining. Items like outdoor furniture, fire pits, projectors and more are fast becoming essentials on wedding gift wish lists.
Smart Registries for Smart Homes
Don't get us wrong—antique-inspired registry items like colored glassware are definitely having a major moment. But that doesn't mean couples are dedicating their entire wish lists to achieve a vintage aesthetic. Many of the latest wedding registry trends fully embrace modern life. One example is the increased interest in creating a smart home.
"With the advancement of Bluetooth and wireless technology couples are becoming more connected and are looking for new and innovative ways to control parts of their homes remotely," says Kaplan. "We have seen an increase in popularity among our couples to upgrade and automate their homes in areas of lighting, climate, entertainment systems, appliances and home security," she explains.
Focusing on the Future
Soonlyweds aren't just registering for the future by embracing the digital age. They're carefully considering other practical needs both in their homes and relationships that'll crop up in the future. As Kaplan puts it, "Couples spend months and months planning for their big day and after the party settles there is still more that our couples need to plan for."
The Knot Registry Store is chock-full of gift card options that'll help you embrace this trend and your unique needs as a couple. For anyone who plans on changing their name after the wedding, a HitchSwitch gift card is your best friend. "Our soonlyweds are also registering for gift cards from places like Airbnb and Delta that can be used for their next adventure or stores like Home Depot and HomeGoods that help put the finishing touches when upgrading their homes," says Kaplan.
Supporting Brands With a Mission
One of our favorite wedding registry trends of 2023 (and beyond!) is the way couples are consciously choosing which brands make the cut for their wish lists. It's becoming increasingly important for every aspect of the wedding to reflect a couple's values. From choosing eco-friendly stationery to planning your menu around local produce, there are lots of ways to plan a celebration that's built on your beliefs. Kaplan explains how you can use your registry at The Knot to support brands with a mission and honor those values.
"Our team at The Knot has a continued focus to seek out brands that have a goal of reducing their carbon footprint and paying it forward with Give Back programs that support local and political causes," says Kaplan. "Brands like Our Place use zero bubble wrap or plastic and have packaging that is made of biodegradable and recyclable boxes." She also highlights Brooklinen, a bed-and-bath company that partners with Good360 to distribute returned products to donation centers.
Making Luxury More Relaxed
Couples are putting more time and energy into carefully curating their homes with items that foster style and comfort in equal measure. In 2023, this means choosing wedding gifts that bring luxury a little closer to home. Luckily, it's now easy to get your hands on premium-quality hotel-style sheets thanks to the increased popularity of bed-and-bath start-ups, says Kaplan.
"The rise of ultra-cozy fabrication achieves that laid-back, rumpled, yet still intentional look for your bed," she continues. Basically, you get luxury linens with a relaxed finish that feels a lot homier than stiff hotel sheets. Couples are looking to brands like Coyuchi to bring a subtle dose of luxury to their bedrooms, bathrooms and even kitchens.