Everything You Need to Know About Getting Married in Oregon
Look to The Knot for local details about getting married in Oregon, from choosing your wedding venue to getting your marriage license.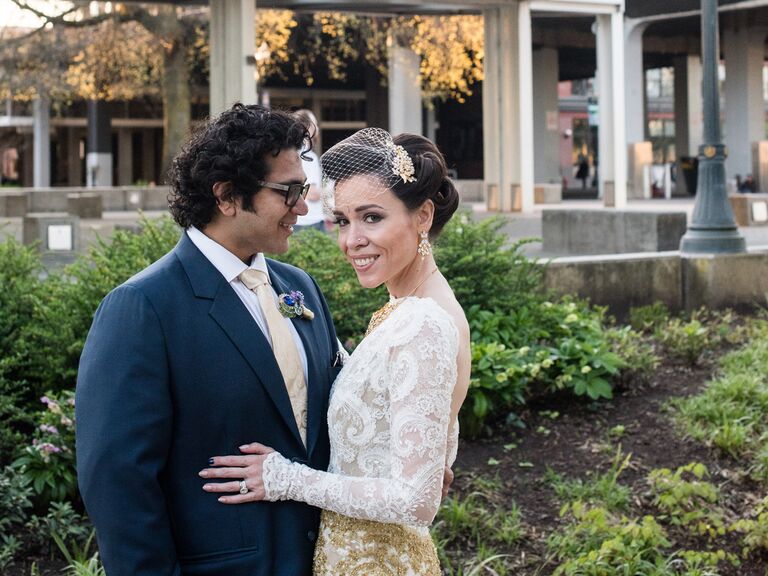 Powers Studios
Ultimate Guide to Getting Married in Oregon
Independent Oregonians are proud of their state's motto, "Alis Volat Propriis," which translates to "She flies with her own wings." Located in the Pacific Northwest, Oregon is one of three states in the contiguous United States bordered by the Pacific Ocean. The Oregon landscape offers much diversity, from beaches and coastal rain forests to southeastern deserts. Visitors come to Oregon to enjoy its beaches, mountains, forests, lakes, rivers and waterfalls. Because of the abundance of natural beauty, Oregon is an ideal place to be married. A plethora of Oregon wedding venues offer unique indoor and outdoor options for engaged couples. Follow your wedding checklist to make sure everything is done on time.
Top Wedding Trends in Oregon
Wedding trends in Oregon depend on the location. Couples who want to get married on the coast often opt for a bohemian, toes-in-the-sand affair, while those who choose a desert setting may enjoy a country-chic theme. Some Oregonians veer toward a romantic garden atmosphere, while others inspired by the environment prefer a sustainable woodland theme. From Ashland to Portland and all points in between, Oregon wedding venues offer something for every couple.
Popular outdoor sites in Oregon include private estates, public gardens, golf courses, farms, resorts, ranches, orchards and vineyards. A wedding cruise also makes a popular, scenic choice for a celebration. Equally popular—and beautiful— indoor wedding venues in Oregon include churches, chapels, hotels, museums, event centers, lodges and bed-and-breakfast inns. Barn wedding venues in Oregon are also favorites for rustic receptions.
Oregon Marriage Rates and Wedding Costs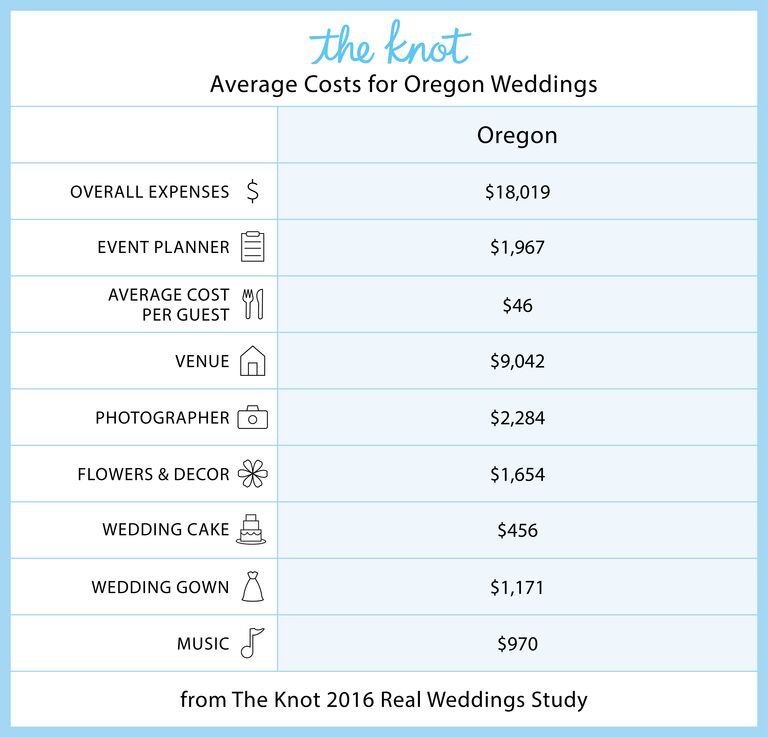 Planning a wedding can be a lot of fun, but affording it is another story entirely. No matter which type of wedding venue you choose or what type of theme fits your personalities, make sure you've created a budget and that you're sticking with it. The Knot Budgeter can help keep you on track! But before you take that important step, here's a little background info on how many couples are tying the knot in Oregon, plus what you can expect to pay for common wedding costs, as reported by The Knot 2015 Real Weddings Study.

Oregon Marriage Stats
So how many couples are actually getting married in Oregon? Turns out that marriage rates are the exact same as the national average at 6.8 per 1,000 people When it comes to Oregonians' preferred wedding style, our study shows the majority of couples prefer a semi-formal event (62 percent). Casual weddings rank at 29 percent, and just 6 percent of people getting married in Oregon opt for a formal affair.
Budget Breakdown: Average Costs for Oregon Weddings
According to Oregon couples surveyed, the average total cost for an Oregon wedding in 2015 was $20,456 (excluding honeymoon expenses), with the price per guest averaging $186. Getting a sense of what you'll pay for your wedding day expenses will make it easier to budget and negotiate with vendors. The data above taken from The Knot 2015 Real Weddings Survey gives a good breakdown of the costs Oregon couples might plan to spend.
Top Cities in Oregon to Tie the Knot
You can find a number of ideal wedding locations in Oregon spread throughout the state. Three cities that attract many Oregon residents and non-residents alike include:
Make It Legal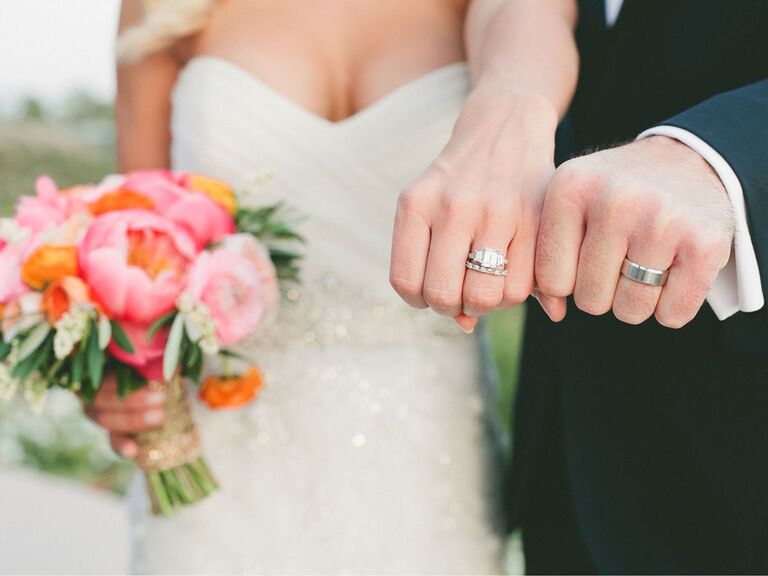 While we hope that planning your wedding feels like it's filled with fun events like cake tastings and finding the perfect DJ or band, there are some strings attached to tying the knot in the Beaver State. Understanding the ins and outs of not only getting your Oregon marriage license, but also taking care of details like permits and changing your name(s), is equally important in the weeks and months leading up to saying "I do."
Getting an Oregon Marriage License: The Basics
You do not have to be a resident of the state to get an Oregon marriage license, and no blood tests are required. There is a three-day waiting period before use, and an Oregon marriage license is valid for 60 days.
Marriage licenses are issued through the County Clerk's office in any Oregon county, and many allow couples to fill out an application in advance online. Both individuals must be present when the license is issued, and the fee varies depending on the county (typically a $60 cost). Oregon law requires at least two witnesses over 18 years of age be present at the wedding ceremony.

To obtain a marriage license, the state requires the following information from each individual:
Address
Date of birth
Birthplace
Father's name
Father's birthplace
Mother's maiden name
Mother's birthplace
Age Requirements
People 18 years of age and older may get married in Oregon. Individuals who are 17 years of age may get married in Oregon with signed consent from a parent or guardian.
Permit Requirements for Oregon Wedding Venues
According to Oregon law, weddings and other events that feature a cash bar require a temporary liquor license. Some communities (like Oregon City) also require the issuance of city permits for special events such as a wedding. When obtaining a city permit in Oregon City and other such communities, applicants may be required to show:
Park reservation forms if the Oregon wedding venue is a city park
Any plans for street closure or traffic control
A certificate of insurance that releases the city from liability
Approval by the city's county
A permit from the Oregon Liquor Control Commission
A temporary restaurant license and food handler certificate
Individuals Who Can Solemnize Oregon Weddings
In addition to the license, you must also find an officiant for the wedding who will solemnize the marriage and file the associated paperwork with the county afterward. Weddings in Oregon may be solemnized by:
An Oregon judicial officer
A county clerk
A member of the clergy of any religious organization or congregation
Name Change
Changing your last name after marriage is free if you are prepared to do the legwork. The Social Security Administration is a good place to start. Printing out an application from the SSA website results in a new social security card within a few weeks. Just take or mail the application, along with the required documentation, to the local Social Security Administration office.
This card is a must-have in getting a new driver's license at the Department of Motor Vehicles. Both new forms of identification help change names on bank accounts, passports and credit cards.
Other important entities to notify about a name change include your company's payroll department, voter registration, USPS, insurance and utility companies. To make the name change process hassle-free, check out HitchSwitch professional name change service or follow our simple guide to changing your name.
It's All About Timing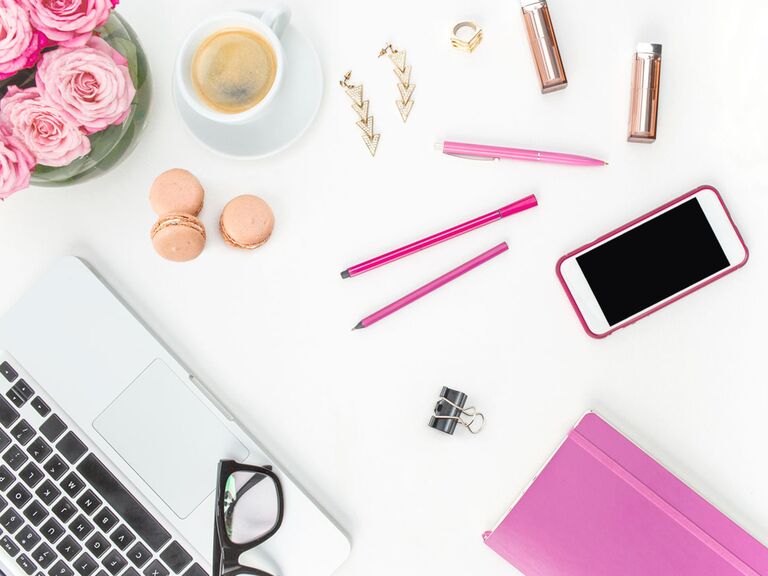 Generally, Oregon is thought to be warm considering its northern latitude, but climate varies depending on location. The southwestern part of the state has a climate resembling Northern California, which features arid, sunny winters and hot summers.The northeastern part of Oregon has a semi-arid climate, with the high-elevation areas delivering long, cold winters and short, cool summers. Average Oregon temperatures in the fall and winter range from 34-49 degrees. Spring temperatures average 47 degrees, and Oregonians experience 2-3 inches of rainfall during this time.
With average temperatures ranging from 56-78 degrees and an average rainfall of 0.6 inches, many couples consider July to be the best month to get married in Oregon. According to The Knot 2015 Real Weddings Study, 53 percent of people who get married in Oregon prefer a summer wedding, and 32 percent opted for a fall wedding, while a small minority chose winter or spring festivities.
Oregon Wedding Dates to Avoid
Depending on where you get married in Oregon, there are some important dates you may want to avoid in order to make sure that your wedding guests are comfortable and can easily find a place to stay. Ask your wedding planner or venue for tips about how to avoid major traffic times or local events that might make your wedding weekend more difficult for guests and more costly for you.
If you're on a tight budget, try to avoid common national holidays and busy weekends that tend to inflate the cost of everything! (We cover these dates for 2016-18 in our comprehensive guide). Additionally, here are some popular local events you may want to note for 2017:
Portland Jazz Festival, Portland (mid-February)
Newport Seafood and Wine Festival, Newport (late-February)
Cinco de Mayo Fiesta, Portland (early May)
Portland Rose Festival, Portland (late May - early June)
Oregon Garden Brewfest, Silverton (mid-June)
Waterfront Blues Festival, Portland (early July)
Oregon Brewers Festival, Portland (late July)
Oregon State Fair, Salem (late August to early September)
Feast Portland, Portland (mid-September)
Oktoberfest, Mount Angel (mid-September)
Portland Marathon, Portland (early October)
Great Guest Experiences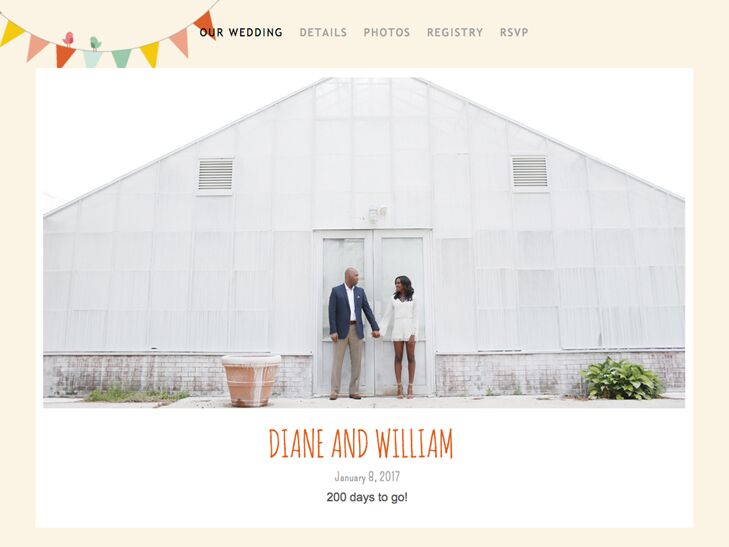 Helping your guests feel comfortable and welcome is one of the key ingredients to wedding success. With such a wide variety of unique wedding venues in Oregon, there are so many places for a celebration that is a true reflection of your couple style while also making it fun for your friends and family. No matter where you choose to get married, giving your guests a great experience starts with you creating your very own wedding website. It's a great way to keep everyone connected and informed.
Finding Your Way: Oregon Travel Info
PDX in Portland is Oregon's largest airport, providing nonstop domestic flights to a variety of locations. The Eugene airport offers commercial service to six counties in the central part of the state, and Oregon residents also enjoy commercial service by airports in North Bend, Pendleton, Medford and Redmond.
Residents and visitors appreciate the many public transit options including train, bus and light rail. Areas served by public transit include Central Oregon, Eastern Oregon, Southern Oregon, Corvallis, Eugene, Portland and Salem. Three interstate highways—I-5, I-84 and I-82—and a grid of federal and state highways makes travel by car relatively easy throughout the state.
Around Town: What to Do and See in Oregon
Out-of-town wedding guests often enjoy exploring the area before or after the wedding festivities. From historical to recreational, Oregon offers no shortage of exciting attractions. Popular stops for residents and visitors across the state of Oregon include:
Mount Hood
Oregon State Capitol, Salem
Oregon Caves National Monument, Cave Junction
Shanghai Tunnels, Portland
Oregon Vortex, Gold Hill
Old Town Chinatown, Portland
Collins Beach, Portland
Trillium Lake
Mount Bachelor Ski Area, Bend
Lava Butte
Go Local: Food and Favors
Oregon cuisine is a reflection of the local landscape and waterways. While larger cities such as Portland, Salem and Eugene tend to have a sophisticated foodie culture, they also feature a host of fun food carts and trucks serving delicious street foods. Whether you are looking for vegan barbecue, fish tacos, burgers, organic shaved ice, cupcakes or other unique offerings, you can find just about anything your heart desires. Incorporating local foods into a wedding celebration gives your guests a true Oregon experience, and state-inspired wedding favors provide the icing on the cake.
Oregon Flavors: Unique Regional Foods for Your Wedding
Oregonians enjoy fresh, seasonal food, which includes wild game like deer, moose, elk and caribou. Available fish and seafood dishes include salmon, tuna, crab, oysters and clams. Oregon growers take pride in cultivating fruits and vegetables, including berries, artichokes, asparagus, broccoli, cabbage and kale. In addition, foodies enjoy foraging for delicacies like wild mushrooms, truffles and fiddlehead ferns. Oregon is also known for an abundance of hand-crafted beers and wines featuring local flavors.
Do Your Guests a Favor: Oregon-Inspired Take-Home Treats
There are many ways to bring Oregon charm into your wedding through individual favors or fun regional items placed into guest welcome bags. State-inspired favors can include Oregon stickers, pins, patches, charms and shot glasses. Oregon-shaped sugar cookies make great treats for guests of all ages. If you or your spouse-to-be are loyal Oregon college or university alumni, don't forget about pennants, lanyards and wristbands from the Oregon Ducks, Oregon State Beavers or Portland State Vikings. Go, team! As an extra special nod to the wine or craft beer connoisseurs, consider sending guests off with brews from Deschutes Brewery or a fruity Mt. Hood Winery Pinot Noir.
Check out The Knot Shop for other personalized favors.
Oregon City Guides
With wedding venues in southern Oregon spanning all directions, you can choose from a variety of beautiful wedding locations. The three largest cities in Oregon offer an abundance of venues, and The Knot ultimate wedding vendor marketplace provides quick and easy access to all local wedding vendors in and around these areas.
Portland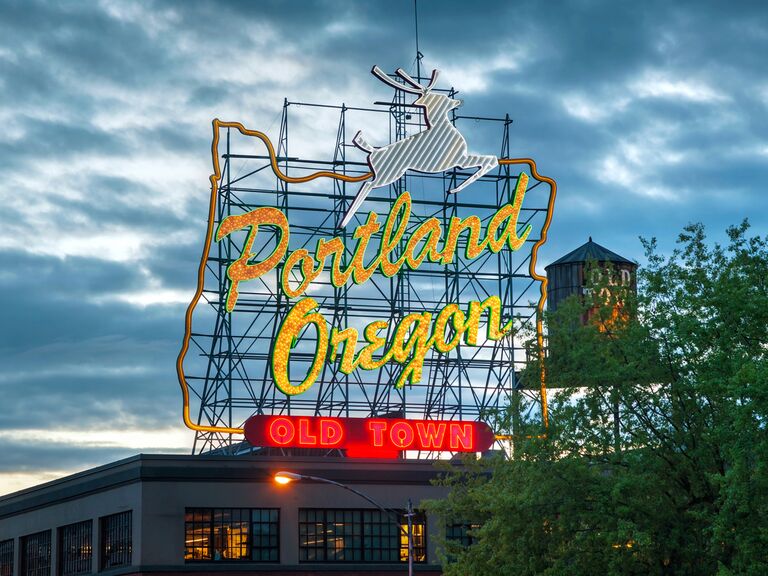 The most populous city in Oregon, Portland is the eighth most desireable American city to live in, according to a Pew Research Center Survey. Located where the Willamette and Columbia rivers meet, Portland offers a blend of natural beauty and urban excitement.
Unique indoor wedding venues in Portland include The Portland Art Museum and World Trade Center Portland. Favorite outdoor venues include Lan Su Chinese Garden, Portland Spirit River Cruises and The Columbia Edgewater Country Club.
For local Portland vendors, check out:
Salem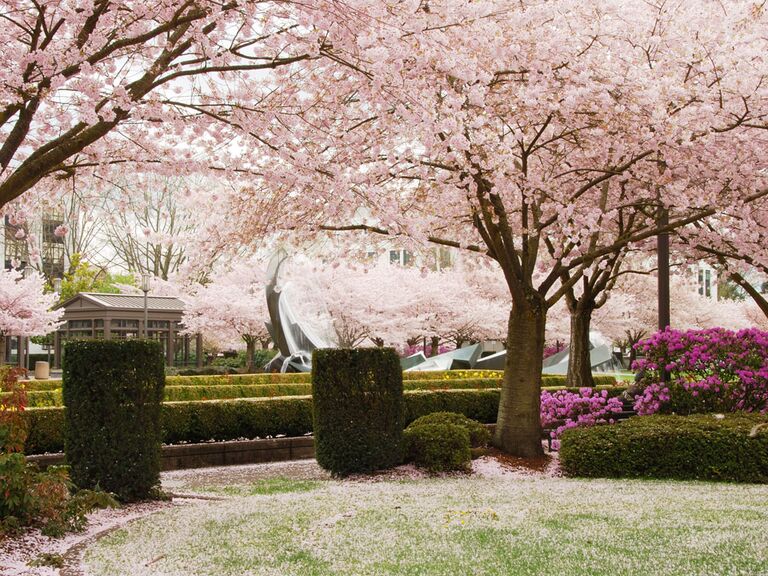 The capital of Oregon, Salem is situated on the shores of the Willamette River. While some people think the name Salem comes from the Hebrew word "shalom," meaning peace, others believe it comes from the last five letters of the word "Jerusalem." Prior to its current name, Salem went through a series of names including Chemeketa, The Mill and The Institute.
With the Willamette River running north through the city and boasting abundant green space, Salem is a picturesque community housing just over 160,000 residents. Residents enjoy stunning mountain views including Mount Hood, Mount Jefferson and, if they are lucky, Mount St. Helens and Washington's Mount Adams.
This community abounds with beautiful wedding venues like Zenith Vineyard, the Salem Convention Center, the Reed Opera House and the Green Villa Barn in nearby Independence.
For local Salem vendors, check out:
Eugene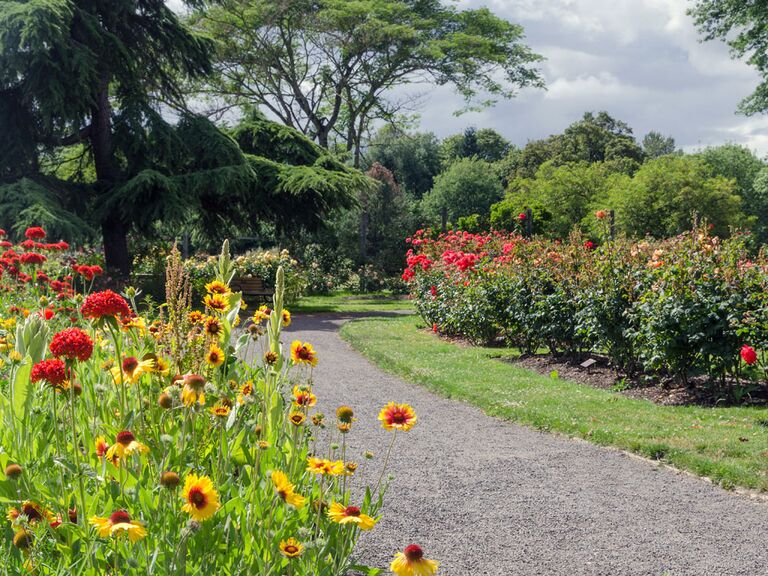 Close to the confluence of the McKenzie and Willamette Rivers, Eugene is the second biggest city in the state and known for its natural beauty. The "Emerald City" offers many recreational opportunities like biking, hiking, jogging and rafting.
Eugene features a number of venues for a memorable wedding. Because it's just 50 miles to the Pacific Ocean, many couples who live here opt for Oregon Coast wedding venues. Unique spots closer to town include Clear Lake Gardens, Mount Pisgah Arboretum and the Silvan Ridge Winery.
For local wedding vendors in and around Eugene, check out:
Check out more Oregon wedding inspiration here.

Don't forget to download The Knot Wedding Planner app—it's a must-have for on-the-go planning.
Download for iOS: Wedding Planner App by The Knot

Download for Android: The Knot Wedding Planner