Nervous Your Period Will Come on Your Wedding Day? Here's What to Do
Experts share how to handle this common concern.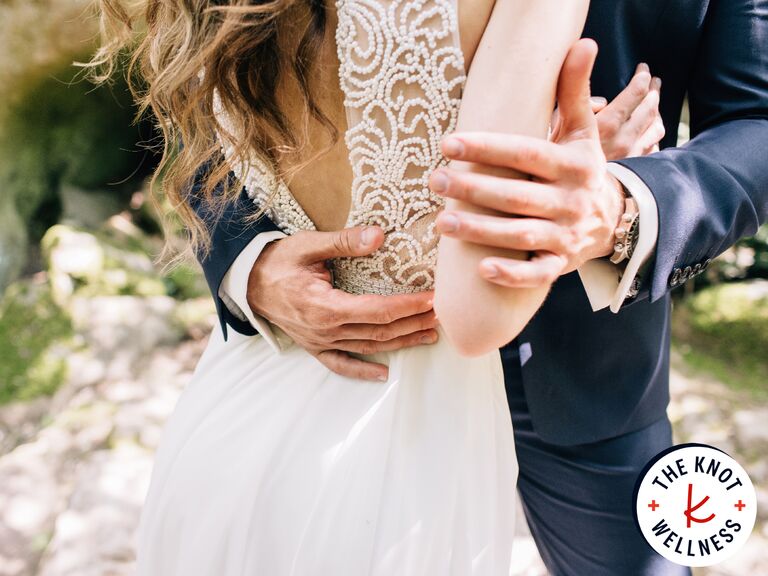 Viacheslav Boiko/Shutterstock.com
We have included third party products to help you navigate and enjoy life's biggest moments. Purchases made through links on this page may earn us a commission.
If you have regular periods, you're probably well versed in the mental math equations used to see if your cycle will interfere with upcoming events on your social calendar. No one rarely ever wants to deal with their period, but it can feel especially stressful to manage when it coincides with big milestones, like senior prom, spring break, your first vacation with your partner, or perhaps the biggest event of all: your wedding.
The idea of getting your period on your wedding is likely near nightmarish. (There's a good chance you thought, "I don't want my period on my wedding day!" right after you finalized the date.) After all, the last thing you want to worry about is managing cramps amid your ceremony or trying to change your sanitary product in a white gown. Here's the good news: You don't have to suffer through your period on your wedding day if you don't want to.
To answer all of your questions about getting your period on your wedding day, we spoke to Dr. Sophia Yen, MD, MPH. Yen is Board Certified in Adolescent Medicine with over 20 years of experience, and she's the founder of Pandia Health, an online platform specializing in period health that connects people with affordable and convenient birth control services. Below, she shares everything to know about getting your period on your wedding day, like how to avoid it completely, and how to manage symptoms if it comes.
In this article:
Can You Safely Delay Your Period For Your Wedding?
So, can you actually avoid your period on your wedding day? The answer is simple: Yes! It's possible to delay your period for your wedding. In fact, Yen tells us that it's not medically necessary to have your period on a monthly schedule unless, of course, you are actively trying to conceive.
The best way to delay your period for your wedding day is by using a form of hormonal birth control. While these methods traditionally follow schedules that force a bleed once per month, Yen says this timeline isn't necessary. "Every birth control method follows an arbitrary 'one week of bleeding' schedule," Yen says. "When, in reality, your period could be every three months, every six months, or never." You can safely use your birth control to skip bleeding cycles altogether, thus preventing your period on important days, which we break down below. (To learn more about why it's safe to skip your cycle, reference Yen's Tedx Talk on making periods optional, which explains this concept in more detail.)
How to Prevent Your Period on Your Wedding Day
With this knowledge, Yen says that it's perfectly acceptable—and safe—to prevent your period on your wedding day. Here are five things to know when considering how to delay your period for your wedding and related events, like your bach party, your wedding shower, or your engagement party.
Consult Your Doctor First
You should always consult a medical professional before making any decision regarding your health, especially when it comes to period prevention. "While you can talk to your gynecologist, you could also seek help from your family practice or an internal medicine doctor," Yen says. Speaking to a professional will help you understand which period prevention method is right for you, along with any risks or side effects that may occur. While there are quite a few ways to prevent your period, talking to a doctor who understands your medical history will help narrow down the best choice for you and your body. Yen also recommends reading up on period health information from reliable websites like Pandia Health, Planned Parenthood and Bedsider.
Consider Starting a Form of Birth Control
The ability to completely stop or delay your period is made possible by a variety of hormonal birth control methods. "The IUD, the implant, the shot, the pill, the patch, or the ring could be used to try to avoid bleeding on your wedding day," Yen explains. She notes that, of this group, the pill, the patch, and the ring are the easiest to control manually, thus making them more likely to help completely prevent your period.
If taking birth control pills, for example, you can skip the last week of placebo pills and immediately start taking the next week of hormonal pills to delay bleeding. On the patch, which is traditionally worn for three weeks and left off for one, simply keep one on your body every week to delay bleeding. And if you're using the ring, insert a new one after three weeks instead of going without it for one week. Each of these three methods is a safe way to prevent bleeding during the "period week."
The other three birth control methods may make your period lighter, but it's not certain that these will stop your bleeding completely. "With the IUD, the implant and the shot, 30% of people lose their periods and 70% get lighter periods," Yen says. "You could try one of these three options to see if you're part of the 30% where it goes away, and then you'd be set. If you're part of the 70%, you could switch to another method."
Start Testing Options Early On
Since there are multiple birth control methods that may prevent your period for your wedding, having enough time to experiment is the best way to find one that works for you. The average engagement length is just over a year, so start researching and testing options as soon as possible. "Every body breaks through period prevention methods at different times," Yen says. "So if your wedding is in six months, for example, and you want to make sure you won't have your period, test a variety of methods ahead of time to see which prevention method works best for your body." She notes that, at a minimum, aim to have at least three months to see how you'll react to any of these methods.
If you're already on hormonal birth control, your body is likely used to its schedule and may react to a change in routine. Similarly, if you've never been on birth control, it's hard to predict how your body will handle something new. That's why it's crucial to work with your doctor to prevent your period for your wedding. Testing a new method may take time for your body to readjust, and it can result in breakthrough bleeding or other side effects during the early stages (which can cause even more confusion). Giving yourself plenty of time to find a system that works for you is exceptionally important when it comes to period health.
Begin Tracking Your Menstrual Cycles
If you aren't interested in using contraceptives to delay your period for your wedding day, an alternative option is to track your menstrual cycles. This won't stop bleeding, but it will help you predict whether your period will come on your wedding day. Knowing your menstrual schedule will help you prepare to manage symptoms accordingly—but more on that below.
While you can always do the math yourself and track your period on a calendar, modern tools can do the work for you. Yen says that most period tracking apps found in the App Store are reliable ways to stay on top of your cycle.
Be Mindful of Your Stress Levels
It's no secret that stress can seriously impact your body, especially when it comes to your period schedule. "Know that stress can move your period around, and your wedding can, of course, be a very stressful event," Yen warns. "If you're tracking your cycle but you're under stress, it may move around."
Keeping stress under control is the best way to ensure your tracking methods are accurate, especially if you aren't on a contraceptive that regulates your period cycle. That's why we recommend sticking to a prewedding wellness routine in the months leading up to your big day. Being intentional about taking care of your mind and body is the best way to prevent stress from taking over, thus causing unwanted side effects (like a confusing period schedule).
What to Do if Your Period Comes on Your Wedding Day
If using hormonal birth control isn't right for you—or you simply want to be prepared for a surprise appearance—there are quite a few ways to manage your period on your wedding day. These tips will help keep those pesky symptoms at bay while ensuring your period doesn't leave a cloud over your nuptials.
Be Gentle With Grooming
The way you groom your pubic hair is completely up to you, but one thing to be mindful of is aggravating the skin in that area—especially while on your period. According to Laura Schubert and Lillian Tung, founders of pubic hair care brand Fur, grooming with gentle ingredients is crucial all the time, but particularly while on your period. "Pubic skin is thinner than the skin on other parts of your body, and therefore is more sensitive to a wider range of ingredients," they tell us.
If you opt to shave, wax or trim the hair, you may be prone to razor bumps and ingrown hairs. Topical treatments like scented oils and creams can also make dryness and irritation worse. (And, let's be real: The last thing you want to deal with while on your period is uncomfortable itching or pain, particularly on your wedding day.) "There were virtually no gynecologically and dermatologically tested products for the pubic hair and skin before Fur, and almost all of them contained harsh chemicals, dyes, and fragrances that could irritate already delicate skin," they add, noting that using the right products with soothing ingredients and minimal additives is key for grooming without discomfort.
Be mindful about the products you're going to use after grooming, especially if you plan to shave or wax. "Feeling good in the skin you're in can have an effect over the rest of your life, and nothing says happiness like a life without ingrowns or irritation," they say.
Stay Hydrated Throughout The Day
Staying hydrated is a pillar of good health, especially during your period. Upping your water intake can flush waste out of your system, which often leads to the feeling of being bloated. It can also prevent from feeling sluggish due to loss of blood. "If blood loss makes you tired and faint, drink a lot of water," Yen suggests.
Take this as your sign to buy a cute water bottle to keep by your side at all times, especially in the days leading up to your wedding. Staying hydrated will help you feel your best, whether you're on your period or not.
Get Ahead of Discomfort
Those prone to uncomfortable cramps and pain during their period will want to get ahead of discomfort as soon as possible. "Assuming you have no other medical conditions, take Ibuprofen with food to help with bad cramps," Yen recommends. Make sure your wedding day emergency kit has a bottle of pain reliever pills (and a small snack!) in case you need quick relief.
Avoid Salty Food If Possible
If you experience bloating while on your period, you certainly aren't alone—but there are a few ways to minimize this unwanted symptom. "If you feel like you bloat a lot around your period, avoid salty food," Yen recommends, noting that soups, chips and restaurant meals are major culprits. That's not to say you shouldn't indulge, especially if you're hosting your rehearsal dinner at your favorite restaurant. Just be mindful about your sodium intake, and drink plenty of water to flush out your system as best you can.
Stock Your Wedding Day Emergency Kit
Nearly every wedding vendor will say a wedding day emergency kit is a must, especially if you're worried your period might come. Stock yours with a variety of small essentials, like safety pins, hair ties, a small sewing kit, extra lipstick, and, of course, period products. Since you'll have plenty of things to focus on throughout the day, ask someone in your wedding party to keep track of the kit in case you need it.
The Best Period Products for Your Wedding Day
There's a certain kind of fear that arises when you think you've just started your cycle without a sanitary product nearby. Avoid this unwanted disaster by stocking your wedding emergency kit with a few sanitary products. In addition to things like tampons and pads, you might also consider including a stain remover (just in case!) as well as a set of period underwear. Find our favorite period products to add to your emergency kit below.
Thinx Period Underwear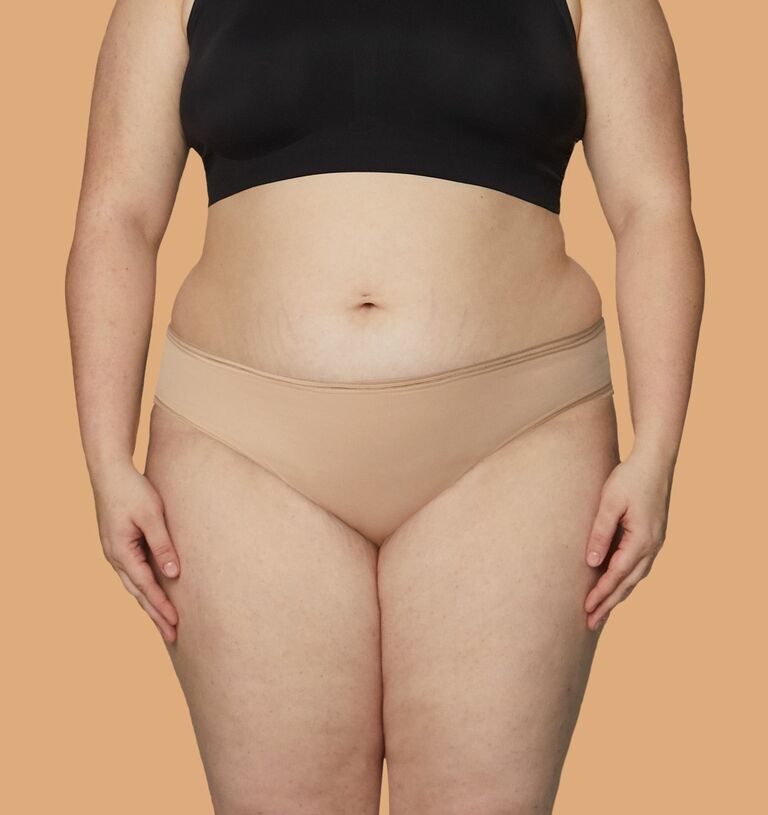 The best wedding dress undergarments ultimately depend on the shape, color and silhouette of your gown, but you might consider wearing period underwear if you're really concerned about leaks or surprise appearances. Thinx offers a variety of period underwear styles for all bodies, which are designed to soak up period blood, dry quickly, and neutralize odor. This cheeky design is a great place to start, but we recommend browsing the site to find a pair that complements your skin tone and your dress style (like a thong or a sport-style instead).
Saalt Reusable Menstrual Disk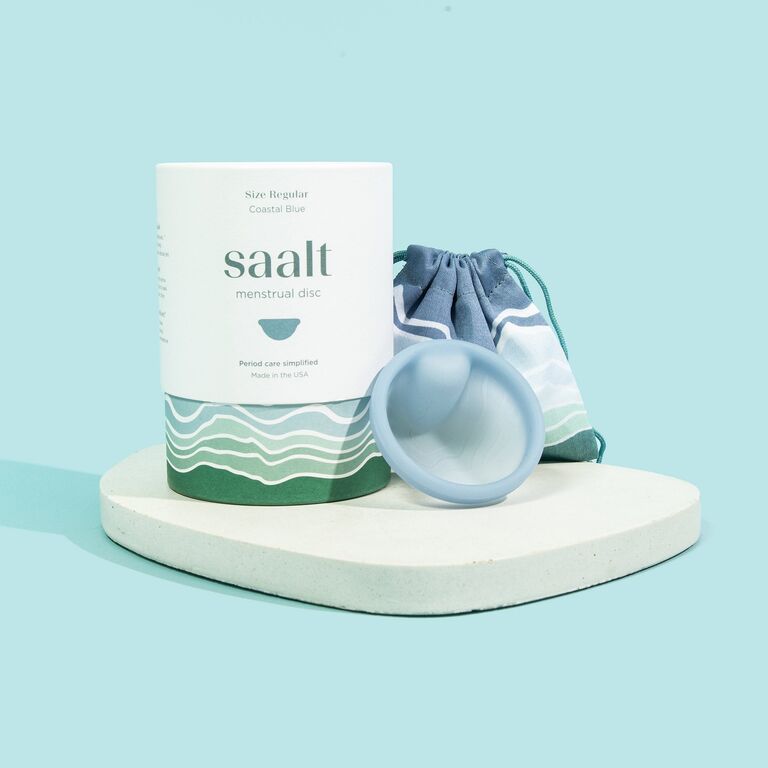 You're probably quite familiar with tampons and pads, but a menstrual disk is a great eco-friendly alternative to consider. Unlike a menstrual cup, which sits in your vaginal canal and creates a suction seal to collect your flow, a disk sits below the cervix in the wider space. Instead of creating a seal, it's held in place by its rim. It's flexible and flat, and this particular style from Saalt has a finger notch to make removal clean and mess-free. Both a disk and a cup offer 12 hours of leak-free protection, making this a great choice for when you don't want to worry about constantly changing your product. (We just suggest practicing insertion before your wedding day so you know exactly how to use it.)
SweetSpot Labs Unscented Gentle Soothing Wipes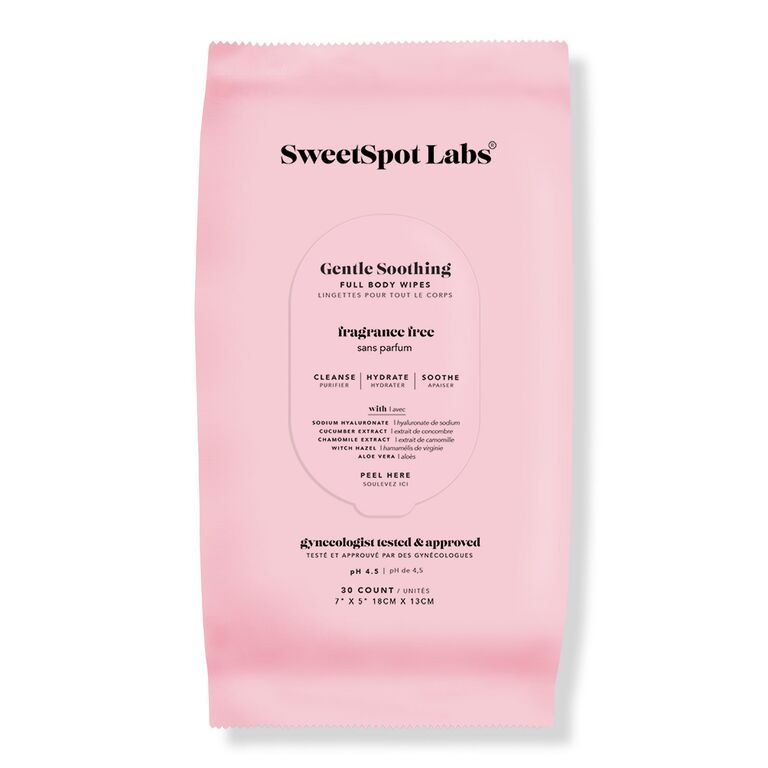 You don't need a ton of fancy ingredients to take care of your hygiene down there. In fact, gynecologists recommend against using soaps and wipes that are filled with added scents and chemicals, as they can throw off your pH balance and cause more problems. But, if you want to keep a few wipes on hand to clean up your period on your wedding day, we recommend this pick from SweetSpot Labs. These wipes are fragrance-free, biodegradable and formulated with clean, non-irritating ingredients to support a healthy skin barrier. They also have Witch Hazel, known for its antibacterial properties to help balance fungi and bacteria.
Fur Ingrown Eliminator Serum
If you do have ingrown hairs while on your period, avoid picking at the skin—doing so will only inflame the area during an already stressful time of the month. This serum contains good-for-you ingredients like lavender oil and aloe, as well as willow bark extract, which can clear your pores and oil buildup to prevent inflammation.
Hydrogen Peroxide Spray
Put your mind at ease by adding a small hydrogen peroxide spray bottle to your wedding day emergency kit. The chances of getting period blood on your wedding dress are slim, especially if you're using hormonal birth control to prevent your period or a long-lasting sanitary product like a menstrual cup or disk. But to be extra prepared for anything, blood stains are best removed by spraying hydrogen peroxide directly on the area before rinsing clean with cold water. This small bottle is just what you need for your wedding survival kit.