The Best Sex Toys on Amazon That'll Put Your Prime Account to Good Use
You probably already have a cart going, anyway.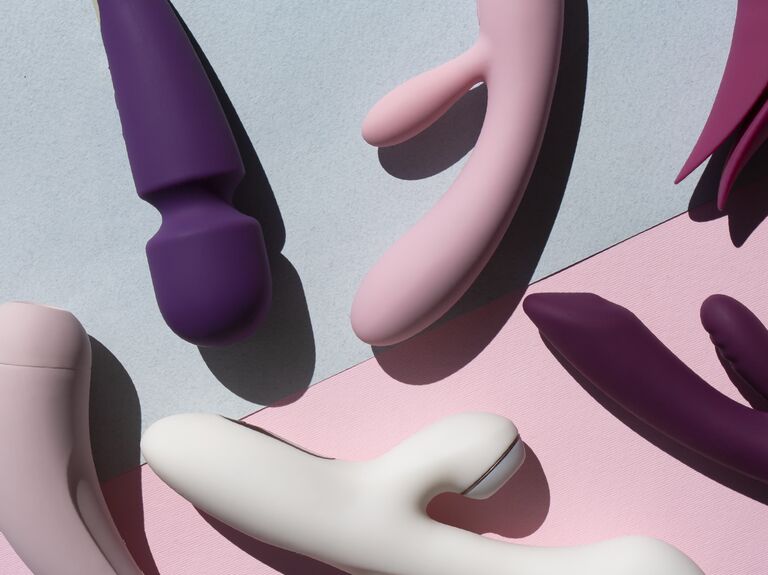 Photo: MyroslavaPavlyk | Getty Images
We have included third party products to help you navigate and enjoy life's biggest moments. Purchases made through links on this page may earn us a commission.
PSA: We've been sleeping on Amazon's sexier offerings. The massive site is home to—no exaggeration—thousands of sexual wellness options, with the best sex toys on Amazon all toting the affordable price tags, sales and speedy shipping you expect from the retail giant. But how do you narrow down the seemingly endless selection (and while shopping for all your other Amazon essentials, too, while you're at it!)? Well, that's where we come in.
Below, you'll find the best vibrators, dildos, couples sex toys, strap-ons, male masturbators and more hidden within Amazon's virtual aisles. Suitable for both solo and partnered play, these top-rated finds have tons of stellar online reviews and come approved by The Knot's Senior Sex & Relationship Editor (moi, bonjour).
While there are plenty of places to buy sex toys online (you can find more of them here!), the convenience of shopping for sex toys, light bulbs and granola bars all in one "buy now" click is hard to resist. So scroll on to see the 21 best sex toys on Amazon to add to cart during your next shopping sesh.
Our Sex Editor's Top Picks:
3-in-1 Rose Vibrator
This uniquely shaped sex toy has been making the rounds on TikTok, and the social media sensation has heaps of five-star reviews backing it up. And what's not to love? The vibrating rose is fashioned with a soft flickering, fluttering motor to mimic the feeling of oral sex. Meanwhile, the attached thrusting dildo can be used for both internal and external stimulation. So, it vibrates, flutters and thursts? With a trio of functions, this baby really is like buying three toys in one.
Standout Feature: While its functionality is obviously the star of the show, how darn cute is that kitschy design?
Notable Review: "Listen, I don't ever write reviews—but I absolutely had to for this lovely beast… When I tell you I climaxed about six times within 10 mins or less, please believe me! Seriously. This rose toy is amazing. I can't believe I went so long without it."
Ava Rechargeable Vibrator Wand
A wand vibrator is a tried-and-true mainstay of the sex toy world, due to the straightforward design and powerful vibrations that devices in this category often tout. A fave here is the Ava Rechargeable Vibrator Wand. Made from medical-grade silicone, it features over 20 vibrational patterns with eight intensities. Plus, the contonured head is bendable, so you can hit just the right spot.
Standout Feature: While some wand vibrators can be large or bulky, this one sits pretty and portable at just eight inches.
Notable Review: "I'm very picky about vibrators and need a stronger vibration. I've found that most rechargeable vibrators don't last more than six months. I've had this one now for over a year and it's still working perfectly! Definitely a must-have for the nightstand drawer!"
Satisfyer Pro 2
The Satisfyer Pro 2 has long been lauded for its clitorial-stimulating prowess, and it's definitely not all hype. The innovative device uses a gentle pressure vacuum that provides pulsating suction to the clitoris, intended to mimic oral sex sensations. Featuring 11 pressure-wave settings to choose from, it's also whisper quiet for discreet play.
Standout Feature: Note the pulsating, contact-less silicone head that's sized to comfortably cover the clitoris.
Notable Review: "I was a bit sceptical, as I have owned many different toys in the past and always found them a bit of a disappointment. But let me tell you: This is a game changer. Imagine 100 perfectly formed angels going down on you, whilst soothing your soul and whispering in your ear the answer to all your problems… Buy this!"
plusOne Bullet Vibrator
A bullet vibrator's petite size makes this sex toy category one ideal for beginners, those who wish to be discreet, frequent travelers or anyone simply looking for endless versatility at an affordable price. This vibrating waterproof bullet from plusOne measures just three inches tall, but is still blessedly powerful. Oh, and did you happen to notice that it's Prime eligible and clocks in at less than $20?
Standout Feature: The 10 vibration settings are the standout here. Go forth and experiment!
Notable Review: "This is a game changer that can be used solo or with a partner(s). Quite enough to be discreet as long as you can keep your own volume down. Used several times and look forward to adding it next time I have sex."
App-Enabled G-Spot Wearable Vibrator
Long-distance sex toys are great for boosting intimacy with a faraway partner. And, with over 1,000 ratings, this Amazon find is top-tier. The wearable vibrator can either be inserted or used externally, and both solo or with a partner. And if your love is out of town (or if you're in a LDR), the waterproof silicone toy can be connected to an app via Bluetooth and controlled remotely, adding a more physical element to phone sex or sexting.
Standout Feature: The compatible app allows you to experiment with 5,000+ vibration settings and with vibes that can even be synced to music.
Notable Review: "This is very easy to use, [and the] app was easy to find and download. Lots of preset vibration settings or you can create your own! Very quiet and discreet."
Strapless Strap-On Dildo Vibrator
In lieu of a fussy harness, this strapless strap-on is held inside one partner via the shorter bulb, while the longer dildo end is used to penetrate their partner. It features—get this—three motors for optimum stimulation: Two reside in either end of the dildo, with another located at the base of the bulb to provide the wearer with both G-spot and clitorial stimulation. It even comes with a remote so you can control all that vibrational power with ease.
Standout Feature: Worthy of shout-out is the wearable design that provides options for couples who don't want a traditional strap-on for convenience's sake, gender-affirmation or any other reason.
Notable Review: "This was definitely something that we didn't want to stop using. Long battery life, tons of power and impeccable design have this easy as one of our favs.
MHYNNR Manual Male Masturbator
With its multiple five-star reviews and affordable price tage, this manual masturbator is one of the best male sex toys on Amazon. The textured tunnel and open-ended design allow it to fit snugly and move along smoothly. It's also easy to clean and perfectly portable.
Standout Feature: The dual textured sleeve boasts both spiral and diamond nubs for tons of sensation with each stroke.
Notable Review: "I purchased this manual adult toy for men and was blown away by the sensations it provided. The design is sleek and ergonomic, making it comfortable to hold and use. The manual operation allows me to control the intensity and speed of the experience, which is a huge plus. The material is high-quality and durable, and the toy is easy to clean and maintain."
Crave Vesper Vibrator Necklace
Who knew that a sex toy available on Amazon could be so chic? Crave's trendy toy has been everywhere as of late, thanks to its fashion-meets-function design: While it appears to be a modern, minimalist necklace, the pendant actually vibrates with four settings—low, medium, high and pulsating. Crafted from body-safe and nickel-free material, it's fully rechargeable (and obviously travel-friendly), discreet and comes in three color options: silver, gold and rose gold.
Standout Feature: The sleek design of this sexy necklace can pass as a normal piece of jewlery.
Notable Review: "This amazing little toy is not only beautiful—it works. Like seriously. It's powerful. And OMG, it gets warm as it works. I've dropped some money on toys and none of them are as good as this one. Brilliant."
High-Frequency Clitorial Vibrator
For targeted stimulation, look to this clitorial vibrator. Featuring 10 powerful vibration modes, it'll put the focus on the clitoris—although it can of course be used to stimulate the nipples or other erogenous zones, too. It comes with a trio of tips, each of which delivers its own unique sensation, thanks to varying textures and shapes. (Plus, how pretty is that evergreen hue?)
Standout Feature: This toy's high-frequency vibration operates at up to 15,000 rounds per minute.
Notable Review: "When I opened the box and saw the size of the item, I have to admit, I had my doubts. I was so wrong! The head of this clitoral stimulator is no larger than a pea, but with its many different settings you're sure to find more than one that works for you. And work is a gross understatement of what this little power house can do."
Wave Motion Vibrating Prostate Massager
Those who enjoy (or are curious about) prostate play should consider this vibrating prostate massager. At under $30, its design is intended to provide both traditional vibrations and a unique wave motion to the prostate for a powerfully pleasurable experience. The toy features 10 intense vibration modes and 10 wave motions, and it's crafted from body-safe and phthalate-free silicone. As a bonus, it's also waterproof and comes with a handy remote.
Standout Feature: Thanks to its dual motors at the base and tip, this pick delivers simultaneous perineum and prostate stimulation.
Notable Review: "This product works amazing. Does exactly what you want it to do and more! The vibrating and waving motion works very well and there are so many different modes to try to find the one that works for you."
Rabbit Vibrator with Heating Function
For double the fun, rabbit vibrators deliver seeing-stars stimulation to both the G-spot and the clitoris simultaneously. This pick from Amazon gets the job done with nine strong vibration modes and two motors—one in the insertable end and the other in the clitorial-targeting rabbit ears. With a runtime of two hours, it's USB-rechargable and fully waterproof, too.
Standout Feature: The most unique feature of this rabbit vibrator is hands-down its warming function that heats the toy up to 107 degrees Fahrenheit.
Notable Review: "Definitely not a purchase I regret making. My partner elected to use this and it has really heightened our sex life. The vibrations are intense and the product is very comfortable. Got it on sale and it is well worth the price and then some!"
UNVOMI Finger Vibrator
For a sex toy that'll never get in the way during partner play, add this wearable finger vibrator to cart ASAP. It slips right onto one's finger, so they can deliver powerful vibrations to their partner with just their hand. Obviously, it's great for solo sessions, too, and the hypoallergenic silicone is even nubbed at the fingertip for additional sensation.
Standout Feature: The included remote is an extra convenient touch, allowing one to switch up the vibration settings without losing contact for even a moment.
Notable Review: "It turns out that this small soft silicone finger vibrator is exactly what I've been looking for! I never would have guessed that this would be as powerful as it is! It is small enough that it does not hinder any sexual positions and there is no cord to get in the way."
Vibrating Penis Ring with Clitoral Vibrator
This dual device performs as both a penis ring and a clitorial vibrator, as the motor in the upper part of the device can pleasure one's partner with 10 modes of vibrating stimulation. It's also completely waterproof, can be used to prolong an erection and is stretchy enough to fit a variety of penis sizes. All that for under $20? Yes.
Standout Feature: The clitorial-stimulating design of the device that makes it ideal for partnered sex.
Notable Review: "My partner throughly enjoyed this product and would recommend to anyone who is looking to try something new. I believe it truly benefits both, and while there is a learning curve… this item is a part of our normal routine now"
App and Remote Control Wearable Panty Vibrator
Slip this cute little toy into a pair of panties for hands-free wear. It touts such features as dual vibrating motors and Bluetooth connectivity, so it can be operated via app from anywhere in the world. The app also allows you to mix up vibrational patterns and modes and customize them exactly to your liking. (TBH, you'll probably end up spending the weekend exploring...)
Standout Feature: Discreetly sized, this panty vibrator is travel-friendly for on-the-go fun.
Notable Review: "This sex toy is a must-have for anyone looking for a fun and exciting addition to their collection. The different settings and speeds are incredibly enjoyable, the packaging is discreet and the free app makes using it even more fun and customizable. It's definitely worth the price and is a game-changer for both solo play and partner play."
Rose Clitoral Vibrator
Another bloom-inspired buy, this vibrator features a thoughtfully designed flickering vibrator at its center to target the clitoris with its nine vibrational modes. USB-rechargable, it runs for about an hour on a single charge—but reviewers note not even needing that long if you catch our drift.
Standout Feature: Its ergonomic design will fit ever-so comfortably in your (or a partner's) hand.
Notable Review: "Uhm... lets just say this baby did its job in no time at all. Very effective. Almost like the real thing!"
Dovelo Silicone Penis Rings Kit
Whether used to prolong erections or to make penetration more comfortable for a partner, these penis rings are ideal. Made from 100 percent silicone, they're hypoallergenic and both flexible and durable.
Standout Feature: The four included stackable sizes provide options for the perfect fit.
Notable Review: "They arrived in very discreet packaging. The different sizes enable different configurations. They fit great [and] have just the right amount of elasticity, unlike those soft jelly kinds. Obviously I was looking for functional, but these also have great style as well."
LELO Toy Cleaning Spray
Sex toys should always be cleaned after use, and a specifically formulated sex toy cleanser is oftentimes the easiest way to do so. While LELO is best known for their high-end sex toys, their brand's cleanser is simiarly luxe. Housed in a sleek and minimalist bottle, the body-safe spray formula can clean metal, plastic, silicone, rubber and latex toys safely—and without residue, staining or lingering scent.
Standout Feature: The cleanser's spray bottle makes cleaning a breeze. Simply spray, wait a few seconds and then wipe away. No rinsing necessary.
Notable Review: "This spray gets the job done and it has a pleasant smell. It's gentle on toys and gentle on skin. (I've only gotten it on my hands while cleaning) … It is a must have when using higher-end toys like LELOs. A small amount will go a long way, as well!"
LELO Luxury Water-Based Lubricant
A go-to lubricant is never not a good thing to have on hand. This hypoallergenic water-based lubricant has earned tons of five-star ratings, thanks to its pH-balanced formula that's free from glycerin, parabens and scented ingredients. Non-greasy and non-staining, it's safe to use with silicone and latex sex toys and products. (Remember: Never use a silicone toy with a silicone-based lubricant.)
Standout Feature: The formula contains aloe vera for long-lasting moisture.
Notable Review: "Does what it is supposed to do and in grand fashion. The sleek packaging nearly makes me want to leave it on display! It looks as good as it performs. Awesome for both of us."
Kinky Truth or Dare
For a battery-less bedroom activity, look to this under-$15 buy. Cheeky and fun, the simple game consists of 50 sticks, each printed with a salacious truth on one side and a kinky dare on the other. Couples can take turns pulling sticks from the tin and have fun boosting both their emotional and physical intimacy, as well as exploring new kinks.
Standout Feature: The game's simple premise packs a surprising amount of silly fun into a portable package.
Notable Review: "This has been a lot of fun for my partner and I. We are pretty open and have talked about lots, but there are lots of questions here that opened up new topics. Fun way to just play together!"
Liberator Wedge Sex Positioning Pillow
This supportive wedge pillow is perfectly pitched at a 27-degree angle to provide optimum comfort for a variety positions. With its high-density foam core, couples can use it for extra support and deeper peneration—sans muscle cramps.
Standout Feature: The pillow boasts a microfiber cover that's both super soft and machine-washable.
Notable Review: "I looked high and low for reviews on the Liberator Wedge. I mean, it is pretty expensive for a pillow… I eventually just decided to bite the bullet and buy it and am I glad I did! The angle in missionary is amazing [and] it doesn't flatten under our weight… Definitely worth it!"
Under-Bed Restraints
If you and your partner have both expressed wanting to explore BDSM play, a set of under-bed restrains, like this affordable pick, is a great place to start. The adjustable nylon straps can be slipped beneath the mattress, and the Velcro straps are well-padded and comfortable.
Standout Feature: Each adjustable bondage strap can be extended up to 70 feet to fit a variety of bed sizes.
Notable Review: "I am actually quite impressed with this set! You never know with these kinds of things, but the quality is well above the price. It's all aesthetically pleasing and seems quite sturdy. I wouldn't use it for suspension or heavy play—but it is a great basic set for play!"