The One Way You *Need* to Use Your Registry After the Wedding
Psst: It's a money-saving hack that'll blow your mind.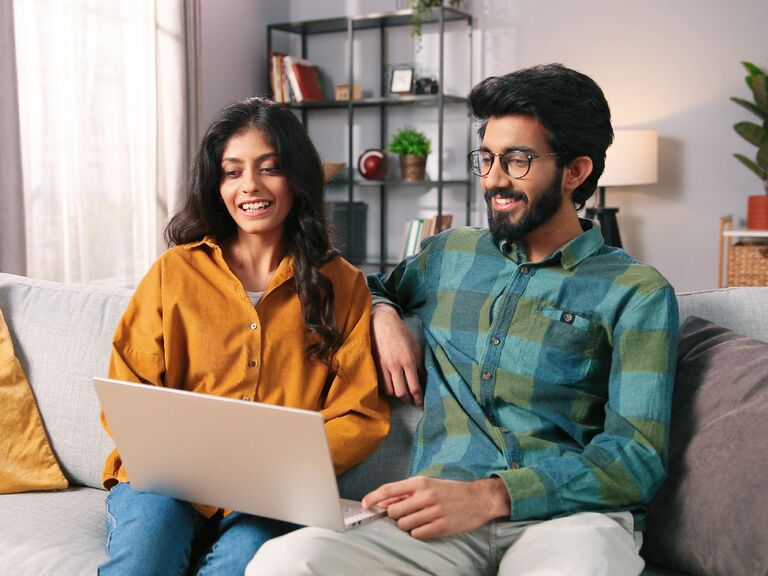 VAKS-Stock Agency/Shutterstock.com
Making your wedding registry seems simple enough. Create your account on The Knot, add awesome gifts to your wish list, watch said gifts appear on your doorstep, send out thank-you cards within three months after your wedding, and never visit your registry page again, right? It's the formula most—if not all—couples follow. Registering for gifts is an essential task on your wedding planning checklist, because guests want to shower you with love as you embark on a new life milestone. But we'll let you in on a secret: There's one very important registry step people always forget, and it comes after the wedding day.
Once you're married, your registry actually changes from a wishlist to a shopping list. The Knot Registry Store offers a unique registry completion discount that lets you purchase any remaining gifts on your list at a fraction of the cost—so if you *really* wanted that gourmet pasta maker, you can buy it yourself for less than its original price.
Since this registry completion discount is one of the most underrated perks offered by The Knot, we've put together this comprehensive guide explaining how it works and why you *need* to take advantage of it.
What is a Registry Completion Discount?
Many registry services offer a completion discount, which allows couples to buy remaining gifts off their registry after the wedding date for a lower price. The exact percentage off varies across retailers, but here at The Knot, you'll get 20% off leftover items—the best discount out there.
According to our registry gift formula, we recommend that couples register for twice as many gifts as their guest list size, as this gives loved ones a variety of options at all price points. And while over-registering is the best tactic, that means there will likely be a few gifts left over after the big day. So, if you had your heart set on a few items that didn't get purchased, you can use The Knot's postwedding registry completion discount to buy any (or all!) of your remaining presents.
How to Use The Knot's Registry Completion Discount After Your Wedding
To use our exclusive registry completion discount, start by making your account on The Knot. This discount is valid on items from The Knot Registry Store, so be sure to check out our site for every kind of gift under the sun, from classic kitchenware to travel accessories and even entertaining essentials.
Now, for the fine print: The Knot's registry completion discount is valid for six months after the big day and includes free shipping and returns. It's important to note that you'll only be able to use the discount once, so make sure you've got everything you need (and want!) added to your registry before the big day. For your discount to be activated, you'll need to set your wedding date in your account settings, add at least one gift to your registry 45 days prior to that date, and have at least one gift purchased by a guest before the wedding. Some exclusions apply, so read up on our registry completion discount details here.
Once your wedding day ends, take some time to relax and soak up that newlywed bliss—but don't forget to set a reminder to treat yourself to a newlywed shopping spree within six months. According to traditional wedding etiquette, guests technically have up until a year after your wedding to send a gift, so we recommend giving it a few weeks to let additional packages roll in before purchasing items for yourself. But regardless of when you plan to buy out your registry, make sure it's included on your postwedding to-do list. Considering our registry completion discount is the highest on the market, this is one wedding perk you really don't want to miss.