Here's How to Plan a Wedding During COVID, Including Omicron
You can get a lot done from home.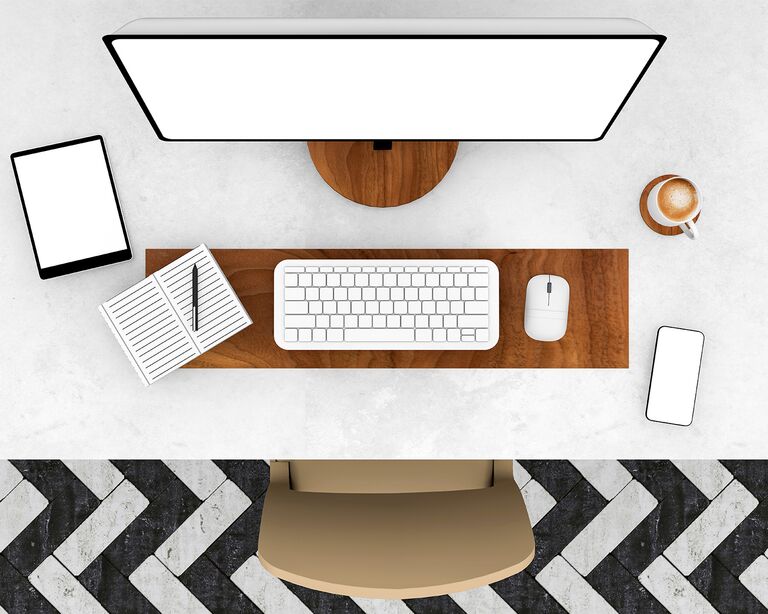 Bob Bosewell / Getty Images
We have included third party products to help you navigate and enjoy life's biggest moments. Purchases made through links on this page may earn us a commission.
When it comes to important life events, weddings easily top most folks' lists as one of the biggest days of their lives in terms of family involvement, lifelong commitment and financial investment. With an increasing number of concerns with the arrival of Omicron, along with spikes in COVID across certain regions of the US, many couples who've planned for months, or even years, are still searching for ways to find a way forward or plan ahead.
Whether it's crafting a health and safety plan with your vendors or finalizing certain reception elements virtually, couples are still moving forward with planning. Wedding retailers nationwide, for example, have since introduced alternative ways to help clients shop and move their fittings along. Wedding planners, too, are advising couples to listen to officials and health organizations, first and foremost, and continue planning (whether virtually or safely in person). Here's what to know about how to responsibly plan your upcoming wedding amid a global pandemic.
Communicate With Your Partner
Before diving into anything else, take the most important step, which is communicating with your partner. "Work with your significant other, gather your thoughts, and establish your priorities," celebrity event planner Edward Perotti told us last spring. "Ask yourself: Is a specific date most important to you? Or is it a meaningful venue? Is having the wedding the same size a priority, or can you scale to provide more options? Is there a vendor you want to work with no matter what? Then read your contracts, make a list of your ideal options, and start with those phone calls."
Whether you're quarantined at home with your partner or hundreds of miles away, you can spend this time working through communication exercises. Services like Lasting can help you navigate possible premarital conversations—without excuses that you're too busy or inundated with dinners, in-person meetings and more.
Finally, perspective is key. "Remember throughout this process that it's important not to focus on how things should have been, but to focus on how they can be," he adds. Indeed, planners far and wide have echoed this sentiment and asked for couples to have an attitude that is solution-oriented as all sides are currently impacted by the ongoing pandemic.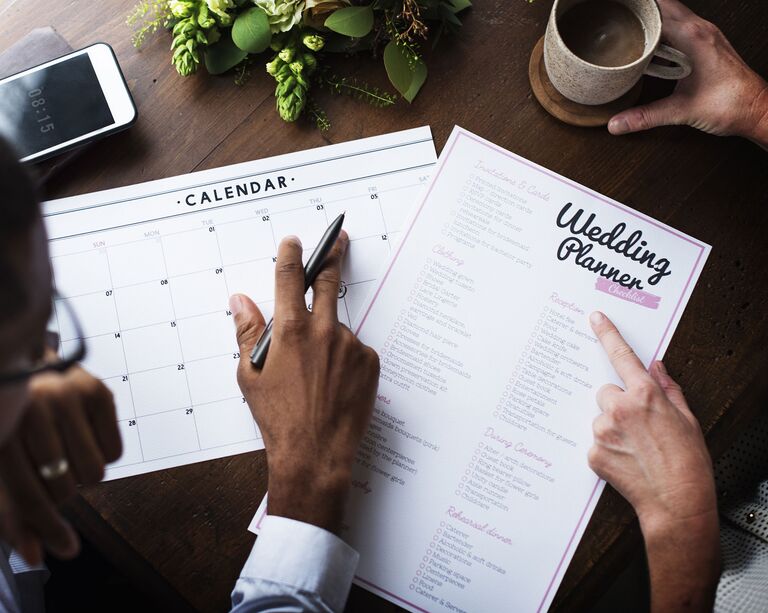 Create a Health & Safety Plan
Now is an ideal time to get organized with top priorities in mind: the health and safety of your loved ones. Talk to your planner consistently or your on-site coordinator about any changes that need to be made as Omicron's arrival is causing rippling concerns. Communicate accordingly with all vendors about how to mitigate risk at your wedding. From there, create a wedding website that you can edit and leverage for any COVID-related questions from guests.
If your county is requiring vaccinations for indoor spaces or you're concerned about cases in the local region, address these issues head-on. As advised throughout the pandemic: check your wedding insurance policy and see what will be covered and if there's anything that can be negotiated given the unusual circumstances. Planners have been insistent couples take the extra 30 minutes to thoroughly read through contracts too.
"We are all sailing in unknown waters right now," Perotti said in spring 2020. "What we can do is partner together. Know that your event planner, venue, caterer, photographer and florist are your team members, and they want to make your wedding [the best possible]. The dream might be slightly re-imagined, but it's still your dream, nonetheless."
Seek Inspiration Online
You're recently engaged, congrats! While there is a flurry of activity across the industry, our highest recommendation to you is to get started on planning sooner than later. If you have yet to nail down your wedding theme, take The Knot Style Quiz to narrow down venue options, color palettes and even floral arrangement ideas. The quiz is an easy starting point; plus, it connects you to the best vendors who can execute your vision in your chosen destination.
Some brands are offering additional support online for brides looking to get all their ducks in a row amid the chaos. BHLDN, for example, launched a digital resource called The Book last spring when COVID arrived to the US. The online portal was promoted to help couples find their perfect wedding colors, hair and makeup tutorials and dress decoders, so that they can be well-informed and inspired as possible—from the safety of their homes. Of course, there are plenty of articles to help you determine what silhouette or types of accessories work best for your body too. Head over to our ideas and etiquette page for more.
"Instagram, Facebook, Pinterest and social media are gold mines for inspiration and shopping," says Bella Belle co-founder Veronyca Kwan. "We're always an email away for personalized shoe consultations."
Create an 'Inspiration' Board
If you have glue, scissors and poster board, create a physical vision board (or a virtual one on the platform of your choosing). Look at this time of self-quarantine as a gift of focused time and energy that you can use toward doing the proper research to dream up the perfect event, from florals to centerpieces to invitation designs. Even though it may be tough to be patient with the overwhelming number of mini-deadlines and tasks that come with the wedding planning journey, staying calm and utilizing this time will ultimately be helpful to the overall planning process of your big day.
Go Virtual With Vendors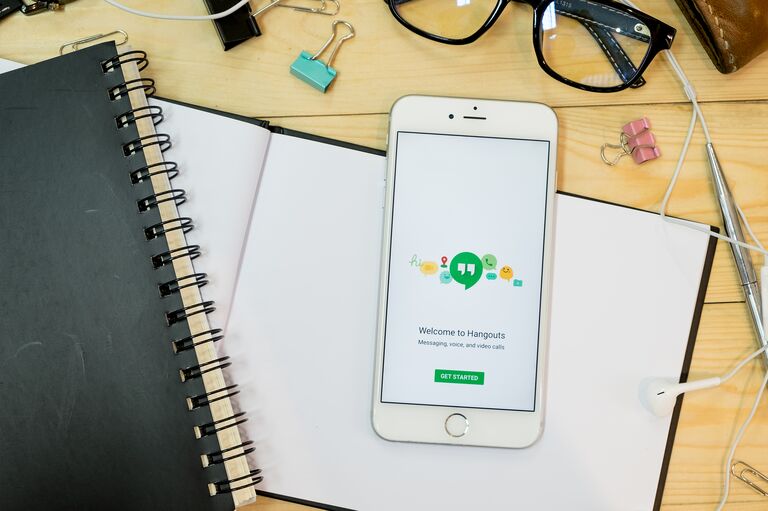 Technology and social media apps have made it much easier to get planning accomplished from a distance. If you're still in search of vendors, check out The Knot Marketplace for a comprehensive overview of wedding pros, ranging from planners to caterers and top-tier florists across the country. Couples who've previously hired these same vendors have left reviews about their own experiences. The research is also in one place: you can scan their websites, scroll through their social media pages for past weddings, and review what others have said about the businesses.
Another part of the process is having actual one-on-one conversations with potential members of your wedding team. By using tools like FaceTime, Google Hangouts and Skype, interviewing DJs, live bands, photographers and videographers is no problem. They can walk you through presentations of their past work and you'll still be able to capture their work style over video. "You can really get a sense of their personality and if they will be the right fit for you," says Marina Birch, owner of Birch Events in Chicago.
From there, keep in touch with your chosen vendors digitally and in person to progress through your to-do list. And, of course, for the comfort of knowing that like you, they're also busy planning from their ends.
Shop for Your Attire Both In-Store and Online
Start by researching local salons in your area to see what designers they carry within your budget range. This will help you narrow down the ideal boutiques you'd like to visit. Plus, your loved ones can look forward to a fun date where you model dresses, sip bubbly, and catch up—together. Call the boutiques to work through an appointment schedule.
Once there, ask about the timeline and expectations for scheduling. Salons, in particular, are also experiencing a rush of appointments due to a perfect mix of anniversary receptions, postponed weddings and previously scheduled weddings.
For grooms, ask your partner to get out a measuring tape to work through your measurements. A quick YouTube search will let you know what measurements are crucial to know for suit sizes (this sizing guide from The Black Tux is a great place to start). There are a good number of tux rental and sales sites where you can then opt to shop. Tell your groomsmen to do the same.
If you're concerned about your color palette, turn to brands like The Tie Bar and Birdy Grey for groomsmen accessories (bowties and neckties) in a range of hues that'll match the bridesmaid dresses.
Design Your Jewelry and Accessories
Many jewelry shops started offering virtual consultations during COVID, including shopping for wedding bands and for some, engagement rings. If you're in a pinch and still need to address this portion of the wedding planning process, reach out for a potential digital consultation.
Talk to your jeweler about how you'd like your band to rest against your engagement ring or what you'd like your partner's ring to represent. If you're designing an engagement ring, digital technology has advanced to allow for real-life simulations of ring shapes and sizes against hands. There are plenty of options out there that are now sending model rings to explore fit, style and more. Brands like Ritani and Blue Nile are also great places to envision possible jewelry pieces online. See how your rings potentially stack and whether solid gold or platinum looks best on your partner's hand.
Build Your Registry
You may have been putting it off, but now is a good time to sit down with your partner and seek out registry products and other types of newlywed experiences to enhance your life in marriage. After all, there's no better way to identify what your household needs might be than to, well, work from home or to host intimate group gatherings after quite some time away.

Most retailers have online shops where you can peruse items from the comfort of your couch, including Crate & Barrel and trendy sibling CB2. Other traditional retailers like Williams-Sonoma, Target and Bed Bath & Beyond also have e-commerce experiences where you can easily add items to your bigger registry. More specialty shops like REI, Anthropologie and Traveler's Joy also have extensive offerings online (sometimes even more than what they can carry in stores!), so take this opportunity to get creative and start intentionally building your registry online.
Shop Décor Online
If there's a time to lean into purchasing items for the wedding day, it's now. The Knot Invitations is a one-stop shop for your entire stationery suite, while The Knot Shop offers a range of personalized products. With favors and décor, our current advice is to leave off your wedding date (for now) and instead, lean into your wedding insignia or custom emblem.
With local artisans also practicing social distancing, those who are able to help decorate and embellish your venue with beautiful pieces are also on standby. Turn to platforms like Etsy and more.
Take a Breath (You've Got This!)
Wedding planning is a big undertaking in and of itself, and the added uncertainty of the coronavirus pandemic can make even the calmest bride feel anxious about her big day. But one of the best ways to move forward is to do so knowing that you've got a team of supportive loved ones who have your back and that this, too, shall pass. If you're grappling with planxiety (planning anxiety), we've got you too.
"Take the time to rejuvenate and reach out to your friends and family whom you have not had the time to talk to," says Kwan. "Do a bit of spring cleaning or watch old movies. Share positivity in these challenging times."
After all, if there were ever a time to lean into the process of thinking about why you're hosting a wedding in the first place—to bring all your loved ones together in one place to celebrate your new life chapter—that time is now. Focusing on gratitude and community are key to navigating the chaos.