17 Wedding Planner Books That Actually Make Planning Easier
These helpful organizers will keep things on track.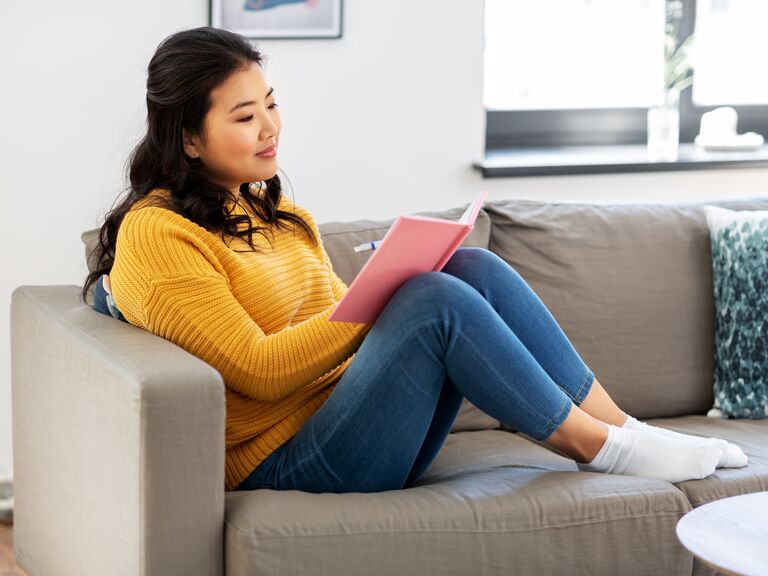 Syda Productions / Shutterstock
We have included third party products to help you navigate and enjoy life's biggest moments. Purchases made through links on this page may earn us a commission.
When it comes to planning your wedding, there's a lot to remember. That's why we exist—to help you along the way. Our website, app and magazine are filled with tools and checklists to make things easier. A wedding planner book or binder can be another great resource for staying organized. "Planning a wedding can be a daunting task. That's where a wedding planning book can help," says The Knot Executive Editor Lauren Kay, who recently worked on The Knot's newest planner book. "A thoughtful planner can guide you from ideas to reality, helping you anticipate and manage all the details in between."
Maybe you're looking for a full-blown binder filled with tips, tricks and timelines. Or maybe, you just want a pretty journal to jot down your lists and notes. Whatever your vision and budget, we've gathered inclusive and functional options for every couple and ceremony style—from microweddings to extravagant celebrations.
In this article:
Best Wedding Planner Books
Created by industry pros and tastemakers, these wedding planner binders and organizers emphasize practical advice and checklists. But selecting one can be difficult—especially when there are so many to choose from. So what makes a great wedding planner book? Kay recommends focusing on those that combine useful inspo with planning tools. "Look for a planning book that offers inspiration, helpful checklists and planning tips to make the process easier for you and your spouse-to-be," she says.
1. The Knot Ultimate Wedding Planner & Organizer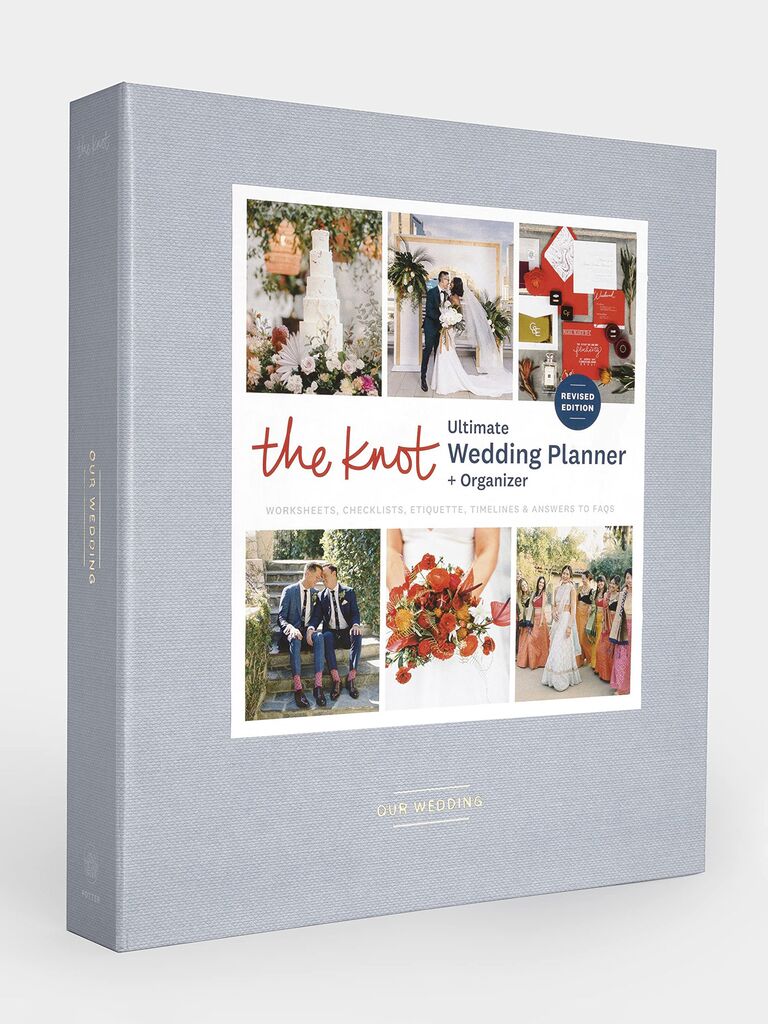 The Knot Ultimate Wedding Planner & Organizer packs over 25 years of wedding expertise into one manageable, beautiful wedding binder. The latest edition of our indispensable organizer covers every step of the journey—including where to start planning, how much to budget, choosing your vendors, signing contracts and much, much more. We'll also show you how to make the most of The Knot's digital tools, like your registry and wedding website.
"We've packed it full of inspiration, detailed worksheets and timelines, taking the guesswork out of planning," Kay explains. "We've also included ideas to represent all kinds of couples and celebrations, from LGBTQ+ to multicultural and interfaith ceremonies—there is something for everyone." And because personalization is key, there are even removable stickers to make your binder your own. Why not, right?
2. Equally Wed: The Ultimate Guide to Planning Your LGBTQ+ Wedding
LGBTQ+ couples face unique challenges when planning their celebrations. While many wedding planner books gloss over this, author and LGBTQ+ wedding expert Kirsten Palladino faces them with refreshing candor. Couples of all backgrounds and budgets will love her invaluable insider tips for planning a memorable wedding day that's both romantic and modern. Palladino covers it all in this inclusive guide—including what to look for in a wedding vendor and how to address more serious topics, like dealing with homophobia among family members. Her extensive knowledge and first-hand personal experience make this an excellent resource for LGBTQ+ couples and wedding professionals.
3. The Everything Guide to Micro Weddings: The Ultimate Source for Planning a Small and Meaningful Wedding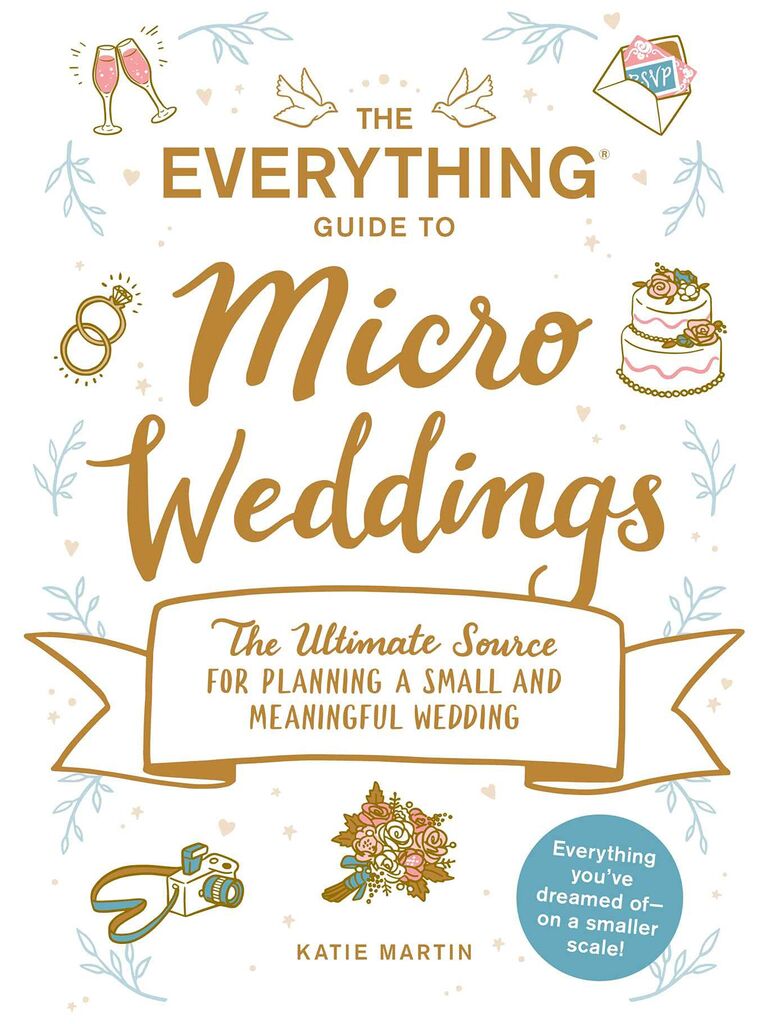 It's no surprise that the pandemic has resulted in more intimate wedding celebrations. So it's only appropriate to include a guide that focuses on planning those (smaller) big days. Wedding designer Katie Martin breaks down everything you need to know in this new wedding planner book, which was released in October 2021. She dives into the most impactful ways to personalize your microwedding, while also providing other tips and inspiration along the way. Whether you're looking for budget guidance or how to (gracefully) tell someone they're not invited, Martin's advice aims to avoid those awkward interactions and stay focused on what truly matters.
4. The Little Book of Wedding Checklists: All the Lists and Tips You Need to Plan the Big Day
This affordable wedding planner checklist book is somewhere between an organizer and a journal. It's filled with checklists you can customize to suit your vision for the day—whether you want an understated affair or a lavish soiree. Author and destination wedding planning expert Elizabeth McKellar includes plenty of advice nestled in among the checklists to give you a helping hand—from timeline tips to questions to keep in mind. If you're all about the details, you won't miss a thing with this elaborate guide.
5. Modern Etiquette Wedding Planner: The Essential Organizer to Make Your Day Special for Everyone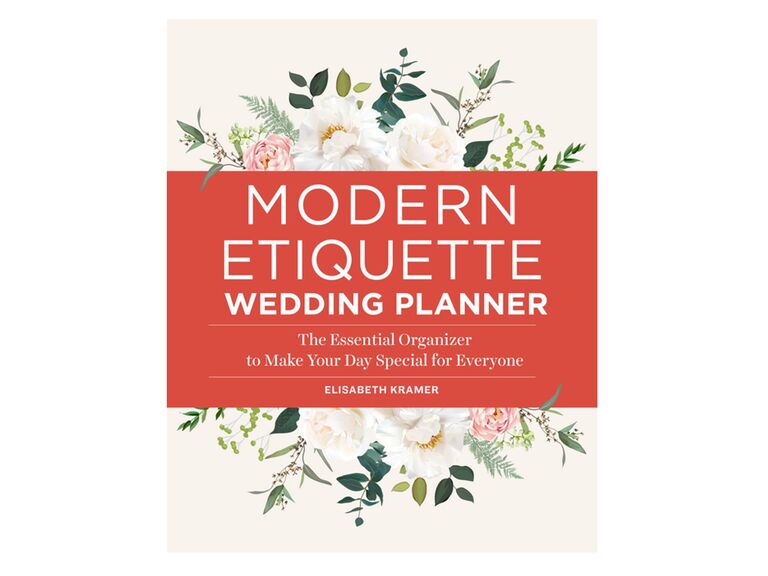 Looking for a wedding planner book with an emphasis on empathy and mindfulness? Author and wedding expert Elisabeth Kramer provides a refreshing and modern take on a traditional wedding planner. Recently published in October 2021, this step-by-step guide is packed with interactive prompts, practical tips, timelines and more—all while prioritizing inclusivity and compassion at every stage. Kramer successfully helps readers focus their attention back on the big picture: celebrating their love.
6. Flower Color Guide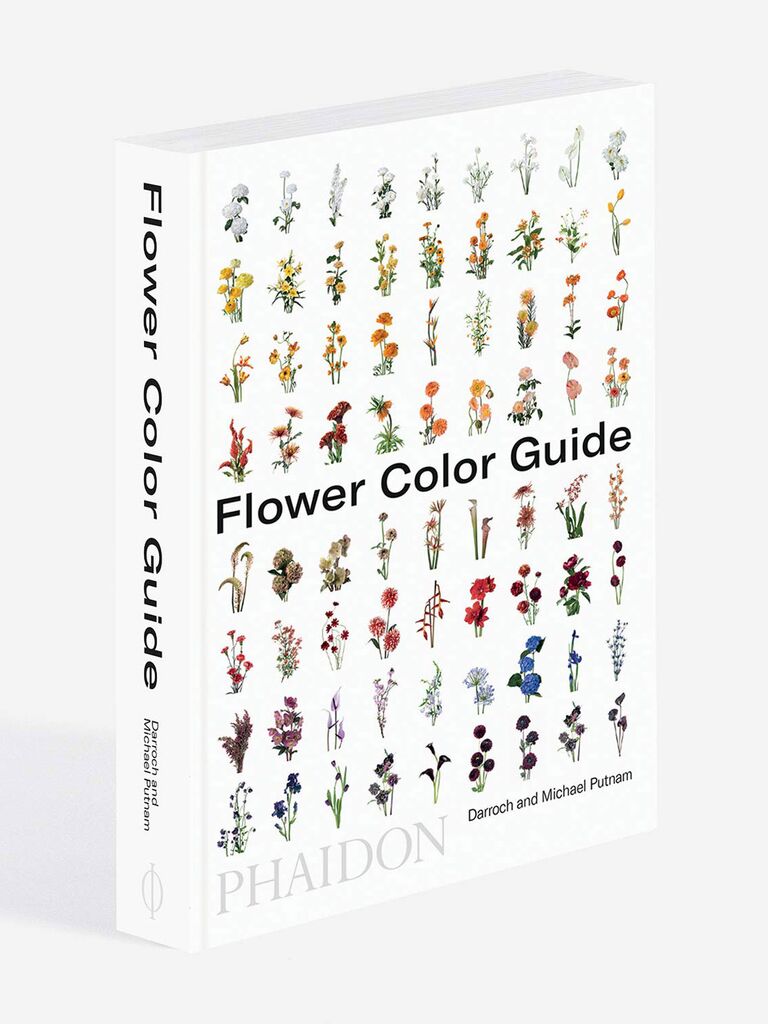 This comprehensive flower guide is a worthwhile resource for couples and wedding professionals alike. Floral designers Darroch and Michael Putnam break down each flower type by color and season—so you won't be short of inspiration for your wedding events. And, when you're speaking the same flower language, it's much easier to communicate with your wedding vendors. As a bonus, there are also tips for everyday arrangements and flower care. Whether you bring this book to planning appointments or display it on your coffee table, it's bound to get a lot of attention.
7. The Knot Yours Truly: Inspiration and Ideas to Personalize Your Wedding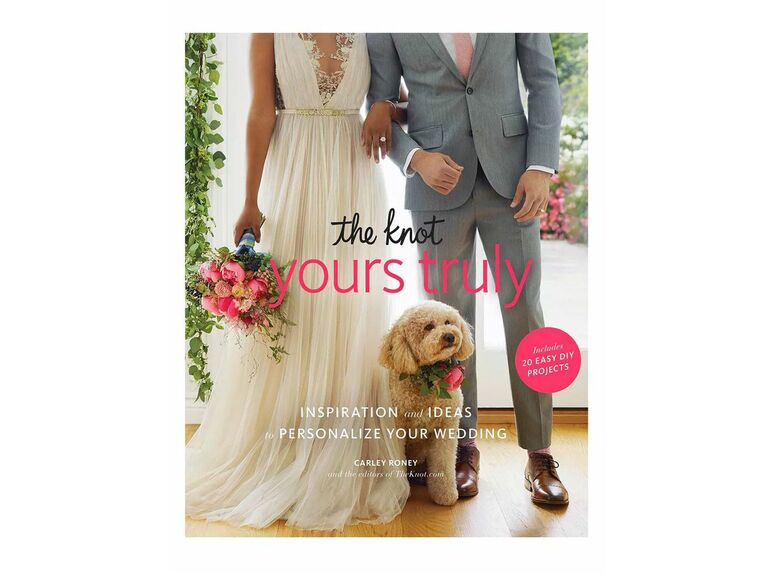 If you love our binder, we have even more tips and tricks to share. This wedding planner book wants to help you find the best style for your big day. There are tons of pictures from real weddings for inspo—covering everything from the cake to place settings. We know you want your wedding to be unique, and that's where this planner comes in. Plus, there are craft projects sprinkled throughout if you like a hands-on approach. (Our favorite? A chic macrame leash for any four-legged member of the wedding party.)
Best Wedding Planner Notebooks
A nice wedding planning notebook can change everything. That's where wedding planner journals come in: They're less structured than traditional wedding planner books, so you can use them in whatever way makes the most sense to you. Looking for something personalized? We've included options that you can customize with names, your wedding date or other sentimental details. (Psst: These gorgeous wedding journals double as super-sweet engagement gifts.) Keep reading to see our favorite practical and versatile wedding notebooks for every couple.
1. Rainbow Wedding Planner Notebook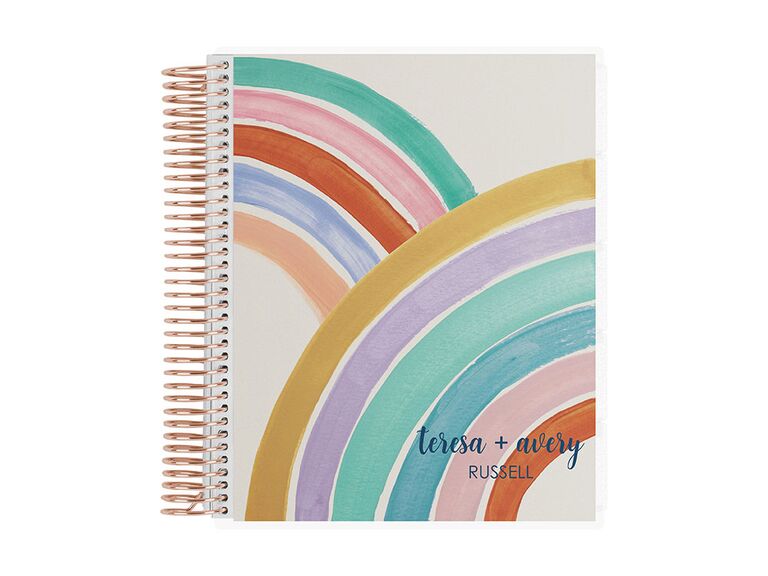 If you love to fill your life with color, Erin Condren makes loads of beautifully patterned wedding planner notebooks. You can personalize your cover with your names or initials, which makes it a cool wedding keepsake. Inside, you'll find a workbook with charts, lists and plenty of blank pages to help you through. There are also stickers, a folder and a snap-in bookmark to keep things nice and neat.
2. Bling on 2022 Wedding Planner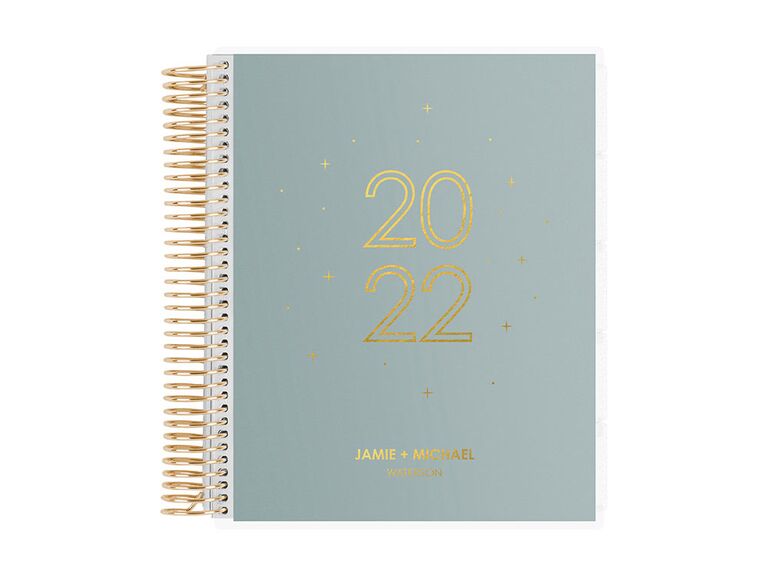 Start 2022 on a productive note with this shiny wedding planner in off-white, purple or blue. It has 12-month and 24-month spreads, so you can plan when it's most convenient for you. There are also helpful checklists, insightful charts and trackers to use at your disposal. Add your names or other text to customize the cover. Like the Rainbow Wedding Planner, this one also comes with playful sticker sheets, a bookmark and a Keep It Together folder.
3. Wedding Appointment Calendar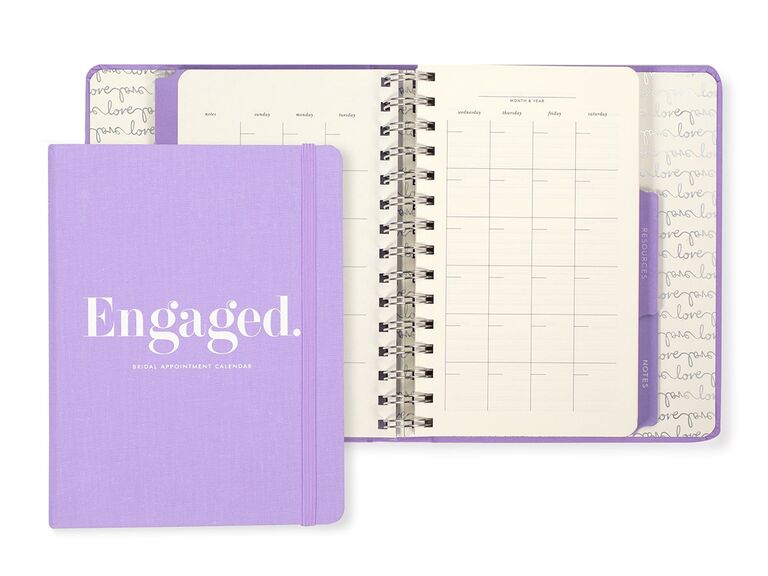 This stylish wedding planning notebook from Kate Spade will help you stay on top of meetings with vendors and keep their contact info all in one place. You can even bring it to appointments to take notes. There's a 15-month undated calendar so you don't forget anything. It's also simply adorable and will look just as good on your desk as it will in your bag.
4. Chic Suits Wedding Organizer
This inclusive notebook's cover (two side-by-side suits on a stylish striped background) will get you excited about your wedding outfits. You'll find gender-neutral language throughout the pages, which have sections to plan out your gift registry, wedding party, budget, honeymoon and more. You can also personalize the cover with your names and wedding date. How sweet is that?
5. Personalized Wedding Planner Book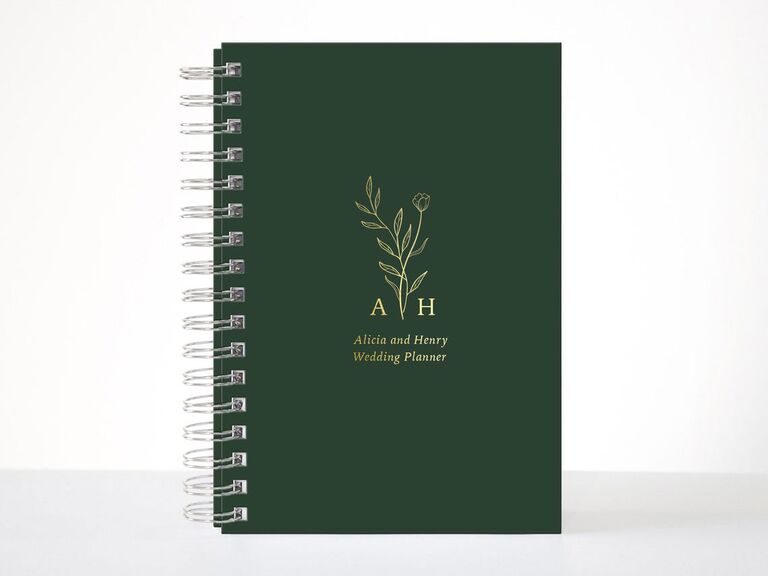 If you're looking for a little less narrative and a little more function, this gorgeous wedding planner notebook is the way to go. We especially love the dainty floral design on the cover—a perfect choice for any minimalist. Customize the foil color and add your names and wedding date, then dive inside for checklists, scheduling tools and to-do lists galore. It's the perfect way to stay on track while still having fun.
6. "Two Brides Are Better Than One" Notebook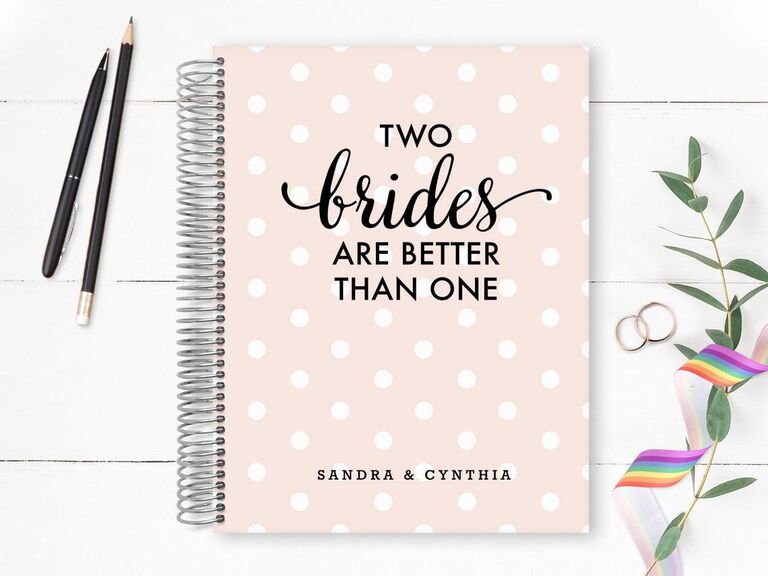 We adore this cute spiral notebook for its playful, polka-dotted cover message: "Two Brides Are Better Than One." Within, you'll find gender-neutral language and guided pages covering everything from choosing your venue to planning out your attire. You get to choose the size and finish, and you can also specify whether you'd prefer an undated calendar or a specific start month (how convenient is that?). There's an opportunity to add names too!
7. Watercolor Wedding Planner Book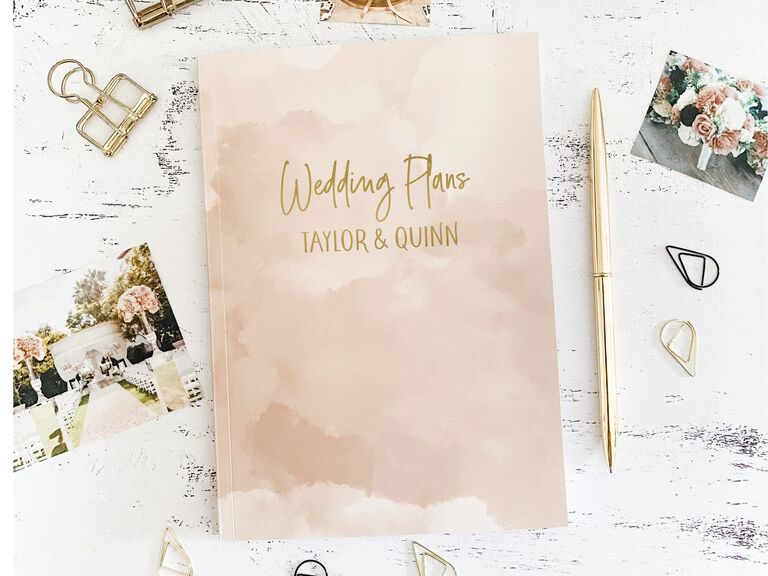 This step-by-step wedding planning notebook includes detailed checklists and interactive worksheets to help you with your budget, guest list, seating plan and more (there's even a section to manage your appointments). Most importantly, the book is gender-neutral, so it contains nonbinary language for every couple. Choose from gold or silver foil to personalize the cover, which features a lovely watercolor design that's super trendy.
8. Tying The Knot Notebook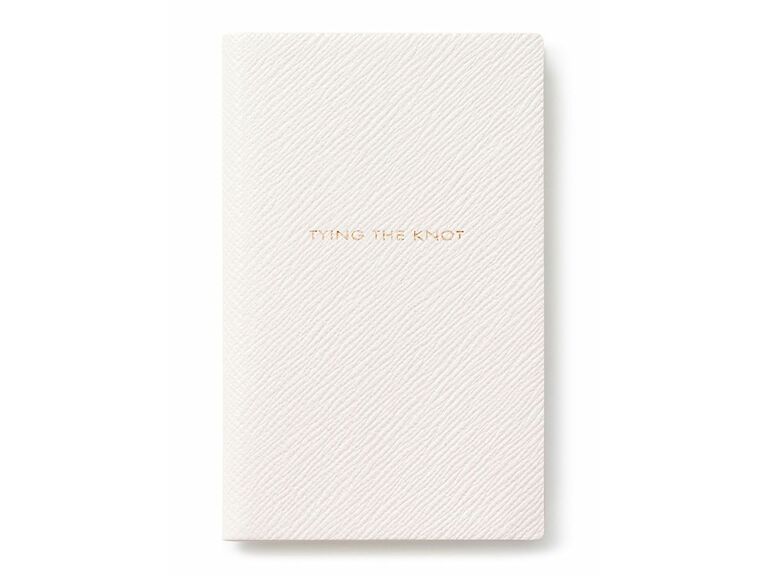 This durable notebook isn't just luxurious—it's also just plain convenient. Each book is handcrafted in England using cross-grain leather, so it's made from the best of the best. And it's designed to be pocket-sized and portable, perfect for busy people planning on the go. The pale blue pages are so chic and have handy indexed sections so you can organize your ideas and thoughts. Plus, the gilt edging? It doesn't get much more impressive than that.
9. Simplified Wedding Planner Binder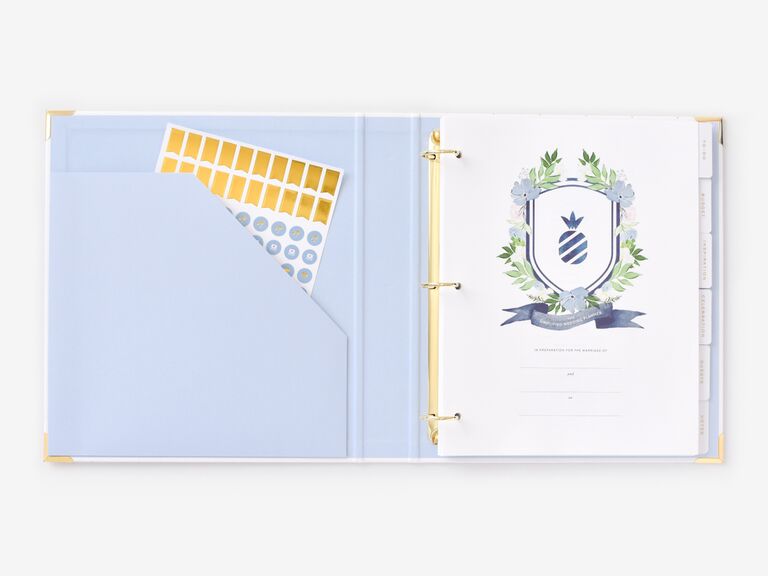 If you love organization, you'll love this wedding planner. Each binder-inspired planner comes in a blue box (which you can totally repurpose as a keepsake) and has a white leatherette cover with dainty gold foil details. Within, you'll find a playful sticker sheet, plus six sections filled with useful worksheets and undated monthly planning pages. You'll receive the perfect amount of inspo and planning tools in this something-blue organizer—from color palette reccomendations to floral ideas.
10. The Knot Honeymoon Journal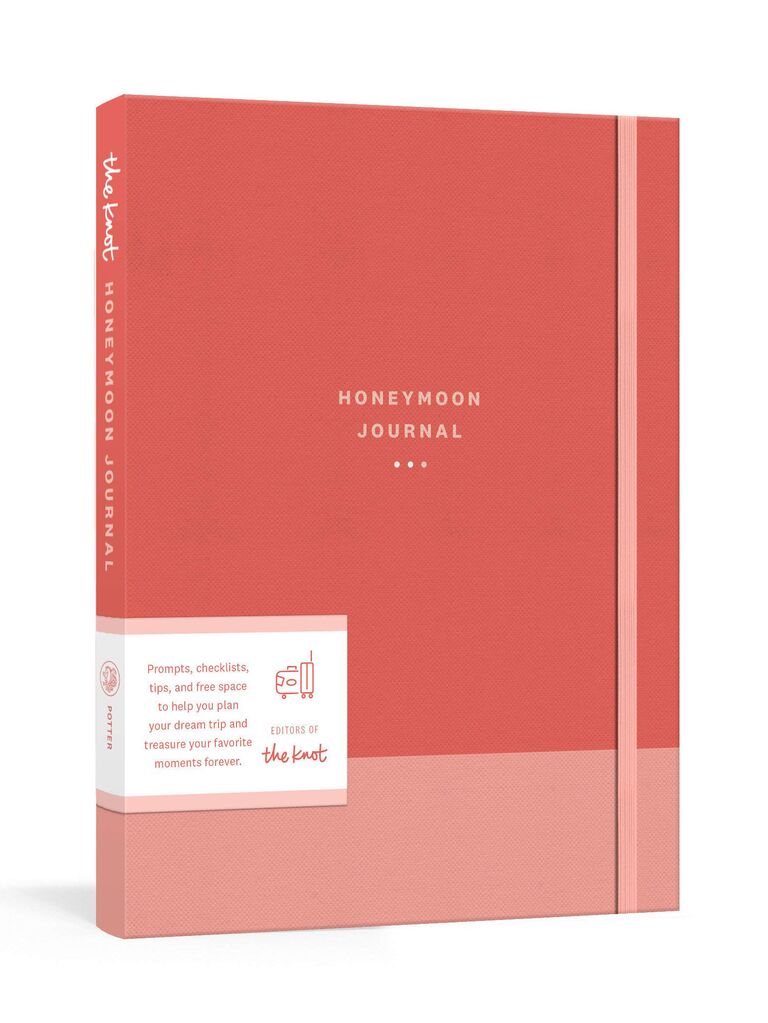 When there's so much to think about for the wedding day, it can be easy to let the honeymoon slide a little bit. But you deserve a break together after all the hard work, and our new honeymoon organizer is here to make that happen. It's a travel journal designed to help you get the most out of your trip. There are prompts, tips and checklists packed into one portable journal.