How to Hire a Wedding Planner
Here are a few simple steps to keep you on track.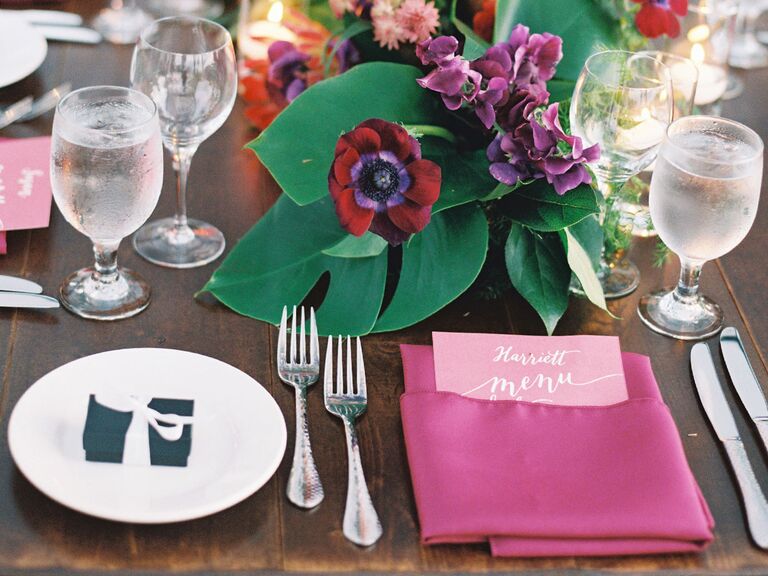 Wendy Laurel
If you've started planning your wedding, you're probably aware of how much work it can be. The good news is working with a professional planner can help immensely. But hiring a wedding planner can feel like a job on its own. Between all the research you have to do, the questions you need to ask, and the contracts you have to sign, you may be feeling overwhelmed.
To counteract such concerns, here's a simple step-by-step guide that outlines all the tasks involved in hiring a wedding planner for your celebration. Check out this simplified list of things you need to do in order to find a planning pro you'll want to work with even after the wedding.
1. Research Local Wedding Planners
Check out prospective planners' websites for photos of recent weddings they've done to help narrow down your list. Be sure to see if elements (like colors, décor and lighting) have a cohesive look and if there's an overarching style that the weddings share. If all the weddings they've planned look over-the-top and glamorous and you want a small, intimate gathering, they may not be the right planner for you. Check to see if your list of planners have specialized in the region where you'd like to marry too. Finally, look for information about the types of planning services they offer, clients they've worked with, and awards or membership in professional associations (such as the Association of Bridal Consultants).
2. Follow Up With Your Favorites
Call your top three or four picks to confirm the following: types of planning services offered, wedding date availability, and price range. If their answers fit your budget and your vision, set up appointments to meet with each.
3. Prepare for Your First Meeting
Bring magazine tear-outs, photos, Pinterest picks and inspiration boards with you when you meet with potential planners. At your meeting, ask the wedding planner any and all questions you have to get all the information you need. Beyond their responses to your questions, take note of their personalities. Is this someone you can work with closely for months at a time? Voice your ideas about your style and colors and see how the planner responds—they should meet your thoughts with enthusiasm.
4. Call Their References
Don't feel pressured to hire a planner you like on the spot. Take the time to call their references and ask the following of the planner and their team:
How closely did they stick to your budget?
Can you email me photos from your wedding? (This is a good way to confirm the overall consistency and professionalism of the wedding. Planners' portfolios are filled with their best work, and, of course, they'll offer couples they know were happy with their work for references, so search online for other real weddings they've done as well.)
How well did they interpret your ideas?
Was the wedding's style exactly what you wanted?
What did they take care of for you (guest list, vendor meetings, setup and so on)?
Did they have good vendor recommendations and coordinate with other pros?
Did they respond quickly to your calls or emails, and were they nice to work with?
Did the wedding go smoothly, according to your guests?
Did anything go wrong, and how did they handle it?
5. Seal the Deal
Take some time to compare and contrast prices, impressions, notes and, if provided, formal proposals. Some planners draft their overall vision for your wedding and their intended services in the form of a proposal, which would then work as the basis for your contract. Once you've decided to hire your favorite planner, call them immediately to express your desire to move forward and receive a contract. As soon as you've signed the contract and paid your deposit, you'll have officially hired your wedding planner. Congrats!