A Step-By-Step Guide to Making a Wedding Website
Best of all, it's free.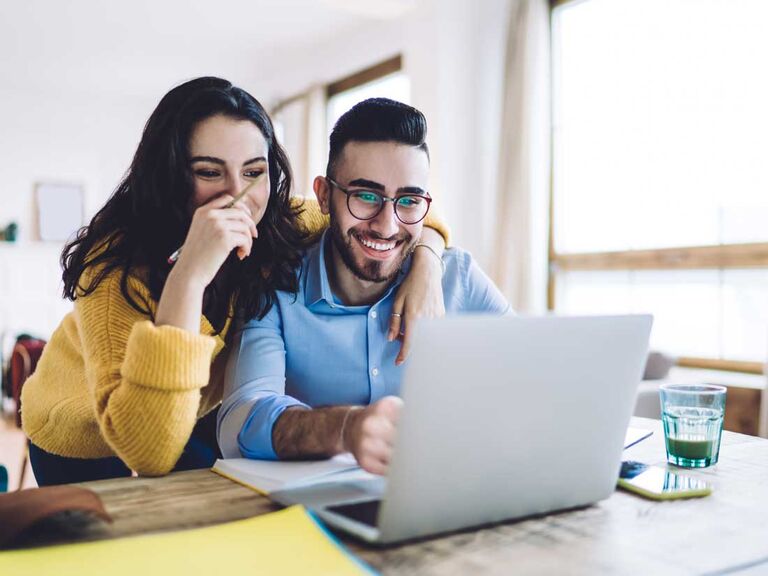 GaudiLab / Shutterstock.com
We have included third party products to help you navigate and enjoy life's biggest moments. Purchases made through links on this page may earn us a commission.
Once you've secured a wedding date and found a venue, it's time to create your wedding website. As the digital hub for all of your wedding information, your site is a must-have tool for guests. And if you're wondering how to make a wedding website for free, The Knot has plenty of resources to help you create a hub that's useful and personalized.
Think of it this way: The last thing you want to worry about is answering the same questions from guests leading up to your wedding day. Your site is the space to share important information about your nuptials, from the location to your wedding party to dress code details. By including all the wedding details on your site, you'll have a place to direct guests if they reach out with questions you've already answered. So if you're wondering how to make a wedding website (for free), we've broken out everything you need to know in a step-by-step guide. Learn how to get started here, and then get creative by crafting a site for your wedding day.
Select a Template
If you're not sure how to create a wedding website, start by researching companies that specialize in creating custom sites. Once you've chosen the wedding website builder you want to use, select a template. Browse through all available options, and pick the one that best represents you and your S.O. And, if you build your wedding website with The Knot, you can also find free templates that match your invitation suite to make your site feel customized to you.
You can even change the URL to match your names or your wedding hashtag. A custom web address is a unique element of personalization, and it'll be much easier to type into a browser. Plus, if you want your guests to actually use your wedding website, you'll want it to be as user-friendly as possible, meaning everyone from your tech-savvy best friend to your great-aunt should be able to easily find your wedding website.
Write a Welcome Message
Once the design is selected, start by writing a welcome message. This is the first page guests will see when they find your wedding website, so welcome them accordingly. Most wedding website templates will have a text box to write a welcome message, but what you put in the space is up to you.
The most important information to include, though, are your names, the wedding date and location. Of all the wedding details, these are most valuable to guests, so include that up front. Next up, you can write a note that's short and simple, or share more intimate details about your relationship and the proposal. Get creative and let your personalities shine. Guests will love to read more about how you met and got engaged, so including those details is a great idea if you're up for it.
Share Engagement Photos
Once you've written your welcome message and love story, support your words with pictures. You probably have plenty of sweet snaps from the proposal and your engagement photoshoot, so pick your favorites and add them to your wedding website. These images will make your site shine—there's no better way to personalize it than by sharing pictures of you, after all. Plus, your loved ones will enjoy getting to see your favorite pictures together. (Pro tip: To make it even more unique, add a few throwback shots from the early days of your relationship so everyone can awe over your transformations.)
Introduce Your Wedding Party
Once you've introduced yourselves, write biographies for your wedding party. They'll be standing by your side when you say "I do," so take the time to introduce them to guests. You can keep it simple and just include their names and roles, or go a step farther by sharing a few fun facts about them. While it's not required, doing so will add color to your wedding website. Plus, your loved ones will be curious to know who you've selected to be part of your big day and why. Write a few lines about when you met, your favorite memories together, and why they're involved in your wedding. Your friends will appreciate the special shoutout on your wedding website.
Include Dress Code Information
Once your guests get their invitations in the mail, they'll wonder what to wear. Even if you include your dress code on the stationery, they'll likely want more clarity—especially if you've requested unique attire like dressy casual or beach formal. To ease fashion concerns (and ensure all guests are dressed properly), expand upon the dress code on your wedding website. This is the spot to give examples and explain what you really mean. So, if by "dressy casual" you envision light cocktail and midi dresses and dress shirts and chinos, add those details.
You won't have space to explain your dress code in its entirety on your formal invitations, so that's why going into detail on your wedding website is important. To avoid getting last minute dress code questions in the days leading up to your wedding, eliminate all confusion by writing exactly what you mean on your site.
Collect RSVPs
Your wedding website is another tool to collect RSVPs from guests. The Knot has an add-on feature to accept virtual responses, so your guests can easily use your site to reserve their spot. Plus, by having all responses in one place, it'll be easy for you to keep track of the guest list.
If you're going the traditional route by sending paper reply cards, you can still use your site to remind guests of the RSVP date. Simply use this section to share the day you need all responses—by including this information on your invitations and your wedding website, it can help guests stay on top of your desired timeline.
Link Your Registry
Guests will want to give you presents to celebrate your engagement and your marriage. But, since this isn't a requirement, traditional etiquette says it's not appropriate to include registry information on your formal invitations. Despite this, your loved ones will want to browse your wishlist to get you gifts that you'll actually love (and use). To make shopping as easy as possible, link your registry to your wedding website. (Psst: with The Knot, you can easily add your registry to your wedding website for a stress-free process.)
Doing so will help your guests stick to the wishlist and get you gifts you actually want. Plus, by including information they need, it's a great way to ensure your wedding website gets plenty of us. After all, if you're going to put a lot of time and effort into building it, you want your guests to use it.
Add Travel Directions and Accommodations
No matter the location of your wedding, some (or all) of your guests will be traveling to attend. Help ease their planning by including directions and lodging arrangements on your wedding website. This is the spot to include information on hotel blocks you've reserved, transportation you've arranged for the wedding day, and directions from nearby airports, train stations or cities. The more detailed this tab is, the better. Guests will likely have questions about travel, and you won't have time to answer them all on the day of your wedding. To make the experience seamless for everyone involved, include as much information as you can.
Give Personalized Recommendations
Finish your wedding website by adding personalized recommendations for local restaurants and activities. There's a chance your guests will have some free time throughout your wedding weekend, so they'll appreciate having a list of suggested hot spots to visit.
Offering personalized recs is another creative way to personalize your site. If you're getting married in your current city, encourage guests to visit the restaurant where you had your first date or the diner you hit up every weekend. For destination weddings, offer suggestions for places that are popular with locals. By giving your personal recommendations, your guests will get a custom tour of the city where you'll be getting married. Not only is it a fun way to get them involved, your site will become a valuable resource for your loved ones.