Wedding Ring Engraving Ideas and Tips
Having your wedding rings engraved is the ultimate way to personalize your rings.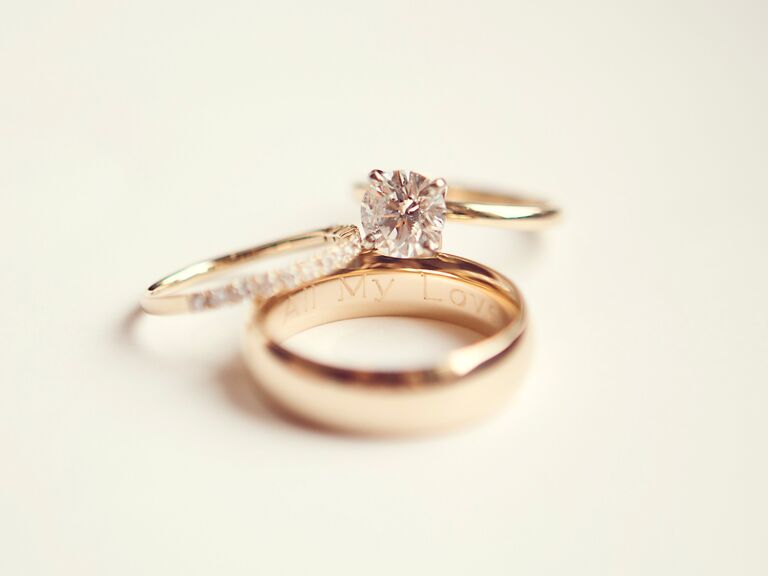 Sarah Kate Photography

The custom of inscribing romantic poetry onto wedding rings began in the courts of medieval Europe. Today, having your wedding rings engraved on the inside of the shank—even around the perimeter of the stone! —is one of the easiest ways to personalize an engagement ring or your wedding bands. Here's what you need to know about wedding ring engraving followed by some of our favorite ring engraving ideas.
How to Do It
Make the request to get your ring engraved by yourjeweler when you order the ring. Not every jeweler performs wedding ring engraving. If the jeweler can't do it, he should be able to refer you to an engraver. Be sure to double-check the spelling of the requested inscription before you pass it on to the engraver, and check it again when you receive it.
Write down the description on a piece of paper so that there is no potential for any miscommunication. Double-check your spelling before you hand it to the engraver. You'll also want to double-check the inscription when you receive your engraved wedding rings.
When to Do It
Engraving can be done as quickly as while you wait, or it can take up to one month. Ask your jeweler how long yours will take and plan ahead.
Why Do It
Why get your wedding rings engraved? After all, if the message is on the inside of the rings, no one will likely ever see it except for you and your spouse. Well, that's the point. A wedding ring engraving is a secret message you and your spouse can share just between the two of you. A nickname, a saying, a psalm or even a joke that only you know can be a perfect engraving idea. Additionally, an engraving can serve as a commemoration of your marriage. You might want to add your wedding date or a popular wedding phrase, like "I thee wed."
Finally, engraving your ring personalizes it and makes it something that truly belongs to you. Bonus, if you lose your ring and find it again, you'll know you've found the right ring.
Unique Ideas Ring Engraving Ideas
If you can't edit your sentiment down to a mere few words or want to use a stanza from a poem or song, consider engraving your message around the rim of the stone itself. The GIA (Gemological Institute of America) can laser-inscribe a microscopic message or even a graphic. The inscription is invisible to the naked eye and can only be seen with a magnifying glass, so it can be a romantic secret between the two of you. Inscribing a message on your diamond also serves as a foolproof "birthmark" should the stone ever be lost or stolen.
What It Costs
The cost of a wedding ring engraving is usually based on the number of characters in the inscription, the font used, and whether it will be engraved by hand or machine. Machine engraving tends to be cheaper, on average $25 for 15 characters, while hand-engraving is usually pricier, at $75 for 8 characters, but adds a special hand-forged feel. The price of the inscription on the actual diamond varies depending on the carat weight of the diamond, but prices start at $15 for graphics or 15 characters.
Words of Engravement
Not sure what to engrave on your wedding ring? Here are some popular and sentimental wedding ring engraving ideas:
I love you
Our love is eternal
To my soul mate
C.R. to D.L. July 10
Always
Forever
Eternity
C&D forever (use your first initials)
I thee wed
All my love
I marry you
You have my heart
My heart is in your hands
Never to part
To my wife/husband
Soul mates forever
I'm always with you
To have and to hold
Perfect fit
We'll grow old together
True love
I choose you
One love
Forevermore
Schmoopie (Your private nicknames for each other)
So happy together
Put your ring back on
Better than bacon
Finders keepers
Here is my heart; guard it well!
No one but you
God for me provided thee
God unite both in love
In thy breast my heart doth rest (Old English)
Pour tous jours (For all days, 15th-century French)
Joie sans fin (Joy without end, French)
Mon coeur est a vous (You have my heart, French)
Je t'aime (I love you, French)
Mon amour (My love, French)
Il mio cuore e il tuo per sempre (My heart is yours forever, Italian)
Amore mio (My love, Italian)
Vivo per lei (I live for her, Italian)
Myn genyst (My heart, Old German)
Mizpah (May the Lord watch between you and me when we are absent from one another, Hebrew, Genesis 31:49)
Ani L'dodi V'dodi Li (My beloved is mine and I am his, Hebrew, Song of Solomon 2:16)
Semper amemus (Let us always love, Latin)
Semper fidelis (Always faithful, Latin)
Pari passu (With equal step, Latin)
Amor vincit omnia (Love conquers all, Latin)
Deus nos iunxit (God joined us, Latin)
百年好合 (Happily ever after, Chinese)
花好月圆 (Blissful harmony, Chinese)
Before you can have your wedding rings engraved, you need to actually pick out your rings. Take a look at our full list of wedding rings.