Everything to Know About Getting Your Wedding Rings Engraved
Plus, the most romantic ideas and sayings to consider adding to your bling.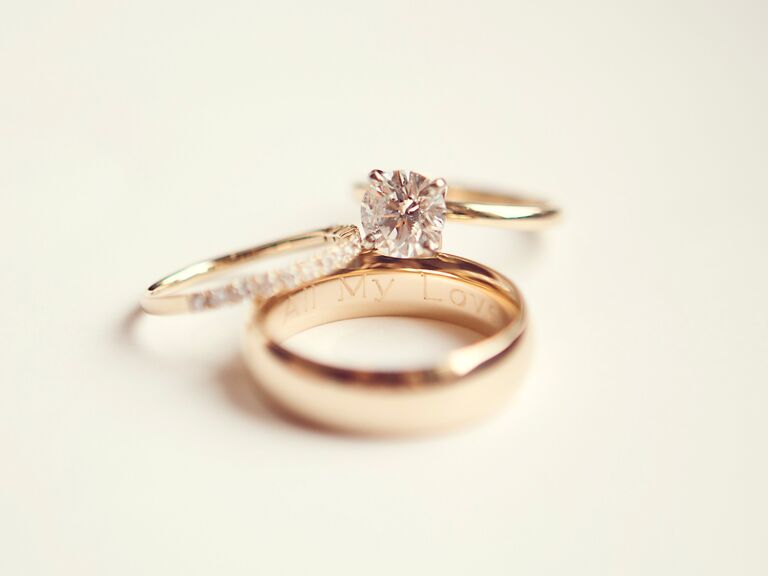 Sarah Kate Photography
Personalization is the buzzword when it comes to weddings today. Most couples want their nuptials to be an authentic representation of their love story, and rightfully so. But personalization goes far beyond signature cocktails and custom favors. In fact, one of our favorite ways to personalize your celebration comes down to your jewelry. Opting for wedding ring engraving is a subtle yet beautiful way to add a thoughtful touch to the bands you'll wear every day for the rest of your life. The best part? It's a secret for only you and your partner to share.
The custom of engraving wedding rings has been around for quite some time—it's believed that it actually began in the courts of medieval Europe. Today, though, we know that having your wedding rings engraved requires a machine or hand-held laser to create an inscription on the inside of the shank, or even around the perimeter of the stone. Not only is it perfectly safe for your jewelry, it's one of the easiest ways to personalize an engagement ring or your wedding bands.
If you're considering getting ring engraving done, you might have a few questions about the process, like when to start and where to go. To help, we've put together this helpful expert-driven guide that answers everything you need to know about wedding ring engraving, followed by some of our favorite ring engraving ideas for you to steal.
Meet the Expert: Page Neal is the co-founder of Bario Neal, a Philadelphia-based fine jewelry and wedding ring brand specializing in ethical sourcing and mindful production.
Common Wedding Ring Engraving Questions, Answered
Do you have to get wedding and engagement ring engraving done?
Why get your wedding rings engraved? After all, if the message is on the inside of the rings, no one will likely ever see it except for you and your spouse—and that's exactly the point. While you certainly don't have to get a ring engraving, it serves as a secret message for you and your spouse to share. A nickname, a love quote, a psalm or even a joke that only you know can be a perfect engraving idea. Additionally, an engraving can serve as a commemoration of your marriage. You might want to add your wedding date or a popular wedding phrase, like "I thee wed."
Plus, engraving your ring personalizes it and makes it something that truly belongs to you. (An added bonus? If you ever lose your ring and find it again, you'll know you've got the right one.)
Is wedding ring engraving safe?
If you're considering personalizing your engagement ring or wedding band, it can feel a bit daunting to hand it over to a jeweler to be marked up by a laser. But considering how long this practice has been around, wedding ring engraving poses no harm to your precious gems. "Ring engraving is totally safe, and we would never recommend it if it was not," Neal tells us. One consideration to keep in mind, though, is the size of your band, as this may impact the quality of the engraving. "The only limitation that our customers run into is if the band is too narrow to engrave. Very delicate rings are difficult to engrave from a technical point of view and will not be legible." Not to worry, though—your local jeweler will be able to advise you on the best ring engraving options for your particular band.
How much does wedding ring engraving cost?
The cost of wedding ring engraving varies across jewelers, but it's usually based on the number of characters in the inscription, the font used, and whether it will be engraved by hand or machine. Neal, for example, shares that Bario Neal charges a flat rate of $50 for all hand engraving with no character limitations.
The average wedding ring engraving cost depends on the company and the engraving style. Machine engraving tends may be cheaper, while hand-engraving can sometimes usually pricier but adds a special hand-forged feel. Reach out to your local jeweler (or the company that designed your ring) to inquire about engraving fees.
How do you get your wedding and engagement rings engraved?
Make the request to get your ring engraved by your jeweler when you order the ring. Note that not every jeweler performs wedding ring engraving; If they can't do it, they should be able to refer you to an engraver. If, perhaps, you decide later on that you do want your ring engraving, you can always inquire with another local jeweler at another time. "We work with couples who come back to us after their ceremony to engrave their rings, which absolutely works as an option," Neal explains.
Regardless of when your ring engraving process begins, it's crucial to be diligent with your request. Write down the description on a piece of paper so that there's no potential for any miscommunication. Double-check your spelling before you hand it to the engraver, and check it again when you receive your engraved wedding rings.
How long does wedding ring engraving take?
Engraving can be done as quickly as while you wait, or it can take up to one month—it all depends on your jeweler. Generally, Neal tells us that couples can expect the process to take a few weeks, so it's recommended to begin as soon as possible (especially if you want your ring engravings done by the wedding). During your initial consultation, ask your jeweler how long yours will take and plan accordingly.
When should you get wedding ring engraving done?
If you want your wedding ring engraving ready by the time you swap vows at the altar, we recommend starting the process at least two months in advance. If you'll be engraving your engagement ring after the proposal but before the wedding, reference your prewedding events schedule to find a few free weeks where you won't need it. (Trust us, you'll want your sparkler on for engagement pictures, wedding showers and bach parties!)
Of course, that's not to say you can't engrave your ring after the big day. If you change your mind a few months (or years) down the line, you can begin this personalization process at any time.
Our Favorite Wedding Ring Engraving Ideas & Sayings
Now, you know just about everything about the wedding ring engraving process—but what should you put on your jewelry? If you don't already have a few wedding band engraving ideas, or you can't think of anything short enough, we've got you covered. Here are a few great engagement ring and wedding band engraving ideas, from romantic quotes to funny phrases and numeric combinations.
Romantic Wedding Ring Engravings
I love you
Our love is eternal
To my soul mate
Always
Forever
Eternity
Yours
X+X forever (use your first initials)
Your monogram
I thee wed
I do
All my love
I marry you
You have my heart
To the moon
My heart is in your hands
Never to part
To my wife/husband
Soulmates forever
I'm always with you
To have and to hold
We'll grow old together
True love
I choose you
One love
Forevermore
Lover
So happy together
Here is my heart; guard it well
No one but you
God for me provided thee
God unite both in love
In thy breast my heart doth rest (Old English)
Pour tous jours (For all days, 15th-century French)
Joie sans fin (Joy without end, French)
Mon coeur est a vous (You have my heart, French)
Je t'aime (I love you, French)
Mon amour (My love, French)
Il mio cuore e il tuo per sempre (My heart is yours forever, Italian)
Amore mio (My love, Italian)
Vivo per lei (I live for her, Italian)
Myn genyst (My heart, Old German)
Mizpah (May the Lord watch between you and me when we are absent from one another, Hebrew, Genesis 31:49)
Ani L'dodi V'dodi Li (My beloved is mine and I am his, Hebrew, Song of Solomon 2:16)
Semper amemus (Let us always love, Latin)
Semper fidelis (Always faithful, Latin)
Pari passu (With equal step, Latin)
Amor vincit omnia (Love conquers all, Latin)
Deus nos iunxit (God joined us, Latin)
Numeric Wedding Ring Engravings
Wedding date in numbers or roman numerals
The date you met
The date you got engaged
The date of your first kiss
Coordinates of your wedding venue
Coordinates of where you met
Funny Wedding Ring Engravings
Perfect fit
Put your ring back on
Finders keepers
Mine
You're stuck with me now
Why is this off?
Non-refundable
Better half
Lucky
An inside joke