Save Money on Your Wedding Cake With These Simple Tips
Yes, it's possible to have a gorgeous wedding cake without blowing your budget—and we've got the proof.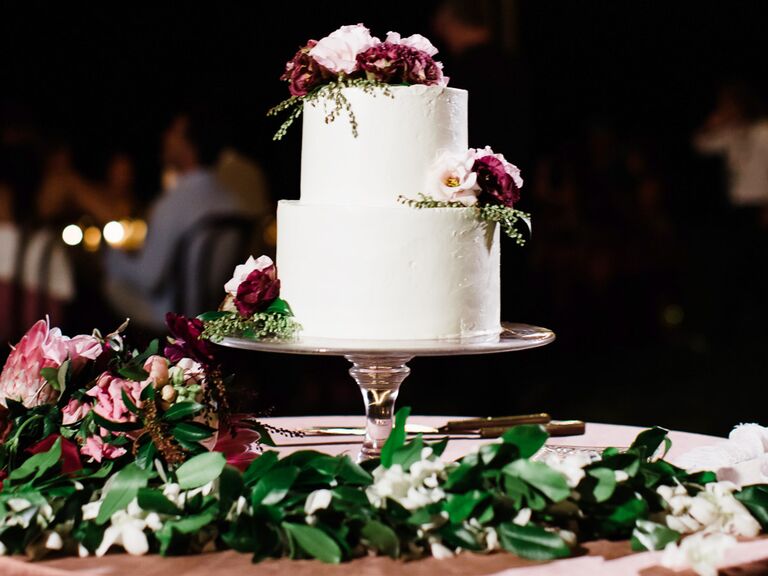 N V MAUI MEDIA
There's nothing quite as special as a showstopping wedding cake—but we get it, every budget has its limits. And if the price per slice of wedding cake is giving you budget anxiety, don't feel like you need to nix the idea altogether. Instead, speak openly with your cake baker, tap into your creativity and use these straightforward tips so you don't have sacrifice this sweet detail.
Order a small display cake.
Ask your baker to make a one- or two-tier cake for display and cutting, and supplement with sheet cake in the back to serve the rest of the party. This can actually save you around 20 percent per slice. And have fun with your table. Have a one-tier wedding cake surrounded by loads of cupcakes, macarons, doughnuts, cookies or a souped-up candy bar.
Keep it simple.
Sugar flowers, tall tiers and intricate piping can quickly jack up the price of your cake. That's because most cake bakers price their work by "touch time," which is the amount of labor and number of hours spent designing the cake. (There's a lot that goes into this confection—it's way more than just flour and eggs!) So when it comes to choosing your cake style, look for designs you love that don't include any over-the-top add-ons.
Pare down your flowers (or choose real ones).
If your heart's set on flowers, go with fresh blooms or choose flat designs such as painted flower motifs instead of ornate sugar flowers. Sugar flowers are very labor intensive—it can take anywhere from 30 minutes to two hours to mold and dust one pretty sugar replica. (Now you know why they're so gorgeous.) To pare down the cost, choose a simple cake with one large stem or a spray of flowers on a single-tier cake. Another trick is to choose sugar flower types that don't require as much time and detail. For example, skip the cascade of peonies and shoot for hydrangeas or calla lilies. But fresh flowers are one of your best bets for a cost-friendly alternative. Just let your florist in on your plans so they can source pesticide-free and food-safe buds.
Be resourceful with your cake display.
Some couples go all out buying or renting elaborate cake stands, which are pretty, but not really necessary. Besides, most bakers will provide a decorated base board you can place right on the table. Once you have your cake display, focus on adding to the space around it—choose a fun linen from home, lush greenery, old family wedding photos, candles or flowers to bring some life to the table.
Serve smaller slices.
Consider scaling back on cake slices and see if your caterer can also include a round of sweets to supplement (think: passed chocolate-covered strawberries, assorted cookies or mini truffles). Let your caterer know they should cut tasting portions to about three quarters of the usual amount, and plan to plate your cake slices with the other desserts. Ask your caterer to place slices on a buffet or cake table instead of serving a plate at every place setting—or have the staff bring bite-size pieces right to your guests on the dance floor so they can enjoy cake while getting down.
Choose buttercream.
In the world of frosting, there are two big hitters: buttercream and fondant, and there are pros and cons to each—including cost. Buttercream is typically less expensive. Fondant, on the other hand, requires extra steps and materials, and can be difficult to work with, making it more expensive. But do your due diligence regardless and don't assume your cake will be less expensive with buttercream: You might want a smooth, seemingly simple appliqué finish on a buttercream cake, when in reality, this pristine style requires precision and time. Long story short, you may not save as much as you'd hoped. And some bakers may charge you extra for fondant, especially if you're requesting a lace appliqué or a detailed pattern design, so it's good to ask your baker these questions up front.
Go naked.
Another way to save money on your cake is to skip an outer layer of frosting. Naked cakes are not only gorgeous to look at, they're actually pretty practical too. They're a lot less expensive because they use less buttercream and take less time—it's as simple as that. To make up for the lack of frosting on the outside, up the wow factor on the inside by experimenting with unique flavors and fillings, like lemon curd, champagne buttercream or chocolate ganache with toasted almonds.
Have your cake pull double-duty.
Here's a fun idea: Instead of spending extra on your favors, have slices of your cake packaged in to-go boxes so your guests get their dessert as a take-home on their way out the door. You could also serve your cake first and use cake slices or cupcakes decorated with everyone's names and table assignments as escort cards.
Choose a boutique bakery (or add a cake to your catering package).
You might not get tons of tiers, intricate patterns or realistic-looking sugar flowers, but if you love your local bakery, ask if they'd be willing to make your wedding cake. Because they're not a wedding-specific bakery, you may have more limited design choices—but the savings can be big. Otherwise, ask your caterer if they include cakes in their packages. Sometimes if you order your cake from your caterer, the overall cost will be lower. Some caterers even require you to use them, and if you don't, they'll charge a fee for bringing in another baker. So do a little cost comparison to snag the best deal.
Ready for cake? Let's find wedding cake bakers near you!