47 Gorgeous Flower-Covered Wedding Cake Ideas
Instant garden party vibes.
No two wedding flower cakes are alike, which is part of what makes them so special. But in addition to looking beautiful, they can be a cost-effective alternative to other time-consuming wedding cake decorating techniques, like piped designs or handmade sugar flowers. If you're thinking of adorning your cake with fresh flowers, let your florist and your baker know well in advance so you can coordinate accordingly. That way, you can rest easy knowing that the cake will match the centerpieces, wedding bouquet and other flower arrangements for your big day—not to mention that you'll want to use the freshest stems possible and choose flowers that are safe to come in contact with food. Need ideas to get started? We're sharing our favorite floral-covered wedding cakes below.
In this article:
Elegant Flower Wedding Cakes
1. Four-Tier Wedding Cake with Floral Base
Display a grand four-tier cake atop a literal bed of roses to set the scene for a glamorous wedding reception.
2. White Five-Tier Wedding Cake with Piped Scallops
With or without flowers, a hand-piped scallop trim is a subtle and classic way to accent a white wedding cake.
3. Three-Tier Fondant Cake with Crest
If you're designing a crest for your wedding stationery or other decor, tie everything together by featuring the motif on your cake as well.
4. Smooth Buttercream Wedding Cake with Ivory Flowers
Placing white flowers against a white buttercream backdrop gives off a chic, effortlessly classy vibe.
5. Fondant Wedding Cake with Orchids
Adding metallic gold accents to the cake is ideal for a super-formal wedding. Finish the design with smooth fondant and clusters of phalaenopsis orchids.
6. Rose Tier Wedding Cake
Max out the height of your wedding cake by adding a layer of fresh flowers in between each tier.
7. Blush Fondant Wedding Cake with Sugar Flowers
Blush and green is one of the most elegant wedding color combinations of all time. Incorporate them into your wedding cake with fondant tiers and complementary sugar flowers like this spring-inspired design.
8. Monogrammed Wedding Cake
Wafer paper flowers contrasted with fresh peonies, hydrangeas and greenery on this multi-tiered dessert, complete with a monogram for added personalization.
9. Simple Elegant Wedding Cake with Roses
Keeping sophisticated and simple on the wedding day? Dress up a basic cake with one or two roses placed opposite each other on each tier.
10. Dramatic Flower-Wrapped Wedding Cake
Your wedding cake is guaranteed to make a statement with this design—a lush band of ivory and cream roses wrapped around the tiers in a spiral.
Rose Wedding Cakes
11. Buttercream Cake with Pink Cascading Roses
Gorgeous for a spring wedding, this four-tier flower wedding cake is decked out with peonies and roses in a pastel palette of blush, lilac and ivory.
12. Gold Painted Cake with Red Roses
Choose dark red and burgundy roses to add eye-catching contrast to a gold and white cake.
13. Simple Rose Wedding Cake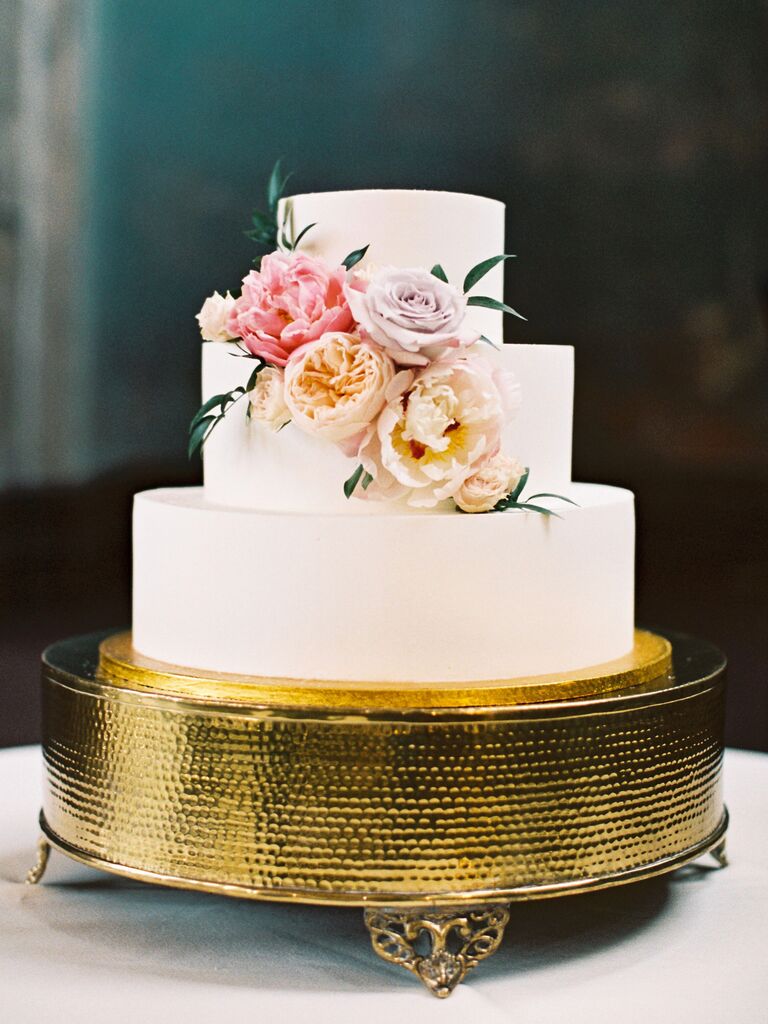 A petite cluster of garden roses adorns this sleek three-tier cake—change the colors of the flowers to reflect your wedding season or theme.
14. One-Tier Wedding Cake with Garden Rose
One-tier wedding cakes are perfect for smaller groups, elopements and microweddings. All you need is a few flowers and some greenery to spruce up a basic buttercream design.
15. Colorful Pink and Orange Rose Wedding Cake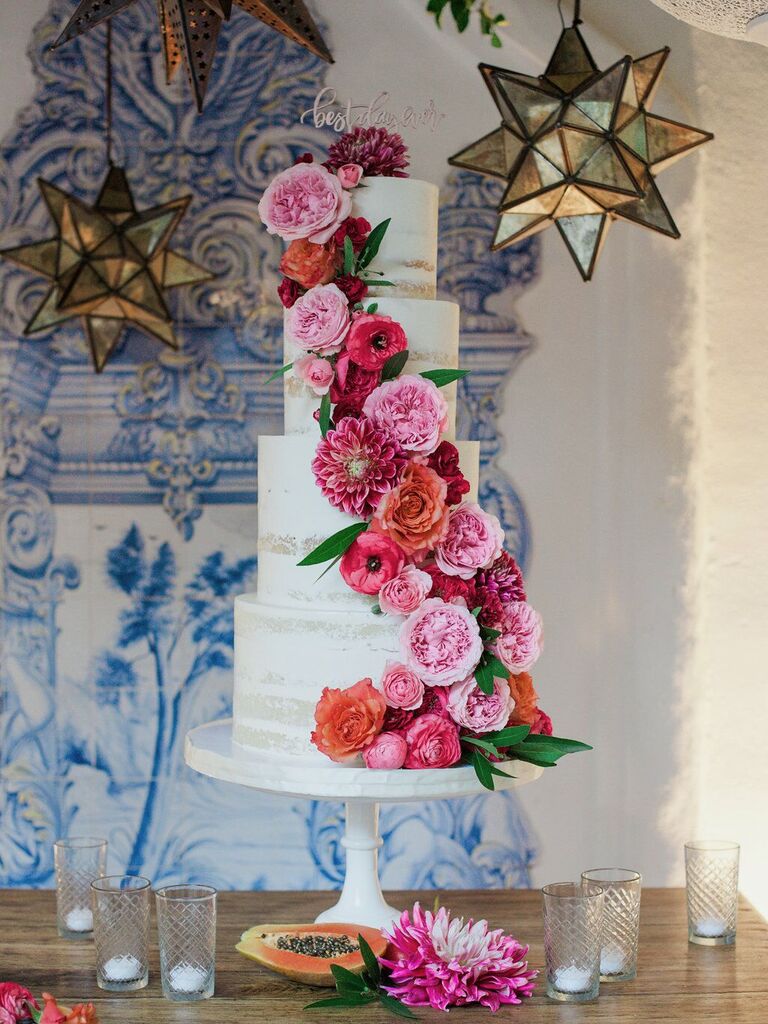 Pick one of the main colors from your wedding palette, then choose light and dark roses in that same hue. Arrange the blooms in a cascading shape down the front of the cake.
16. White Wedding Cake with Gold Leaf and Roses
Use fresh roses to make a wedding cake topper, alternating between garden and spray rose varieties.
17. Classic Wedding Cake with Hydrangeas and Garden Roses
For a truly classic look, pair peach-colored Juliet roses with green hydrangeas scattered around the tiers of a textured buttercream cake.
18. Teal Wedding Cake with Orange Roses
This teal and orange flower wedding cake pulls off a unique color combination—but it totally works if you're going for a whimsical theme.
19. Watercolor Painted Wedding Cake
Delicate garden roses are a lovely complement to a pastel watercolor design. Add votives to your cake display to play up the romantic, airy vibes.
20. Rustic Wedding Cake with Pink Roses
Roses and orchids are a timeless flower pairing, but you can add a rustic spin to your cake by displaying it atop a genuine wooden bark stand.
21. Simple White Rose Wedding Cake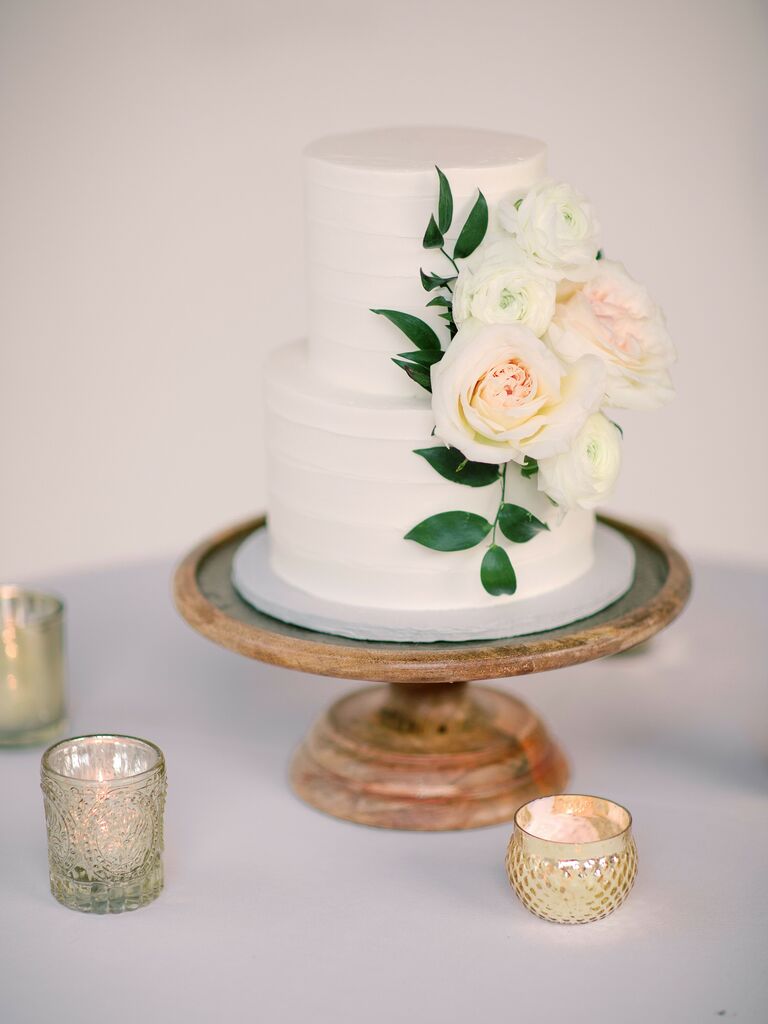 The ranunculus is another flower that pairs well with roses. This white and blush combination stands out against an oak wood stand accented with tea lights in mercury glass votives.
22. Wedding Cake with Pink Roses and Peonies
Can't choose between peonies or garden roses? You can have both. Coral charm peonies are a lively addition to this three-tier cake featuring pink roses and ranunculus buds.
23. Fall Wedding Cake with Roses
Opt for an autumnal palette of roses in muted peach, taupe and cream tones for a fall wedding cake.
24. Glam Pink and Purple Rose Wedding Cake
Adorned with an ombré band of roses down the front of the tiers, this floral wedding cake is a prime example of how to be dramatic in the best way.
25. Boho Wedding Cake with Pink Rose
Deckled edge tiers, pampas grass and pretty orange blooms add subtle boho style to this two-tier cake.
White Wedding Cakes with Flowers
26. Four-Tier Wedding Cake with White Peonies
When working with flowers of different sizes, concentrate the larger blooms toward the bottom of the cake (like these fluffy peonies) to avoid overwhelming smaller tiers at the top.
27. Modern Fondant Wedding Cake with Roses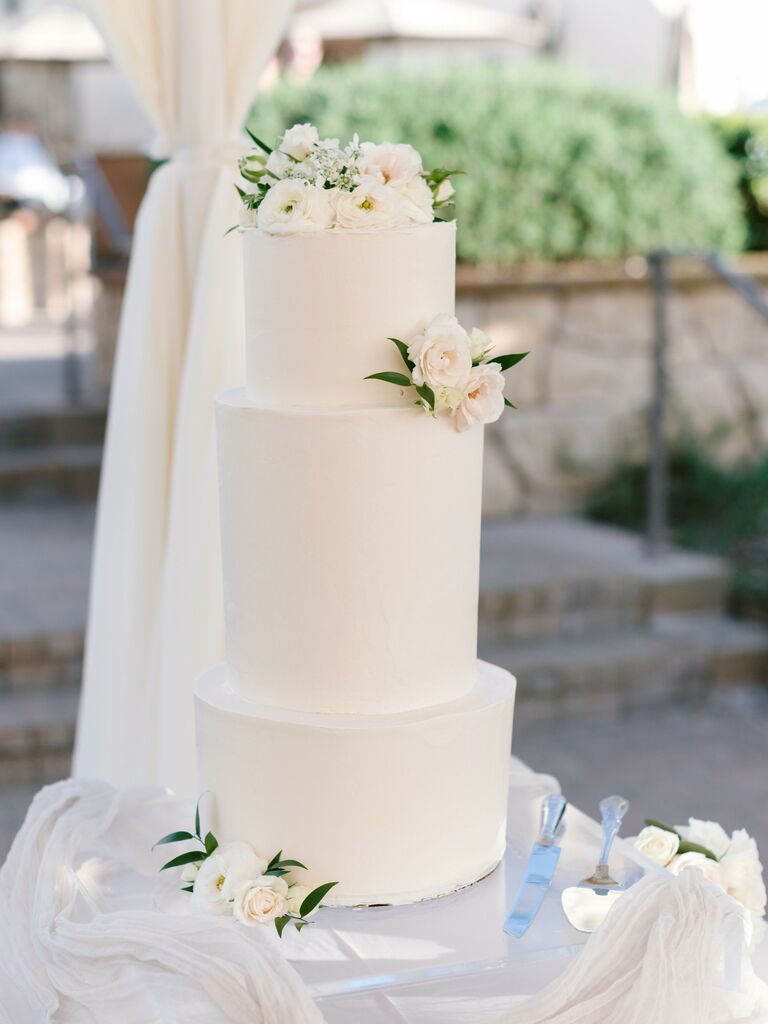 Give your flower wedding cake a contemporary spin by using elongated tiers, which are created by doubling up the layers of cake before adding the finishing touch of fondant or buttercream.
28. Simple White Wedding Cake with Roses and Greenery
Encircle each tier with fresh greenery, such as eucalyptus leaves, smilax or ivy vines, then add white roses for a minimalistic yet stylish effect.
29. White Buttercream Wedding Cake with Tropical Leaves and Plumerias
Plumerias and monstera leaves instantly bring a beachy, island-inspired feel to your wedding cake design.
30. Two-Tier Blush Rose Wedding Cake
Achieve an understated look with the placement of two or three roses and scattered petals at the base of the cake.
31. White Buttercream Wedding Cake with Ranunculus
Alternating smooth and textured buttercream tiers, combined with white garden roses and ranunculus, brought interest to this monochromatic wedding cake.
32. Small White Wedding Cake with Iris
Irises are most frequently recognized for their blue tone, but they actually bloom in a rainbow of colors, including yellow, pink and multicolored varieties. This simple cake is topped with peach-colored irises for an abstract finish.
33. Naked Cake with White Flowers and Feathers
Combine ostrich feathers, edible gold leaf and white flowers on a semi-naked cake for a modern boho wedding theme.
More Flower Wedding Cake Ideas
34. Pink Two-Tier Wedding Cake with Sliced Fruits
Fresh fruits, flowers and painted buttercream in a blush and mauve combination make this cake a fitting choice for a late summer wedding or early autumn celebration.
35. Brown Wedding Cake with White and Blush Flowers
Set against a chocolate ganache backdrop, these orange, pink and ivory flowers add just the right amount of color to the two-tier confection.
36. Milk Bar Wedding Cake with Roses
A whimsical cake with sprinkle filling calls for equally whimsical flowers, à la the long-stem ranunculuses branching out from the center tier of this design.
37. Tropical Wedding Cake with Orange Orchids
Use flowers like anthurium, cymbidium orchids, proteas and palm leaves to convey a tropical theme—even if your venue is far from the ocean.
38. Two-Tier Chocolate Drip Wedding Cake
The chocolate drip icing on this small flower wedding cake is the main decorative detail, with pink blooms adding dimension and texture.
39. White Cake with Colorful Wildflowers
Use wildflowers like zinnias, cosmos, larkspur, daisies and blue thistle for a cheerful, nature-inspired effect—just make sure the blooms are food safe first.
40. Unique Blue and Orange Wedding Cake
Thanks to the architectural-style flower arrangement, this cake looks more like a sculpture than a dessert. Bold orange cymbidium orchids, purple roses and painted fern fronds contrast with the light blue fondant.
41. Three-Tier Winter Wedding Cake
Surrounded by glowing candles, this cake with anemones, ranunculuses, orchids and textured buttercream inspired by mountain ridges is a chic pick for a winter wedding.
42. Yellow and Orange Flower Wedding Cake
Use a combination of long and short stemmed flowers to create a layered floral effect on your cake.
43. Modern Black and White Wedding Cake
Flowers don't have to be the main decorative detail on your cake. This two-tone design is wrapped in a statement tulle bow, with a simple floral topper capping it off.
44. Small Wedding Cake with Flowers
Think of accents you can use beyond just flowers—dried bunny tails, pampas grass and wheat stalks are a few other ways to incorporate botanical elements into your cake.
45. Pink One-Tier Wedding Cake
If you've got a strong sweet tooth, why not add even more sugary treats to your wedding cake? A few macarons are an unexpected (and yummy) complement to fresh blooms.
46. Cookie Cake with Pink Flowers
Bright pink flowers added a decorative element to the top of this otherwise simple cookie cake.
47. Painted Ombré Wedding Cake
Use edible paint and an ombré effect to emphasize the colors of fresh flowers.