49 One-Tier Wedding Cakes That Are Short But Sweet
These petite desserts are perfect for smaller groups.
It's safe to say multilayered wedding cakes won't be going out of style anytime soon, but you certainly don't need one. If you're not *that* into cake, or if you're having a smaller wedding, a one-tier wedding cake is a good compromise. You'll still have the opportunity to embrace the timeless tradition of cutting your wedding cake, but you won't have to worry about wasting food or blowing your budget with an over-the-top design. These pared-down desserts also come in handy for other events beyond the wedding reception, whether you need a bridal shower cake or something to bring out as a surprise during the rehearsal dinner. And the best part? Just because they're small in size doesn't mean you need to skimp on detail. From simple buttercream cakes to beautiful flower-covered designs, these small wedding cakes pack a punch with only one tier.
In this article:
Simple One-Tier Wedding Cakes
1. Fondant Wedding Cake with Ribbon
Finish off a simple, small wedding cake with a silk bow for a design that's oh-so chic and classy.
2. Chocolate Drip Wedding Cake
For chocolate lovers, a drip glaze topping tastes as decadent as it looks. The chocolate gives contrast to basic white buttercream frosting, and you can add an optional topper or flowers to enhance the design.
3. Semi-Naked Wedding Cake with Initials Topper
Quickly turn a plain, single layer cake into a custom design by adding toppers with your first initials or monogram.
4. White Buttercream Wedding Cake with Greenery
We love how easily fresh greenery can dress up almost anything—centerpieces, chairs, even your wedding cake. This combo of bay leaves and eucalyptus atop the wooden cake stand brings a minimalist, earthy look to a buttercream cake.
5. Small Wedding Cake with Fresh Berries
Decorated with fresh berries and a sprinkling of powdered sugar, this petite cake looks reminiscent of something you'd see in a Parisian patisserie window.
6. Swiss Dot Wedding Cake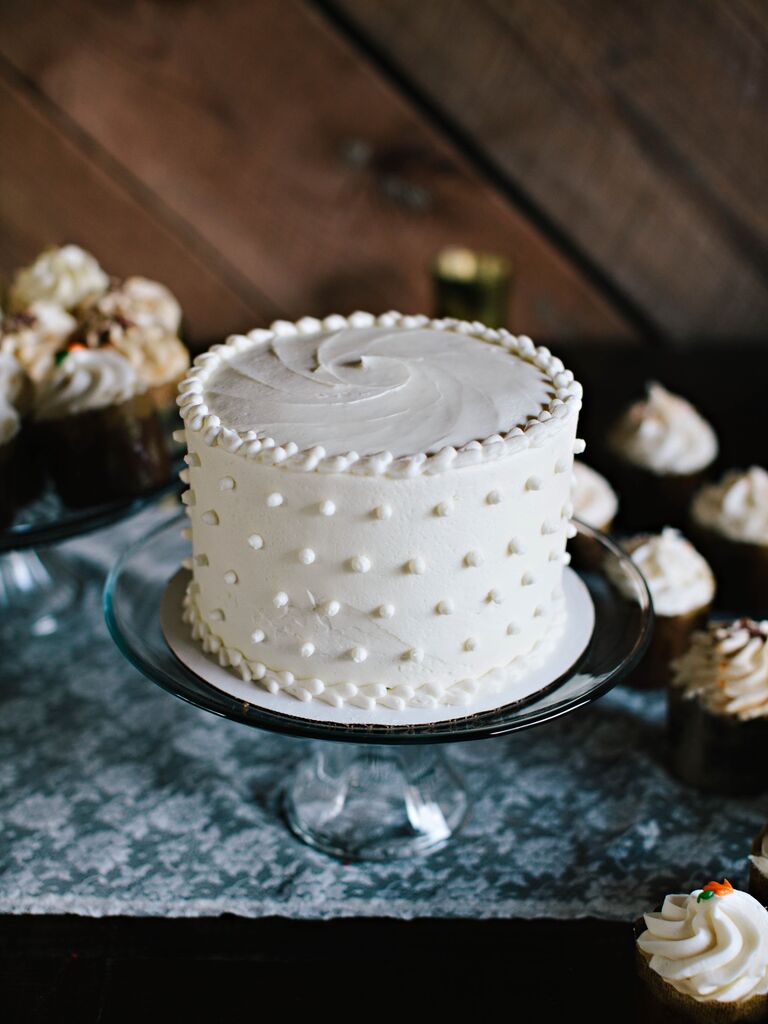 Polka dots are a whimsical cake decorating technique, but they're subtle enough that they won't overwhelm smaller cake designs. Neat rows of dots give texture to a white-on-white cake.
7. Simple Buttercream Cake with Orange Flowers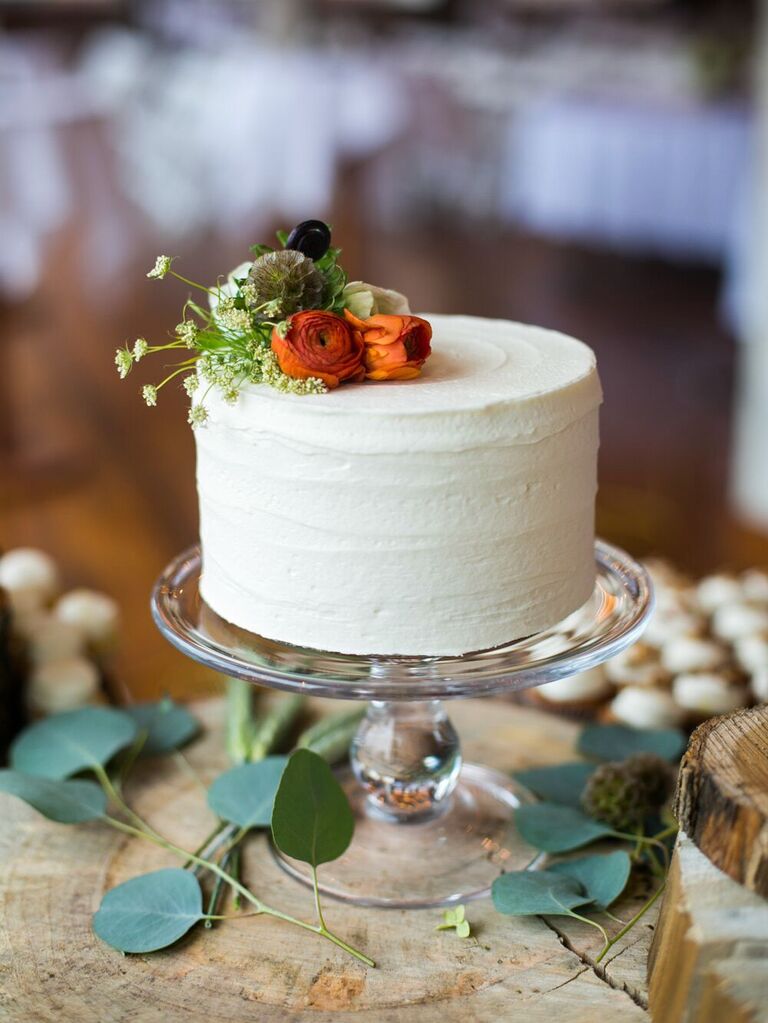 Want to decorate your wedding cake with fresh flowers? It doesn't need to be an over-the-top design. One or two statement blooms, like these colorful ranunculus, will complete cake with just the right amount of flair.
8. Buttercream Wedding Cake with Banner Cake Topper
A custom cake topper in the shape of a banner is cute for a vintage-themed wedding. Use boxwood branches like this to cleverly conceal the toothpicks.
9. White Wedding Cake with Sugar Crystals
If you're getting married during the winter months, decorate your cake with textural sugar crystals or sprinkles. They'll glisten in candlelight and give your dessert a snow-covered effect.
10. Modern Marble Wedding Cake
Colorful marbled fondant was a major wedding cake trend a few years ago, but this neutral take on the concept is super sophisticated. Your cake baker can use lustre dust or edible paint to recreate the look of white quartz or granite.
11. Buttercream and Peony Wedding Cake
A cluster of whisper pink peonies blends in with the ivory buttercream on this classic one-tier wedding cake.
12. Married AF Wedding Cake
Celebrate your newlywed status by decorating your cake with a cheeky topper like this one, which reads "Married AF" in gold glitter letters.
Rustic One-Tier Wedding Cakes
13. Faux Bois Wedding Cake
Meaning "fake wood" in French, a faux bois pattern can be created either by using edible paint or by hand-carving the pattern into fondant. We love the personal touch of this couple's initials framed with a heart.
14. Semi-Naked Cake with Neutral Flowers
Decorate your rustic fall wedding cake with flowers in a neutral color palette of mauve, burgundy and blush.
15. Rustic Boho Wedding Cake
If your rustic wedding theme has boho influences, try this single-tier cake with abstract paint strokes and dried lunaria in a terracotta and sage color scheme.
16. One-Tier Chocolate Wedding Cake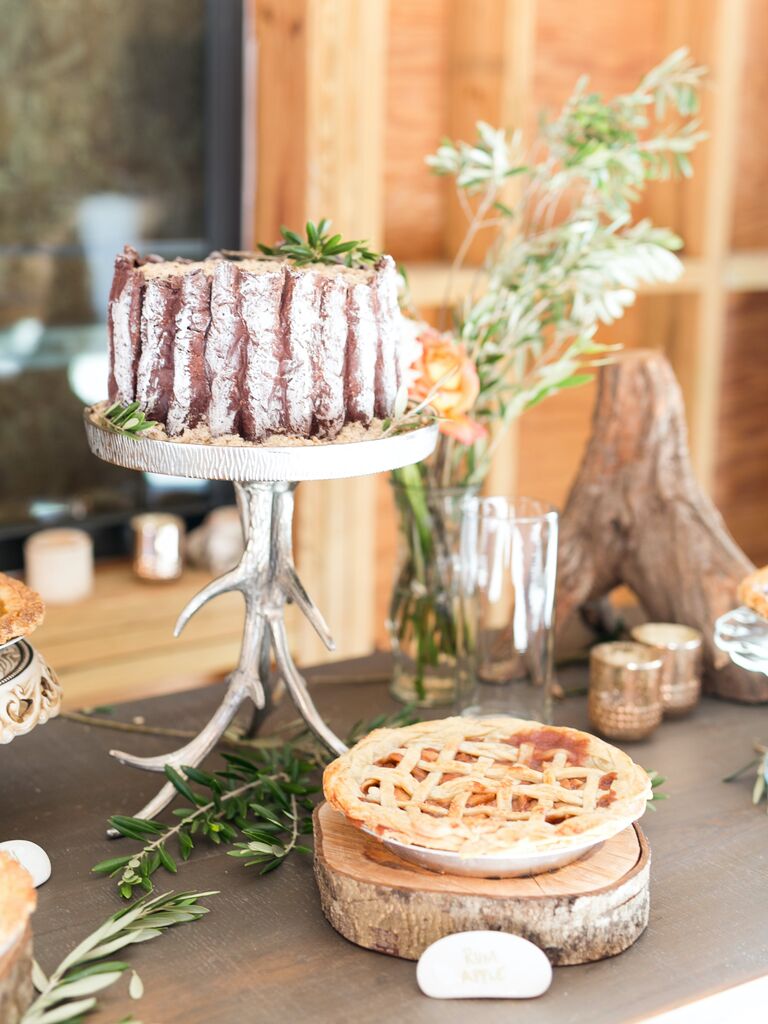 Your dessert display should complement your wedding theme as much as the cake itself. For a rustic aesthetic, use bare wooden tables, wooden slabs and antler details, like this silver cake stand.
17. Naked Cake with Raspberries
Naked wedding cakes are considered less formal, which makes them a suitable choice for a laid-back reception or elopement. Fresh raspberries add extra flavor and serve as a colorful garnish.
18. Chocolate Wedding Cake with Hand-Piped Trees
This chocolate cake was made for an alpine setting. Featuring a hand-piped landscape of mountains and trees, it would fit right in at a ski chalet venue or rustic winter wedding.
19. Blueberry and Bunting Wedding Cake
Throwing a summer backyard wedding? Serve a simple, small wedding cake with sugared blueberries and bite-sized cupcakes for a dessert that's light and seasonal.
20. Small Wedding Cake with Succulents
Arrange tiny succulents in a crescent shape to quickly decorate a simple vanilla buttercream cake.
21. White Buttercream Cake with Dahlias
For an elegant rustic wedding, keep the cake itself fairly classic—like this semi-naked cake with dahlias and a rose gold topper—then bring in the rustic undertones via a wooden cake stand.
22. Hand-Frosted Cake with Cream Ivory Roses
This single-tier rustic cake was the finishing touch for a tower of wedding cupcakes. Ceramic antlers and roses in an ivory palette brought a modern, farmhouse-inspired look to the design.
One-Tier Wedding Cakes with Flowers
23. Garden Roses and Figs Wedding Cake
Fitting for a late summer or early fall wedding, these garden roses and figs added decadence and color to a simple white buttercream cake.
24. Purple Wedding Cake with Roses and Greenery
Your wedding cake is a great opportunity to incorporate color into your decor. This light purple cake accented with roses and ferns is a lovely pick for a springtime wedding.
25. Modern Pink and Gold Wedding Cake
Instead of simply using flowers to decorate the top of the cake, spread them out in abstract placements around the sides, with metallic gold leaf to fill any open spaces.
26. Milk Bar Wedding Cake with Fresh Flowers
Cover your wedding cake with a glass cloche jar if you're celebrating at an outdoor venue. Not only does this take your dessert table decor to the next level, but your cake will be protected from bugs and debris until it's time to dig in.
27. Romantic Blush and White Wedding Cake
We couldn't imagine a dreamier floral wedding cake for a garden fête. Ivory and blush roses, along with greenery vines and a ruffled ceramic cake stand, are a gorgeous combination of elegance and whimsy.
28. Ranunculus and Bougainvillea Wedding Cake
Add zest to a one-tiered wedding cake with bright fuchsia bougainvillea stems that instantly grab attention. The exposed floral frog is a cool, Ikebana-inspired detail if your style leans more modern and trendy.
29. Yellow Wedding Cake with Phalaenopsis Orchid
Orchids are statement flowers, and all it took was one bloom to transform this cake into a masterpiece. The addition of palm leaves is perfect for a tropical theme.
30. Hand-Painted Flower Wedding Cake
Here's a stunning example of how to incorporate flowers into your wedding cake design—without using any real flowers. The best part: Your cakery can totally customize them to match your wedding colors.
31. Ruffled Buttercream Wedding Cake with Flowers
If you only have a few fresh flowers to spare, place them at the base of the cake and use other decorative details, like hand-piped buttercream, to fill out the design.
32. White Wedding Cake with Sugar Flowers
Sugar flowers bring a sculptural, sophisticated look to your wedding cake. Because each flower is carefully constructed by hand, these types of cakes are considered more formal and have a higher price tag to account for the time required.
33. Ombré Wedding Cake with Macarons
Pull the final cake together by adding an ombré wash and macarons in colors that match the fresh flowers.
34. Pink Dahlia Wedding Cake
Larger flowers (like the cafe au lait dahlias pictured here) will totally fill out the top of a single-tier wedding cake, so you'll only need one or two to complete the design.
35. Textured Buttercream and Hydrangea Wedding Cake
Smaller flowers, like hydrangea buds, can be clustered together in a halo-like design to maximize their effect.
36. One-Tier Cake with Yellow, Orange and Pink Flowers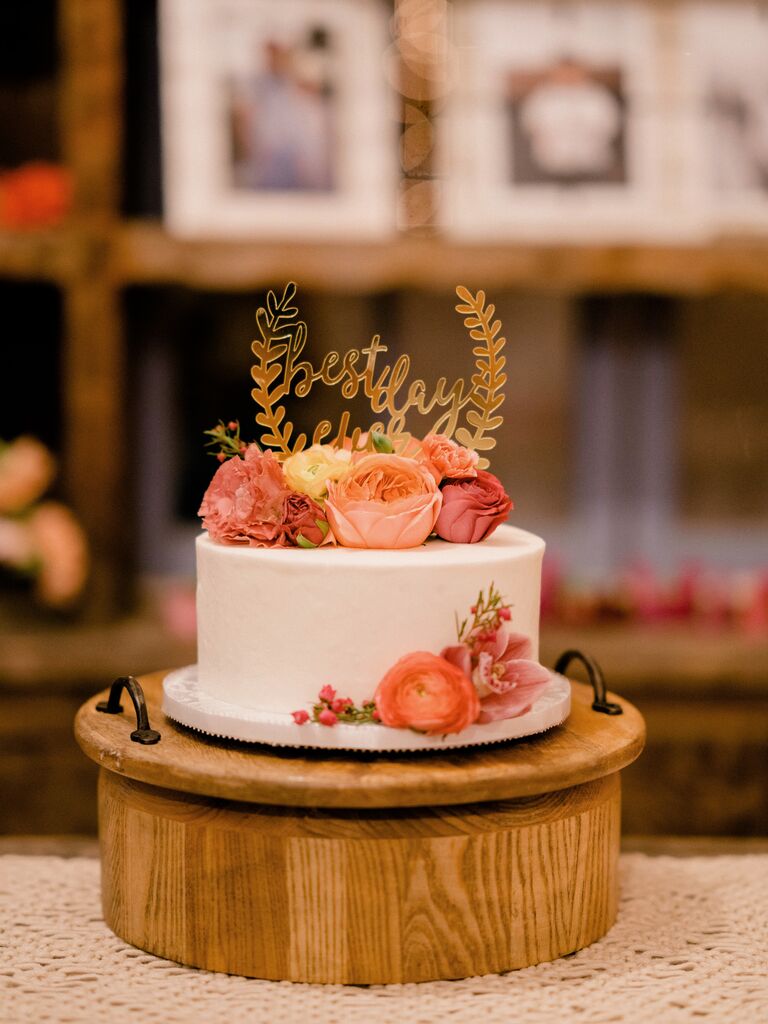 Fresh flowers can be used at the base of your cake topper to create a more seamless look (and add a pop of color in photos).
37. Classic White Buttercream Wedding Cake
Achieve a classic look for your own wedding cake by sticking to a monochromatic color palette, like this white buttercream tier paired with white flowers and a white cake stand.
More One-Tier Wedding Cake Ideas
38. Celestial Wedding Cake
Inspired by starry skies and perfect for a celestial wedding theme, this unique one-tier cake was topped with miniature meringues to mimic fluffy white clouds.
39. Wedding Cake with Kumquats
Fresh berries are a popular wedding cake garnish, but citrus fruits are another option, especially if you're getting married during the summer months. This semi-naked cake paired kumquats with white freesias, but you could also use lemon slices or candied oranges.
40. Modern White Wedding Cake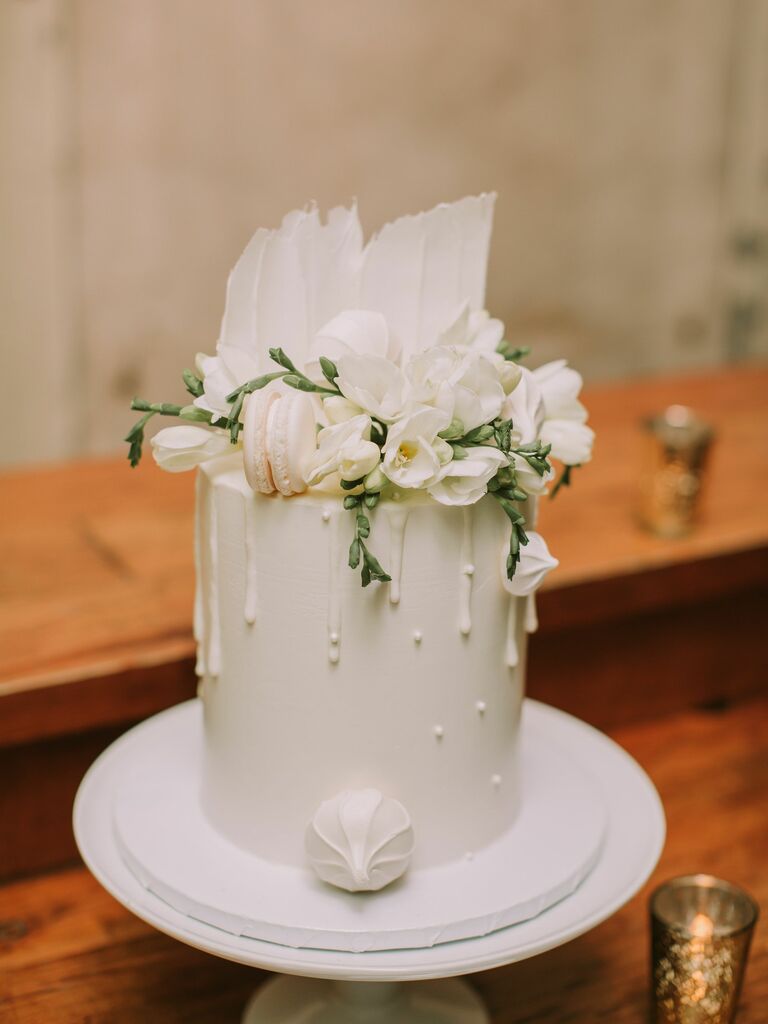 Vanilla drip icing, meringues, macarons and white chocolate pieces added texture to ensure that this all-white cake was anything but plain.
41. Gold Drip Cake with Neon Sign Display
A bright neon sign and matching cake topper will bring personality and color to a white and gold confection.
42. Brushstroke-Inspired Wedding Cake
To achieve this effect, colored buttercream frosting is applied to the cake using a spatula, resulting in a design that resembles a painter's palette or an oil painting.
43. Custom Macaron Wedding Cake
Tap into your inner Francophile and decorate your cake entirely with macarons. This design actually doubled as a seating chart, with guests' names and table assignments written on the individual pastries.
44. Mini Wedding Cake with Edible Gold Leaf
Appropriately sized for an elopement or intimate reception, this small wedding cake is big on detail, with stenciled frosting, gold leaf accents and fresh flowers.
45. Frosted Bundt Cake Display
Think beyond the standard wedding cake if you're in search of something more unexpected for your big day. Bundt cakes, pies and tarts are a few alternative options that are still bound to satisfy any guest's sweet tooth.
46. One-Tier Wedding Cake with Mini Disco Balls
Lean into the party vibes of your wedding day by decorating your cake with miniature disco balls and lots of metallic sprinkles—even better if you're throwing a '70s-themed wedding.
47. Summer Wedding Cake with Lemons
This handmade lemon branch is almost too pretty to eat, but we love how it instantly adds a summery element to the simple fondant cake.
48. Wedding Cake with Caramel Drip Icing
Add an extra dash of flavor to your cake with a special glaze, like this indulgent caramel, vanilla and chocolate combo.
49. Vanilla Cake with Cookies and Popcorn
Pile on the sweets by loading your wedding cake up with cookies, gourmet popcorn and crushed candy pieces. (Our tip: This is also a great groom's cake idea.)