The Best Wedding Photo Display Ideas We've Ever Seen
All the inspo you need to put meaningful pics I display at the wedding.
Photographs are a popular item to include in wedding decor. And the best part is that there are a variety of types of images you can showcase and countless different ways to display the ones you choose. Once you've nailed down the bigger planning checklist items, like booking a venue and creating a guest list, you can shift your attention to planning out smaller wedding details—like how to creatively utilize photographs in your wedding design. Let the tips and ideas below inspire your wedding picture display.
In this story:
The Types of Photos You Can Display
While, in theory, you could display photos of anything and everything at your wedding—these three categories are the main ones you should keep in mind while wedding planning. If you want to display a myriad of images, don't limit yourself to just one setup—maybe include some images at the ceremony and more in a different space at the reception.
Engagement and Relationship Photos
Give wedding guests a peek into your relationship—from selfies taken during the early days of your relationship through to the professional engagement photos you had taken ahead of the wedding day. While many couples utilize engagement photos for save-the-dates, it's fun to also show a few of them off in some capacity at the actual wedding.
Family Wedding Photos
A fun way to pay tribute to your parents and grandparents is to showcase their own wedding photos on your big day. Displaying old wedding photos also gives guests the chance to meander down memory lane and reminisce about other family weddings they may have attended in the past.
"Displaying family photos during your wedding day is a great way to honor how a marriage truly means the combining of families," says expert wedding planner Kari Dirksen, CEO and lead planner of Feathered Arrow Events. "Personally, I love the idea of displaying wedding photos from generations past. It's always great to see how wedding fashion has changed. If a couple is separated or divorced, choose photos carefully so as not to potentially upset someone, or ask them directly what they'd be comfortable having displayed."
For loved ones who've passed or are unable to attend the wedding, honoring them with a photo tribute is a meaningful way to acknowledge them and celebrate how much they mean to you.
"Photos of loved ones are always a nice idea, but recently I had a bride who had lost both her parents and so we dedicated the area all around the guest book to them and other family members that had passed," shares wedding expert Charlotte Ricard-Quesada of La Fête. "It was a countryside wedding in France, and so playing on the theme, we had a clothesline where people were invited to come and attach photos they had with said family members to the pegs for the couple to keep afterward. She also had some newspapers that her parents had been mentioned in and her teddy bear that her father had gifted her when she was little that had never left her side."
Top Tips for a Wedding Picture Display That Wows
As is the case with every wedding detail, proper planning is paramount. While brainstorming a creative wedding picture display, keep these tips top of mind.
Collect Wedding Photos
While you probably have an abundance of photos from your own relationship readily available on your phone or laptop, tracking down pictures of loved ones for your nuptials may take a bit more work. If you want to showcase family wedding photos, sit down with your partner and make a list of every couple whose image you need to source. From there, enlist help to reach out to all your family members to procure images.
Find your kind of venue
From barns to ballrooms, discover reception venues that feel like you.
Avoid Using Original Copies Where Possible
Ideally, when you're sourcing images of grandparents and other ancestors, you wouldn't display the only copy available of a timeless photo. You wouldn't want a valuable photograph that holds immense meaning to accidentally get lost in the mail. When possible, see if family members can send you scans of older images to be reprinted so you don't have to worry about potential damage or loss.
Brainstorm On-Theme Display Ideas
There's nothing wrong with simply placing a collection of framed photographs on a table at the reception, but feel free to break the mold and get creative with your wedding picture display. Maybe you clip pics to ribbon or twine, or even build a special backdrop to be utilized in the display—the world is your oyster (and the ideas below are sure to pique your interest!).
It's also important to think through where a display would go. Placing the setup close to a highly trafficked spot, such as a bar or your guest book table, is a great way to ensure that lots of people get a chance to view the images.
Keep Track of Photos Post-Wedding
This is especially key if you end up displaying one-of-a-kind family heirloom photos that can't be replaced. It's always a good idea to designate someone (either your wedding planner or a close loved one) to collect all wedding gifts at the end of the night. Ask the person tapped with this to also make sure they collect any photos that were on display in addition to other valuable, like toasting flutes or your cake knife and server.
Wedding Picture Display Ideas We're Obsessed With
There are endless creative ways you can display photos at your wedding—these wedding photo display ideas are just the beginning. As you peruse the decor ideas below, make sure to save the ones that inspire you so your own wedding photo display can be as creative and memorable as possible.
1. Couple With Childhood Pictures
This couple had baby pictures printed and placed on sticks so their guests could easily pass around the adorable images and snap their own photos with the props.
2. "In Loving Memory" Sign Beside Engagement Photos
This couple placed a candle on their guest book table to honor deceased loved ones who were unable to celebrate. They also placed a few engagement photos on the table and ensured the vignette looked cohesive by utilizing matching gold frames.
3. Linen Signs Printed With Photos
Photos don't have to be printed on paper—this couple chose to have their engagement photos displayed on linen signs that rustled in the breeze at their waterfront wedding.
4. Geometric Wood Family Photo Display
Planning an outdoor wedding? This idea is for you! Instead of a simple bookshelf, this couple commissioned a modern, geometric wood display to house a collection of family photos for their rustic wedding.
5. Polaroid Picture Station
While photo booths are common at weddings, they aren't often part of a photo display since guests typically depart with the images they've snapped. However, at this beach wedding the couple asked their guests to take one photo for themselves, but then take a second one to leave as part of the display (that the couple could also savor after the wedding!).
6. Pink Photo Gallery Wall Decor
This couple created an entire photo album wall of framed pictures from their relationship as part of the wedding reception decor for their special day. To ensure the wall fit with their overall aesthetic and romantic wedding theme, they painted the display pink and white to match their wedding colors.
7. In Memoriam Photo Display
This couple highlighted precious memories of loved ones who've passed by showcasing a table of photo frames beside a wedding sign honoring their deceased loved ones.
8. Photo Collage "Wall of Fame"
This couple created their own "wall of fame" highlighting precious memories from their relationship.
9. Childhood Photo Display
As you're brainstorming a photo display, think about your own home decor. What pictures are on display in your living room? Those keepsake pics are likely among some of your favorite so, chances are, they're also worth displaying at your wedding for guests to enjoy and peruse.
10. Guest Photos as Escort Cards
If you're up for a DIY project that involves a bit of research and legwork, then this may be the idea for you. This couple didn't limit their photo display to just a family tree—instead, they sourced pictures of all of their guests and had them printed as part of the wedding escort card display.
11. Childhood Photos as Table Numbers
If you're able to find pictures of you and your partner from each year of your childhood, consider creating table number signs where you showcase a picture from the age that corresponds to the table's number. For example, this sign had pictures of the newlyweds at age three as part of the table three marker.
12. Family Wedding Photo Aisle Markers
Most wedding photo displays are set up at the wedding reception, but this couple chose to have pictures included in their ceremony instead. The pews at their ceremony were decorated with framed wedding pictures of family members.
13. Simple Photo Display
Wedding picture displays don't have to be complicated—sometimes, less is more. At this summer wedding, the couple placed pictures in simple acrylic frames and set them on a farm table for guests to peruse.
14. Wedding Bouquet With Photo Charms
This bouquet was wrapped with picture charms of loved ones who weren't able to be present at the wedding. Adding charms to your bouquet is a great way to keep special loved ones close at heart on the big day.
15. "Wish You Were Here" Wedding Ceremony Chair
You don't need to limit in memoriam photos to just people. This couple had a chair at their wedding ceremony that honored two loved ones who they wished could've been part of the wedding—one of whom was their beloved dog.
16. Signature Cocktails With Custom Picture Garnish
This couple had their likeness printed on edible paper and used to make their specialty drinks one of a kind.
17. Photo Guest Book Beside Family Pictures
At this wedding, there were two types of photo displays. First, for their guest book, this couple had a book printed with engagement photos for attendees to sign. Then, to decorate the table where the guest book sat, they set out an array of framed family portraits.
18. In Memoriam Photo of Mother of the Bride
To honor her late mother, this to-be-wed framed a picture of her with her mother and placed it on an empty seat at the wedding ceremony, along with a single white rose.
19. In Memoriam Photo With Pillow
This couple honored a deceased grandparent by placing a framed photograph on a couch styled with a pillow so that the whole display felt like a thoughtful, intentional moment and not an afterthought.
20. Wood Cabinet With Framed Photos
This couple went all-out on their photograph display. Instead of using a table, they decked out a massive wood cabinet with greenery to house framed photos.
21. Wood Lattice to Display Pictures at Wedding
To complement the vibe of this garden wedding, the couple used a wood lattice to frame their picture display.
22. "You Should Be Here" Display
A sign that read "You Should Be Here" accompanied photos and drawings of loved ones who were unable to attend this couple's wedding.
23. Boutonniere With Heirloom Photograph
This groom kept his mother close to his heart, literally, with a photo charm of her attached to his boutonniere.
24. Suit Jacket With Custom Photo Liner
This to-be-wed commissioned a liner for his wedding suit that was a photo collage of images of his soon-to-be wife.
25. Wedding Party Photo Display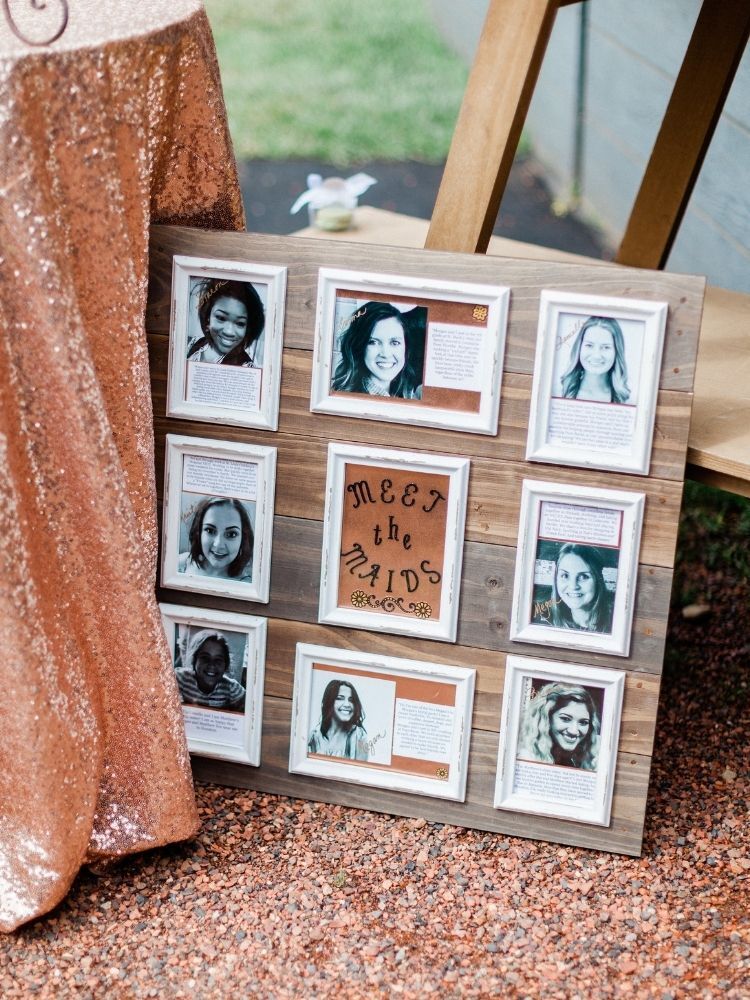 Instead of just listing the members of the wedding party in the ceremony program, this couple chose to showcase photos of each attendant along with a short paragraph about each person.