A Complete Wedding Cake Checklist
To help you come up with a stunning cake design, use this list to check off your cake preferences and then take it with you to your first meeting with your cake baker.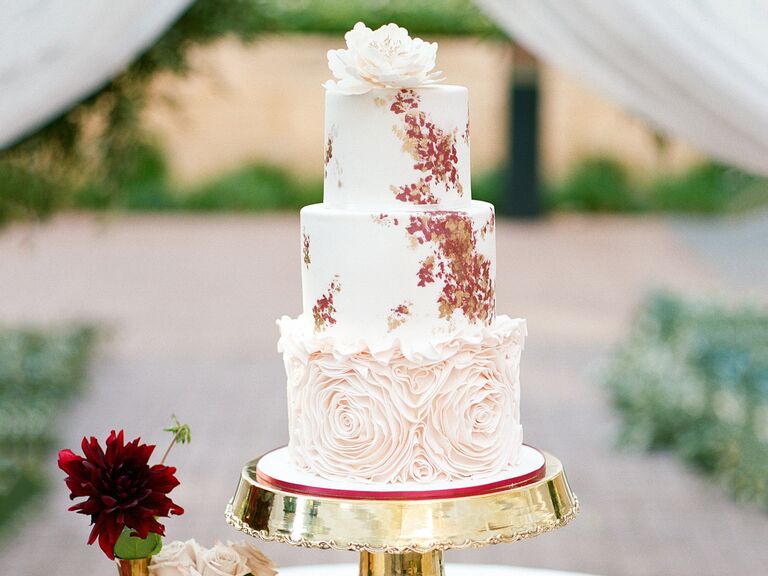 Photo by
Feather & Stone Co
Consider your wedding cake to be the centerpiece of your reception. It should reflect your style as a couple, both in its external details and internal flavors. First thing's first: gather inspiration to figure out what cake details you like (and don't like). Then start your search for the perfect cake baker to bring your vision to life. How do you know which cake baker is right for you? Arm yourself with talking points from this trusty checklist and you'll be happy you did. 
Your Budget
Before you dive in, know how much of your budget can be spent on your cake. It's especially important to know this number up front to avoid meeting with bakers outside your price range. Don't be afraid to be blunt with the cake bakers you meet and let them know what number you're working with. They'll be happy you did, and so will you when it comes to picking up the bill. What is your cake budget?
$____________________
Overall Style
When you think of the perfect wedding cake, what style comes to mind? (Take our cake style quiz here if you need some help!)
[ ] Contemporary
[ ] Dramatic
[ ] Ornate
[ ] Regal
[ ] Simple
[ ] Traditional
[ ] Unique
[ ] Trendy
[ ] Classic
[ ] Glamorous
[ ] Themed (for a bird wedding, or a french-style wedding)
Tier Shapes
Given your cake's style, which shape will represent it best? Round tiers are classic, of course, while square or hexagonal nudge that modern vibe a little further. There are pros and cons to each shape—if you're stuck, lean on your cake baker for their pro opinion.
[ ] Round
[ ] Square
[ ] Rectangular
[ ] Hexagonal
[ ] Triangular
[ ] Topsy Turvy
[ ] Mixed Shapes
[ ] Scalloped
[ ] Sheet cake
Number of Servings
The number of cake servings will help determine the size of your cake. In general, three tiers will serve 50-100 guests. So, if you're having 150 or more, you'll likely need four or more tiers. How many guests will you have?
[ ] 0-10 servings
[ ] 10-50 servings
[ ] 50-100 servings
[ ] 100-150 servings
[ ] 150-200 servings
[ ] 200+ servings
Tip: If you have a small guest list, but still want a tall-tiered cake, have your cake baker create the bottom layer out of styrofoam and decorate it to look like the rest of the cake. Alternatively, if you have a robust number of guests to feed, consider supplementing your wedding cake with other treats too, like cupcakes or a dessert bar. Some guests may opt out of the cake in favor of other goodies and you can ask for the cake to be cut into smaller serving sizes.
Flavors and Fillings
When it comes to wedding cake flavors, the more flavorful, the better. First determine your cake flavor then check out the filling options for a mouthwatering package.
Cake flavors:
[ ] Vanilla
[ ] Chocolate
[ ] Carrot
[ ] Red Velvet
[ ] Yellow
[ ] Lemon
[ ] Orange
[ ] Angel Food
Fillings:
[ ] Lemon curd
[ ] Vannilla buttercream
[ ] Chocolate buttercream
[ ] Apricot Jam
[ ] Raspberry mouse
[ ] Hazelnut buttercream
[ ] Chocolate ganache
[ ] Passionfruit curd
[ ] Cream cheese frosting
[ ] Caramel ganache

Cake Colors
Decide whether you want your cake to perfectly match your wedding day colors, or whether it will complement them. When it comes to choosing cake colors, stay away from bright, bold colors, and go for edible versions of your wedding day hues. What color(s) will dominate your cake?
[ ] Yellow
[ ] Green
[ ] Blue
[ ] Purple
[ ] Pink
[ ] Red
[ ] Orange
What color(s) will you accent your cake with?
[ ] Yellow
[ ] Green
[ ] Blue
[ ] Purple
[ ] Pink
[ ] Red
[ ] Orange
Cake Add-ons
The add-ons you choose for your cake will take it from flat to eye-catching. Whether it's a simple ribbon-like trim, sugar flowers, or a Swiss dot pattern, decide which accents you want on your cake:
[ ] Stripes
[ ] Swags
[ ] Ribbons
[ ] Bows
[ ] Dots
[ ] Rosette swirls
[ ] Flowers (fresh or sugar)
[ ] Pleats
[ ] Basket-weave
[ ] Quilted
[ ] Scrollwork
[ ] Monogram
[ ] Fresh fruit
[ ] Invitation motif
[ ] Lace-like fondant (to mimic your dress)
Cake Toppers
Consider your cake a great piece of art. Avoid topping your cake with something generic—instead, top it with something that's uniquely you. A few ideas:
[ ] Heirloom cake topper (perhaps your mom and dad's or even grandparent's)
[ ] Meaningful family piece (an antique brooch or small vase)
[ ] Destination-specific topper (cluster of coral for a beach wedding; evergreen for a mountain wedding; or grapes for a vineyard wedding)
[ ] Seasonal topper (fondant snowflake for a winter wedding; autumn leaves for fall; and daisies for summer)
[ ] Monogram topper (sugar letters; frosted monogram cookie topper; or even a chocolate-molded monogram topper)
[ ] Simple toppers (chocolate shavings, fresh or sugar flowers, or a cascade of ribbons)
Tip: Not into the cake topper idea? Don't use one. Some cake designs look great without any topper at all. Do it this way and you won't distract from the pattern on the cake.
Find your cake baker here!