20 Cute Fall Date Ideas You'll Want To Plan ASAP
Go ahead. Fall for each other.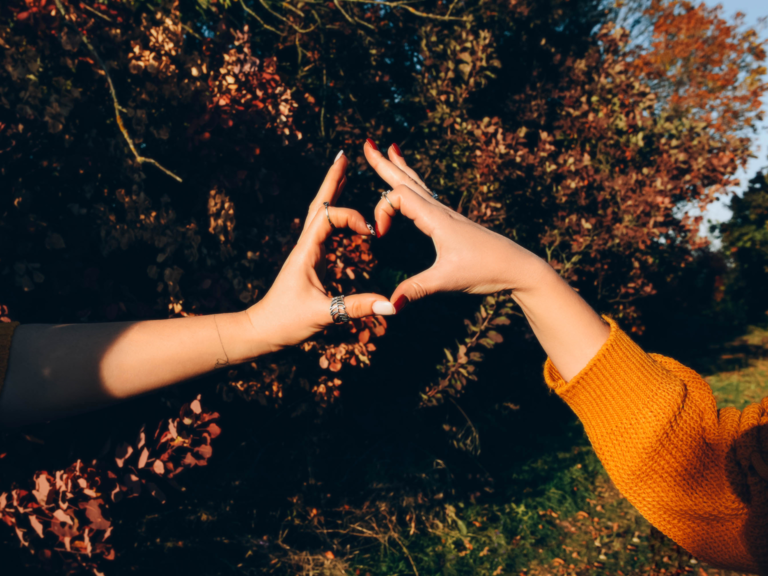 Photo: Maryna Terletska / Getty
If you're a couple who starts celebrating Halloween in September, loves the cozy vibes of sweater weather or are big fans of that PSL flavor, it's likely safe to assume that you and your partner consider autumn to be your collective favorite of the seasons. And, if that's the case, go ahead and make the best of the time of year with our favorite fall date ideas this season.
With 20 cute fall date ideas on this list that include both indoor and outdoor activities, by the time Thanksgiving rolls around, you and your significant other will surely be adding plenty of memories to your list of things to be grateful for.
1. Enjoy a fall-themed picnic
We take your picnic and raise you one cozy fall theme. Grab a wicker basket, fill it with all your favorite fall goodies (think: pumpkin-flavored everything and those seasonal Trader Joe's faves), plus a thermos of warm apple cider. Then head to a local park with your date to split the picnic fare. This idea is especially good for first dates!
2. Sip on a PSL together
Okay, okay… We know the pumpkin spice latte, better known as the PSL, might seem like an autumnal given—but it can make for a low-cost (and super sweet) fall date. Grab a couple of PSLs together, and sip on your drinks while chatting at your favorite café or going on a nature walk.
3. Carve and decorate pumpkins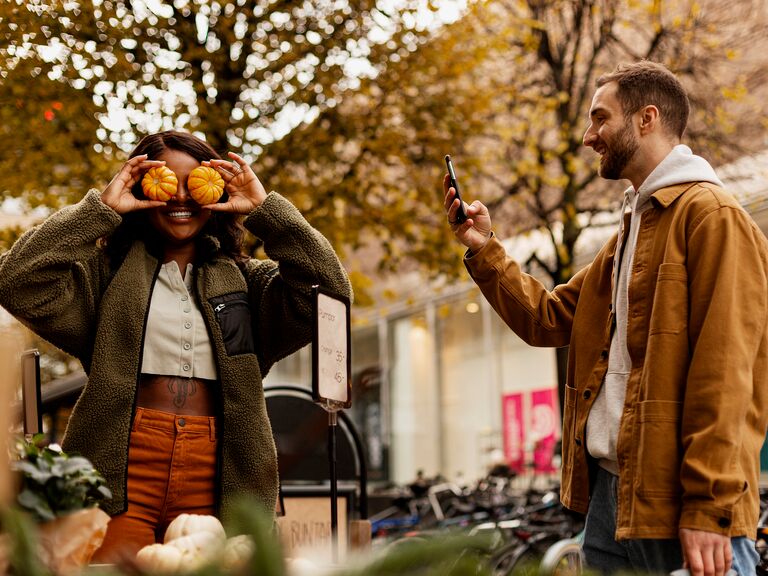 With this messy (outdoor recommended!) seasonal activity, you and your other half can get creative with your own individual pumpkin carving designs, have a contest where you both recreate a specific pattern or even double date with another couple.
4. Have a couples costume planning party
Grab your boo (boo, get it?) and plan your couples costume for this Halloween. Turn the task into a party all on its own by purchasing some early Halloween candy and playing your favorite spooky film as you brainstorm and browse through options. To get started, see our favorite couples Halloween costumes here.
5. Explore a small town
Salem would be the perfect fall getaway, but if you can't make it to Massachusetts, try heading to any small town you haven't been to before and explore it with your love. It doesn't really matter where you choose to go—it's just about being together and making memories.
6. Cook a flavorful fall meal
There's nothing more comforting than the flavors of fall. If you're looking for romantic fall date ideas, this is at the top of our list. Consider recipes like a warm stew, pumpkin mac and cheese, chili or turkey pot pie, and then dig in with your date after whipping up dinner together.
7. Book a weekend in the mountains
If a windy drive up the mountainside, cuddling in a cozy cabin and a hike through the changing leaves sounds like heaven, then indulge and book yourselves a weekend in the mountains this season. While this one probably isn't first date material, it's a great option if you've been dating for awhile and want to do something special together.
8. Go apple picking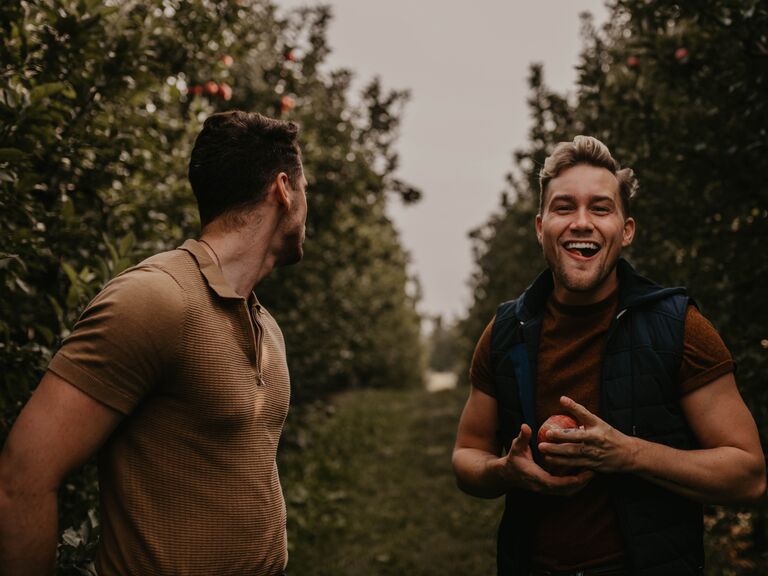 Not only will this super cute fall date idea result in plenty of Instagram photos, you'll also have supplies to make apple cider and apple pie together later on.
9. Have a pumpkin patch date
As far as date ideas for October go, this one is quintessential. And it's especially great if you have kids and want to include the little ones, too.
10. Attend a fall festival
This autumn date is perfect if you're just getting to know someone and want to have fun without the pressure of a super fancy dinner. From hay bale mazes to pumpkin painting contests to fall-flavored treats, there will be plenty of activities to explore.
11. Visit a local brewery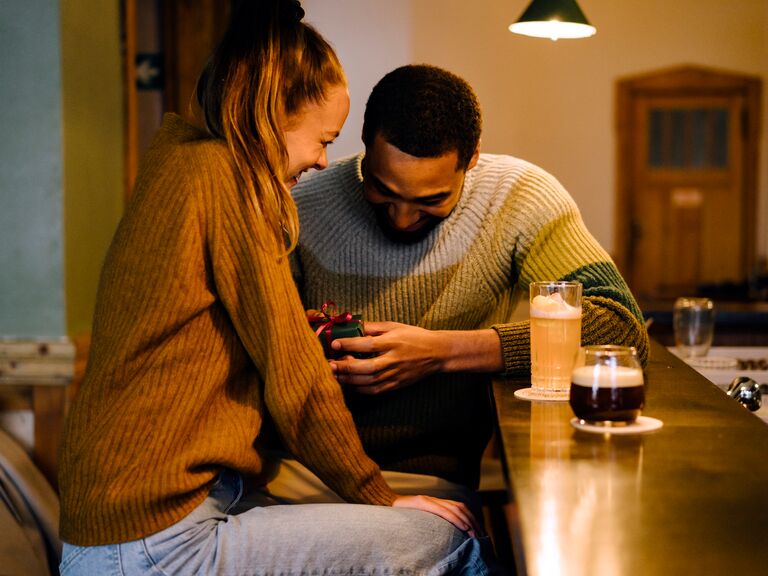 If you and your date are brew buffs, visit a local brewery together. Chances are, they've got great fall-themed pints (like a pumpkin brew or spiced apple ale) ready for tasting. This is a fun date idea for both long-term couples, first dates and every relationship stage in-between, too.
12. Watch a scary movie
This fall date night idea is especially great for anyone looking to save funds without feeling like they're sacrificing fun. (And it's perfect for snuggling up together, BTW…)
13. Go on a haunted tour
For the couple who loves all things spooky and scary, going on a haunted tour is a fun way to indulge in the Halloween spirit together. (You'll at the very least learn some interesting history or folklore about the locale!)
14. Make your own candy apples
Making your own candy apples at home is a fun, easy and inexpensive way to spend time together—and a delicious one, at that. Purchase apples, caramel or chocolate to dip them in and any toppings you want. Bonus points if you can enjoy them outside by a fire pit. What could be cuter than that?
15. Go horse-back riding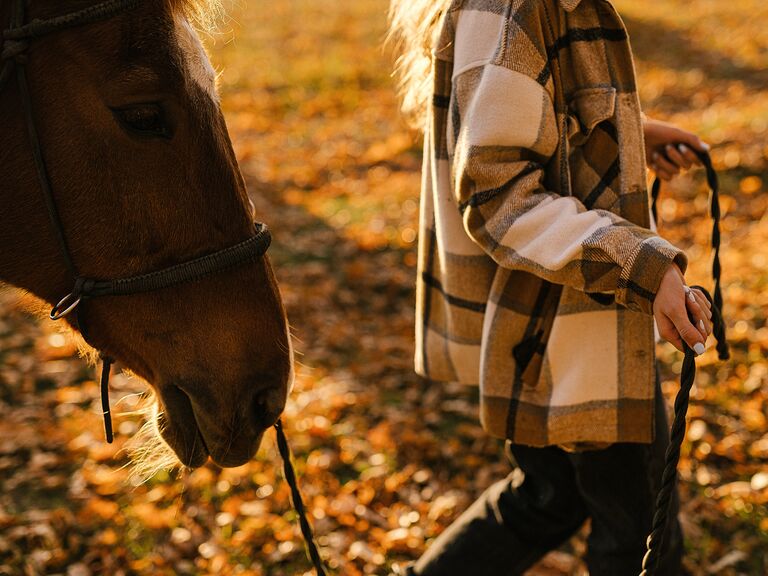 Head outside on this adventurous date that'll have you and your honey horseback riding through the season's crunchy, fallen leaves.
15. Go on a haunted tour
For the couple who loves all things spooky and scary, going on a haunted tour is a fun way to indulge in the Halloween spirit together. (You'll at the very least learn some interesting history or folklore about the locale!)
16. Seek out a psychic together
Whether you're a believer or not, paying a visit to a psychic could be a fun and lighthearted way to celebrate the most mystical of the seasons.
17. Make autumn angels
You've heard of snow angels—but what about autumn angels? Lay down in a pile of leaves with your partner and perform the motion to make a snow angel. If you're in for some child-like fun, this is a no-cost and nostalgic activity to do together.
18. Visit a haunted house
If your date is down for the adventure and thrill, find the nearest Halloween haunt in your town. You'll regale the stories of the night all season long.
19. Get cozy by the fire
This simple date night idea makes for a great environment for meaningful conversation, plenty of hand-holding and, ya know, possibly more….
20. Go on a hike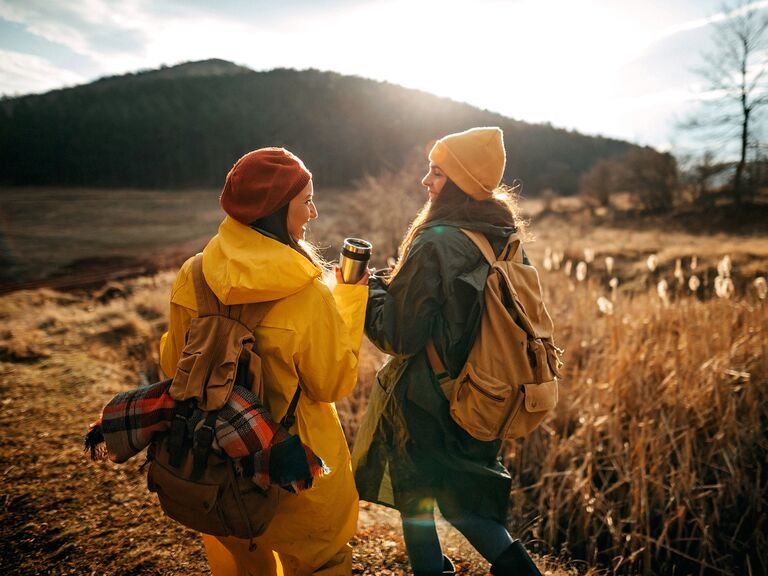 If you and your partner love a good time in nature, soak up the changing seasons on a side-by-side hike. Depending on your hiking skills, you can choose between an easy or advanced trail and then take in the sights together.