Should You Invite Your Officiant to the Wedding Reception?
The short answer is yes—but keep reading for why it's important to do.
by The Knot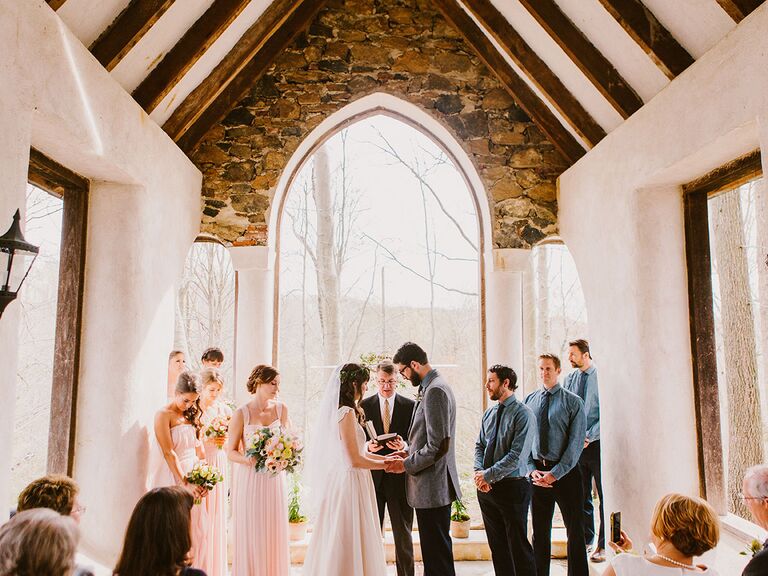 Whether your wedding officiant is the rabbi who married your parents, the priest who baptized you, a new acquaintance hired to perform the service or a close loved one who recently got ordained, it's tradition—and always a gracious gesture—to extend a reception invite to them. They're a part of your wedding ceremony after all. The only exception might might be if you're saying "I do" at city hall. You're not expected to invite the judge or clerk who marries you (those civil officiants marry so many couples, they'd be running around to receptions all over the place).

Even if you don't know your officiant well—say you recently employed them to lead your interfaith ceremony or you're having a destination wedding and won't meet them until you arrive—there's no graceful way not to invite them. Some people consider only asking their officiant to cocktail hour, but do you really want to ask the person who just married you to leave before dinner (especially if the festivities are taking place at the same site)?

That said, your officiant is most likely accustomed to receiving reception invites and either politely declining or only staying briefly for cocktails to offer you congratulations one last time. This is particularly common if you just met your officiant, and they don't share a special bond with your family. It's also possible that even if you want them to stay, they'll need to go perform another ceremony. If they do accept the invite, you should assume they'll stick around for the meal, and seat them at a table with close relatives, your parents or grandparents.
Ready to find your officiant? Start here.

Before you book an officiant, ask them these 10 questions first.