The Complete Guide to Planning a Destination Wedding in St. Lucia
Planning your big day just got a lot easier.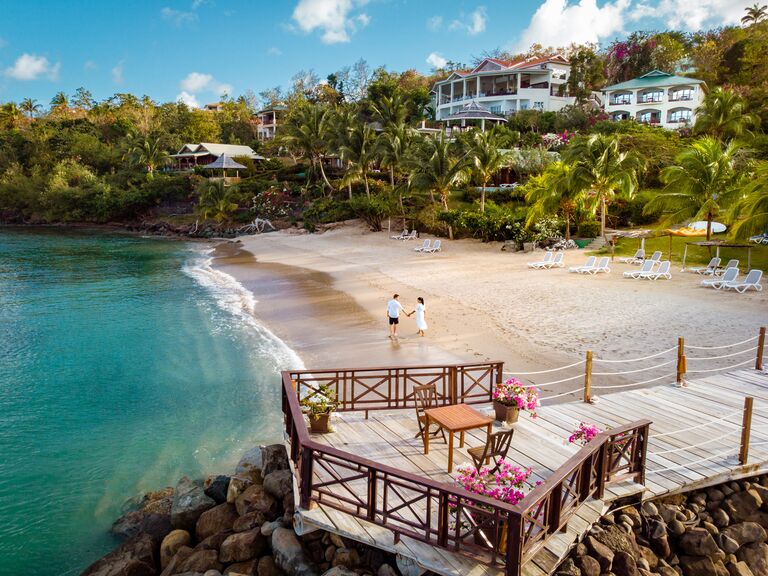 Fokke Baarssen/Shutterstock
A St. Lucia destination wedding comes with so much more than standard, stunning views of the Caribbean Sea. The island is renowned for its scenery, relatively good weather (especially for the Caribbean), and pristine beaches. If you're wondering how to find the best wedding location, how to book a great wedding coordinator or steps for obtaining your marriage license, we cover everything you need to know in this guide. Your St. Lucia destination wedding planning starts now.
Why Couples and Wedding Guests Love St. Lucia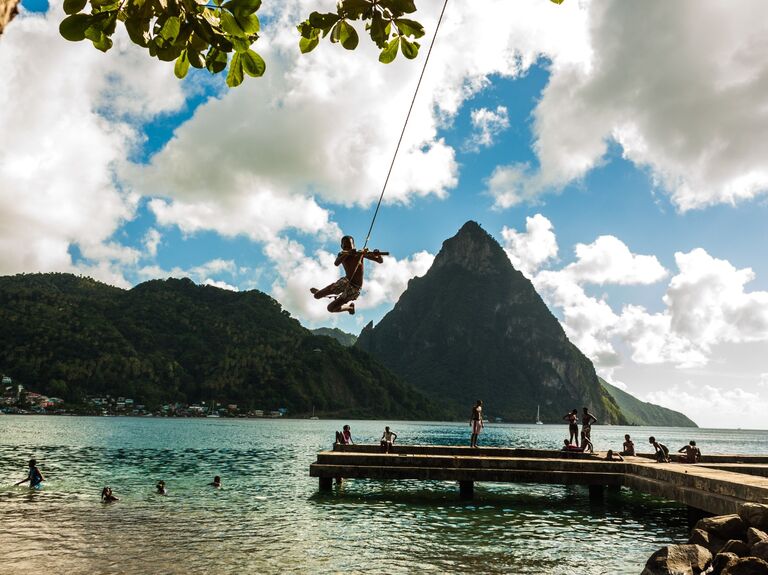 Famous for its beautiful Piton Mountains, idyllic weather, and fantastic snorkeling, St. Lucia is the perfect Caribbean destination for your upcoming nuptials. JoAnn Gregoli, a wedding planner with expertise in destination weddings in the Caribbean, says the location of St. Lucia is the point for most couples. "What draws people to St. Lucia is that it's off the beaten path for hurricanes," she says. "Because you're sitting below the line of hurricanes, you're far enough south [to avoid inclement weather]."
St. Lucia is also the farthest point east in the Caribbean, she says. While the island is not as flat as some of the other Caribbean islands, its mountains are gorgeous. If you're looking for beautiful backdrops for your special day, this is the spot for you. Saying "I do" on a beach with stunning mountains in the background is a bonus.
The Best Places to Get Married in St. Lucia
Even though it's a smaller Caribbean island, St. Lucia is full of fantastic venues with desirable wedding packages. Whether you're looking for an elopement or a large wedding party, you'll be able to find the perfect spot for you and your partner.
West St. Lucia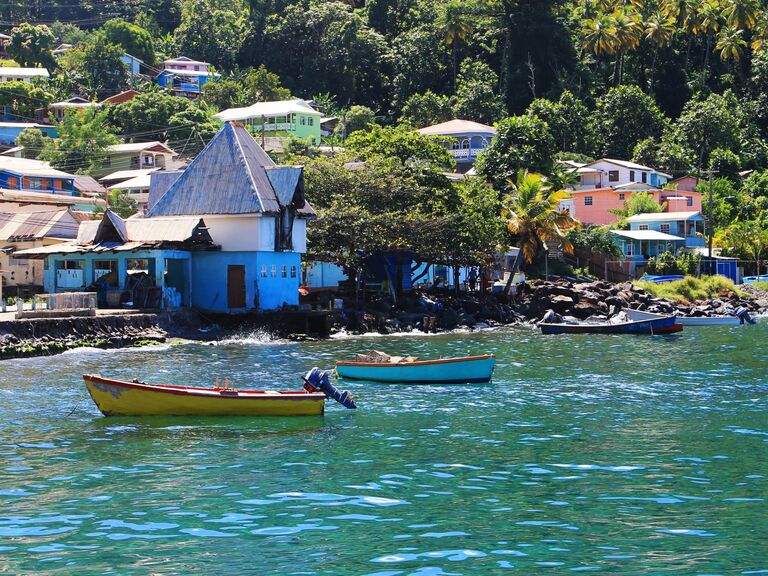 Home to the city of Soufriere, the Western part of the island is known for its cruise ship port and quaint downtown streets. If you're thinking about hosting your dream wedding on this part of the island, Gregoli and The Knot Editors recommend Jade Mountain Resort. This decadent waterfront resort has stunning views of both the Pitons. Other wedding venue options on this part of the island include Anse Chastanet, a romantic spot nestled in nature, and the well-known Sugar Beach, A Viceroy Resort (which is one of Gregoli's favorite properties). The Stonefield Villa Resort is a boutique hotel with close proximity to downtown Soufrière.
South St. Lucia
Looking for a convenient spot for your guests—and yourself? The southern part of Saint Lucia is home to the airport, as well as many historic spots, including Vieux Fort, a town with old canons and walkways. You and your guests will be charmed by the history of this part of the island, as well as the picturesque views. If you're searching for a venue on this part of the island, consider Coconut Bay Beach Resort & Spa. This all-inclusive resort is full of lush wildlife, giving your big day a gorgeous natural backdrop.
Find your kind of venue
From barns to ballrooms, discover reception venues that feel like you.
North St. Lucia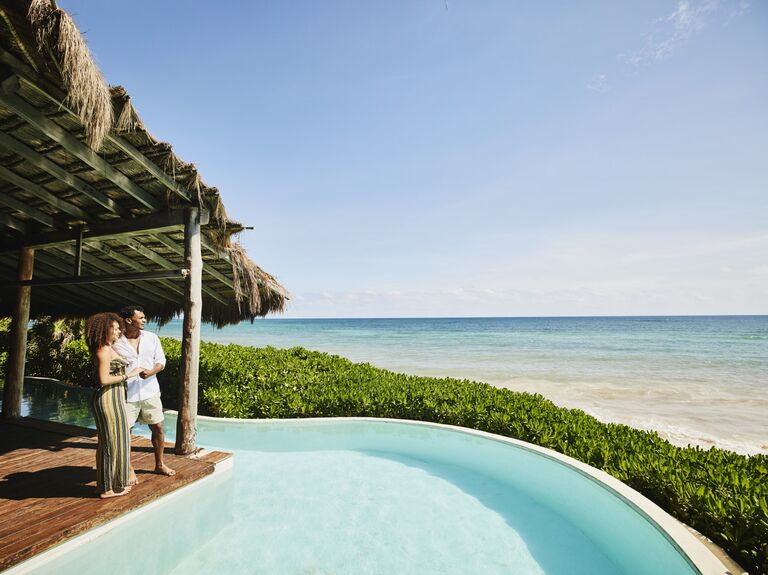 Overlook Rodney Bay and peek out toward the island of Martinique on the northern part of this Caribbean island. A popular spot for tourists of St. Lucia to come and stay, there are tons of gorgeous wedding venues to choose from on this part of the island. Some of the fantastic venues on this part of the island include Sandals Grande St. Lucian, a five-star hotel in close proximity to Pigeon Island National Park, the Windjammer Landing Villa Beach Resort, an all-inclusive resort on Labrellotte Bay, and BodyHoliday Saint Lucia, a large hotel property with five restaurants and bars.
St. Lucia Wedding Legal Requirements
Stressed about figuring out how to tie the knot in St. Lucia? We have all of the information and resources you need. From the legal documents to advanced preparations, here's everything you need to know about a wedding in St. Lucia.
Legal Weddings vs. Symbolic Weddings
If you're hoping to save some money on your destination wedding, consider tying the knot in the US in a small legal ceremony before hosting a symbolic wedding in St. Lucia. Gregoli says many couples pursue this option when they want to avoid St. Lucia's fees and requirements for a legal ceremony.
Required Legal Documents
In order to get married in St. Lucia, you'll need your passport and birth certificate. Additionally, if you or your partner has been divorced, you'll need to bring the divorce decree. If you or your partner has been widowed, you'll need the marriage certificate and the death certificate of the former spouse. The divorce decree, former marriage certificate, and death certificate can be original or certified copies.
Legal Marriage Timeline
Since there is no residency requirement in St. Lucia, obtain your marriage license within 24 hours of arriving on the island. However, note that a same-day marriage license application has a higher fee than the regular marriage license. In order to obtain a regular marriage license, you and your partner must be in St. Lucia at least two days before your wedding ceremony.
Legal Marriage Cost
If you choose to apply for a regular marriage license, you'll need to pay 335 East Caribbean dollars (roughly $125 USD). However, a same-day marriage license will cost 540 East Caribbean dollars (approximately $200 USD). Additionally, you'll need to pay the small registrar fees and the marriage certificate fees. Some wedding packages will cover these fees for you.
St. Lucia Wedding Planning Tips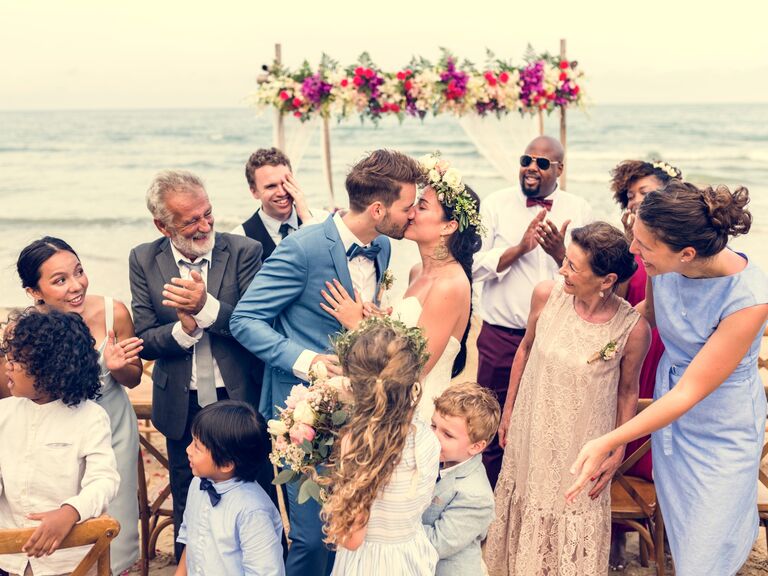 Planning a destination Caribbean wedding doesn't have to be difficult. With these expert tips, you'll be ready to have the big day of your dreams.
How to Get There
If you're traveling from the East Coast or the Midwest, getting to St. Lucia is relatively easy. Direct flights are available from Miami, Charlotte, Philadelphia, Newark, Chicago, New York, Boston, and Atlanta. Once on the island, many visitors opt to take taxis. You can also choose to rent a car or a scooter. However, if you choose to do this, note that you'll need to obtain a temporary driver's license.
St. Lucia Weather
Before booking your wedding, you'll want to take the time to understand the weather patterns of St. Lucia. Gregoli says the best time to "say I do" on this eastern Caribbean island is December through April. When looking at dates, she advises asking about the rainy season, especially if you're planning on hosting your wedding outdoors. Even if you're not particularly vulnerable to hurricanes in Saint Lucia, you'll still want to avoid those torrential Caribbean rain storms raining out your wedding ceremony.
Choosing Your Venue and Vendors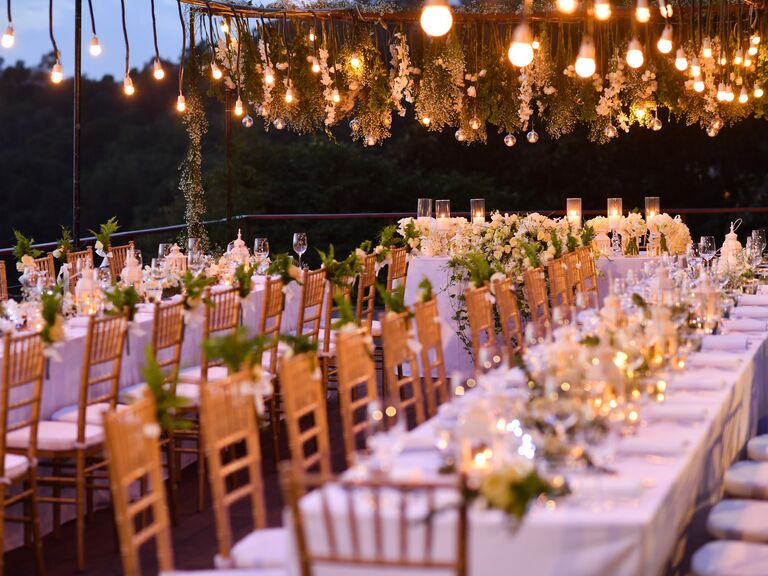 When thinking about your venue and vendors, consider what's most important to you and your partner. Gregoli says it's important to consider the time restrictions for particular venues, as well as the particular season you're choosing to wed in. These factors will dictate what type of venue you're searching for and the vendors that can accommodate those needs. If you're looking for a list of fantastic destination wedding planners and vendors, head to The Knot's Marketplace.
Budgeting Tips
St. Lucia uses the East Caribbean dollar, which is equivalent to 37 cents in USD. While destination weddings can be a bit more costly for couples, there are ways to make your big day more affordable, including choosing an off-season date. Additionally, if you desire to host a more intimate affair, many resorts will offer you a less expensive rate than they would typically charge for a decadent grand wedding.