The Knot Wedding Submission Guidelines & Tips to Get Your Wedding Featured
An insider dishes on The Knot wedding submissions.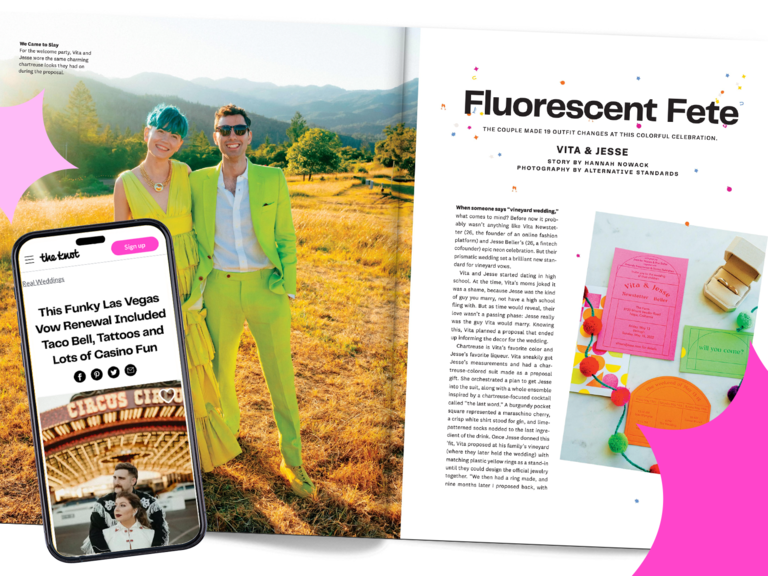 Photos, from left to right: Logan Cole Photo, Alternative Standards, Magazine Design: Ashley Detmering,Digital Design: Tiana Crispino
What's the scoop on The Knot wedding submission guidelines? And what's the big deal with getting your wedding published as part of real weddings magazine coverage? Here's the tea: The Knot aims to help every couple take their wedding from inspiration to action. And guess what? Our coverage of real couple's weddings help us do just that. By seeing how other couples celebrated one of life's biggest moments, to-be-weds can wade through the mayhem of wedding planning to find the magic.
That's all well and good, but how do you get your wedding featured in a magazine? This handy guide is a one-stop-shop for anyone wondering where to submit wedding photos for publication. Submitting a wedding to The Knot for consideration in our print magazine or on TheKnot.com works the same way—and it's super simple. We use a platform called Two Bright Lights to receive and review all wedding submissions. It's free to submit, and you can visit TwoBrightLights.com/TheKnot to get started.
Below we're taking a look at frequently asked questions about The Knot real wedding submissions and how to get your wedding published. Plus, you'll find all the dates you should target to submit The Knot Magazine submissions for the 2023-2024 season to ensure you don't miss out on an opportunity for a feature print for The Knot real weddings!
Wedding magazine submission details in this story:
How to Get Your Wedding Featured in a Magazine or Online
In order to get your wedding published, you first need to go through a few steps in the real wedding submission process. Let's talk nuts and bolts of how to get your wedding featured by The Knot. The Knot wedding submission steps below make it a breeze to pull together beautiful wedding magazine submissions that'll wow editors.
Step-by-Step Guide to Submitting a Wedding in Two Bright Lights
Access Two Bright Lights: Log in or sign up (it's free!) at twobrightlights.com.

Begin Album Creation Process: Click Album in the upper toolbar then select Create an Album

Get Photographer's Permission: This step is only necessary for non-photographer vendors, such as wedding planners, who are submitting to The Knot. Search the database of our photographers. If your photographer is in the database, you simply need to have TBL send them a permission email (please alert the photographer that they will be getting an email and will need to click Accept in the email). If you don't see the photographer in the database, you will need to add their contact information and then have TBL send them a request. Once they've granted their permission, they will appear on the Permission Granted page, instead of the Permission Pending page. You won't be able to move ahead until you have their permission.

Create Album: Once you see your photographer in the Permission Granted page, you can hover over the tile with their name and then click Create Album.

Enter All Information: TBL will prompt you to enter a variety of information. Simply follow the prompts to complete.

Enter All Vendors: Please enter all the vendors involved in the wedding. Many may be in our database, but if they aren't you can add them as a new vendor. If you're a photographer submitting the wedding, we encourage you to partner with the wedding planner to ensure no vendors are left off at this stage. According to our internal data, couples hire an average of 14 different vendors so make sure you don't overlook anyone, from the DJ and the officiant to the caterer, wedding dress salon and even videographer.

Send Questionnaire: We cannot move ahead with the feature unless the couple completes the questionnaire. While it doesn't have to be finalized when you submit the wedding for consideration, it jumpstarts the process if you go ahead and send it at this stage. Click "Client Questionnaire"–a pop-up box will open where you can enter their information. Please alert the couple that they'll be receiving an email about their questionnaire and that they need to complete it before we can move ahead with the feature.

Add Images: We'd like you to choose at least 50 images from the wedding to upload, but you can upload up to 150. Only the images with check marks in the upper right hand corner will be submitted to the publication so make sure all the images you want us to see are selected.

Select Exclusive: We ask for exclusive weddings and you'll need to select "exclusive submission" when the pop-up box prompts you. Our publication won't show up unless you click Exclusive.

Select Publication: For digital submissions you will click *theknot.com. For print submissions you will click The Knot: Print (National).

Submit!

Complete Questionnaire: If your wedding is accepted for publication, it will need to have a completed couple questionnaire. For print, one of our editors will contact you with the print questionnaire and timing next steps. For digital, the questionnaire can be sent directly through Two Bright Lights. Here's a link with more instructions on how to do it. Once you've sent the questionnaire to the couple and they've filled it out, we will add the wedding to our editorial calendar. You can see the expected publication date within Two Bright Lights.

Celebrate the Live Feature!
2024 Key Submission Dates
File this under "Dates you can't forget when it comes to real weddings magazine submission." Submit weddings by the cut-off dates for consideration for our 2024 print issues of The Knot Magazine.
Volume 1: Inspiration
This is the Spring Issue, on stands in late January 2024. Submit by 9/19/2023. See The Knot Spring 2022 Issue here.
Volume 2: Planning
This is the Summer Issue, on stands in late April 2024. Submit by 12/05/2023. See The Knot Summer 2023 Issue here.
Volume 3: Celebration
This is the Fall Issue, on stands in late July 2024. Submit by 3/19/2024. See The Knot Fall 2023 Issue here.
Volume 4: Engagement
This is the Winter Issue, on stands in late October 2024. Submit by 6/20/2024. See The Knot Winter 2022 Issue here.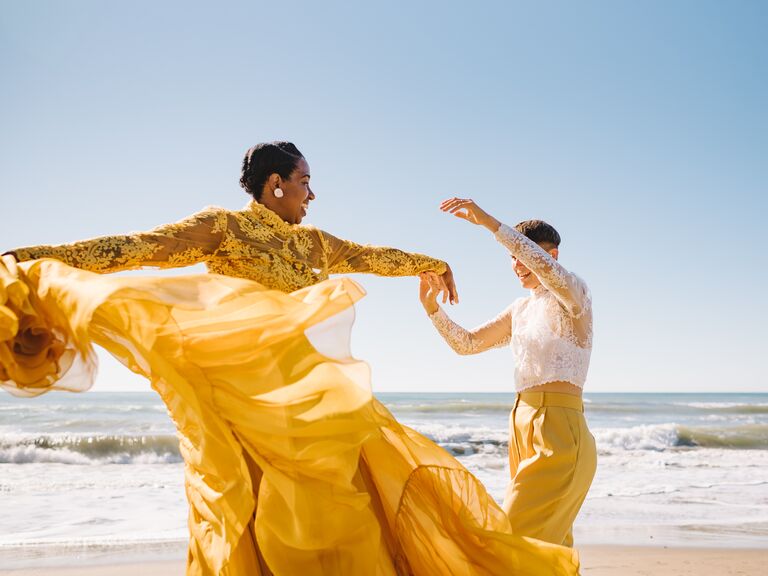 The Knot Real Wedding Frequently Asked Questions
Now that you know how to submit photos to magazines, specifically The Knot, for real weddings consideration, let's address a few frequently asked questions about how to get your wedding published. Trust us, you're going to want to bookmark these FAQs about how to get your wedding featured.
What does The Knot look for in weddings?
For couples, a major part of the wedding planning process is finding inspiration to help shape the aesthetic and direction of the wedding day. As a way of helping couples plan a wedding that is uniquely their own, The Knot is committed to showcasing the creative work of wedding pros and the love stories of real couples to inspire current and future to-be-weds.
We want to help couples celebrate the moments that make us. While we have a soft spot for romantic weddings, what we're looking for are celebrations where couples made unexpected statements to have "their wedding, their way." We want couples who planned weddings that were authentically their own that can inspire other couples through their radical relatability and exponential personalization.
Perhaps they honored their religions, blended their cultures, or just let go of the old wedding "rules" and wrote their own playbook. We seek weddings full of personalized details, twists on tradition, nods to various cultural backgrounds and great photography. Surprise us! We're most inspired by details we haven't seen before that tell a couple's story.
Who can submit a real wedding to The Knot?
Typically photographers take the lead on submitting a wedding to us for consideration, but other pros or wedding businesses from the big day (like the wedding planner) can take charge as well (there's a step built into the Two Bright Lights platform that requires the submitter to tag the wedding photographer who can then grant image permission).
One catch: Newlyweds can't submit their wedding independent of a wedding pro. They have to team up with one of their vendors to submit.
Generally speaking, we suggest that the entire vendor team and the couple connect on a game plan for submitting. While a wedding photographer has to give their permission to have their images showcased, we also need the couple to complete a questionnaire about their love story. Since multiple people involved in the day will have responsibilities in the submission process, it's a great idea to work as a team when it comes to submitting a real wedding to The Knot.
Does The Knot require exclusivity?
Yes. In order to ensure we're giving our couples the most unique, authentic and innovative content, we don't accept weddings that have—or will be—published in another magazine or on a blog. However, it's okay for the wedding pros who produced the event to blog about it and post it on their own social media. Three months after a feature goes live on TheKnot.com or a print feature hits newsstands, you're welcome to submit your wedding to other outlets for consideration.
Do I have to be a paid partner of The Knot in order to submit a wedding or be featured?
No, we welcome submissions from everyone, even if you're not a paid partner. It is important to us that couples receive the best, most creative inspiration possible through our real wedding coverage.
If you're not currently part of The Knot Vendor Marketplace but want to learn more about how it can help you reach the best couples for your business, check out weddingpro.com.
What makes a good submission for The Knot?
Think about the day holistically and make sure that the images you share with us represent the breadth of the celebration. We ask that you submit no fewer than 50 wedding photos, while 100-150 is most ideal. Showcase all the elements of the couple's day—from getting ready and detail images to the wedding ceremony, cocktail hour and reception.
If you also snapped some engagement photos or prewedding event pics, like from a welcome party or rehearsal dinner, feel free to include a handful of those as well.
Storytelling is at the core of our features. We want to showcase how couples made their weddings unique to them so make sure you highlight all the unique accents that made the day shine—from wedding invitations and signage to place settings, wedding cakes and centerpieces.
How recent does a wedding have to be in order to be considered for a feature?
We want to offer couples fresh and current wedding inspiration and wedding ideas. As a result, we ask that you don't submit a wedding older than one year from the day you're submitting. For example, if you were to submit a wedding on September 8, 2023, then you shouldn't submit a wedding that occurred any earlier than September 8, 2022.
Additionally, we do not accept real wedding submissions before the event takes place. Even if you know the day is going to be epic, we ask that you hold off on submitting until the wedding takes place and the photographer has the final images.
How long will it take before The Knot makes a decision about a real wedding submission?
For online, The Knot reviews weddings on an ongoing basis. We aim to either select or release every wedding submission within two months of receipt. You will be notified through the Two Bright Lights interface of updates. Make sure you have email notifications turned on so that you're alerted when your submission changes status.
For print, we review four times a year, in line with the submission deadlines outlined above. We understand that it can be difficult to wait for an answer with the long lead times required for print, so we appreciate your patience. We aim to provide an answer to submitters within one month of a print submission deadline.
Do I have to specify if I am submitting for digital versus print?
Yes and no. Ultimately, we want to showcase your wedding on the platform where you'd like to see it. In Two Bright Lights, you'll be asked whether the submission is for digital or for print, and while reviewing we will consider it first for the medium for which it's been earmarked.
However, when reviewing a wedding, we will ultimately consider it for both TheKnot.com and The Knot Magazine. If there is a print submission that we feel would be stronger online then an editor will reach out to you asking if you'd like to have the wedding considered for digital purposes. Similarly, if we come across a digital submission that we'd love to see in print, we'll ask you about running the images in print.
TL;DR: Our goal is to find the best weddings for digital and the best weddings for print. No matter which avenue you submit to in Two Bright Lights, weddings are considered for both print and digital.
Does The Knot prioritize certain seasons depending on the issue in which the wedding will be published?
No. We run beautiful weddings from all four seasons in every issue and online. That means we run spring and summer weddings in our winter issue and vice versa. It's important to have inspiration for all our readers, regardless of when they're hosting their big day.
Do you accept styled shoots or engagement sessions?
Within the context of our real wedding coverage, we only feature wedding photography of real weddings with real couples. While styled shoots and engagement sessions can surely be inspirational, and we occasionally include them in other pieces of editorial content, they don't align with our goal of keeping our real wedding section real for our readers. You're welcome to include a few engagement photos in a real wedding submission, but we don't accept submissions that are only engagement photos.
If you are planning or recently captured a creative styled shoot, we encourage you to reach out to our editorial team (editorial@theknot.com) to pitch it. When these shoots align with our evergreen editorial goals, we like to find ways to incorporate styled shoots.
How many weddings can I submit at one time?
The more, the merrier. Don't feel limited to submitting just one wedding. We like to see variety!
How many times a year is The Knot Magazine published?
The Knot Magazine publishes four times annually. Our four issues carry couples through the planning journey. Volume 1 focuses on Inspiration, Volume 2 is about Planning, Volume 3 is our Celebration issue and Volume 4 is our Engagement issue.
Do print weddings ultimately end up online as well?
Yes! We love the weddings we showcase in print and don't want the inspiration from them to be limited to the pages of our print magazine. As a result, print real weddings will also be published on TheKnot.com once the magazine they're in hits newsstands. Additionally, The Knot Magazine can be viewed in its entirety online.
Do weddings need to be from certain places in order to be featured?
Nope! The Knot magazine has national distribution and we love to see celebrations from wedding venues all over the world. Whether your couple tied the knot in New York or California or somewhere in the middle, we'd love to consider the nuptials for a feature.