Table Setting 101: How to Set a Table for Any Occasion
Yes, playing by the etiquette rules can be fun.

Don't be surprised if browsing for china patterns and flatware for your wedding registry is getting you in the mood to entertain. Stocking up your newlywed nest is bound to inspire some serious dreams of dinner parties to come. Not sure what you're really going to need to register for to pull off those gorgeous dinner party tablescapes? Start with this guide on how to set a table for every occasion, plus tips and tricks to take your place settings to the next level.
Keep It Simple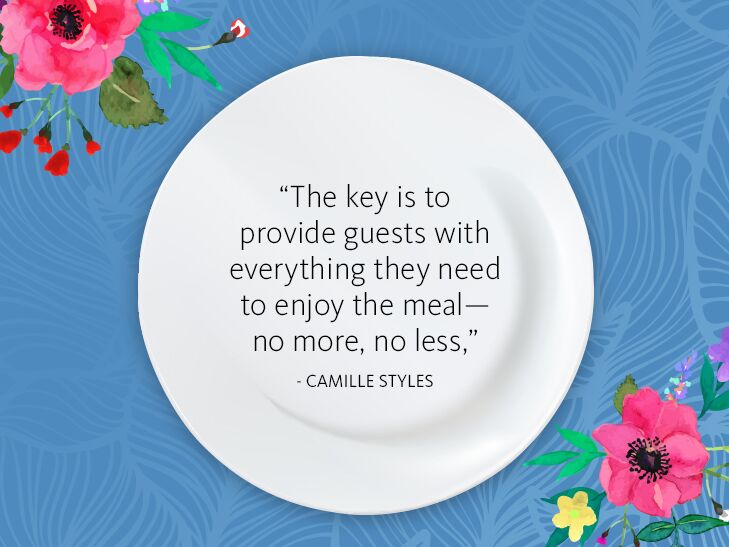 "The key is to provide guests with everything they need to enjoy the meal—no more, no less," says lifestyle blogger Camille Styles. "I started my career in catering, so I have a special love for a perfectly set table. But that doesn't mean it has to be fussy." Not serving soup? Then don't worry about placing a soup spoon among your flatware. Not pouring a cordial? Then you certainly don't need a sherry glass to round out your mix. Already breathing a sigh of relief? We thought so. Now, let's get down to the essentials.
How to Set a Basic Table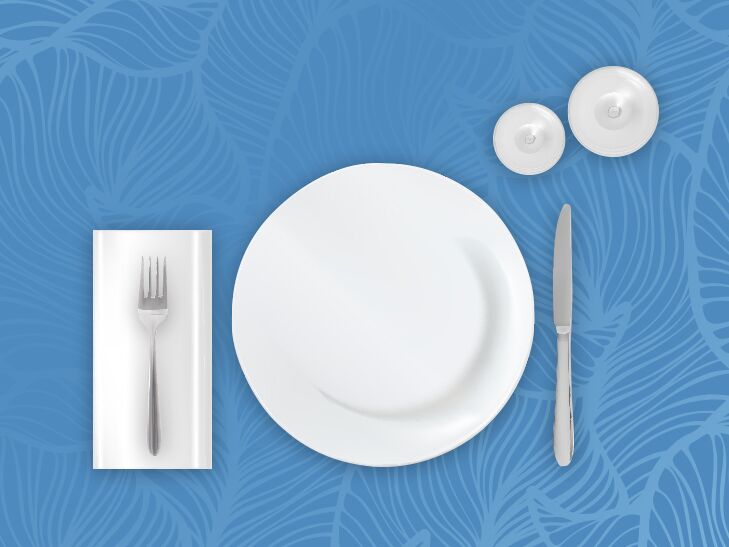 Learning the basics of how to set a table can allow you the freedom to pick and choose which etiquette rules to follow. "At my house, there's no such thing as a formal dinner," Styles says. "No matter the occasion, my goal is always to encourage people to kick off their shoes, have a glass of wine and linger around the table long after dessert is served."
So before you start pulling things out of your drawers and cabinets, consider what's going to be on your menu. Planning to serve a single course? Here's what you need for each place setting.
Start with Plates
Think of your place setting like a clock. At its center will be the dinner plate.
Add Utensils
The dinner fork will go to the left of the plate, at 9 o'clock. The dinner knife (the blade should always safely face in) will be set down to the right of your plate, at 3 o'clock.
Raise a Glass
You'll set the water glass to the upper right of the plate, above the knife, at 1 o'clock. If you're serving beer, wine or another beverage, the glasses for those drinks go to the right of the water glass.
Don't Forget Napkins
Chances are, you'll tuck this beneath the fork, but it can also rest to the left of the fork or even on top of the plate. Doing a basic configuration? The napkin fold should always lie facing the plate, with the hemmed edge facing outward.
Set the Table for a Multicourse Meal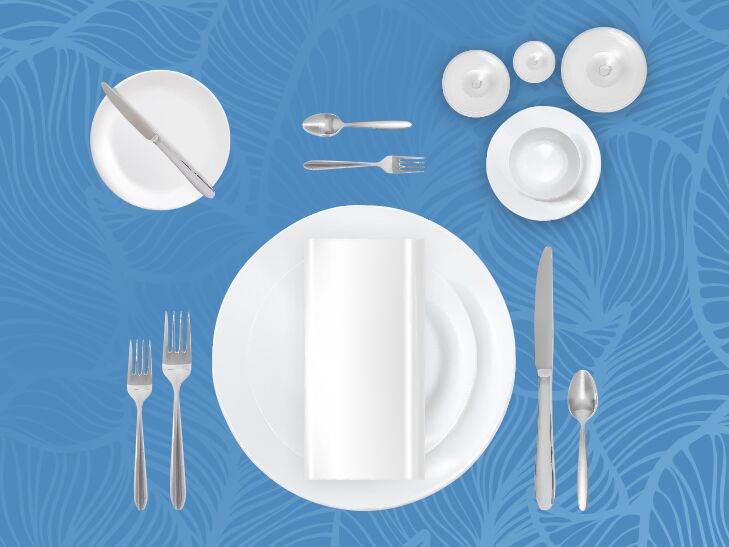 Now that you know how to set a table, it's easy to build upon (we promise). Just be sure only to add the items your guests will actually need.
Choose Your Plates
Just as you would for a basic place setting, start with the entrée plate at the center. If you'll be serving multiple courses that require additional vessels, stack them up from here, from largest to smallest (entrée plate, appetizer plate, and then salad plate or soup bowl).
Add a Bread Plate
If you're offering bread, set a smaller bread plate to the top left of your entrée plate, at 10 o'clock. Include a bread knife, placed across the plate and with its blade facing the table's edge.
Lay Out Utensils
Always place forks in the order in which they will be used, from the outside in. The same rules apply to the knives. If you'll also need knives for a fish or salad course, place them in the order in which they will be used, from the outside in. Spoons go the right of the knife or knives.
Already confused about the order utensils should go in? Think of the acronym FORKS. From left to right, F equals forks, O equals the plate as it follows its shape, K equals knives and S equals spoons. Pro tip: Except for the bread knife, always place the lower edges of your utensils about one inch from the edge of the table (they should align with the bottom rim of the plate).
Consider Your Courses
Is soup on the menu? Place that one down first. Is there tea or coffee service? The teaspoon, which would be used last, goes in between the soup spoon and the knives. You can also just bring it in with the final course. For dessert spoons and/or forks, mix with the utensils to the left and right of the plate, in their respective order. Or you can place these above your plate, as shown above.
Pour One Out
You can go all out here, with a champagne flute for a champagne toast, a white wine glass for white wine to be served with fish or a lighter course, and then a red wine glass for red wine to be served with a main course. Or you can pare it down. "I don't think there's usually a need for lots of different utensils and glasses at each setting," Styles says. "Choose an all-purpose wine glass that can work for red or white. I think simplicity is a very modern approach to table setting."
Finish Simply
You can set coffee/tea cups and saucers to the very right of your drinkware. (Or just bring these out, along with the sugar and creamer, as the meal wraps up.)
Proper Place Settings for Formal Occasions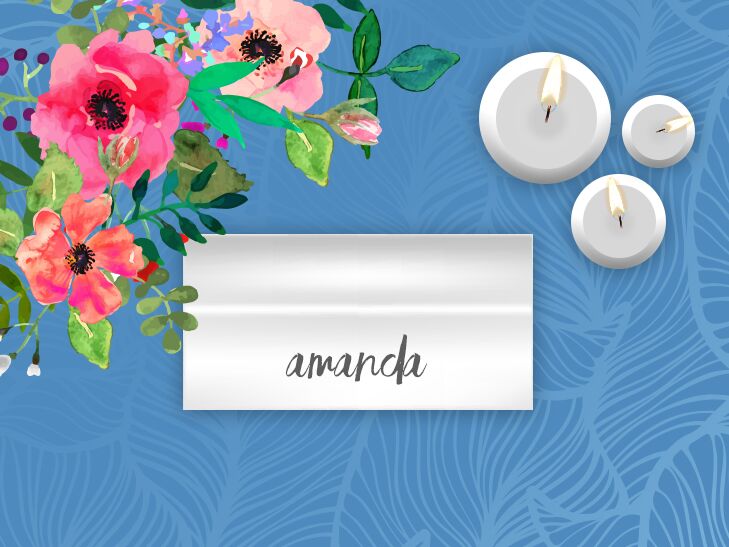 When the occasion calls for proper place settings, etiquette is everything. Take what you've learned above and apply it. Then, elevate the basics by creating a mood. These are the elements that'll help you create an even more gorgeous tablescape.
Select a Centerpiece
Even the simplest of arrangements is an easy way to reinforce your party's theme and style—which is why vases and pedestal bowls make great additions for your registry. As for what exactly to put in those vessels? Look to the season. "I love centerpieces that reflect what's currently in season: cherry blossoms in spring, wildflowers in summer, berries and pomegranates in fall, and pinecones and evergreen branches in the winter," Styles says. Just remember: The sky is not the limit here. Keep arrangements low enough that guests can easily make conversation. There's also one other consideration: smell. Fragrant flowers or candles have their place, but on a dinner table they can confuse the senses. Rose steak, anyone? We didn't think so.
Choose Your Linens
"Beautiful linens lay the foundation for an elevated table that really feels like a party," Styles says. Kind of like your wardrobe, layering colors, textures and patterns is the key to adding loads of personality to your table. Make sure to put basic tablecloths and napkins on your registry, and then slowly build your collection so you can mix and match the look. And if you don't have a ton of linens yet? Try kraft paper. "For casual gatherings, I tear off a long strip and place it down the center of the table for a fuss-free runner, or cut it into individual place mats. The best part is you can just throw it away after dinner is done," Styles says.
Pro tip
If you do spread a tablecloth, make sure it hangs evenly on each end—and on the sides of the table. The average drop is from 12 to 18 inches, but don't worry if it's a little long or short—you just don't want it hanging too low so it ends up in your guests' laps.
Create Place Cards
These serve double-duty at dinner parties—decorating the table and letting guests know where to sit. "They can be as simple as a handwritten paper cutout, or more elaborate," Styles says. "At the holidays, I love to choose an ornament that reminds me of each guest, then place it on their napkin with a little name tag tied on."
Shine a Light
And, of course, nothing makes a table feel more inviting than its light. A brunch setting may be bathed in natural rays, but an evening meal almost always relies on a dimmer glow to create a more intimate feel. Turn off the overhead lights and use accent lamps and (unscented) candles. When you're putting together your registry, remember to add cool candlesticks and candelabras to decorate your table.
How to Set a Table for Casual Affairs
A proper table setting can help set the mood. When you've got a casual meal in mind, the rules can go out the window. Whether you're hosting a laid back pizza night or a picnic in the backyard, prioritize comfort and easy access over all else. Think function over form when preparing for guests. With a few light touches, casual meals can still be incredibly chic.
Consider Your Menu
Allow your meal to dictate your table setting. Serving pasta family style feels easy and natural, but a vat of soup in the middle of the table won't be as simple to serve. Follow the menu's lead when it comes time to select serving ware.
Pare Down Your Table Setting
There's no need for multiple forks and spoons when the meal is casual, but you may want a few extras on hand for those who prefer to switch utensils between courses. You can also nix bread plates and other dishes more traditionally associated with formal dining.
Prioritize Function
Sit down at your table and perform a dry run of your meal. Will serving ware be within easy reach of each guest? Are napkins readily available? Is a pitcher of cold water on hand for refills? These kinds of questions may not occur until you actually try dining yourself!