How to Give Yourself an Insta-Worthy Wedding Manicure At Home
It's easier than you think.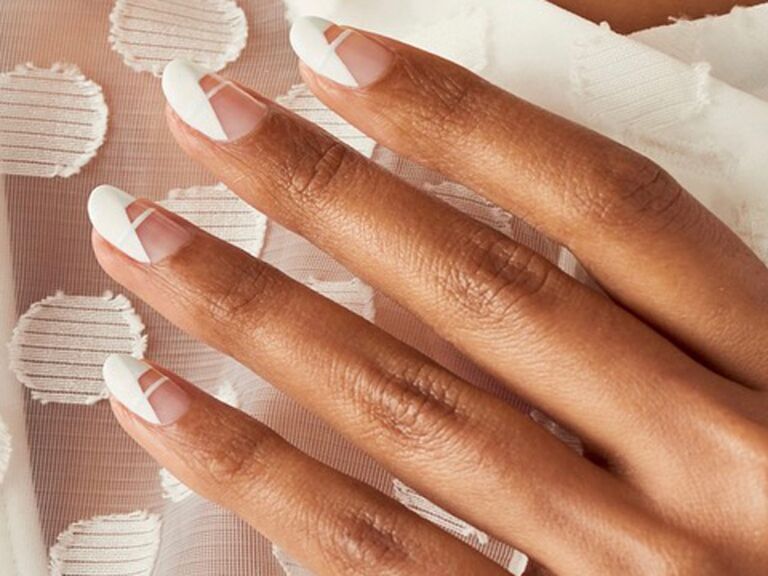 Courtesy of Paintbox
We have included third party products to help you navigate and enjoy life's biggest moments. Purchases made through links on this page may earn us a commission.
Whether you're trying to frequent the nail salon less or you aren't able to see your favorite manicurist for some reason, we're here to help. You can still give yourself a gorgeous manicure at home. The Knot tapped nail professionals to find out exactly how to prep and paint your nails at home—and have it look professionally-done. With extra care and time (and the proper tools), you can create a manicure that's totally Instagram-worthy. Plus, who doesn't love an excuse to post a ring selfie? A stunning manicure starts at the base, so you want to make sure you've taken care of your nails and cuticles so that your paint job can really shine.
With the proper prep and application, a manicure at home can last more than seven days, says Sarah Gibson Tuttle, founder and CEO of Olive & June. However, any kind of polish—gel, acrylic or regular—can dehydrate your nails, warns Jin Soon Choi, owner of JINsoon. Consider giving your nails a break every once in a while to let them repair. On your off days, use hand cream and cuticle oil to encourage hydration and repair (JINsoon also sells a nail repair treatment you can use to promote health and hydration).
If you're ready to give yourself a fresh coat of paint, however, we've gathered everything to know about how to do a manicure at home. See the steps (plus a list of what you need), below.
What You Need For a Manicure at Home
Nail clippers
Nail file
Nail polish remover
Buffer cube
Cuticle serum
Clean up brush (optional, but we recommend using one)
Nail polish (Can't decide on just one? Paintbox offers expertly-matched duos.)
Hand lotion
Wooden cuticle tool (optional)
(Psst: both Olive & June and Sundays offer an entire kit complete with everything you need for a Insta-worthy manicure.)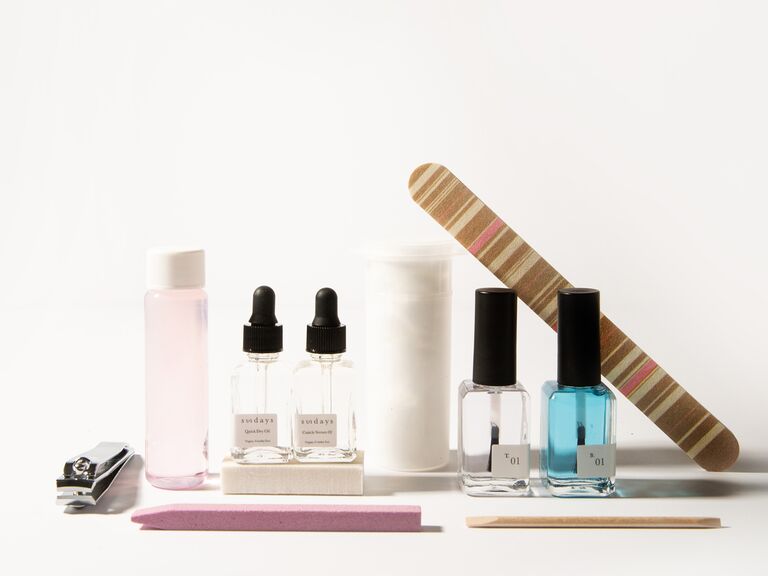 How to do a Manicure at Home
Step 1 : Shape, Clip and File
Tuttle says that this step is all about the 90/10 rule—meaning that 90 percent of your shape should come from your nail clipper and 10 percent from your file. Use the clippers to cut your nail into the desired shape and then gently smooth out the edges with your file. Choi recommends holding the nail file on an angle so that you don't grate the skin underneath your nail.
Pro Tip: If you have leftover polish from your last manicure, leave it on. "Shaping with polish on helps you visualize the final shape without being distracted by the natural whites of the nails," Tuttle says.
Step 2: Clean Up Your Nails
If you'd like to perform DIY cuticle care, Choi says this is the time to do it. Soak your nails in lukewarm water to help soften the cuticle. Then, dry your hands off, apply a cuticle oil and use the wooden tool to push your cuticles back. Choi advises against trimming your cuticles, as they help protect against bacteria and fungi.
Next, clean off any residual nail polish with remover so that they're completely bare. Amy Lin, owner of Sundays, recommends washing your hands at this point and then moisturizing for an at-home spa moment. Afterwards, go over your nails with nail polish remover (yes, again). Not only will it ensure you have no leftover polish left, but it will also remove excess oils that can interfere with your polish adhering to your nail bed. Once you've prepped your nails for polishing, Tuttle recommends avoiding touching your face and hair since they have natural oils that can interfere with the polish process.
If you skipped the cuticle soaking, Tuttle says now is a great time to gently glide your buffer cube back and forth along the edges of your cuticles to erase dry skin and smooth things out. Evelyn Lim, chief educator at Paintbox, adds that you can also prep your nails straight out of the shower since the warm water and steam will soften them appropriately.
Pro Tip: Gel nail polish requires a different removal process. Luckily, you can still safely remove it at home. Sundays has a non-toxic gel removal kit on their site made specifically for this purpose.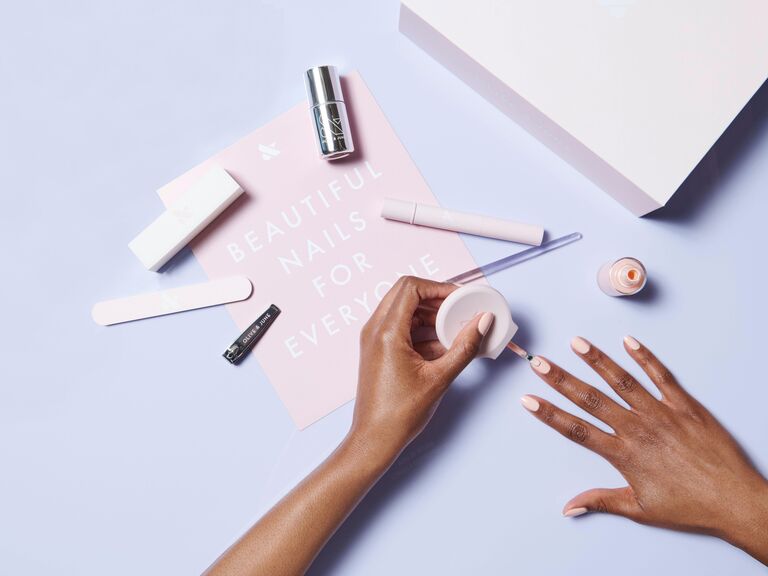 Step 3: Apply a Base Coat
Now that you've properly prepped your nails, it's finally time to apply nail polish. But before you use any colors, you'll want to put on a base coat. Choi says this step is absolutely crucial, as the base coat serves as a protective layer between your natural nails and your nail color. Lin agrees, adding that a base coat has several pros. "It keeps your nails healthy and makes your polish last longer, while also hydrating your nails," she says. Pick up the Hydrating Base Coat from Sundays (designed to replenish nails) or JINsoon's Power Coat (formulated to strengthen and fortify your nails).
Pro tip: The key to this step is ensuring that the top coat is dry before applying polish. This will give you an even and clean colored layer.
Step 4: Get Colorful
Now it's time for the fun stuff. Choose your desired color and get to painting. "If you're just starting out, anchoring your non-dominant hand (or even that whole arm) on a flat work surface will give you a steady canvas," Tuttle says. She recommends starting in the center of the nail with a swipe of polish. Afterwards, swipe on either side to cover the whole nail. Tuttle notes that you should be able to cover the average nail plate in two to three strokes.
Lim says you should wait about two minutes between coats of polish on average. But Tuttle notes that if you want extra-impressive results, consider waiting five to ten minutes between coats. "It will decrease the chances of bubbles and it dries faster in the end—I swear!" Take your painting skills to the next level with Olive & June's Poppy nail polish holder tool, which gives you more control.
If you're choosing colors for your wedding-related events, your options are endless. Choi and Lin both recommend a sheer white or pink for a soft, pretty effect (psst: it will also let your ring shine). Lin adds that an opaque color can make your nails look longer, so to-be-weds can consider using a white, pink or nude color as well. If you need help choosing the perfect bridal color, consider Olive & June's The Perfect Match box, filled with their best-selling bridal shades.
Alternatively, Lim says you can up the ante with playful nail art (find all the inspo on Paintbox's Instagram). Or if you'd rather go with something more glam, consider a sparkly shade that will complement your shiny ring.
Pro Tip: Don't forget the edge of your nail, Choi says. It will give you a salon-esque finish when you're done painting.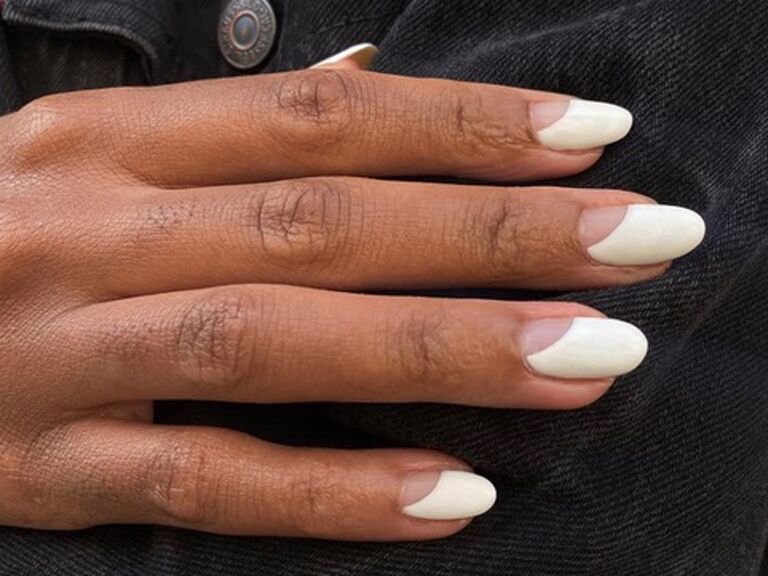 Step 5: Seal It With a Top Coat
Once you've applied the colored nail polish to your desire, let it stand for a little to ensure it's dry. Then, paint on a top coat. Not only will this help the poliush stay put, but it will also add extra shine (giving it that professionally-done look).
Pro tip: To prolong your at-home manicure, Tuttle recommends applying a top coat every third day. "This will really extend the life of your manicure because it acts as a layer of defense against everything your hands are interacting with."
Step 6: Let It Dry
Patience is a virtue, and it's a crucial one if you're doing a manicure at home. After you've finished painting your nails, let them dry for 10 minutes minimum. Even if the polish is dry, it might still be soft (meaning that bumps or smudges can still happen). To be safe, allow yourself 30 minutes before partaking in any activities that heavily require the use of your nails. We suggest turning on your favorite rom com to pass the time. By the time the credits roll, your nails will be ready to go. Once the manicure is set, top it off with cuticle oil. It will add extra shine and keep your nails healthy and happy.
Pro Tip: "If you've gotten any nail polish on your cuticles or fingertips, dip a clean-up brush in your nail polish remover, then use it to remove any unwanted color or to clean up polish lines," Tuttle says.