This Is Exactly Why The Knot Dream Wedding Is Happening at Chateau St. Jean
The Knot Dream Wedding 2015 will unfold at Chateau St. Jean in Sonoma California and we couldn't be more excited. Here's why.
by Ivy Jacobson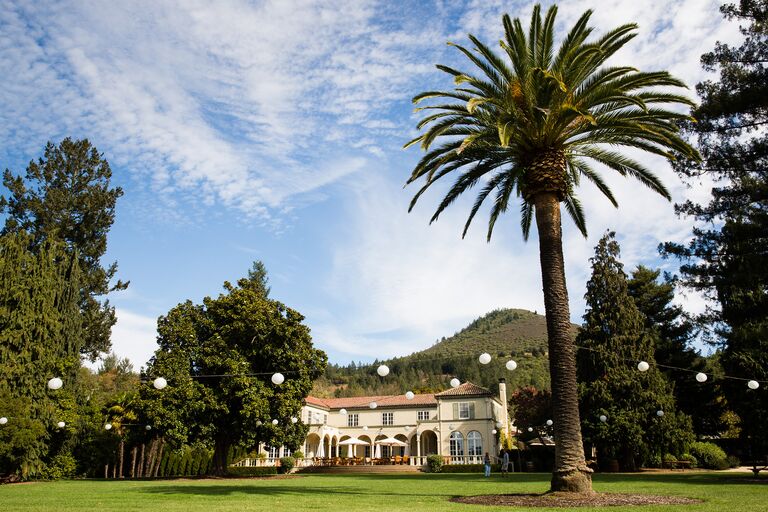 You must have already heard the news about The Knot Dream Wedding, right? Well just in case, The Knot is throwing an amazing wedding for one very deserving couple on June 4, 2015 at a gorgeous chateau, Chateau St. Jean (and one of our sponsors -- thank you!) in Sonoma, California!
We not only tapped into an amazing wedding planner and designer, a fabulous photographer and flower design team to help plan Samantha and Taylor's wedding day, we used YOU to help decide and vote on all of the details.
The very best part? The entire wedding is going to be LIVE on TheKnot.com at 12 p.m. PST!
While we've thrown dozens of weddings over the years, this is the third year for The Knot Dream Wedding. From Bryant Park in New York City to The Biltmore Estate in Asheville, North Carolina, every wedding has been distinctly different and beautiful.
This year, we're heading out west to Sonoma, California at Chateau St. Jean. It's this incredible vineyard where an amazing setting meets delicious food and wine.
We caught up with the Events Sales Coordinator at the chateau, Madeleine McQuarrie, for a little Q&A session. From the Mediterranean-inspired garden to the chateau's impressive wine list, here's everything you could possibly want to know about The Knot Dream Wedding 2015 venue:
What exactly is it that you do at the chateau?
"My main role here is to ensure guests have a memorable experience for their event and when leaving the property, they feel that every need has been attended to. I want guests to walk away from the winery feeling like they had the most incredible experience and one that won't be easily matched."
"On a day-to-day basis, I work with couples, wedding coordinators and corporate event planners; on special engagements and really any special requests that come my way," McQuarrie continues. "The most interesting event I've seen at Chateau St. Jean is the Sonoma Wine Auction. Every year, we host nearly 700 guests for this event. The grand lawn is transformed into another world as it takes on the theme of the year -- but I'm confident that The Knot Dream Wedding will be even more spectacular!"
What do you love most about your job?
"I love helping our guests plan their dream event at Chateau St. Jean. By sharing the history of this gorgeous property and explaining the details of our robust wine portfolio, I want our guests to feel like they know Chateau St. Jean -- like they're family."
What's the best part about having a wedding at Chateau St. Jean?
"There are several reasons that make having a wedding at Chateau St. Jean momentous. To start, the property is stunningly beautiful. The vast grand lawn, the Mediterranean-inspired garden and the nearly 100 acres of estate planted vineyards cast a gorgeous background for the special day. Also, Chateau St. Jean is one of the unique venues that's able to accommodate larger weddings. Whether you're planning a small, intimate wedding, or a large gathering of 500 guests, we're able to accommodate."
"Another reason weddings are so special here is our luxurious wine selection. We make well over 30 different wines, so there's a wine for every palate!"
What do couples seem to love most about Chateau St. Jean when they come to see it?
"I think the overall beauty of the property transports couples to their romantic dream location. The warm and friendly faces of our staff provide a sense of place, making them feel at home."
What's your favorite touch that Chateau St. Jean puts on a couple's wedding?
"Though the beauty of our property is nearly beyond compare, Chateau St. Jean is able to leave their mark by showcasing each couple's unique style and personality. Plus, the venue itself is unique! If you think about the majority of most weddings, they happen in hotels, parks, churches and so on. It's a completely different experience when you invite guests to a vineyard for a wedding. The weather is gorgeous, you usually don't need a rain contingency, the vineyards and beauty of the region lend a spectacular background and of course -- the wine! What's a wedding without delicious wine?"
What are some fun wedding facts about Chateau St. Jean?
"Our winemaker, Margo Van Staaveren, met her husband at Chateau St. Jean and the site has been the venue for several employees of Chateau St. Jean. We also limit the number of weddings per calendar year to ensure a very high touch experience, every time."