How to Pick the Perfect Wedding Date for You
Stressing out about the ideal date? Here are some tips to pick the perfect day to walk down the aisle.
by The Knot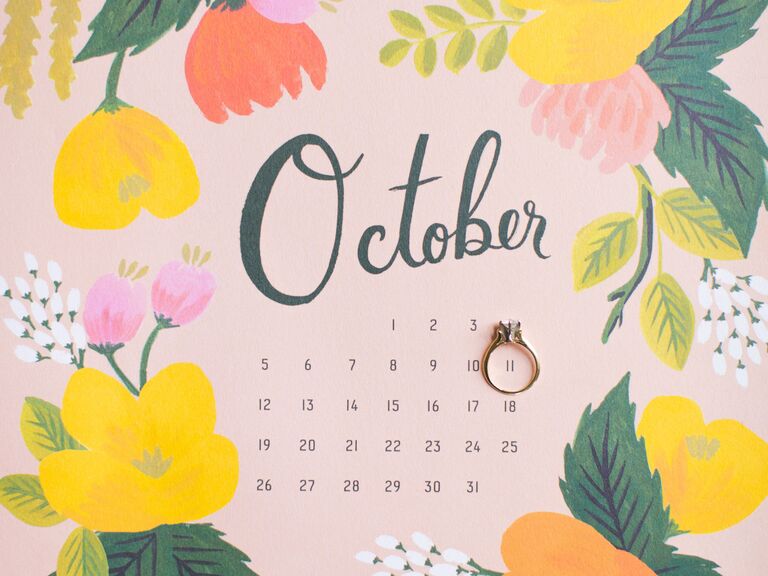 You're engaged? Congratulations! When's the wedding? This will be the first question asked, guaranteed. The decision is different for each couple, but according to our 2016 Real Weddings Study, the average engagement is nearly 15 months long. With a little over a year to plan, you have time to check everything off your list—from finding and ordering your wedding dress (which can take 9 to 11 months) to booking your wedding reception venue (some are booked a year in advance). Consider the following to pick a day that's both practical and personal.
Symbolism
How romantic would it be to marry on the date you first met, on the day you officially became a couple or on your grandparents' anniversary? Some cultures use traditional methods to choose a date—Japanese families check out the koyomi, an ancient astrological calendar, to pick the most propitious day, while ancient Greeks used divined pig entrails (pork rinds, anyone?). You may not be able to marry on the exact day you want—the venue you love may be booked or that special date could fall on a Monday—but you can probably get pretty close. Tell your guests about any significance of the timing in your ceremony programs.
Season
Weather not only affects your wedding's style and location, it can also help set a mood. If it's snowing outside, or it's 90 degrees, people will behave differently. Consider your wedding personality, then choose your season accordingly. Free-spirited fun, tropical-inspired cocktails and sun-dappled settings: Stick with a summer wedding. Opulence, snowfall and holiday sparkle: Try a winter wedding. Rich colors, nostalgia and mulled apple cider: Go for a fall wedding. Freshness, pastels and a daffodil bouquet: A spring wedding is your thing.
Price
Budget may affect your choice. December, July and May were the most popular months to marry in 2016, so prices are inevitably higher. But if, for example, you're planning a wedding in January, March or October, it may cost less because 50 other couples aren't lined up behind you offering to pay top dollar. Days of the week also matter: Saturday nights carry the heftiest price tag, but marry during the week and the world is your oyster (venues may even bid against each other to get your business).
Holiday
If you've always wanted a Nutcracker wedding, or you'd love a heart-covered wedding cake, sounds like you're a holiday wedding couple. Want to celebrate your Irish heritage? Opt for March, when everyone is already in the St. Patty's Day spirit. Try a wedding party in pastels and an Easter egg hunt in March or April. Have a Fourth of July celebration with flags, barbecue fare and fireworks. A plus: Some holidays fall on long weekends, which might make it easier for out-of-town guests to attend. On the flip side, some guests may not want their holiday weekends upended by a wedding, so take that into consideration as well.
VIP Preferences
Speaking of guests, but only of the top-tier, wouldn't-get-married-without-them variety: If you have limited preferences, you may want to ask your nearest and dearest about date conflicts and plan accordingly. Be forewarned that this is a slippery slope if you ask anyone outside your essential circle of parents, siblings and honor attendants. Keep it simple and don't budge once the date is set.
Dates to Avoid
There are definitely wedding dates you do not want to schedule. The weekend before tax day is not the best time to tie the knot—especially if one of you is an accountant or tax attorney. No matter what your career, you probably have your own crunch time at work (inventory always happens in July, the new fiscal year begins in September), so don't marry then. You'll either be stressed or find it difficult to take off for your honeymoon. Also, your religion may dictate some times of year, or even days of the week, that are off-limits.
For a list of dates to avoid in the coming years, check here.
After deciding your date, start looking for your vendors here.