The Complete St. Louis Guide for Couples: Where to Stay & Things to Do
Head to the ballpark, take a walk in the park and so much more.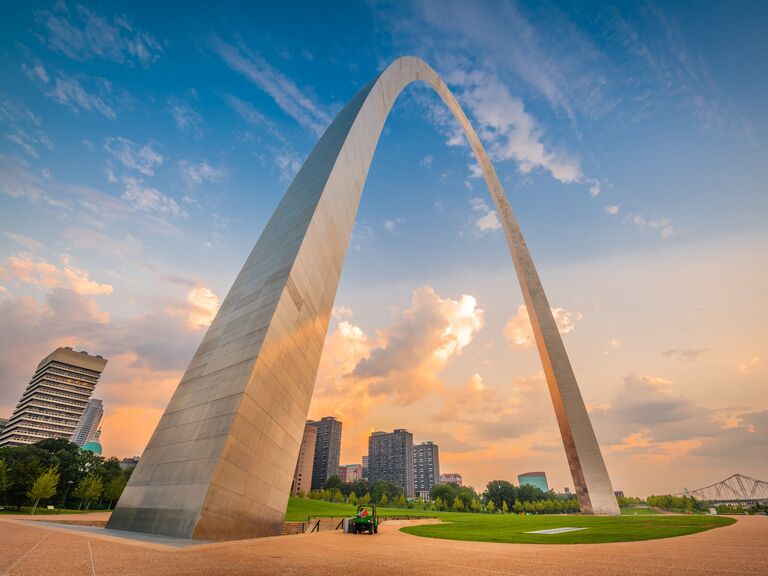 Photo: Sean Pavone / Getty Images
We have included third party products to help you navigate and enjoy life's biggest moments. Purchases made through links on this page may earn us a commission.
St. Louis is a large city with small-town Midwestern appeal. Missourians are happy to talk your ear off about the latest Cardinals game over a heaping plate of meaty barbecued spare ribs. Though it has all the trimmings of a major city (postcard-perfect attractions and plenty of restaurants for romantic nights out), St. Louis also boasts plenty of other opportunities for fun couple activities. Think gorgeous gardens that feel like a respite from the concrete jungle, adult dance classes and luxurious spas for couples' massages.
In short, whether you're planning a trip to the destination or looking for new date ideas, there are plenty of choices to satisfy every taste. From the iconic Gateway Arch to spots that feel worlds away from a major metropolitan area, these are the best couple activities in St. Louis.
In this article:
Fun and Romantic Things to Do in St. Louis for Couples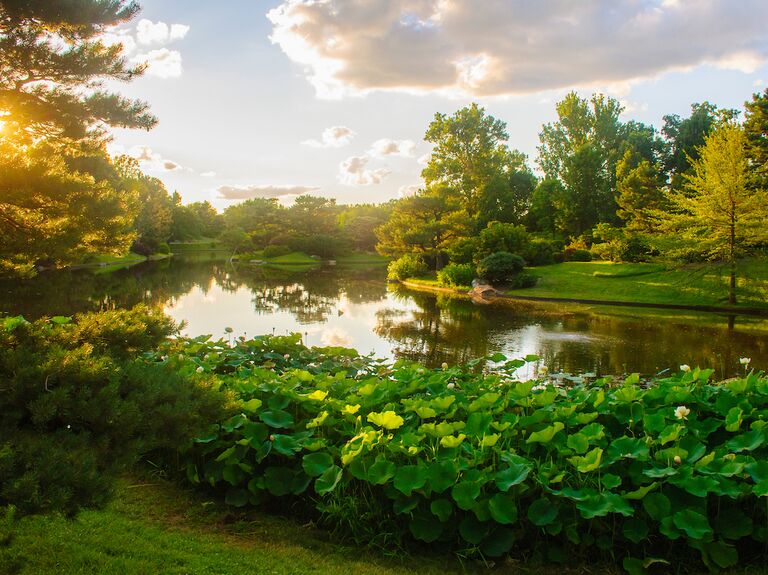 Perhaps you're searching for "couple's activities near me." Alternatively, you may be planning on vacationing in St. Louis. Either way, you'll want to take advantage of all the city offers… and it offers a lot. You can learn a new skill like dancing or cooking, explore a botanical paradise, or escape the concrete jungle and take in animals who frequent actual jungles. Give these 16 romantic things to do in St. Louis a whirl.
Whether you're looking to wow guests on your Big Day or simply want to learn something new together, Dance Pizazz offers some of the best adult dance classes in the St. Louis area. Couples can receive an intimate experience with one-on-one instruction from a professional instructor or get a more social experience in the many group classes. (You can choose from a variety of styles like ballroom, Latin and swing.) In a sprawling ballroom with TV-worthy lighting, this is the perfect place to pretend you and your date are main characters in a rom com… or at least auditioning for Dancing with the Stars.
6722 State Rte. N., St. Charles, MO 63131
With a pair of locations in the city, this spa chain boasts a client-first mindset and some of the best couple's massages in St. Louis. Busy pairs can likely find the time even during the workweek since it's open from 9 a.m. to 9 p.m. every day. Even better, massages actually last as long as they say they do, which means an hour rubdown will take 60 minutes without subtracting 10 to get comfortable. Couples packages built for two can serve as an indulgent way to celebrate an anniversary, birthday, or simply your love.
Benton Park: 1901 Arsenal, St. Louis, MO 63131
Maplewood: 7200 Manchester Road, St. Louis, MO 63131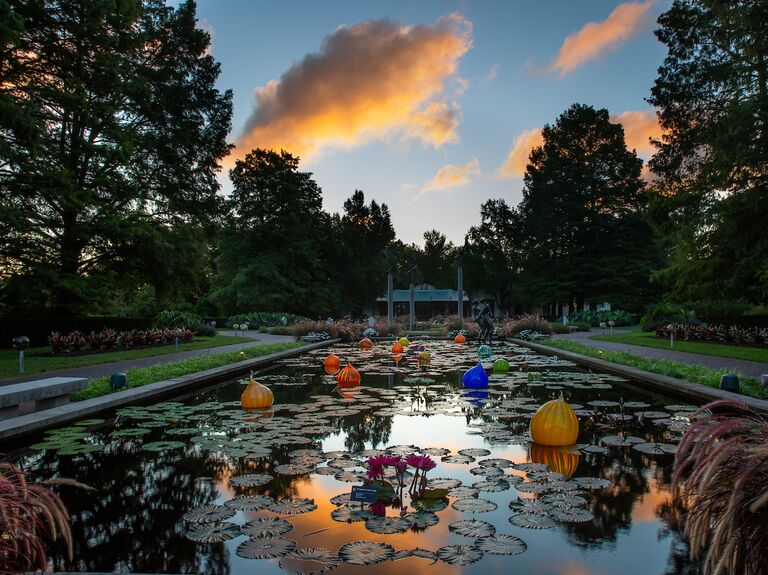 Missouri Botanic Garden, often called Shaw's Garden after founder and philanthropist Henry Shaw, opened in 1859. A National Historic Landmark, it's one of the oldest continuously-operating botanical gardens in the U.S. Step on the grounds, and you'll immediately understand why it's stood the test of time. The second-largest botanical garden in North America has lush greenery and poppy blooms at every turn. Spot everything from azaleas to fig and olive frees. From May through August, couples can attend Chihuly Nights at the gardens and witness the blooms during their gorgeous golden hour while sipping cocktails, listening to live music and seeing illuminated art that adds a good kind of drama to a date night.
4344 Shaw Blvd., St. Louis, MO 63131
Situated in the suburb of Chesterfield, Kitchen Social offers special couples cooking classes in the St. Louis area that are also perfect for first dates. (The hands-on nature of the class nix those awkward silences as you learn how to prepare the meal you can indulge in together.) All levels are welcome, and you don't need to be a former Top Chef contestant or even know the difference between an oven and an air fryer. It's about good times, great food and mixing up date night in delicious fashion.
124 Chesterfield Commons, East Road, Chesterfield, MO 63131
The crown jewel of the appropriately-named Ballpark Village, Busch Stadium is home to the St. Louis Cardinals. The slower pace of baseball leaves room for leisurely conversations while splitting a gigantic popcorn and beer. Couples can also take in stunning vistas of the Gateway Arch, the Mississippi River and the St. Louis skyline in between at-bats and innings. The relatively new stadium, built in 2006, seats more than 44,000 fans, so expect to make some new friends… and feel an especially electric atmosphere if the rival Cubs are in town.
700 Clark Ave., St. Louis MO 63131
From bears to tigers and giraffes, the Saint Louis Zoo gives couples a chance to feel as if they've stepped into the wild. Spot Kali, also known as Culi, who was once an orphaned polar bear who now calls the sprawling 40,000-square-foot McDonnell Polar Bear Point home. You and your date can delight in the four distinct penguin species and two types of puffins in the chilly-but-heartwarming Penguin and Puffin Coast habitat. A sea lion show lets pairs learn about the animals together, while rare birds like the American Bald Eagle can help your love of nature take flight.
One Government Drive, St. Louis MO 63131
If you're planning a trip to St. Louis, you'll want to stick this iconic attraction on your itinerary. The spot on nearly every postcard from the area is even more stunning in person. Named for St. Louis' reputation as the "Gateway to West," the behemoth 630-foot-tall stainless steel arch is the largest in the world and makes the St. Louis skyline instantly recognizable. Take a tram ride to the top, where you can look out over 43,000 tons of concrete and steel, or take a seafaring adventure by booking a riverboat cruise on the Mississippi River. Couples can combine a trip to see the arch with a hand-in-hand stroll through the Gateway's national park, where the fresh air rivals the memorable vistas.
100 Washington Ave., St. Louis, MO 63131
One of the most popular attractions in the city, the Cathedral Basilica of Saint Louis holds the distinction of the Mother Church of the Archdiocese of the city. Couples can attend a mass inside the cathedral, which. Was built between 1907 to 1914. But even those who don't experience a religious ritual will be awestruck with the mosaic collection that's considered one of the largest in the entire Western Hemisphere. It took more than eight decades and 41 million pieces of glass tesserae to create the mosaics, which were hand-constructed by local masons and artisans. Couples can also get a historical tour, where they'll learn about the construction of the cathedral and why it's become known as "the Rome of the West."
4431 Lindell Blvd., St. Louis, MO 63131
This three-story art museum draws about a half-million visitors each year and houses a versatile collection of art from around the world. Walk through the halls and rooms together, viewing paintings, sculptures, and ancient and contemporary works that span 5,000 years of human expression. A gorgeous sculpture garden marries landscape design with architecture and sculpture. It's a must-visit on a breezy, sunny afternoon (or any afternoon, really). Art-loving and curious pairs alike will enjoy programming, including lectures and less-formal artist conversations. Big-time bonus? Admission to the museum is free.
One Fine Arts Drive, St. Louis, MO 63131
Sweet tooths flock to Kakao Chocolate for its scratch-made, small-batch local goodies like truffles and sea salt caramels. Turn date night into a party with other pairs, since groups of eight to 14 people can enjoy a chocolate-tasting party that's as sweet as it sounds. Learn everything you ever wanted to know about cocoa, including how it's made and its health benefits (seriously). Then, compare notes as you sample the shop's handmade treats (and drop some hints for a future gift). A trip to Akamai can also include its neighbors at artisan food brand Table to Table, with events that include chocolate and wine, cheese, and charcuterie pairings.
7272 Manchester Road, Maplewood, MO 63131
The perfect day date for couples who think every dinner needs a soundtrack, the National Blues Museum gives an entertaining history lesson on the genre. Relive performances of iconic and lesser-known blues musicians through photographs, artifacts and film, and learn more about how its quintessentially American sound affects today's sounds. Live music frequently happens in the Legends Room; there are also weekly blues and bluegrass jams at Sittin' on the Porch, a unique sonic way to break out of a date-night rut.
615 Washington Ave., St. Louis, MO 63131
Whether you were a lifelong chess enthusiast or binge-watched The Queen's Gambit during lockdown, the World Chess Hall of Fame is a one-of-a-kind date spot designed to appeal to both expert chess players and novices. The Hall of Fame actually opened its first museum in the basement of the United States Chess Federation in 1988, but moved to St. Louis about a decade ago. These days, couples can peruse exhibits that celebrate the game's greatest players, historical matches and its place in cultural lure in the U.S. and abroad.
4652 Maryland Ave. #1, St. Louis MO 63131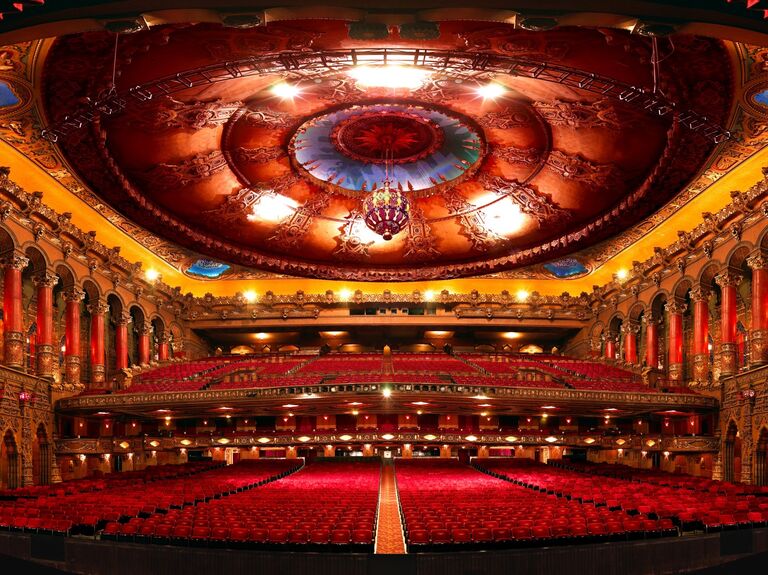 Lovingly referred to by locals as "The Fabulous Fox," this theatre transformed from a movie palace to a hub of the performing arts almost a century ago. Today; the theater brings Broadway plays like Wicked and Jesus Christ Superstar to the Midwest. Famed comedians like Steve Martin and Martin Short have also taken the stage. Couples can toast to good times and performances at the Curtain Call Lounge, the city's first champagne bar (wine and local beer are also available alongside zero-proof offerings). Elevated light bites like shrimp and grits and beef tenderloin serve as a considerable upgrade from buttered popcorn of yore.
527 N. Grand Blvd., St. Louis, MO 63131
When the weather outside gets frightful, one of the most delightfully romantic things to do in St. Louis is to embrace the elements. Few things evoke warmer, cozier vibes than ice skating on a cold winter evening. Add in fire pits, festive lights and an indoor/outdoor cafe serving hot cocoa, and you've got yourself a date night that would make even the most straight-faced figure skating Olympics judge crack a smile. The 27,000-square-foot space, the largest outdoor skating rink in the U.S., is open every holiday and offers lessons for wobbly types looking to up their game.
400 Jefferson Drive, St. Louis, MO 63131
Craft beer may be all the rage, but Budweiser has maintained its cultural icon status for almost 150 years. From the Clydesdale horses to the red cans that are a mainstay at football tailgates and summertime parties, you can peel back the curtain on it all at the Budweiser Brewery. The oldest and largest brewery of Anheuser-Busch always has something brewing. Guests can partake in beer and food pairing dinners, tour the Clydesdale stables and sample beer straight from the cellar. Tour guides provide information on the beer-making process and the history of the brand.
1200 Lynch St., St. Louis, MO 63131
Home to the zoo and the Steinberg Skating Rink, Forest Park is full of history and diverse ecosystems. The 1,326-acre park, known as "The Heart of St. Louis," played host to the 1904 Olympics. In addition to the numerous human-made attractions within its vast acreage, Forest Park's natural surroundings serve as a spot worth exploring (while holding hands, of course). Explore the urban landscape—including forests, lakes and streams—on the Dual Path, which was designed for couples hoping to stop and smell the fresh air or engage in vigorous exercise together. Roll out a blanket and have a picnic, or snuggle on a beach blanket as you lose yourselves in separate summer reads.
5595 Grand Drive, St. Louis, MO 63131
Date Night Restaurants in St. Louis
St. Louis has plenty to do, so it's easy to allow traditional dinner dates to take a back seat. But these date night restaurants in St. Louis will have you resisting that temptation (but not their delectable fare).
This posh downtown eatery is set in parlor-style digs that epitomize fine experiential dining. The glossy black bar, set beneath a vintage chandelier, serves craft cocktails for every palette and is a perfect spot for a happy hour date or an after-dinner nightcap. Five and 10-course tasting menus include a range of foodie delights from pre-starter caviar to beef tartare and beignets. If that feels a bit too ambitious, an a la carte menu allows you to craft your own adventure.
1500 St. Charles St., St. Louis, MO 63131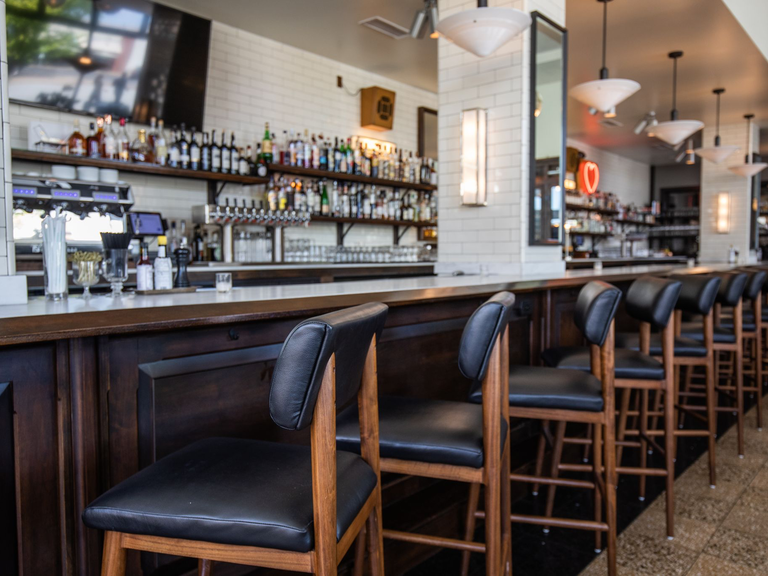 This lively neighborhood joint blends approachable and experimental food, combining cool factor vibes with amiable service. The well-lit space with wooden accents includes a long bar ideal for aperitifs, and feels chic without trying too hard. Starters include classics like chicken wings and more adventurous options like octopus and Fromage Blanc. Wines from around the world, craft beer and creative cocktails allow couples to toast whatever they're celebrating, even if it's just each other. (That's enough!)
216 W. Lockwood Ave., Webster Groves, MO 63131
One of St. Louis' most loved restaurants, this high-end French eatery with white tablecloths, wooden accents and high price tags is a place to celebrate your special someone. Tasting menus change with seasonal ingredients, and can include inventive fare like foie gras with vanilla poached pears and Spanish octopus. To-die-for desserts include strawberry cheesecake and fried apple pies, a city speciality. For a truly special night, consider upgrading to a wine-pairing experience. Pro tip: Reservations are highly recommended—it's a popular spot!
7823 Forsyth Blvd., Clayton, MO 63131
The Best Hotels in St. Louis for Couples
Whether you're planning a vacation or staycation in St. Louis, cozy accommodations can truly elevate a getaway. Some of St. Louis' best hotels have onsite spas and fine dining, while others take a more laid back approach to "Mound City." St. Louis hotel packages for couples take the guesswork out of planning, leaving you stress-free and able to focus on resting and, of course, romance.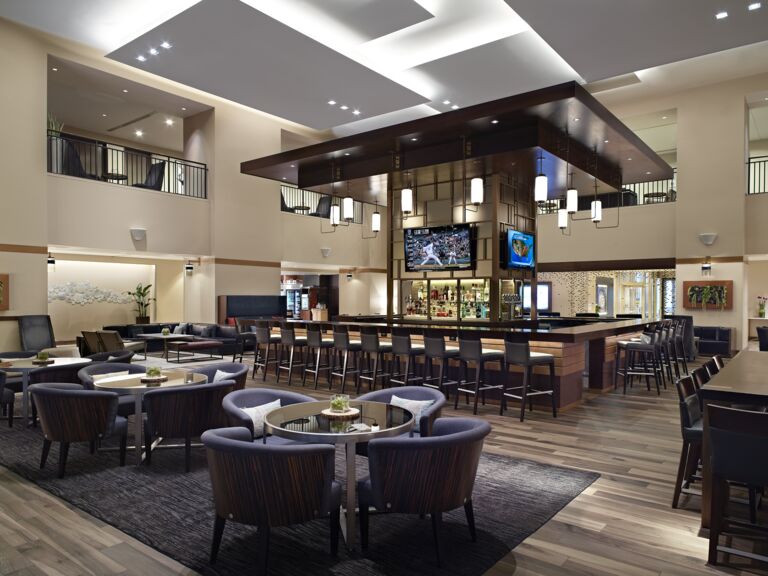 Situated in the bustling downtown area, this grand hotel combines proximity to the action with a chance to escape it all. Rooms offer plush beds made for sinking into and flat-screen TVs. There's a Starbucks onsite, and guests can indulge in contemporary American fare and cocktails at Zenia Bar & Grille. When couples are ready to emerge, Busch Stadium is less than a mile away, or pairs can take a leisurely 15-minute walk to the Gateway Arch on a beautiful morning.
800 Washington Ave., St. Louis, MO 63131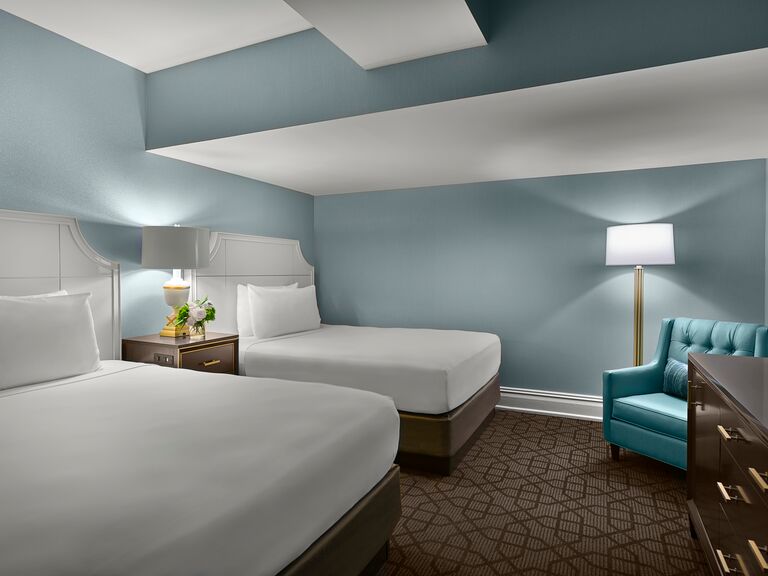 Set in the lively Central West End neighborhood and near Forest Park, this art-deco high-rise has packages for couples looking to relax or let loose. A "tea time with a twist" experience includes vouchers for complimentary cocktails, beers, or wines, while a "Sonesta slumber" offers tips and treats for better sleep and includes a sleep mask, ear plugs and access to sleep advice and meditation. Once well-rested, numerous attractions are within walking distance, including the World Chess Hall of Fame, Forest Park and Cathedral Basilica of St. Louis.
212 Kingshighway Blvd., St. Louis, MO 63131
For a more intimate experience, consider this romantic bed and breakfast set in a 1913 mansion. The estate has just four lodging rooms, ensuring a different level of peace than a larger hotel. A daily signature breakfast consists of scratch-made goodies, including fresh-baked bagels and muffins—though the 600-thread count linens will make it hard to get out of bed in the first place.. The hotel also offers packages designed to add romance to your stay, such as wine, Kaokao chocolates and floral arrangements.
3500 Russell Blvd., St. Louis, MO 63131
This five-star luxury hotel provides resort-style accommodations in the heart of downtown St. Louis' entertainment district. A couple's spa retreat package comes with a candlelit dinner and an 80-minute couple's massage. A trip to the Topgolf Swing Suite for food, beverages and friendly competition makes for an ideal date night—and you can do it without leaving the grounds. Speaking of not going anywhere, James Beard Award-winning chef Gerard Craft helps the onsite Cider House restaurant that dishes out South American cuisine with a twist.
999 N. Second St., Saint Louis, MO 63131
This cozy Queen Anne-style B&B is across the street from 14-acre Benton Park. The intimate family-run spot has resident pups that immediately put guests in a charmed state of mind. Three welcoming suites have comfortable sitting areas. Some rooms have whirlpool tubs and balconies with park vistas—inquire when you book!—and a daily breakfast is offered in the dining room; there's also a grand piano and fireplace. Anheuser-Busch Brewery is within walking distance, and the Missouri Botanical Garden is a five-mile drive.
2017 Arsenal St., St. Louis, MO 63131