The Ultimate Guide to Planning a Destination Wedding in Turks & Caicos
White-sand beaches and turquoise waters—talk about a dream wedding.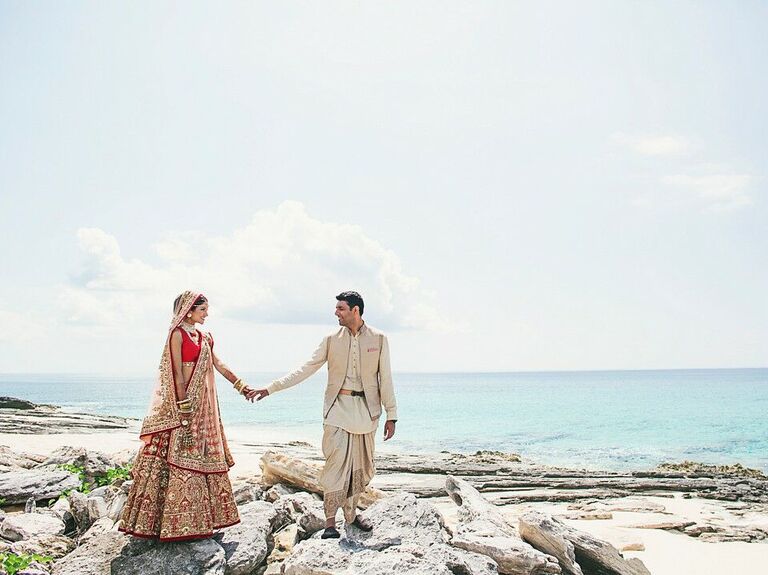 When you think of a Pinterest-worthy Caribbean beach wedding, Turks & Caicos is definitely a wedding location that comes to mind. With its picturesque settings and vistas so vibrant they look unreal, it's no wonder couples flock to Turks & Caicos to say their "I do"s. After all, a Turks & Caicos destination wedding sets the scene for a day you'll cherish for a lifetime.
As with all destination weddings, planning can be tricky. There are so many things to consider, including where to have your destination wedding, the legalities of getting married there, and all of the logistics of planning, including transportation and weather.
To help with that, we tapped Keisha L. Delancy, principal and destination wedding specialist for Destination Turks and Caicos, to answer all of our questions. Keep scrolling for expert tips on how to have the best wedding day ever.
Why Couples and Guests Love Turks & Caicos
There are so many reasons why the Turks and Caicos islands are a go-to destination wedding location for couples. According to Delancy, the top reasons include the islands' year-round tropical weather, the awe-inspiring white-sand beaches (including the award-winning Grace Bay Beach), the vibrant culture, the delicious food and the friendly locals.
Turks & Caicos, she adds, is also an easy destination to travel to—weekly direct flights arrive from various cities in the United States, Canada and the United Kingdom.
The Best Places to Get Married in Turks & Caicos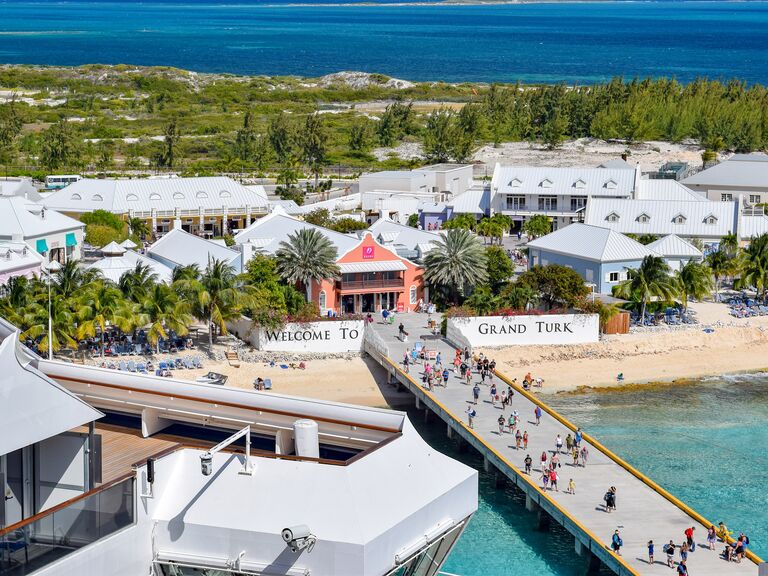 There is no shortage of beautiful beachfront spots to have your wedding ceremony and wedding reception in Turks & Caicos. Here are some of the top picks to put on your radar.
The Island of Providenciales
Turks & Caicos has many natural landscapes that serve as perfect destination wedding backdrops. Delancy tells us the most popular place to get married in Turks & Caicos is the island of Providenciales. "It offers a variety of venues, from budget-friendly spots to more extravagant luxury weddings," she says. "[Couples] have the option of various beaches, villas, resorts and luxury boats."
The Island of Grand Turk
"The island of Grand Turk is rich in history, with its nicely kept salt ponds, historic Anglican churches that are more than 100 years old, and the breathtaking Governor's Beach," Delancy says. "While this island caters primarily to couples on cruise ships, it is idyllic for couples who desire intimate weddings or wish to be a little further away from Providenciales."
The Private Islands of Parrot Cay and Ambergris Cay
For couples with bigger budgets, Delancy points to the private islands of Parrot Cay and Ambergris Cay, which are frequently visited by celebrities. She describes Parrot Cay—which is located a quick boat ride away from Providenciales—as, "timeless and off the beaten path." Delancy says Ambergris Cay is 20 minutes away by private commuter flight and is, "remote, lush and ideal for a luxury wedding."
Turks & Caicos Wedding Legal Requirements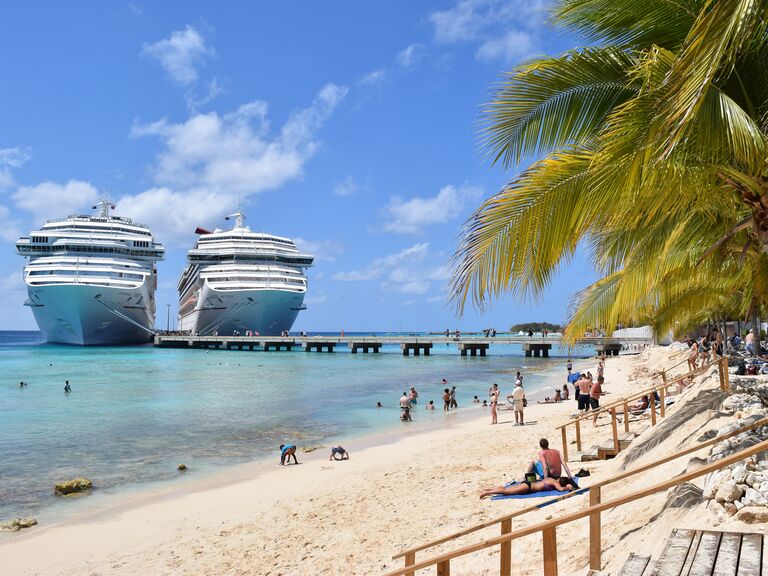 Legal Weddings vs. Symbolic Weddings
For destination weddings, couples typically have two options. First, they can get legally married in the region where they're having their wedding. With this option, however, there are legal documents, procedures and fees required—more on that below. Alternatively, couples can have their civil ceremony in their home country and have a symbolic wedding on their big day.
Required Legal Documents
Getting legally married in Turks & Caicos is relatively simple. "All couples will need to submit a certified copy of both partners' birth certificates, passports, bio page and immigration cards," Delancy says. "In addition, if either party was married before, we will need a notarized copy of the divorce decree. And if they were never married before, they will need to complete an affidavit of non-impediment and have it notarized in their home state."
Legal Marriage Timeline
To make the wedding planning process as seamless and hassle-free as possible, Delancy recommends working with a wedding planner who is familiar with planning weddings on the islands and can handle all of the logistics for you. Timeline-wise, she advises reaching out a year in advance for a larger wedding and three to six months out for small and intimate ceremonies.
Legal Marriage Cost
As you're planning your wedding budget, it's important to factor in legal fees as well. Delancy says that includes the cost of the marriage license and marriage certificate. If you're working with a wedding planner, the cost of the application process and marriage license may be factored into the cost of the wedding package. "It is a one-time payment, and the wedding planner and officiant are the only people who can assist with processing the license," Delancy says. "The registrar's fees for the license and marriage certificate start at $300."
Turks and Caicos Wedding Planning Tips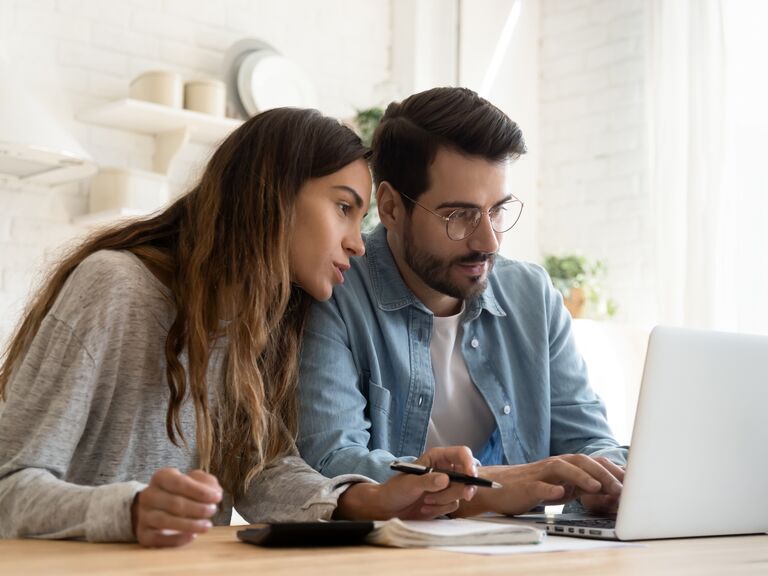 What is the weather like in Turks & Caicos? Are rental cars available? How can you save money on your special day? Answers to these questions and more below.
How to Get There
There are countless flights to Turks & Caicos, though cost will vary depending on the time of year when you visit, Delancy says.
Once you're in Turks & Caicos, note that there is no public transportation available to get around, but there are transportation options, such as taxis and car rentals. Also, Delancy says Google Maps works on the islands, so keep that handy on your phone.
Turks & Caicos Weather
While Turks & Caicos' tropical climate makes it a great location for a destination wedding year-round, Delancy says it's a bit cooler in the evenings from November to March, and you'll often see rain in October, November and sometimes May that typically lasts five to 15 minutes at a time. During hurricane season, which is June to November, the rain may last longer if there's a tropical storm looming.
Choosing Your Venue and Vendors
It can be tricky to plan a wedding in another country. Delancy recommends working with a destination wedding specialist or wedding coordinator who can help you plan everything. (The Knot Marketplace is a great resource for finding vendors.)
Delancy also suggests mapping out a realistic budget for your destination wedding that includes an additional 10 to 15 percent for things like tips for staff and vendors. She also recommends booking your venue, accommodations and wedding vendors well in advance.
Budgeting Tips
Turks & Caicos' currency is the US dollar, so Delancy says overall, the country can be considered a more expensive destination wedding location in terms of food, beverage and transportation.
However, she notes that there are options available at all price points, as costs vary depending on the location and season. Airfare and hotel rates are typically higher during peak season, and better deals are available during the low season.
To save some money, Delancy recommends having your Turks & Caicos wedding during the off-season, booking airlines in advance, and trying to have all guests stay at the same resort or sister properties to qualify for a group rate, which can be 10 to 25 percent less.