The Sexiest Caribbean Islands for a Destination Wedding
The founder of Jet Fete by Bridal Bar shares where to wed in the Caribbean for sunny and sexy nuptials.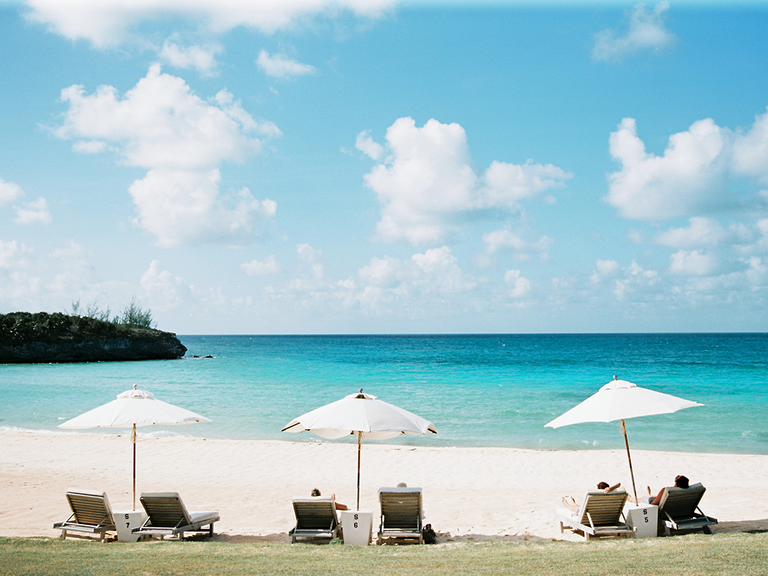 The Cove Eleuthera
Narrowing down your tropical destination wedding location is like picking the prettiest flower in a field. There are so many choices, so where do you start? If island vibes fit your style, head to the Caribbean where you'll find some of the world's sexiest beach destinations perfect for your wedding party and island-hopping honeymoon. Here are our top picks for that picture-perfect sunset and sexy, sandy "I dos."
This lesser-known Bahamian island might just be the greatest escape off the coast of Florida. With both a Caribbean and Atlantic side, you have your choice of waters to refresh in—one side rich in tide pools and the other in idyllic white-sand beaches. It'll feel like you're staying off the beaten path without the crowds, but you won't go without the finer things in life when you book The Cove Eleuthera for your wedding. Nestled on two private coves, pick your beach to play or party on and enjoy bungalow-style living complete with a Bahamian spa on property. Plan ahead for a day trip by boat to the pink sands of nearby Harbour Island and you get two destinations in one.
The largest of the Cayman Islands, Grand Cayman is known for its spectacular Seven Mile Beach, Stingray City adventure in the wild and a food scene that draws celebrity chefs from around the world. With luxury resorts lining the shore, you and your guests are certainly not short on options, but a takeover of the Caribbean Club is one way to really stand out. Boutique luxury and possibly the best beach in the world is what you'll find here as you chase the green flash in your wedding photos and enjoy all the romance you could imagine when you dine as newlyweds at Luca.
What's sexier than open-air suites overlooking the Pitons and indulging in natural volcanic mud baths before the wedding day? St. Lucia has it all by land and sea. From day trips out on a speedboat to chocolate tours for your guests, the island is lush, diverse and, of course, peppered with pretty beaches. For an elopement, say "I do" at Jade Mountain and stay in a galaxy sanctuary with only one wall to your room and your own infinity pool for your honeymoon. Or for larger events, do as Matt Damon did and wed at Sugar Beach, set within 100 acres of tropical rain forest, but with all the modern sex appeal of a Viceroy Resort.
Sometimes the most romantic of roads are those less traveled. Getting married where so many have been before is great, but what about something completely new and different in the Caribbean? Be among the first to wed at the about-to-open, oh-so-modern Silversands resort. Spend your days tubing down a rushing river, diving off the coast to find underwater sculptures and experiencing untouched luxury like few other places on earth.
Boutique luxury, beautiful beaches and sunset cruises make this most developed island in Turks & Caicos a top spot for lovers and destination wedding couples alike. With several all-inclusive resort options near picturesque Grace Bay, you have your choice of where to wed and stay. For a spot a little more secluded, complete with private pools and villa gardens, check in to the swanky and sexy Amanyara. Just be sure to emerge from your suite long enough to take a day trip to a private beach on an uninhabited neighboring island and you might even get lucky enough to swim with one of the world's only lone dolphins, JoJo, who's a regular playmate of visitors in shallow waters.
Unforgettable sunsets, white and pink sands, tropical rain forests, adventure and spa treatments are what you'll find in these sexy Caribbean spots when you touch down for romance in the surf and sun. Happy island-hopping!
Harmony Walton is the founder of The Bridal Bar, host of Bridal Bar Radio airing on iHeartRadio and editor of the destination wedding blog, Jet Fete by Bridal Bar. With a vast celebrity clientele and over a dozen years of experience, her brands have been recognized around the world and featured in media outlets such as The Associated Press, The New Yorker, The Knot, The New York Times, Entertainment Tonight, People Magazine, The Los Angeles Times and many more.