35 Christmas Wedding Ideas for Nuptials Filled With Yuletide Cheer
Deck the halls this holiday season.
There's so much to love about the Christmas season. Beautiful decorations, time spent with loved ones, and an air of joy and merriment. For engaged couples, Christmas is a wonderful time to tie the knot and think of Christmas wedding ideas. From the numerous hymns, like "Joy to the World" and "The First Noel," that you can use as wedding songs, to classic seasonal decor, the wintry elements traditionally associated with the holiday can parlay seamlessly into wedding details. Read below to learn the best way to plan a Christmas wedding and get inspiration from real weddings so you can deck the halls and bring to life your dream Christmas wedding theme.
Things to Consider Before Planning a Christmas Wedding
If you want to have a jolly Christmas-themed wedding, you'll need to know all of the dos and don'ts of planning one. Read below to learn how to pick your wedding date, colors and environment.
Don't have the wedding on Christmas day.
This might be obvious to some people, but having your wedding date on Christmas day isn't ideal. Most likely, some guests will have Christmas plans (on the day or weekend leading up to it), resulting in them being unable to attend. Instead of forcing your guests to choose between their Christmas obligations and your wedding, set your wedding date around December 25th. We suggest you have your wedding anytime between Thanksgiving and Epiphany (January 6th), since that's when the Christmas season ends on the Christian calendar. But be cautious to avoid having your wedding on other December holidays like Hanukkah and Kwanzaa.
Think about the weather.
Everyone wants the weather on their wedding day to be perfect (or as close to it). This is why weather tools are helpful because they can ease your anxiety and help you prepare for the future. The weather is especially important for couples planning Christmas weddings during the winter because, depending on the wedding venue's location, heavy snow and winds might be in the forecast. If you would like an outdoor wedding, bundle up for the cold weather (you don't want to get sick on your wedding day), offer blankets or mittens to guests during the ceremony and reception and rent a heated tent (if you want to see the beautiful snow flurries without being in the low temperatures).
Red and green aren't the only Christmas colors.
Of course, you can go with the classic red and green Christmas colors, but there are numerous other options to choose from. We suggest using different silver, gold, blue and purple hues to help your wedding color palette stand out. But if you want to stick to red and green for your Christmas wedding decorations, consider using different shades of red and green so your setup isn't as conventional.
Remember traveling is hard during the holidays.
The holidays are a peak time for traveling which means higher travel costs and longer travel times. With that in mind, allow your wedding events to have room for flight delays or cancellations and book hotel room blocks in advance so your guests can arrive early and have guaranteed accommodation and discounted costs. Overall, be patient and courteous with your guests during the traveling process.
Festive Christmas Wedding Ideas to Inspire You
Now it's time to take a deep dive into every way you can incorporate the yuletide spirit into your wedding. Check out our favorite Christmas-themed ideas from real weddings.
Christmas Wedding Decoration Ideas
It's time to say "season's greetings" with your wedding decorations. From Christmas wedding backdrops to creative tablescapes, here's how to make your winter wedding cozy and cheery.
1. Christmas-Themed Wedding Invitations
The first way to let your guests know about your holiday-inspired wedding is by sending out Christmas wedding invitations. You can choose an invitation with illustrations full of Christmas trees, wreaths and twinkling lights or a simple plaid background like the invitation pictured above. If you want to find more wintry stationery for your wedding events, check out The Knot Invitations.
2. Lantern With Red Christmas Wedding Ribbon and Pine
If you're wondering how to decorate a Christmas wedding, take a page out of this couple's festive book. The bride and groom had lantern centerpieces adorned with snow-sprinkled pine, red berries and ribbons. The candles will create a nice intimate feel at the reception––just ensure candles are allowed at your venues since they can be fire hazards.
3. Christmas Sleigh Wedding Decoration
Looking for Santa-approved wedding decor ideas? Bring a sleigh to your winter wedding. At this rustic Christmas wedding, the couple had a winter sleigh display outside the reception venue. This display matches the theme and works as a great photo shoot area for you and your partner and a fun-and-interactive photo booth for guests (and don't forget to add fun props).
Find your kind of venue
From barns to ballrooms, discover reception venues that feel like you.
4. Lush Christmas-Themed Wedding Ceremony Arch
Don't think you'll have room for a Christmas tree as your wedding ceremony backdrop? Consider having a wedding ceremony arch with Christmas-inspired colors, floral and greenery like pine and poinsettias.
5. Christmas Herbal Escort Cards
There's a way you can have a Christmas-inspired wedding in subtle ways. Use fragrant herbs and greenery to scentscape your wedding and put your guests in the holiday spirit. At this luxe-rustic wedding, the couple offered escort cards of holly, sage, thyme, olive and eucalyptus.
6. Church Altar Christmas Tree Wedding Decorations
If you're getting married in a church, chances are the house of worship already has plans to decorate the sanctuary for Advent and Christmas with its own Christmas decorations. By tying the knot during Christmastime, you'll be able to take advantage of the church's existing decor and save on your budget.
7. First Look With Christmas Wedding Backdrop
Snow makes a beautiful backdrop for wedding pictures, but so do Christmas trees. Consider having a first look with your soon-to-be spouse indoors, surrounded by twinkling lights on lush Christmas trees with faux snow.
8. Ski-Themed Stationery
If you want a festive and boozy wedding welcome party, what better theme than apres-ski? Ahead of their wedding, this couple invited guests to a day of skiing followed by a fireside party with eggnog and hot chocolate to kick off the wedding weekend.
9. Pine Cone Place Card Holders
At this winter destination wedding, the couple took the DIY route with their Christmas wedding decorations. They used small pine cones with frosted tips as place card holders at their resort reception venue.
10. White and Red Poinsettias at Christmas Wedding Ceremony
While many flower varieties aren't in season during the winter, the colder months are the peak time for poinsettias. This couple outfitted their ceremony altar with numerous potted red and white poinsettia plants. Get more information about which wedding flowers are in season during the winter here.
11. Rustic Christmas Wedding Reception Tree
If one wedding theme can't fit everything you like, don't be afraid to combine your favorite aspects of other wedding themes. To fit their rustic wedding theme and give a nod to the holiday season, this couple had a Christmas tree made of twigs at their reception adorned with string lights, their engagement photos and images of their pets and loved ones.
12. Festive Christmas-Themed Tablescape
There's something so inherently Christmasy about plaid. The pattern can feel overpowering, so this couple brought the design in subtly with their wedding reception napkin choice. Instead of traditional wedding centerpieces, an evergreen garland running the length of the reception tables completed the wintry tablescape.
Christmas Wedding Food and Drink Ideas
One of the easiest ways to include the Christmas theme in your wedding is through your food and drinks. Get ready to eat, drink and be merry!
13. Gold and Ivory Christmas Wedding Cake
Dreaming of a Christmas wedding cake idea that's not fruit cake and isn't too over the top? Ask your baker to do neutral or muted colors for the cake, like white and gold, then decorate it with pops of traditional Christmas colors, like red and green. The couple got creative and chose a unique mixture of chocolate, raspberry, coconut and lemon for each layer of the three-tier cake.
14. Cranberry Champagne Cocktail
The best way to save money and get delicious food or beverages is by picking in-season produce. Christmas and cranberries go hand in hand, so why not include them in your cocktail hour?
15. Pine Cone Christmas Wedding Cake Topper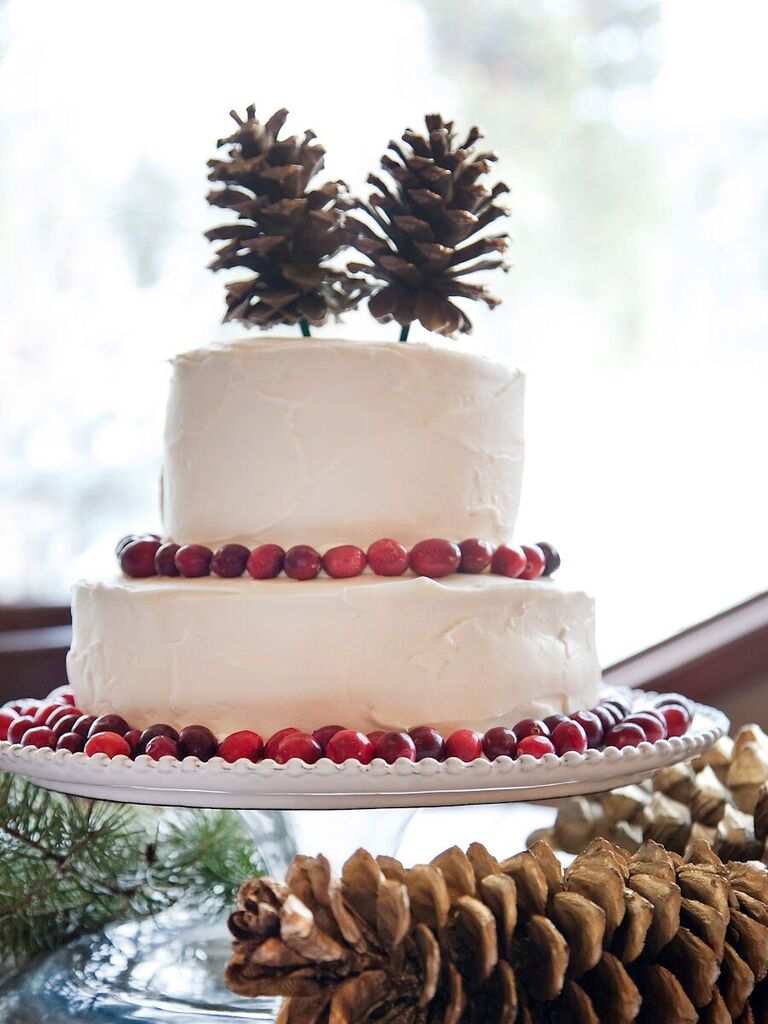 A great way to ensure your wedding fits the season and doesn't feel out of place is to use materials that are naturally associated with a given season or holiday. When it comes to Christmas, pine cones are one such element. Other made-for-Christmas details you could use to add holiday spirit to your wedding theme include candy canes, mistletoe and snowflakes.
16. Christmas-Themed Dessert Table
You're never too old to set out cookies for Santa. Have a dessert table of Christmas-themed sweets that Santa and your guests will love, like boozy milkshakes, sugar cookies and handheld "snowball" cake.
17. Amaryllis-Topped Christmas Chocolate Wedding Cake
Amaryllis flowers bloom naturally during the winter and are a great option for wedding decorations—from cake toppers to wedding centerpieces. Get inspired by even more winter wedding cakes here.
Christmas Wedding Outfits
Have Christmas on the brain but still want to dress to impress? Check out these beautiful Christmas wedding clothes and accessories.
18. Red Plaid Christmas Wedding Shoes
Shoes are a part of your wedding attire where you can have fun and get creative. This bride donned red plaid block heels with a bow on the back.
19. Christmas Wedding Wreath Dog Collar
Remember, including your pet in your wedding is perfectly acceptable and encouraged. At this holiday-themed wedding, the bride's golden retriever, Sophie, acted as the flower girl and pup of honor. Sophie's dog wedding attire was a collar wreath made of fresh cedar and berry hypericum.
20. Plaid Christmas Bridesmaid Shawls
Your Christmas wedding ideas don't have to stop at your decorations and catering. Incorporate the jolly mood into your and your wedding party's attire. At this Christmas-themed wedding, the bridesmaids wore emerald green dresses with plaid shawls, while the bride wore a matching plaid belt with her wedding dress.
21. Pine Cone and Evergreen Boutonniere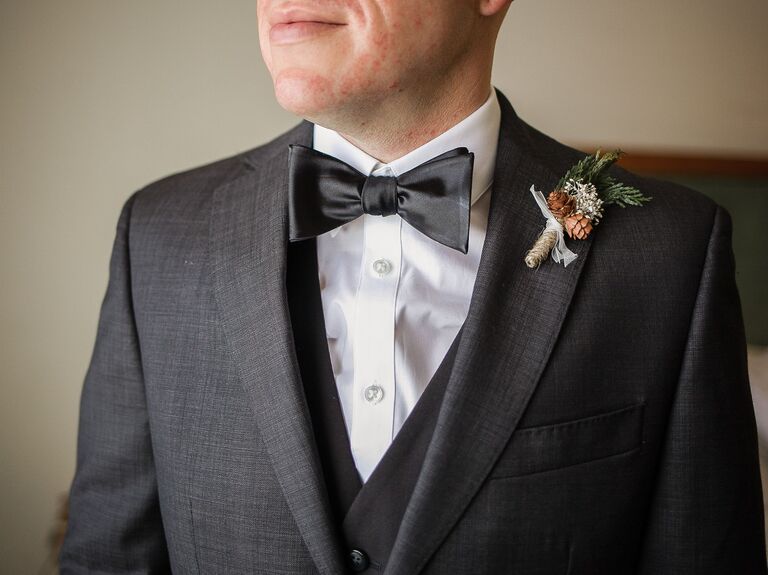 This to-be-wed accessorized his tuxedo with a wintry boutonniere made of mini pine cones and an evergreen sprig tied with hemp. Consider asking the floral designer you hire to incorporate cones in your floral arrangements for the wedding.
22. Bridal Christmas Fur Stole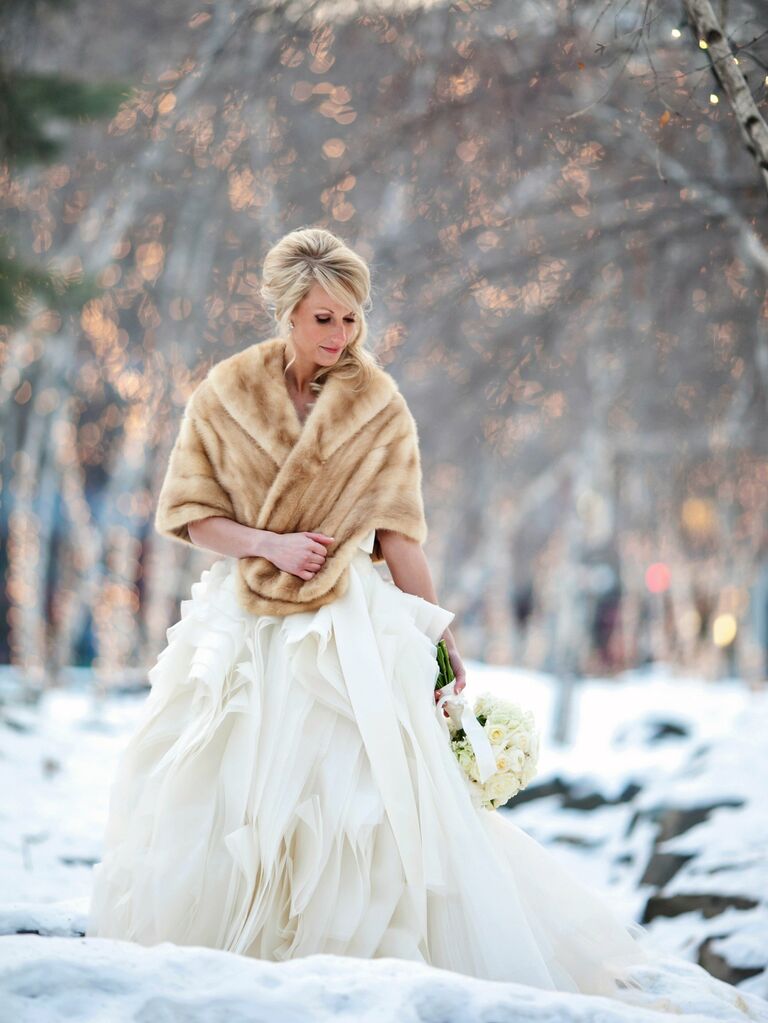 If you're planning to take pictures outdoors to commemorate your snowy white wedding, consider wearing a fur (or faux fur) stole for your wedding pictures. It's a glamorous and seasonal way to stand out in your photos.
23. Snowy Mountaintop Christmas Elopement
At this beautiful and intimate elopement, the bride and groom said their "I dos" on a snow-covered mountain in the Colorado Rockies. We love the look of the falling snow in pictures, but the frigid temperatures may leave you and your partner shivering during the ceremony if you opt for no coverups. We suggest wearing a heavy coat throughout the ceremony and then taking it off during the vows for some prize pictures.
24. Plaid Getting-Ready Outfits for Wedding Party
Start your wedding day on a thematic note as a nod to the time of year by gifting your wedding party members cozy Christmas pajamas. Lots of sellers offer a variety of colors in the plaid pattern, some include custom embroidering so you can add each wedding party member's name to their outfit.
25. Green Velvet Christmas Blazer
You can never go wrong with wearing velvet since it's a winter and Christmas classic. This groom wore a velvet emerald green blazer to complete his wedding day look.
26. Burgundy Christmas Dog Bow Tie
Another cute dog wedding accessory is a bow tie. This couple put a burgundy bow tie on their precious pooch, which matched their wedding color scheme.
27. Pine Cone Boutonniere With Plaid Ribbon
Opting for a classic tuxedo? Then get creative with your boutonniere choice. This pine cone boutonniere with red plaid ribbon and fresh pine adds a pop of color to this grey tux.
28. Couple Skiing in Retro Snow Suits
If you and your partner share a love of skiing, as this couple does, you have to include it in your wedding. Invite guests to enjoy a day of skiing ahead of your wedding and go all out with funky snowsuits to get in the mood.
29. Cozy Christmas Wedding Party Mittens
Planning a Christmas wedding during the winter means chilly temperatures. Your wedding party will enjoy a practical wedding gift, like pashminas or mittens, that'll keep them warm at your winter wedding.
Christmas Wedding Reception Ideas
Your wedding reception is the perfect time to kick the yuletide energy into full gear. And you don't need to borrow Santa's elves for these easy and innovative reception ideas.
30. Christmas Wedding Sleigh Getaway Vehicle
Having a Christmas wedding means you can veer off the traditional planning path and do something different for your wedding exit. We love this creative take on the wedding getaway car, which the couple offered for sleigh rides during the cocktail hour.
31. Santa Claus Photo Booth
You can't have a Christmas wedding without an appearance from the big man himself. Set up a photo booth with Santa Claus and fun props that'll surely be enjoyable for children and adults.
32. Glamorous Acrylic Christmas Ornament Wedding Favor
Keepsake Christmas ornaments are a great way to celebrate life's milestones, and a wedding is no exception. Enlist a calligrapher to decorate ornaments with your wedding details so guests will remember the night of merriment for years to come. You could even consider having your ornament wedding favors double as place cards or escort cards.
33. Santa's Helpers With Christmas Wedding Favors
Add some flair to the wedding favor distribution by hiring Santa's helpers (or close loved ones in a jolly mood) to hand out the favors. At this winter wonderland wedding, the couple had a live band play "All I Want For Christmas Is You," while Santa's helpers came into the reception with bags of Christmas-themed apparel for guests.
34. Vintage Getaway Car With Christmas Wreath
Wreaths are a quintessential part of Christmas decor that can be included in a variety of winter wedding ideas. A wreath affixed to your getaway car will give it a dose of yuletide cheer.
35. Christmas Tartan Plaid Blankets for Guests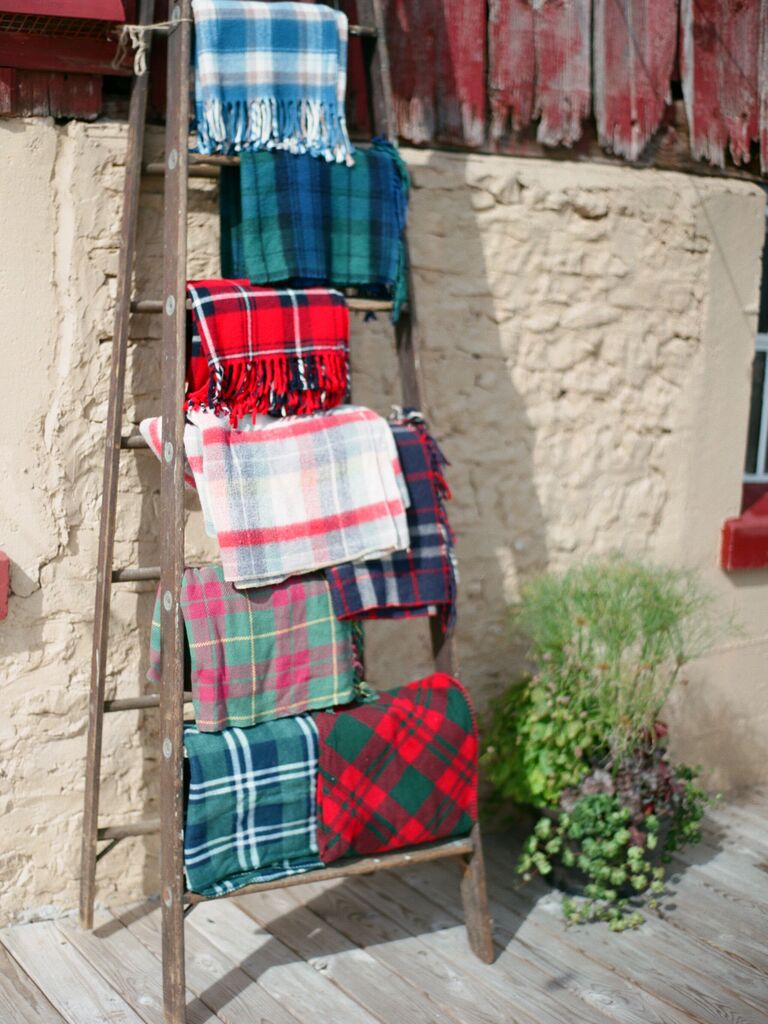 Warmth and guest comfort are important considerations with any winter wedding. Especially if your wedding ceremony is going to be outdoors, have on-palette blankets available for guests to cozy up with.