5 Places to Rent Wedding Day Attire
The rental industry is on the rise for men and women's wedding day attire—find some of our favorite picks here.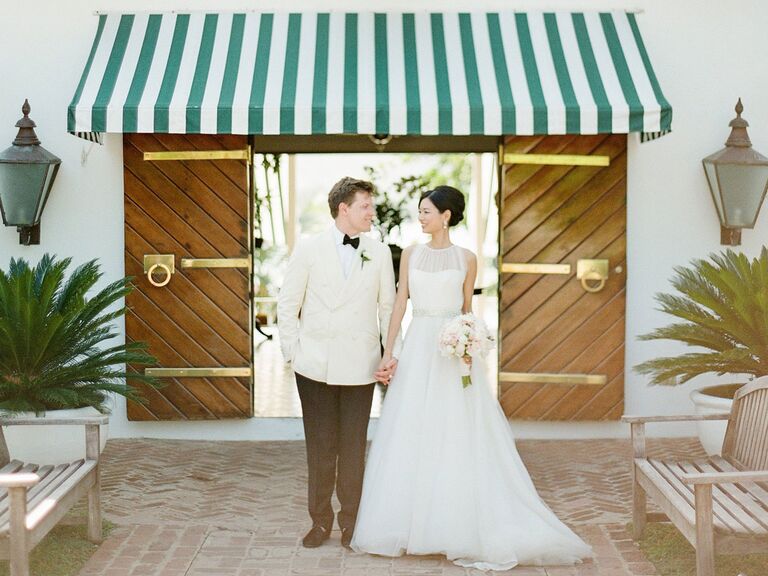 KT Merry Photography
With more and more options for formalwear rentals popping up, both ladies and gents can now share in the rental fun, with everything from formalwear for the wedding day to casual wear for the prewedding events and even accessories to make a statement. If this sounds up your alley, turn to one of these options for an addition to your closet that's more temporary.
Tuxes and Suits: Menguin
Tuxedos and suits tend to be investment pieces from which men expect a lot of wear. However, what you select for your wedding—for the groom or groomsmen—might feel like more of a one-off. "Given the current trends of richer colors for tuxes such as blues and grays rather than typical black, asking the guys to invest in purchasing a tux or suit they might only only wear once is rather inconvenient," says Justin Delaney, CEO of Menguin. "And unless each groomsman already has absolutely everything, including shirt, shoes, cufflinks and tie or bow tie, you're looking at more cost just to purchase accessories than it would be to rent an entire high-quality, designer name look with complete peace of mind."
Bridal and Bridesmaid Accessories: Happily Ever Borrowed
Happily Ever Borrowed rents out designer bridal accessories, including veils, clutches, coverups and jewelry. "We love when brides are able to use their accessories as a wardrobe change between the ceremony and the reception," says Brittany Haas, founder of Happily Ever Borrowed. "We have tons of items that can be worn [in multiple ways]. Brides can wear the piece as a sash to be more understated at the ceremony, and switch it to a headpiece for the reception to really make a statement. Even borrowing a second pair of luxe earrings for the reception can really change up her entire look without spending a fortune."
Menswear Accessories: Fresh Neck
If you think about a suit and tuxedo as a blank canvas, then the accessories paired with it are what make the look a work of art. But those accessories can add up fast, some not getting much wear at all. Through Fresh Neck, men can expand their wardrobes renting ties, pocket squares, belts and suspenders in a variety color, patterns and styles. Also available are cuff links, watches, lapel flowers and more, for unique ways to set the men apart.
Prewedding Women's Attire and Bridesmaid Dresses: Rent the Runway
Engagement celebrations, bridal showers and bachelorette parties are already pricey before the cost of new outfits for each are added in. In addition to stunning designer dresses that can double as bridesmaid looks, Rent the Runway rents more casual ensembles, including day dresses, sleek jumpsuits, leather jackets and twirly tulle skirts. Putting together a trendy, in-style look has never been easier.
Prewedding Men's Attire: The Mr. Collection
With styles constantly changing, The Mr. Collection is making guys' lives easier. The personal styling subscription service sends looks the men can wear and return when they want something fresh and new. Subscriptions can be selected from Mr. Play, Mr. Business or Mr. Combo (a merge of the two). Mix and match wardrobe items are then sent based on the style profile created or requests for an upcoming event—say, a groomsmen's golf outing or a bachelor getaway to Miami. The guys can choose to keep their looks for purchase or send them back for a new pack of wears. (Don't be jealous, ladies. The Ms. Collection does the same for you.)