Your Guide to Wedding Calligraphy
Whether you book a professional calligrapher or give DIY a go, here are some key points to consider.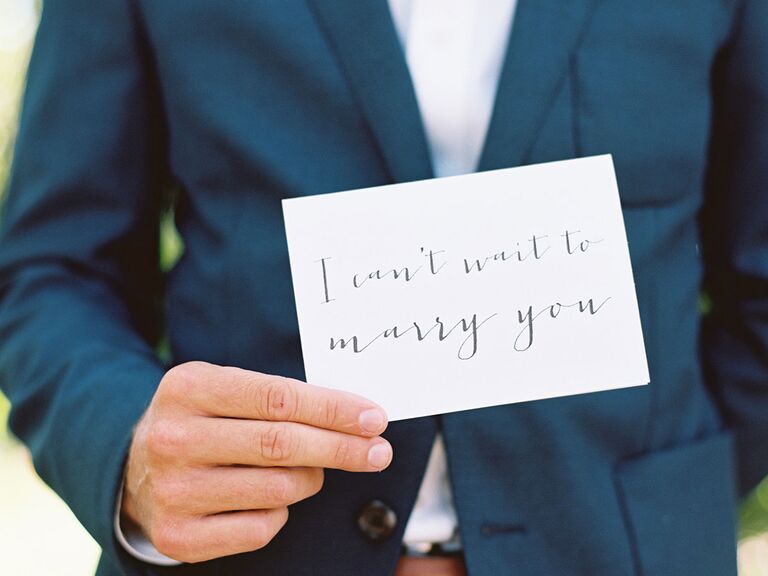 Wendy Laurel Photography
We have included third party products to help you navigate and enjoy life's biggest moments. Purchases made through links on this page may earn us a commission.
From your invitation envelopes to your favor tags, handwritten calligraphy will give your wedding paper a luxe, elegant look. Whether you're choosing your calligraphy style or wondering what to ask your local stationer, here are some useful details to keep in mind.
Where to Use It
Traditionally calligraphy is reserved for the inner and outer envelopes of invitations, but you can incorporate it elsewhere like on your escort cards, menu cards, ceremony programs and even the favor tags. While calligraphy isn't typically used on the entire invitation (it can be difficult to read—and expensive) spot calligraphy, which highlights important items like your names, is an increasingly popular option.
Printed vs. Handwritten Calligraphy
Ideally, your envelopes should be addressed by hand, but there are calligraphy fonts you can download and print onto your envelopes, often free of charge. You could also ask your stationer about buying the same font they use on your invitations—that way you can print other items, like your programs or even escort cards, to match. You can almost always tell the difference between handwritten calligraphy and a printed font, but printed calligraphy can be a beautiful option if you're on a budget.
What It Costs
Calligraphy is a time-consuming process with a fee to match. Pricing can range anywhere from $2 to $5 per envelope or higher for special requests. Many calligraphers price their work with a few factors in mind: the style, turnaround time, special materials like custom ink colors or metallics, and the type of paper or materials they're writing on.
How Long It Takes
Most calligraphers schedule two-week turnarounds, but it really depends on the size and type of the project. Keep in mind that much like a popular wedding venue, experienced calligraphers book up fast, so don't leave hiring one to the last minute—or you could end up paying a rush fee.
Where to Look
Start with your stationer—most stationery boutiques have a list of trusted calligraphers they work with and can match you with an artist who's in tune with your style to ensure your suite has a cohesive look (you don't want whimsical lettering paired with a traditional invitation). Some larger stationers have in-house calligraphers or will outsource it for you so you don't have to add another to-do to your list. Look at stationery blogs and real wedding galleries and note the calligraphy styles you like and the names of the calligraphers who produced them. Reach out to your friends and ask about the calligraphers they used for their weddings, especially if you admired the style. You should also check out our local calligrapher listings broken down by city.
Choosing a Calligrapher
A calligrapher should have a degree or certificate in the arts and should be able to produce a list of references and a portfolio of their work for you to review (oftentimes their portfolios are available online). Ask how long they've been doing calligraphy. Quality comes with experience and a younger calligrapher's work may not have confidence of stroke. You'll also want to ask for samples (especially if you're going custom) before you make any final decisions. The key to good calligraphy is consistency: Shape, stroke, weight, spacing and rhythm are all factors in letter perfection. So survey as many samples of lettering designs as possible from each calligrapher.
Once you've narrowed down your list of calligraphers to a few, email them to ask for basic details and a quote. Include your wedding date, approximate guest count and a general description of your wedding style, as well as the services you're interested in (envelope addressing, escort card labeling), so your calligrapher can give you a more accurate quote and timeline. Also, find out how to reserve your calligrapher—you should sign a contract and some calligraphers require deposits.
Selecting Your Style
When you work with a calligrapher, you'll look through examples of script options and choose one for your envelopes. One of the most traditional styles is Copperplate. Most famously used in the Declaration of Independence, it features alternating thin and thick lines; Italic is another popular slanted style that's characterized by oval-shaped letters. Every calligrapher has their own style—some specialize in very traditional styles, while others create and hone their own custom scripts. Look at your calligrapher's portfolio and decide on the style you're most drawn to. You could even request a new script that combines characteristics from multiple styles, says Chernoff. Keep your invitation and its typeface in mind when selecting a script and bring an invitation sample to show the calligrapher so they have an idea of the formality of your event. Obviously, if your wedding is more traditional, a more ornate script will fit, while a more casual handwritten script without many flourishes would pair well with a laid-back affair.
Placing Your Order
Find out how your calligrapher wants you to format your address list. Most prefer a spreadsheet with separate information in each column: names; address line 1; address line 2; and city, state and ZIP code. Don't handwrite the addresses (even last-minute additions), as even the most legible handwriting can lead to errors. Check your list twice and make sure someone else familiar with the names takes a careful look as well. Don't forget to include titles like Mr., Mrs. and Honorable. Once you have your list, email it to the calligrapher. That way you have a record of all requests and instructions. In addition to your guest list count, your calligrapher will probably require that you include extra envelopes (usually 15 to 20 percent of your total). Mistakes do happen even when pros are doing the addressing and you may have last-minute additions or changes to your guest list.
Reviewing the Finished Product
While your calligrapher will go over their work, you should also give yourself two weeks to review all the envelopes before sending out the invitations. This will allow time for any corrections to be made if you do find an error. You'll also need that time to stuff and seal your envelopes. You could ask your calligrapher to do this for you, but that's not customary and will probably be an additional cost. Finally, before you drop them all off at the post office, hold on to one or two invites as a keepsake.
Going It Alone
If you're looking to script your wedding day details or thank-you notes yourself, there are a few things you should know. First: Be realistic. You might have time to calligraph the table names at the reception but skip hand-lettering 200 place cards. It may sound like a fun project now, but know that leading up to the wedding you'll have your hands full. Second: Learn the craft. Pick up an instructional book or consider taking an online course through a service like Skillshare. All you need to begin is a nib, pen holder, bottle of ink and paper.
And lastly? Be patient. If you're a calligraphy novice, it will take some getting used to, so give yourself some time for trial and error. And try to enjoy the process!
Find more wedding invitation ideas here.
Looking for stationery vendors in your area? Find them here.