The 2021 Wedding Stationery Trends You Need to Know About
Paper predictions straight from the pros.
We have included third party products to help you navigate and enjoy life's biggest moments. Purchases made through links on this page may earn us a commission.
Everything at your wedding—from your venue to your attire—should reflect your love story, including your wedding stationery. To help you personalize your invitations, here are 13 editor-approved 2021 wedding invitation trends that cover everything from types of trending materials to up-and-coming color palettes. The latest stationery trends also feature inclusive etiquette and creative wording, which can help showcase your personality and values to your guests before your nuptials. (Psst: The Knot Invitations offers complete customization so you can create stationery that's authentic to you.)
The coronavirus pandemic caused many couples to postpone their wedding or reimagine their plans into minimonies or elopements, and stationery notices were instrumental in keeping guests informed and excited. As the wait for the world to return back to safety went on, stationery items (like change-the-date cards) helped keep guests calm and informed. We predict that the importance of stationery as a means of communication will continue into the future, which is why we encourage couples to be thoughtful about their paper goods. Check out the 15 2021 wedding invitation trends you're going to see everywhere (and maybe steal a few for your own suite), below.
Say Goodbye to Formality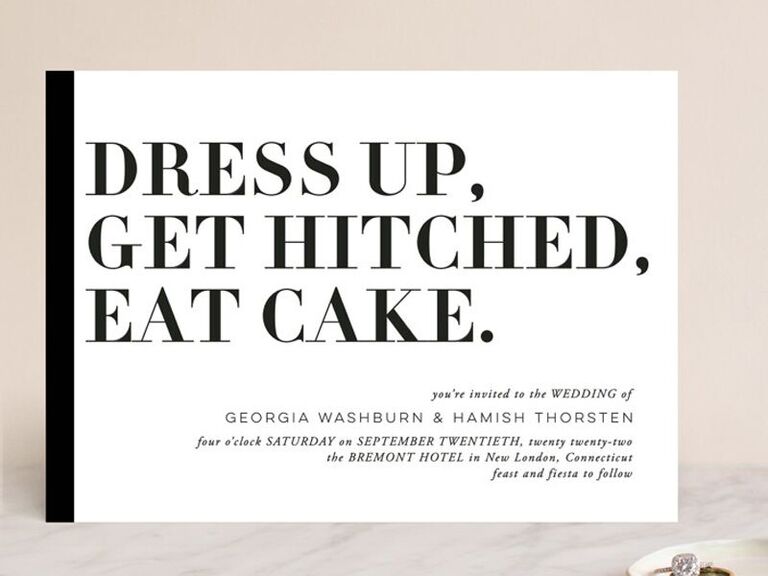 At The Knot, we believe in one wedding tradition: make it your own. Forget the rules or expectations you feel you have to live up to. Your wedding is all about celebrating your love story and sharing it with the people you care about. As such, many couples are shifting away from ultra-formal events in lieu of festive, casual celebrations, which is reflected on their stationery. Instead of sticking to flowery, formal language (though you certainly can if you want to), many prefer casual verbiage, light-hearted phrases and cheeky jokes to invite their guests to their nuptials. After all, your wedding should look, feel and sound like you.
New Emphasis on Digital Components

Courtesy of The Knot
Due to the coronavirus, many couples have had to postpone their weddings or reimagine their plans into minimonies, microweddings or elopements. The influx of new information has created a focus on the digital components of stationery suites (such as your wedding website or online RSVPs) and how they can help communicate timely updates. The Knot Invitations offers complete coordination between stationery suite designs and wedding website designs. That means the patterns and colors you select for your save-the-dates and invitations will match your wedding website perfectly so it feels like a cohesive, aesthetically-pleasing experience for your guests from start to finish.
Etiquette Around Addresses is Becoming More Inclusive
There are several traditions around wedding stationery that are outdated, but a major one is the etiquette around addressing envelopes. Traditional rules dictate that married couples use the same last name and that your only title options for guests are "Mr." or "Mrs." However, that's untrue. Rather than assuming information, more couples are asking guests for their preferred titles and last names are as they collect addresses. That way, a couple who uses different last names or someone who identifies with the gender-neutral title "Mx.," will feel seen, respected and welcomed at the wedding.
Engagement Illustrations Are the New Save-the-Dates
While save-the-dates normally include an actual picture of the happy couple, there's a new trend on the rise. More to-be-weds are requesting custom illustrations of themselves for their save-the-dates. According to Etsy's team, there's been a 56% increase in searches for portrait or illustration cards in the last three months (compared to same time last year). Get creative with the illustration: depict your venue, the location of your proposal or your furry friend. Check out the options available on sites like Etsy, or contact a professional stationer to turn your dream into a reality.
Eco-Friendly Stationery Options Are Rising
While weddings are a joyful event, they do have a substantial impact on the environment. Given all of the waste they can potentially generate, planning an eco-friendly celebration will be a top priority for to-be-weds next year—especially when it comes to stationery. While paper materials have typically been used for save-the-dates and invitations, a new wave of options are gaining popularity. Couples are using more sustainable materials, like post-consumer recycled paper (Jules Acree, wellness entrepreneur and member of The Knot Most Influential Couples squad, did this for her sustainable wedding in Costa Rica.) Other materials on the rise include seed-infused paper and hemp paper.
Bold, Bright Suites Are Becoming Mainstream
Gone are the days of only seeing simple white wedding invitations. While those are certainly still an option for couples, experts are predicting a rise in colorful wedding stationery. "Color is making a comeback as we move forward into this next decade," says Lisa Zachery, CEO and creative director of Papered Wonders, Inc. "Designers love to keep it classic and tasteful, but adding in color that is bold and makes a statement also adds personality to the [couple's] wedding day."
Pressed Florals Are Having a Major Moment
Speaking of maximalism in stationery, another luxe trend in gaining popularity. According to Jove Meyer, owner and creative director at Jove Meyer Events, more couples are using flowers in their wedding stationery for a unique and elegant touch. If you love flowers or are just looking for a creative way to make your wedding invitations stand out in the mail, consider this gorgeous 2021 wedding stationery trend.
Warm, Vintage Colors Are About to be Everywhere
What's old is new again—at least when it comes to wedding invitation colors. Warm, vintage hues like cream, dusty rose and burnt orange are taking over the stationery scene, according to Brett Galley, director of special events and owner of Hollywood Pop Gallery. The celebrity event planner and designer says the retro-inspired color palettes will evoke a sense of comfort and tranquility (which everyone could benefit from right now). Throw it back to the '70s for your wedding stationery by using this chic, on-trend color palette.
Change-the-Dates Will Continue to Help Couples Reschedule
There are several reasons why a couple might postpone their nuptials, but COVID-19 has been a common cause for many to-be-weds this past year. Couples who decided to delay their celebrations needed a way to communicate the change in plans, which led to the rise of change-the-dates. A change-the-date is a piece of stationery that includes the new date, time and location to guests (similar to how a save-the-date works). They're available on sites like The Knot Invitations, Minted, Etsy, Papier, Zazzle and more. Couples can also work with a stationer to create a custom change-the-date that matches their stationery suite. As the world works to return back to safety, change-the-dates will continue to help couples communicate their plans so they can celebrate their nuptials later on.
Minimalist Designs Will be Everywhere
In light of COVID-19, there's been a shift towards simplicity—specifically when it comes to stationery. While some gravitate towards bold, bright designs, others will keep their designs clean and minimal. Given the complexity of planning or postponing a wedding right now, simple designs will rise again in popularity to help deliver essential information clearly. While minimalist stationery designs have been around for some time, neutral colors and simple typography will continue to gain popularity in 2021.
3D Textures Are on the Rise
There's been an increased emphasis on guest experience at weddings in the last year, and stationery is a part of that. Zachery says that couples are using creative materials to create an exciting sensory experience for their invitees. "Textures are always a crowd favorite, and the rich materials of acrylic, suede and leather will continue to turn heads in the stationery industry," she says. "When these textures are combined with other elements to create a three-dimensional look, the result is truly out of this world."
Flat Lays Are Couples' New Obsession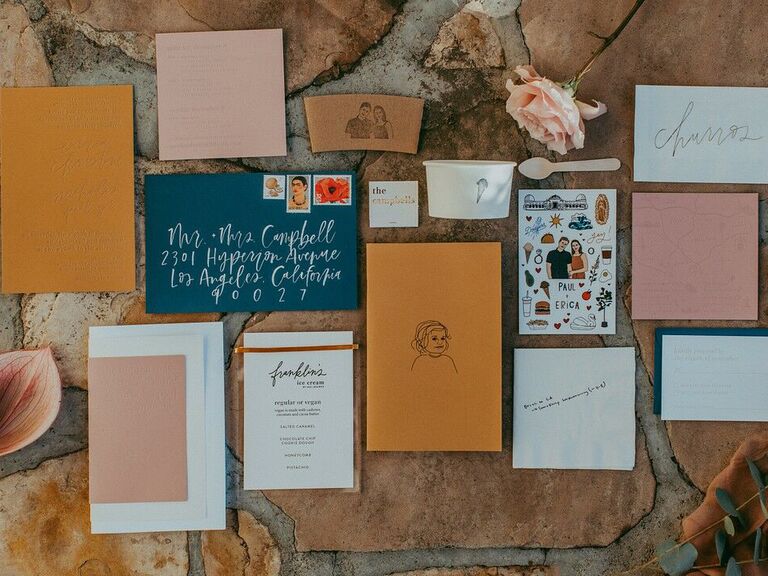 There are so many must-have shots for your wedding album, but one in particular is on the rise: the flat lay. A flat lay is a picture that typically includes your wedding stationery, your rings (or ring alternatives) and any other small mementos from the day (such as your grandmother's brooch or a map of your wedding venue). It's a creative way to remember your wedding stationery suite and showcase your personality.
Pros Expect Aqua to be Everywhere in 2021
Blue has always been a popular wedding color, but there's one specific shade that pros expect to rise above the rest next year. According to Bukky Garcia, owner and creative director at Exquisite Events and Floral Design, aqua is going to have a major moment in 2021. The blue-green hue (which Garcia says is one of her favorites) is the Pantone color of the year for 2021, so more couples are going to have the shade on their radars. The event pro adds aqua is extremely versitile and can be combined with any other color. She's most excited to see how couples play with the hue—whether that's by mixing in mettalics or experimenting with saturation. "I am suspecting that [couples] might play around with marble patterns to get a gradient of aqua," she says.
To-Be-Weds Are Thoughtfully Purchasing Stationery
More couples are taking extra time to personalize their nuptials (think: custom wedding favors, date-night inspired menus and more), but one big way they're putting their stamp on their day is by thoughtfully spending on everything--including stationery suites.
Supporting small, minority-owned businesses is a powerful way to live out your values as a couple—especially when it comes to invitations. If you're hoping to embrace this trend for your own wedding day, The Knot's Black Artist Collective is a starting point. We've partnered with four select artists to design one-of-a-kind stationery suites that'll stand out in your guests' mailpile, all at a competitive price too. Not only will you feel satisfied crossing invites off your checklist, you'll feel good about giving your business to people you believe in.
Couples Are Using Stationery as a Way to Tell Their Love Story

Wedding stationery is no longer simply a way to communicate logistics of your event. According to Meyer, more couples are using their invitations and save-the-dates as a way to tell their love story. "I'm seeing personal touches in fun and creative ways on the rise," he explains. For example, he explains one of his couples included a bride who loved pizza, so they worked to include custom pizza artwork into her stationery. "It's something that's cute between [the couple], but has been painted beautifully to match the style of the design and not stand out."
By taking the time to communicate details about your love story to your guests, you'll establish a stronger personal connection with them. Write up a blurb about the proposal, include a map of your favorite travel destinations or incorporate your favorite songs. Your guests will feel instantly closer to you and even more excited to celebrate your union.