Wedding Proposal Myths Busted!
Real brides told us what made their proposal perfect -- and what they would've changed.
by Miles Stiverson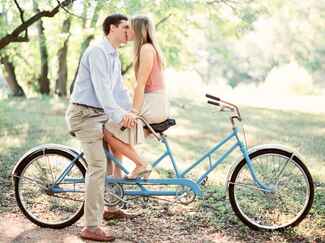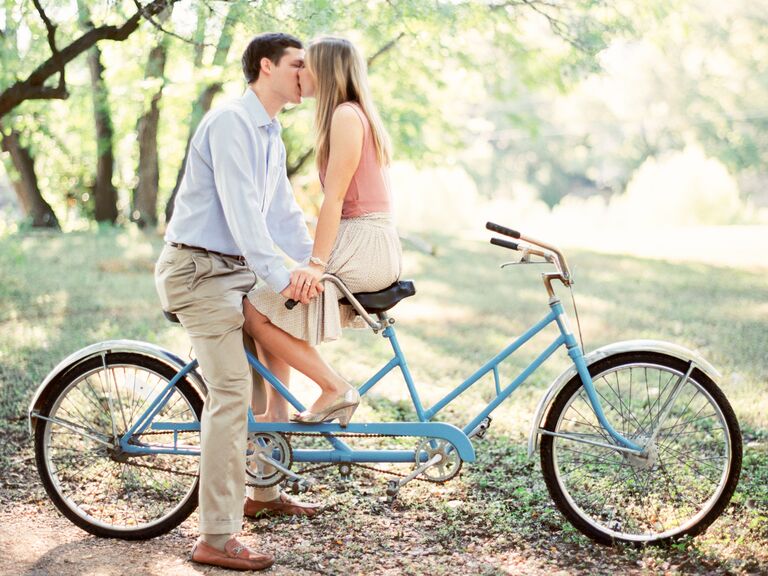 photo by
Taylor Lord Photography
Four words can turn the most levelheaded person into a stress test nightmare: "Will you marry me?" Think about it: The marriage proposal story is repeated about a thousand times…it's no wonder there's so much pressure. Relieve some of that anxiety by figuring out proposal fact from fiction before you pop the question.
Myth: She'll Be Completely Surprised
Tears of joy and shouts of surprise are common reactions to a wedding proposal, but in most cases, she saw it coming. In our survey, 64 percent of the respondents said they knew a proposal was imminent; they just didn't know exactly when it would happen (another 3 percent said they micromanaged the entire thing by letting their fiance know when, where, and how he should propose). That said, 88 percent feel that the "surprise factor" is important. So, while she might have a hunch you're about to pop the question, throw her off the trail by proposing at a time she wouldn't expect it -- a few days before some important date or even just a random weekday evening.
Myth: Carat Size Doesn't Matter
Think a diamond's quality is more important than its size? Although it's a good idea to brush up on the 4 Cs (cut, carat, color, and clarity) before you buy a ring, 68 percent of brides said that a diamond's size is equally as important as its quality. Only 25 percent told us that they'd rather downsize the diamond for a higher quality stone -- the remaining 7 percent believe size is what matters most, regardless of quality. Given these tough economic times, though, there's a lot of wisdom in taking a slightly different route: Buy a ring that's financially responsible, with the promise to upgrade when the economy is more stable. Or you could always go for an emerald cut -- it looks bigger!
Myth: The Ring Is Totally Up to Him
An engagement ring is the accessory of a lifetime, and many women want at least some say in its style. Only 19 percent of respondents to our survey had nothing to do with choosing the ring. In most cases, the couple worked together in some way to make a decision about the ring: 25 percent went ring shopping together; 19 percent of the time, he asked what sort of style, metal, and cut she preferred; 12 percent said they made their ring taste completely clear so he'd know what to look for; and 17 percent of couples actually chose the ring together.
Myth: Asking Dad's Permission Is Passe
Even if a guy faces Meet the Parents-style fears about asking his girlfriend's father for her hand in marriage, it's not an outdated tradition. In fact, 83 percent of women would like their dad to be asked beforehand, and 25 percent would like their mom included as well.
Myth: Getting on Bended Knee Says It All

To see a guy on one knee with an outstretched ring is a dead giveaway to everyone around that he's proposing. And while that gesture tends to speak for itself, 68 percent of women say it's essential to ask the question, "Will you marry me?" (Another 29 percent said they'd prefer to hear those words, but it's not mandatory.) It's understandable to stutter in such a situation, but try your best to ask the question and you'll make your intentions completely clear.
Myth: A JumboTron Proposal Can't Miss
Imagine a packed sports stadium, your name in lights, and thousands of fans cheering only for you. It's a dream come true for everyone's inner athlete, but for an ideal wedding proposal? Not so much. Out of all the options for the best places to propose -- including at the site of your first date, on vacation, at a restaurant, or simply at home -- the sports stadium proposal came in last, with only 10 percent saying that's where they'd like to get engaged. That's not to say a sports stadium isn't a great place to propose; it's just not for everyone, so make sure she's a diehard fan and up for the huge spotlight before you get ready for your JumboTron close-up.
Myth: Going Green Is Just a Fad
Leonardo DiCaprio's Blood Diamond brought new attention to the issue of conflict diamonds, and it looks like concern over a stone's origin hasn't died down. A year ago, 34 percent of couples chose a conflict-free stone, and the numbers were similar this year -- roughly one-third of couples said it was a very important issue to them and bought a diamond accordingly.