32 Ethereal Boho Wedding Ideas for Free-Spirited Couples
Like Coachella, but for your wedding day.
If earthy tones, dried flowers and effortless romanticism make your heart flutter, a bohemian wedding might be right for you. As one of the most popular wedding styles, boho nuptials are notoriously ethereal, laid-back and stylish. Perfect for free-spirited couples, a boho-themed wedding can embody hippie, Coachella-inspired vibes, or it can be interpreted in a softer, more whimsical cottagecore style. If this sounds like the ideal aesthetic for your big day, use this roundup of bohemian wedding ideas to guide your wedding decor, fashion and design choices.
Below, you'll find bohemian wedding inspiration for every aspect of your big day, from the ceremony to the after-party. Whether you're planning a rustic barn wedding or an outdoor elopement, these trendy boho wedding ideas will set your big day apart. Once you've narrowed down your favorite bohemian wedding ideas, work with your team of vendors to bring your vision to life.
Muted Color Palette
One of the most important aspects of a bohemian wedding theme is the color palette. Your wedding colors will be present in just about every element of your day, from the invitations to signage and your wedding decorations. Boho weddings are often associated with warm, muted earthy tones of red, orange, pink and yellow. Any color palette that resembles a rich summertime sunset will align perfectly with the theme. While these tones are perfect for a summer or fall wedding, you can also experiment with earthy tones like green, brown, tan and ivory. Neutral hues will especially complement a desert or botantical wedding venue. One thing to keep in mind when selecting colors, though, is that any vibrant shades will deter from the bohemian wedding theme. Instead, muted neutrals will create an easy, laid-back ambiance for your space.
Botanical Wedding Venue
The location of your big day plays a large role in complementing your wedding theme. While you can turn any venue into a bohemian oasis with intentional design and decoration, some spaces have an effortless boho feel. When you start your venue search, look for nature-driven locations, like a desert, a botanical greenhouse, a farm or rustic barn, or a secluded woodsy area. Resources like The Knot Marketplace will help you find bohemian wedding venues in your area.
Pampas Grass Installation
When you think of a bohemian wedding, you probably imagine oversized clusters of feathery florals. Pampas grass is, without a doubt, a staple of the style, making this one of the best bohemian wedding ideas. We love how this couple decorated their outdoor wedding venue with clusters of neutral grasses and wildflowers.
TeePee Decor
It's all about the details, and teepees at your wedding venue will give your space a music festival-inspired touch. This couple opted to place a large wooden teepee with string lights and feathered flowers at the reception entrance, giving guests a grand introduction to the themed celebration.
Lace Wedding Dress
When it comes to boho wedding dresses, you can't go wrong with lace. Intricate patterns or overlays will give your wedding gown an effortlessly chic look—and we love how this boho bride paired her long sleeve dress with blue statement earrings for a pop of color.
Wildflower Wedding Centerpieces
Centerpieces set the scene for your wedding reception, so dedicate part of your budget to jaw-dropping arrangements that'll wow. Your florist will help you identify in-season blooms that'll fit your bohemian wedding theme, so rely on their design expertise. But, if you're in the early stages of pulling boho wedding inspo, consider using muted clusters of wildflowers to accent reception tables throughout your venue.
Music Festival Motif
Most music festivals are synonymous with the boho aesthetic, and we love how this couple opted for a custom Bonnaroo-inspired wedding theme complete with a personalized logo and musical influences on their invites.
Tribal-Inspired Patterns
Looking for unique bohemian wedding ideas? Let your fashion choices embody the theme. This couple opted for wedding day attire complete with muted tribal patterns that perfectly match their rustic ranch venue.
Yellow Floral Wedding Arch
It's hard to not swoon over this cheerful yellow floral arch, which brings a subtle pop of color to this outdoor rustic wedding.
Rattan Place Setting
To really wow your guests, focus on weaving natural textures into all elements of your wedding day—including place settings. This rattan charger brings a contrasting shabby chic vibe to gold silverware and tinted glasses on the reception table.
Flower Crowns
We'd be remiss not to include flower crowns as a no-fail boho wedding idea. While a flower crown can serve as a fun accessory to your bohemian wedding dress, you can also have your bridesmaids or flower girls wear them as well. For a true boho makeover, we recommend pairing this ethereal hair accessory with a relaxed hairstyle, like beachy waves or a loose cascading braid.
Textured Wedding Cake
Yes, even your wedding food can have a boho vibe. Since this style is all about mismatched colors and textures, ask your caterer to give your confection ruffled icing. When paired with dried flowers and tapered candles, this boho chic wedding cake serves as a natural extension of the theme.
Carpeted Ceremony Aisle
Not every wedding requires a ceremony aisle covered in rose petals. If your tastes skew more casual and laid-back, consider decorating your walkway with a vintage boho rug, as pictured here. It's an easy way to give your ceremony space a pop of color and, if you're looking for boho wedding ideas on a budget, you can head to your local thrift store to find a thematic rug. (Bonus points if you repurpose it in your home after the big day.)
Mismatched Bridesmaid Dresses
When it comes to your wedding party, there's no need to have them in matching attire. In fact, mismatched dresses and suits are better fit for a boho wedding theme. In addition to dressing your 'maids in different necklines and silhouettes, try experimenting with different fabrics, like silk, velvet and lace for a true boho vibe.
Dried Boutonniere
To make your wedding look like you've thought of absolutely everything, matching floral arrangements will tie together various elements of your day. In addition to bouquets, centerpieces and statement installations, opt for dried boutonnieres to give any suit a boho finishing touch.
Floral Wedding Dress
How about this bohemian wedding idea for a statement bridal look? Instead of opting for a traditional white dress, you might feel drawn to a dreamy floral print or colored wedding gown. These bohemian brides look like ethereal visions in their colorful wedding attire.
Cactus Invitations
Any wedding pro will tell you that invitations are the best place to introduce your theme and give guests a preview of what to expect on your special day. These watercolor wedding invitations with cactus motifs are simply perfect for a boho-themed desert wedding. (Psst: Ready to start your stationery search? Head to The Knot Invitations to find thematic invites and paper goods to match your bohemian wedding theme.)
Mismatched Seating Area
Give your guests a place to relax and mingle away from their assigned seats with a lounge area at your wedding reception. To make it fit your boho aesthetic, incorporate mismatched chairs, and decorate it further with tapered candles, dream catchers, macrame throw pillows and tassel blankets.
Succulent Decor
Succulents are a long-standing wedding trend, and they're a great alternative to flowers if you aren't into pampas grass or dried palms.
Desert Setting
A desert effortlessly encapsulates the bohemian style. Book a desert venue to exchange your vows to give guests a full-on boho experience.
Vintage Getaway Car
Your wedding exit should be just as grand as your entrance. This vintage VW bus would serve as the perfect way to leave your boho wedding in style.
Feathered Florals
Guests will be floored by statement centerpieces like these, which boast chic feathered florals that offset the rustic barn background.
Peacock Sweetheart Chairs
Consider this one of our favorite bohemian wedding ideas. All eyes will be on your and your S.O. at the reception, solidifying the importance of decorating your sweetheart table so that it fits your theme. Rattan peacock chairs will offer the best finishing touch for a dreamy boho tablescape.
Velvet Linens
Texture on tabletops is a subtle (yet easy) way to add that je ne sais quoi wow factor to your reception design. These orange tablecloths have a rich velvet texture, which effortlessly elevates the simple centerpieces and place settings.
Dried Wedding Bouquet
We've got all the heart eyes for this bohemian wedding bouquet, which boasts pressed palms, dried petals and a chic monochrome color palette.
Bamboo Bar
Guests will never want to leave a bar that's styled to perfection. With a bamboo wood shelf and mismatched colored glassware, drinks will taste even better at this boho station.
Mismatched Suiting
Who says grooms have to match? Contrasting neutral suit colors will help you and your S.O. stand out at the altar as you exchange your vows, especially if you select bold textures like these newlyweds.
Macrame Lighting
Macrame—otherwise known as a knotted textile fabric—is a staple of boho style. Invest in a few statement macrame decorations, like light fixtures or hanging tapestries, for an effortless boho wedding decor idea. This couple designed their space further with mismatched layered rugs, antlers and suspended terrariums to create an unforgettable bohemian oasis.
Marigold Garland
Looking for bohemian outdoor wedding ideas? Create a unique entrance with marigold garlands, as seen here. The muted yellow hue of this summery flower is an ideal choice for your soirée.
Tapered Candles
Candles are an easy (and affordable) way to give your venue a makeover. Tapered candlesticks in shades of maroon, burgundy and ivory will cast a romantic, moody glow across your venue.
DIY Wood Signage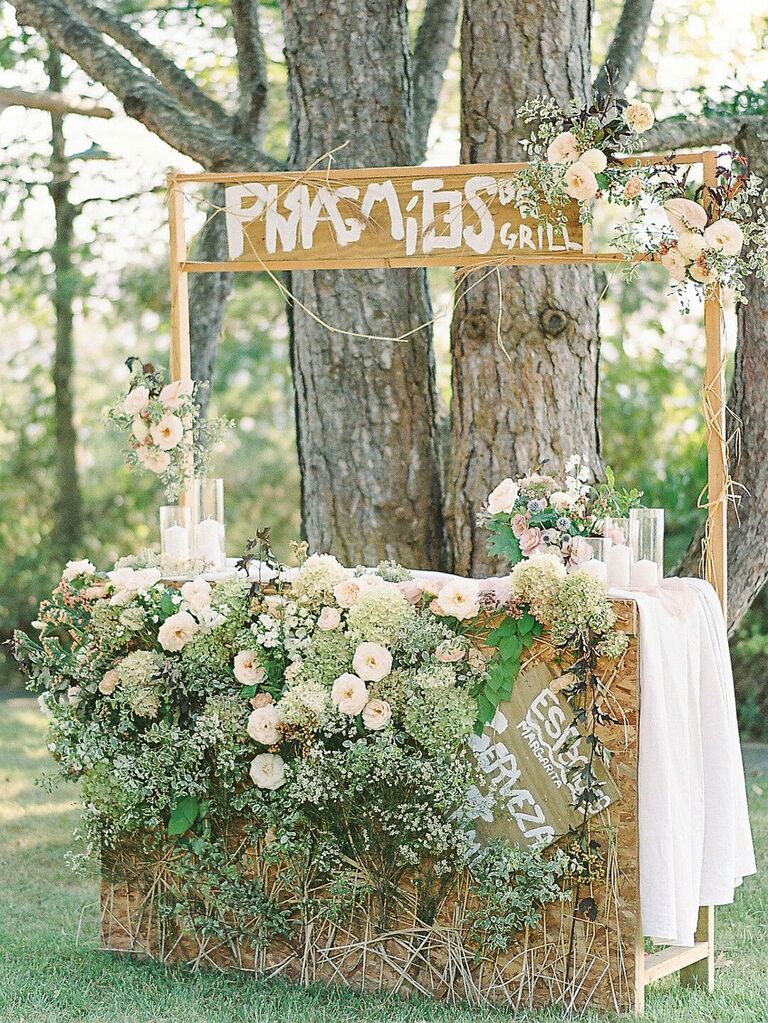 Flex your creative styling skills with a few DIY projects for your big day. We love how this couple painted their own wood signage at their boho wedding reception.
Greenery Wall
Equal parts edgy and trendy, this cool greenery wall stands out thanks to the custom neon sign placed in the center. And, since it's offset by feathered flowers and grassy palms, this bohemian wedding idea is sure to wow.