The 42 Best Gifts for Thanking Your Maid or Matron of Honor
No matter your budget, there's a unique present on our list for your MOH.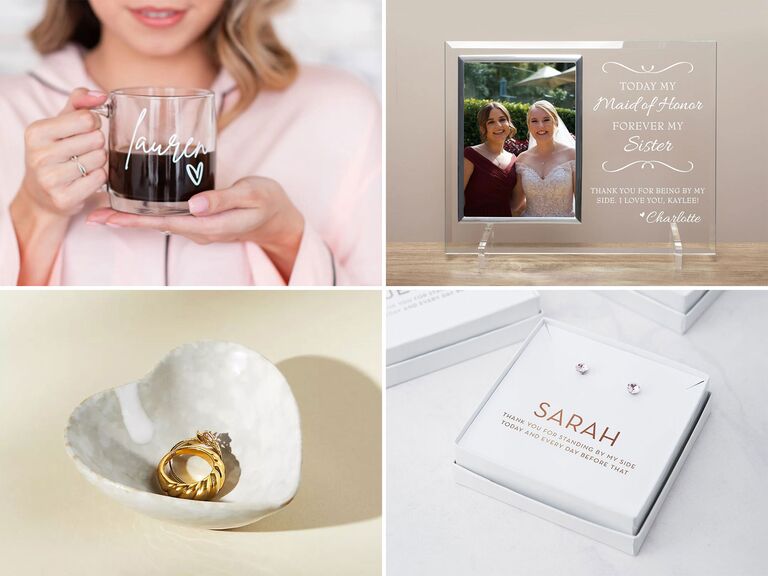 We have included third party products to help you navigate and enjoy life's biggest moments. Purchases made through links on this page may earn us a commission.
Not sure how to thank your MOH for standing by your side on the big day? When words fail, you can never go wrong with a physical token of your appreciation in the form of a unique maid of honor gift or man of honor gift. "One of the most important parts of the maid of honor duty is to support the bride through both the stressful and joyful parts of wedding planning," says Paige Ward, founder of Adorned Gift Co, a Louisiana-based business that specializes in wedding gift boxes." Gifts are the perfect way to show that you appreciate their support and love during this very special moment in your life," she continues.
If you're stumped on what to gift your maid of honor, don't worry. We've rounded up lots of special gifts to choose from. Commonly, brides choose gifts their wedding party can use on the big day. "The most popular MOH gifts are monogrammed tote bags, monogrammed robes, personalized jewelry boxes and travel cases," says Ward. Of course, feel free to think outside the box, too, with gifts that honor (pun intended) your friendship, their hobbies or are experience-based.
If you're thinking about getting wedding party presents for the rest of your crew, it's important to stick to your budget. Luckily, we know where to find thoughtful presents at every price point, whether you're searching for luxury maid of honor gifts or something more affordable. (You're welcome!) Keep scrolling to find a great thank-you gift (or gifts) for your maid of honor.
In this article:
The Best Maid of Honor Gifts Under $25
MOH gifts don't have to be expensive to be thoughtful. Whether you're shopping for one small token of appreciation or a few goodies for a gift bag, these creative maid of honor presents will shower her with lots of love for less.
Birth Month Flower Glass
Honor your maid of honor's individuality with a wine glass decorated with her birth flower. Each month's bloom is carefully pressed and transformed into a digital print that then encircles the sides of these stemless tumblers. For a little extra, pair it with a bottle of her favorite wine so you can immediately raise a toast to your friendship.
Custom Wedding Art Print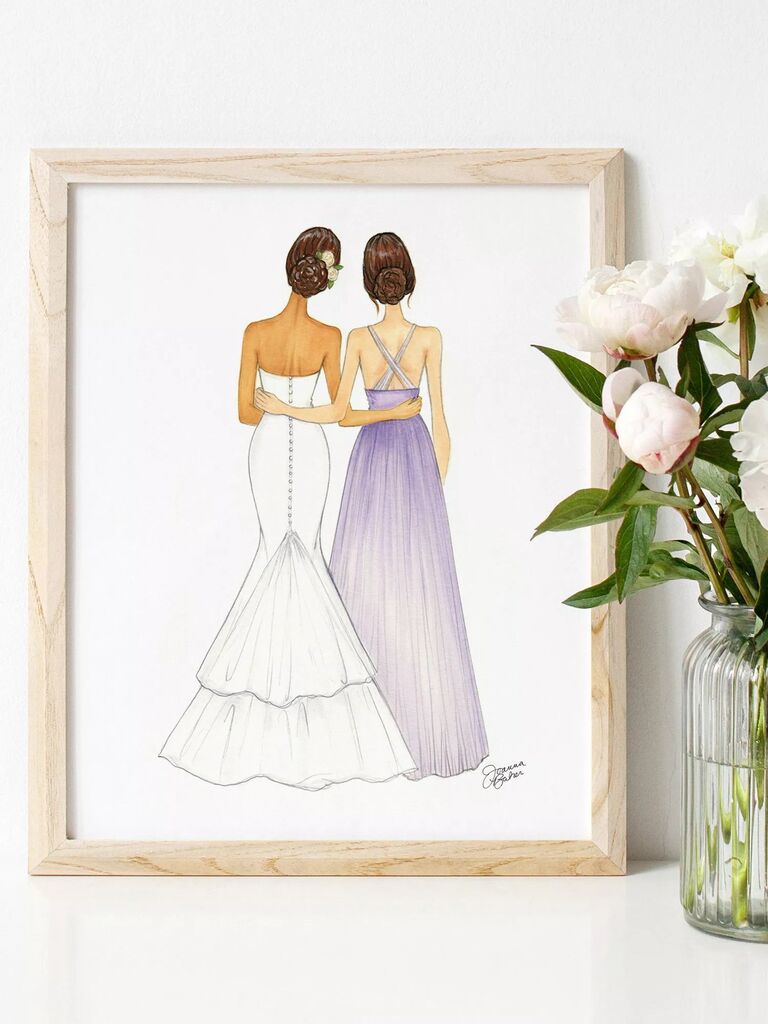 This personalized illustration will help them remember your special day and the important role they played. The portrait can be customized with different skin tones, hairstyles and dress colors to reflect you and your bestie. It's a sweet maid of honor thank-you gift they can put on display or stow safely in a keepsake box with other treasured memories. Just a note: It doesn't come framed, so make sure you leave yourself time to do so.
Swarovski Crystal Round Stud Earrings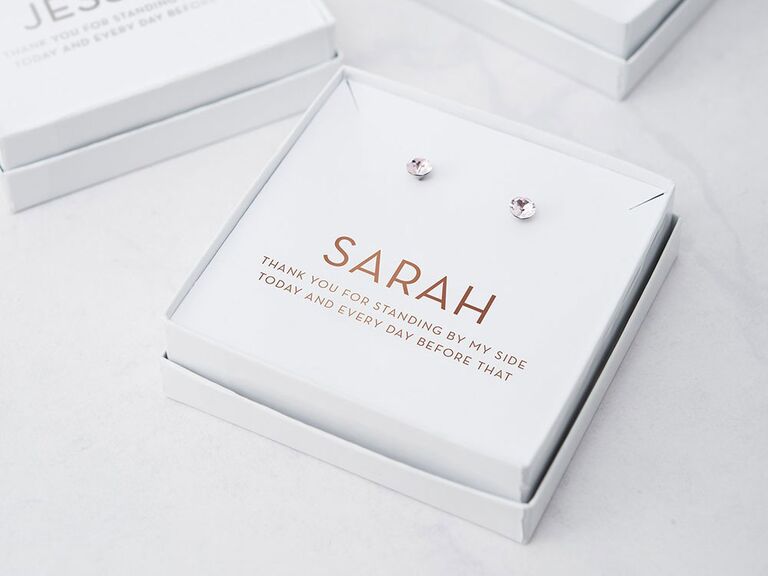 Jewelry is a great gift for the maid of honor who never misses an opportunity to accessorize. These simple Swarovski crystal studs are subtle enough for any outfit—even their wedding day fit. Plus, they come in personalized packaging that reads, "Thank you for standing by my side today and every day before that."
Maid of Honor Scented Candle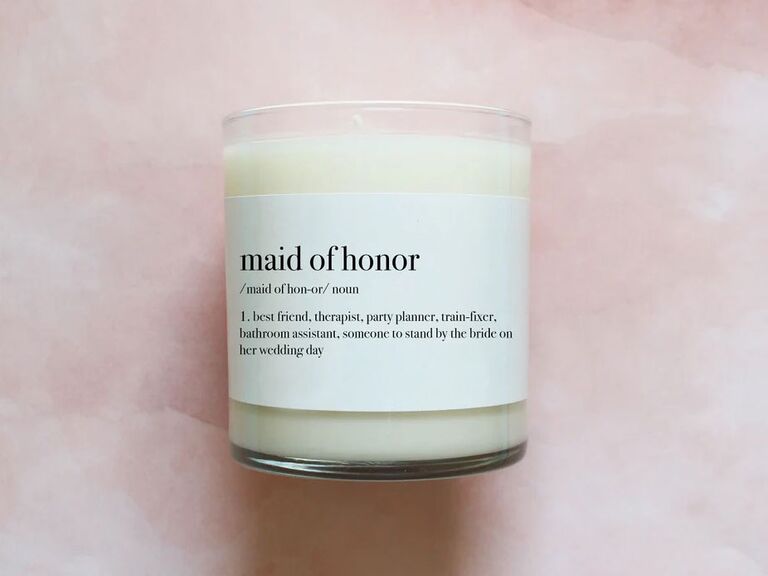 Gifts that show off an individual's wedding title (aka "maid of honor") are a classic gesture to show your appreciation. This soy wax candle is finished with a label featuring a dictionary definition of a MOH that's equal parts funny and sentimental. There are 13 aromatic scents to choose from, including a fitting wedding cake fragrance.
Zodiac-Inspired Aromatherapy Mist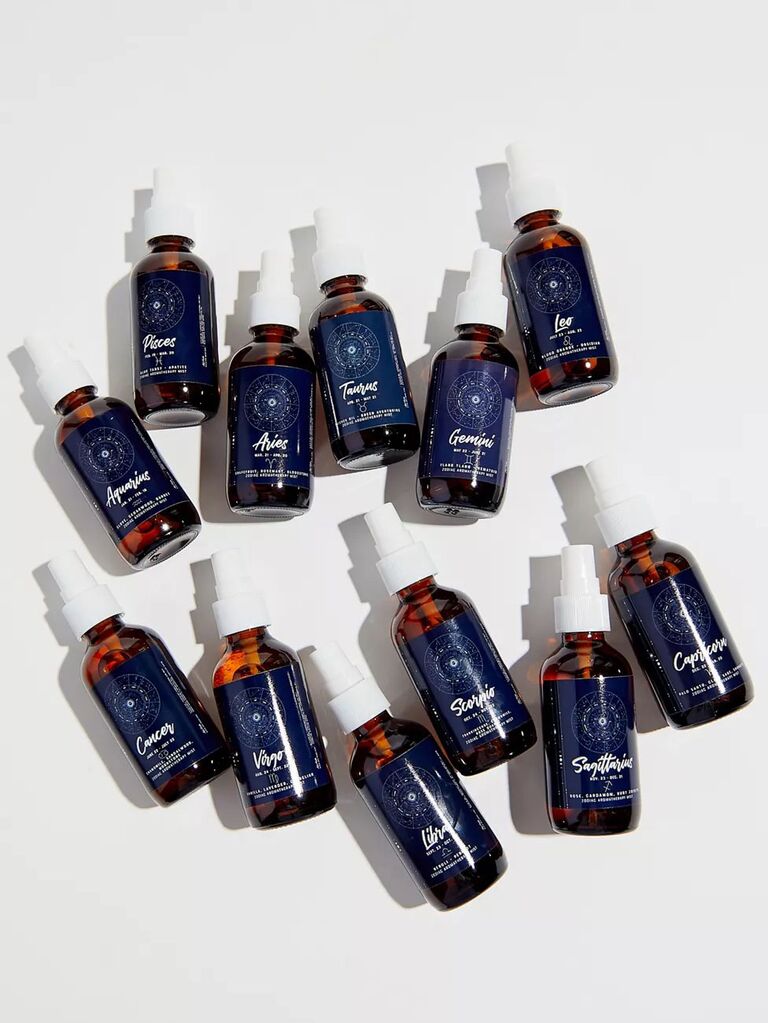 Help your MOH achieve good vibes only with an aromatherapy mist inspired by their star sign. Ward says that relaxing bath products—such as bubble baths, bath bombs and shower steamers—are popular gifts for the maid of honor from the bride. These R&R-ready mists feature special blends of essential oils and crystals to complement your bestie's sun, moon or rising sign.
Colorful Luggage Tag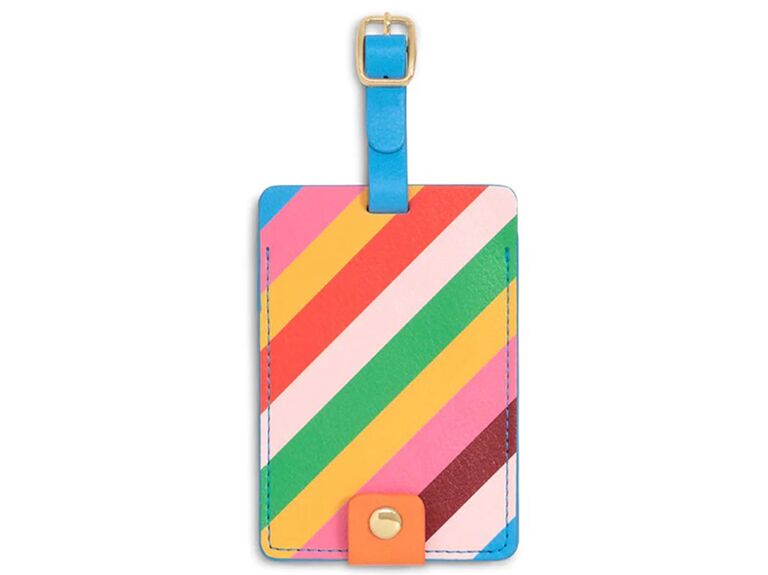 There's a travel guru in every group. If that just so happens to be your BFF, a chic luggage tag is a nice maid of honor gift idea that's sure to be used. We love the bold stripes on this travel accessory, but there are plenty of other designs to choose from, too.
Monogrammed Wooden Hanger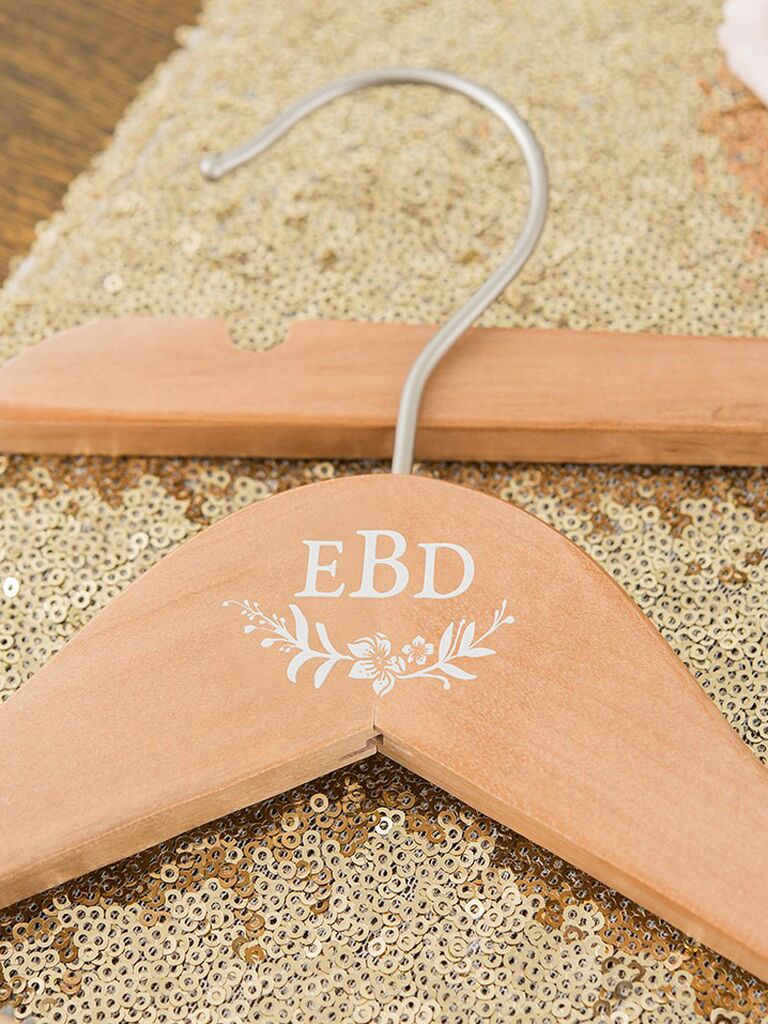 Looking for a personalized maid of honor gift? Surprise your MVP on the wedding day by hanging their formal wear on this cute hanger adorned with their initials. It's a practical keepsake they'll use for their best pieces after the big day.
Chocolate Filled Greeting Card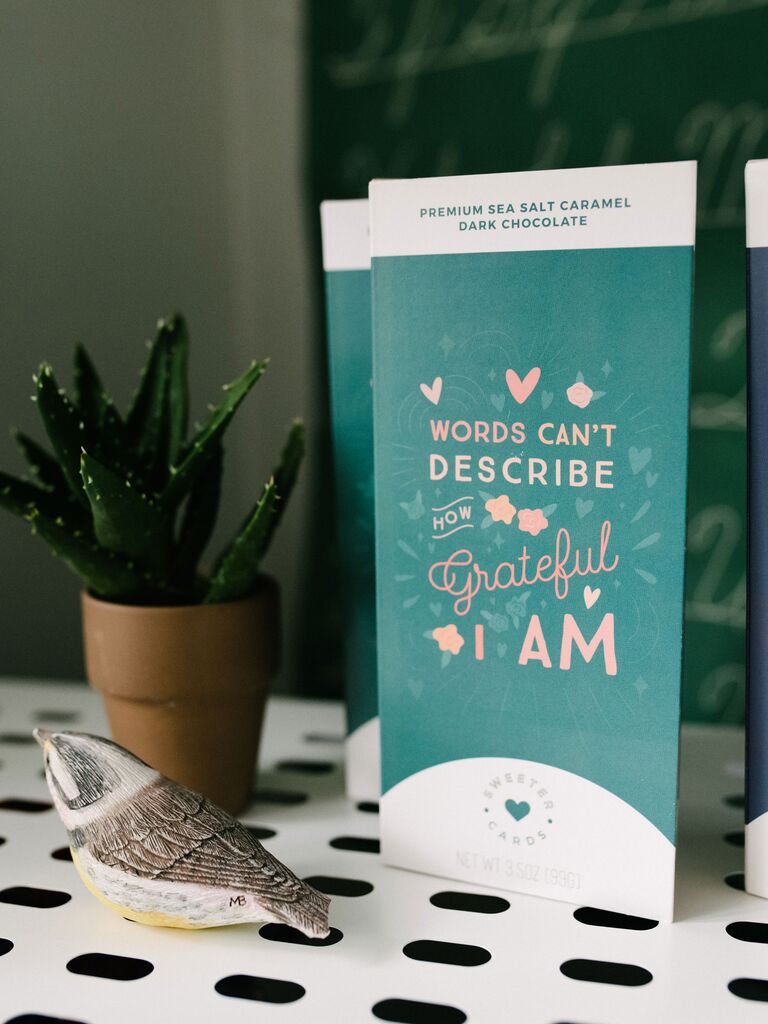 Sometimes words don't do your feelings justice—you know, as the card says. That's why it comes with a bar of delicious sea salt caramel dark chocolate. There's also space on the inside to write your own meaningful message like, "Thank you for being my maid of honor."
Powerful Women Affirmation Deck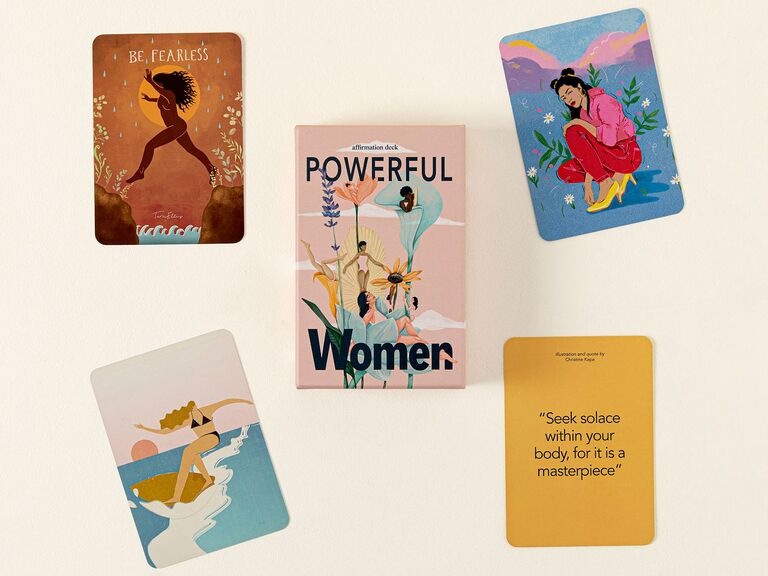 If your maid of honor is one of your biggest inspirations, give her a dose of empowerment back with this affirming card deck. It features illustrations and quotations from female artists around the world to remind the recipient of their strengths. There's even a wooden stand to display the daily reminders. It's a super unique maid of honor gift that'll show her each day how highly you think of her.
Spa Gift Card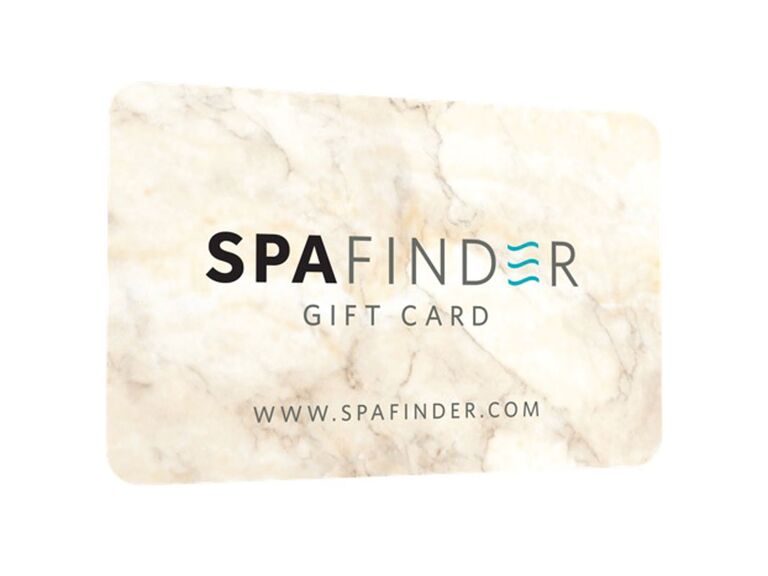 Let's be honest: Wedding planning has its stressful moments—even for your MOH. Treat them to some much-deserved R&R as a thank you for sticking by your side through it all. SpaFinder gift cards can be redeemed at thousands of locations in the US, so they can easily find a location nearby where they live.
Personalized Canvas Tote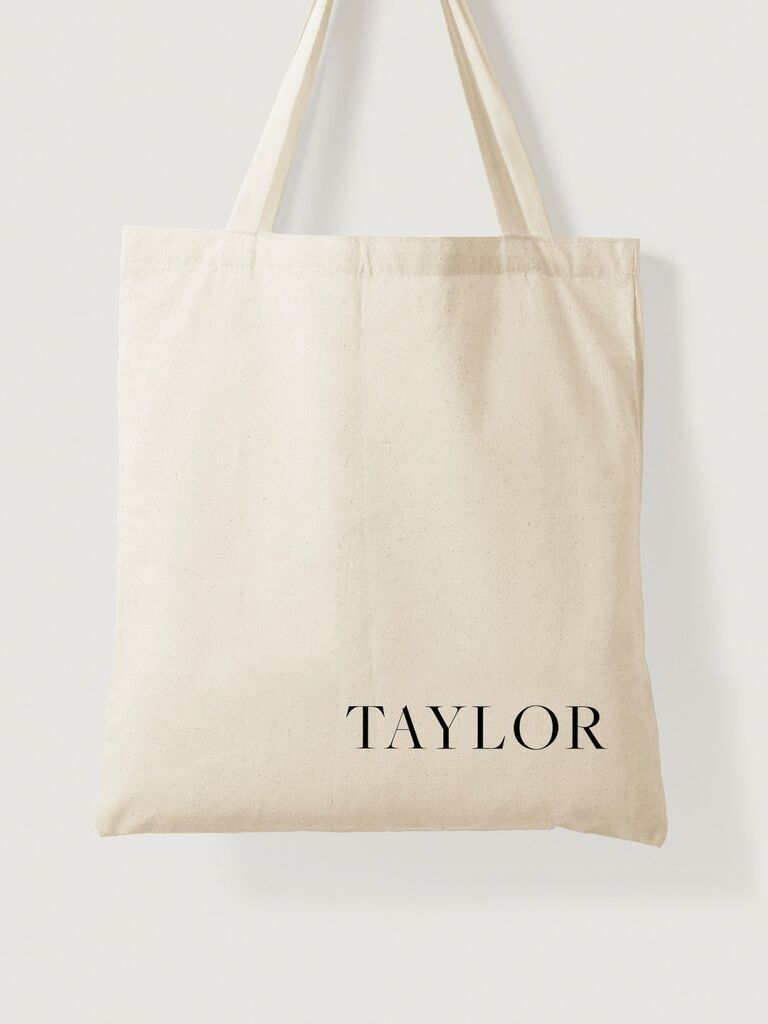 For a maid of honor gift that they can use everyday, we love this cute and simple bag. It comes in two sizes and is customized with their name. Feel free to fill it with a few of their favorite things like candy and rosé or gift it as is. They can use it for grocery shopping, trips to the beach and more.
Heart-Shaped Trinket Tray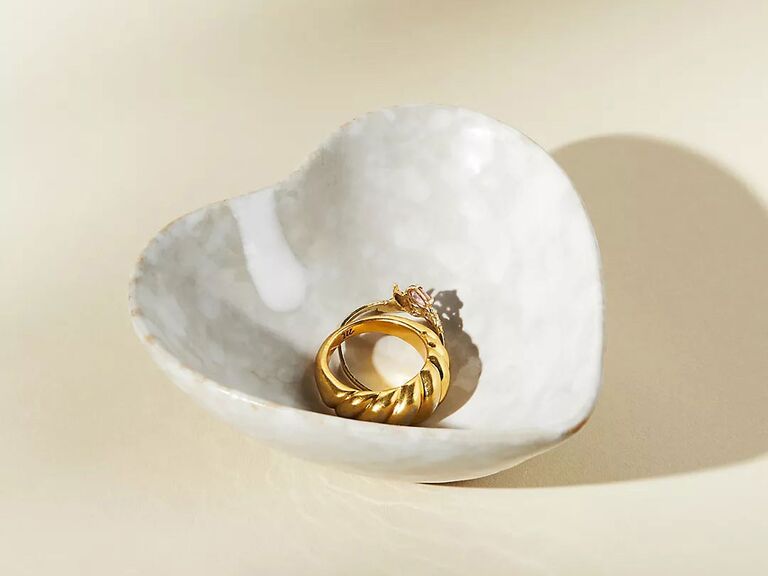 Still stumped on affordable gift ideas for your maid of honor? How about this elegant trinket dish? The ivory-and-beige-hued pottery piece is the perfect place for them to stash their everyday baubles or their keys—plus, the heart is a loving motif towards your friendship.
Personalized Glass Coffee Mug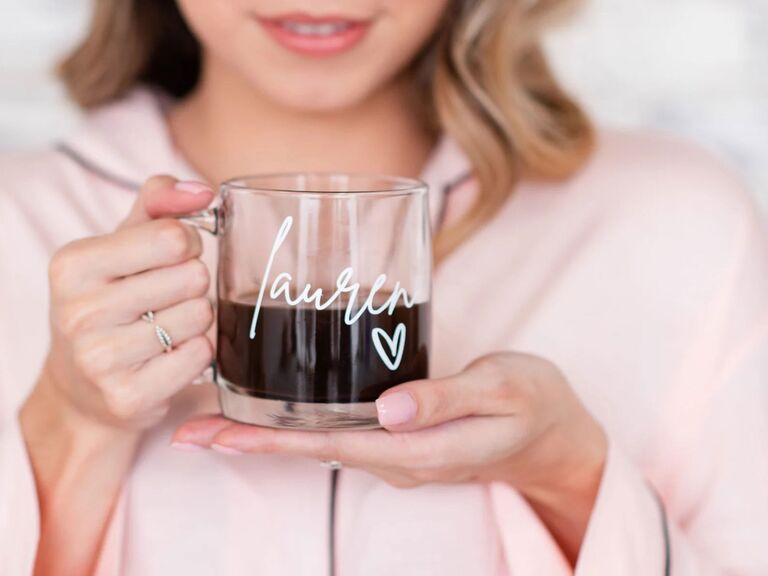 Coffee is the most important meal—er drink—of the day. Make sure your MOH is jazzed up for the wedding by gifting them this chic glass mug. (Ideally paired with their favorite grounds or cold brew.) It's personalized with their name in a fun script and a heart to really drive home how much you care about them.
Maid of Honor Socks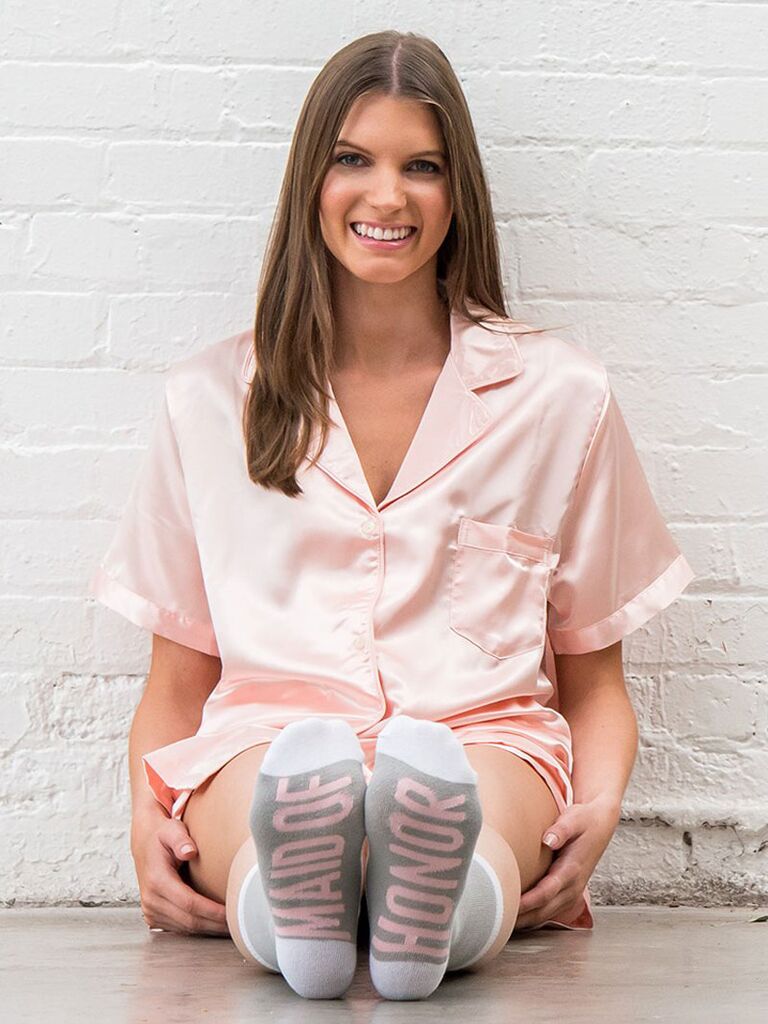 No cold feet here! These cotton socks can be decorated with each member of the bride's side of the wedding party's titles—from bridesmaid to maid of honor—and there's even one for the bride to get in on the cozy action, too.
Hand-Painted Floral Picture Frame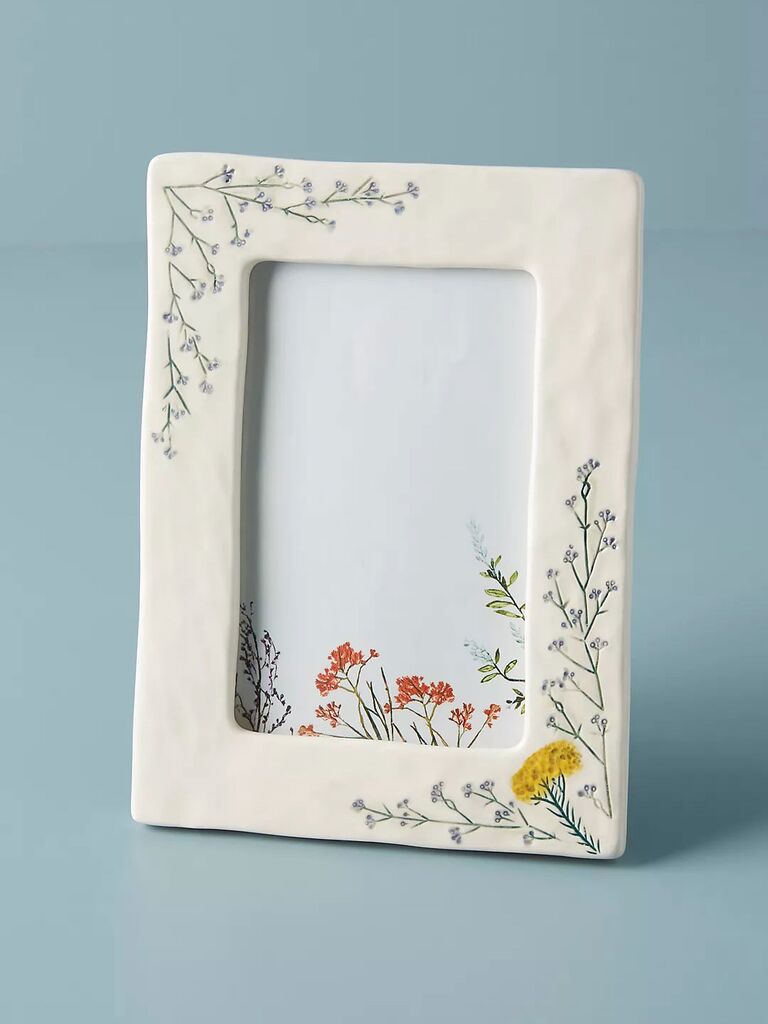 Picture frames—filled with a sweet photo—are classic, sentimental maid of honor gifts. This hand-painted ceramic frame is detailed with beautiful wildflowers, making it a great fit for a spring or summer wedding. (We wouldn't blame you if you bought a matching one for yourself to fill with your favorite wedding-day photo of you and your bestie.)
The Best Maid of Honor Gifts Under $50
There are plenty of special gifts for your maid or matron of honor that come in at under $50. From jewelry, to cosmetics, to keepsakes, shop our favorite ideas below.
Instant Tea Latte Kit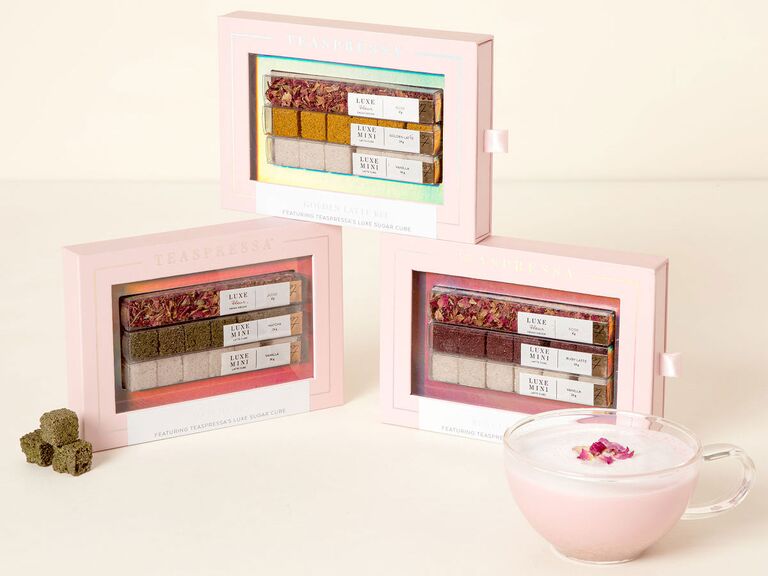 Please their palate with a gift box for tea fans. These tea latte cubes make it easier than ever to prepare Insta-worthy sips. Just drop one into hot water or milk to add some flavor to your morning routine. Choose between matcha, rose or turmeric cubes, all of which are paired with vanilla sugar cubes for sweetening and edible rose petals for garnish.
ILY Stud Earrings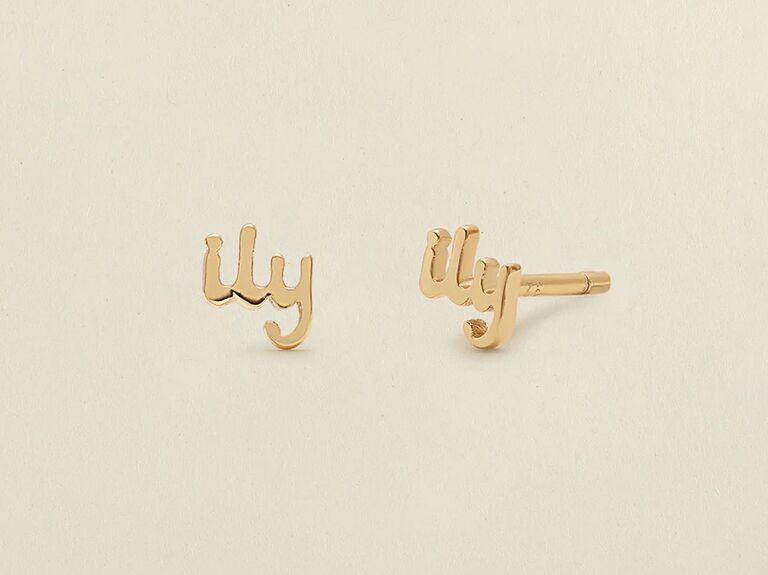 Is your favorite SMS abbreviation "ILY?" Then these darling earrings will remind your bestie just how much you love them even when you're off honeymooning and, therefore, not checking your phone. Too cute!
Stemless Wine Tumbler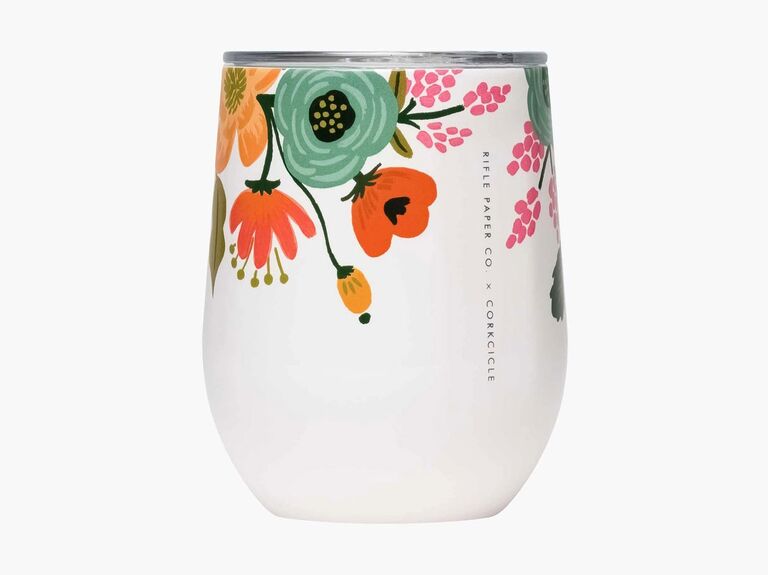 Looking for some cute stuff to put in a maid of honor gift box? A stainless steel drink tumbler is a popular and practical idea. This adorable option combines Corkcicle's clever triple-insulated design with Rifle Paper Co.'s signature floral style. The result is a 12-ounce cup that'll garner plenty of compliments.
Etched Wine Bottle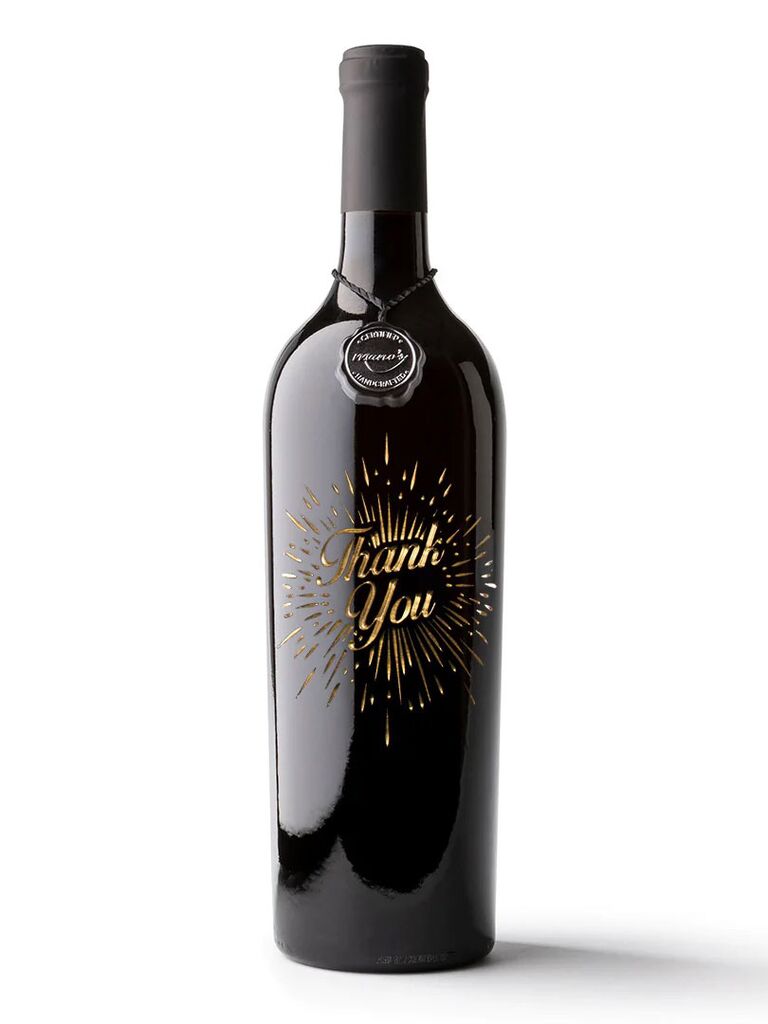 Edible and drinkable gifts are an instantly gratifying way to thank your maid of honor or man of honor. The bottle of this California cabernet sauvignon (mmm!) is etched with a sunburst and the words "thank you," then brushed with gold, resulting in a stunning present. Or, for a little extra (but still under $50), snag the bottle that can be custom engraved with three lines of text.
Personalized Bridesmaid Robe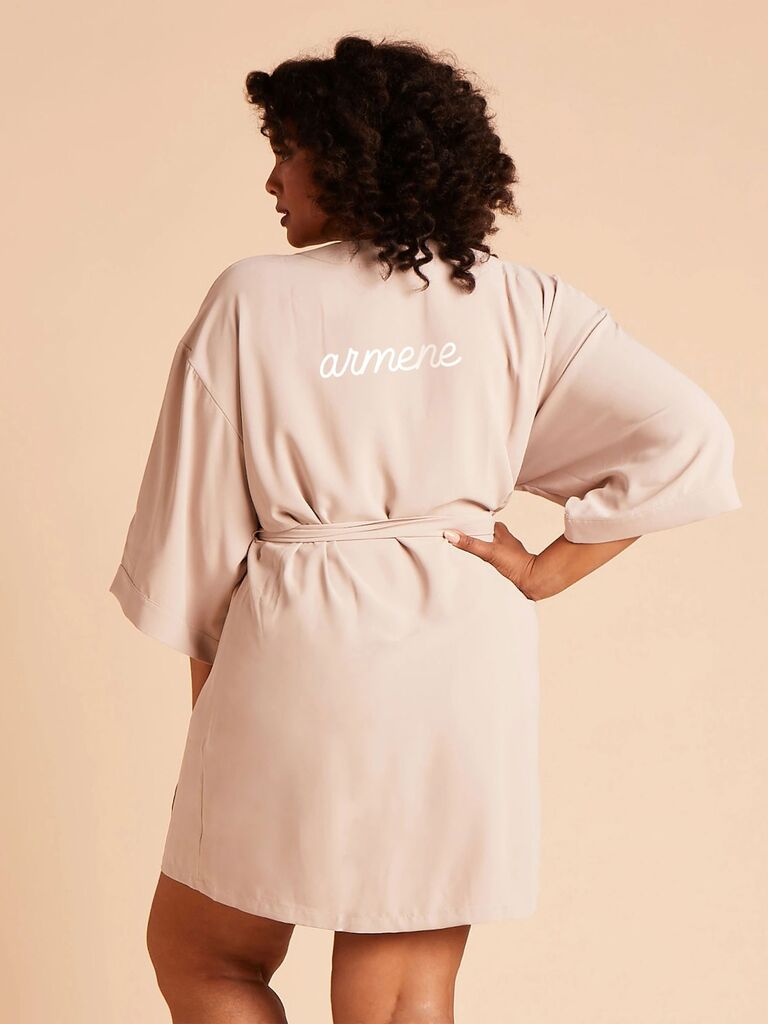 This bridal robe is a bestseller for a reason! This satin cover-up is available in 15 gorgeous colors and can be personalized with a name on the back for a trendy maid of honor gift. They can wear it the morning of the wedding day (they might be too cozy to change into their wedding ware, though).
Shearling Slippers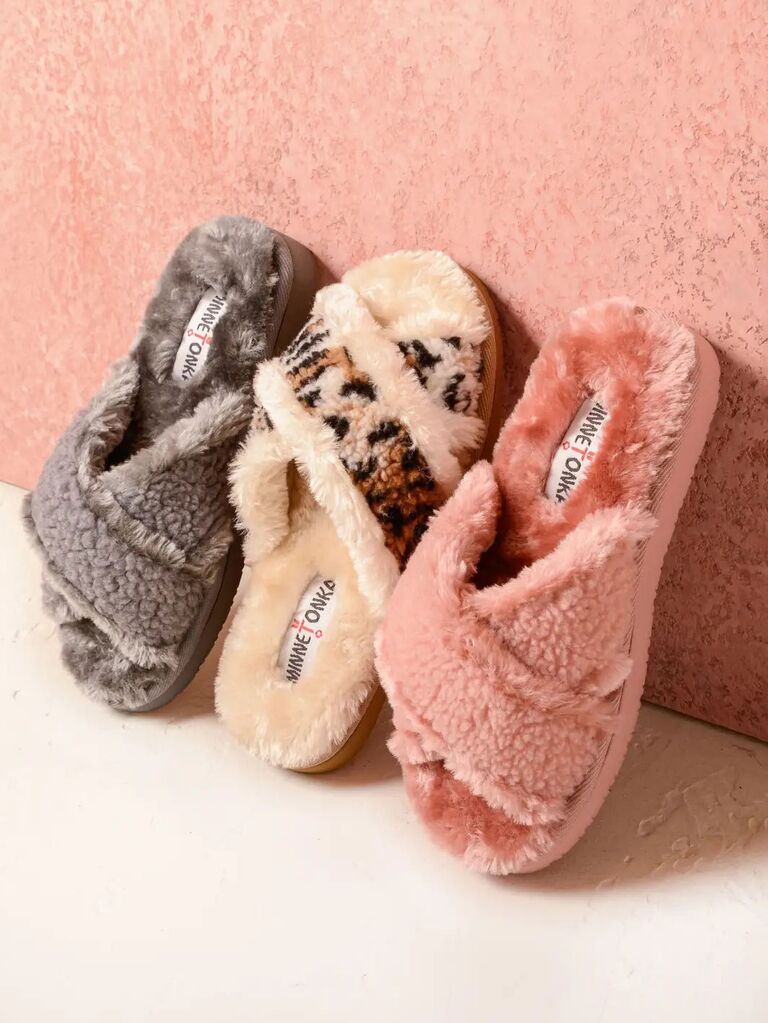 This one's for the MOH who loves to lounge. A fuzzy set of slippers are the perfect way to shower them with the R&R they deserve after planning the wedding with you. Just make sure to give them the gift before or on the big day, so they can wear them while getting ready—and possibly on the dance floor after the ceremony, too.
Monogrammed Weekender Bag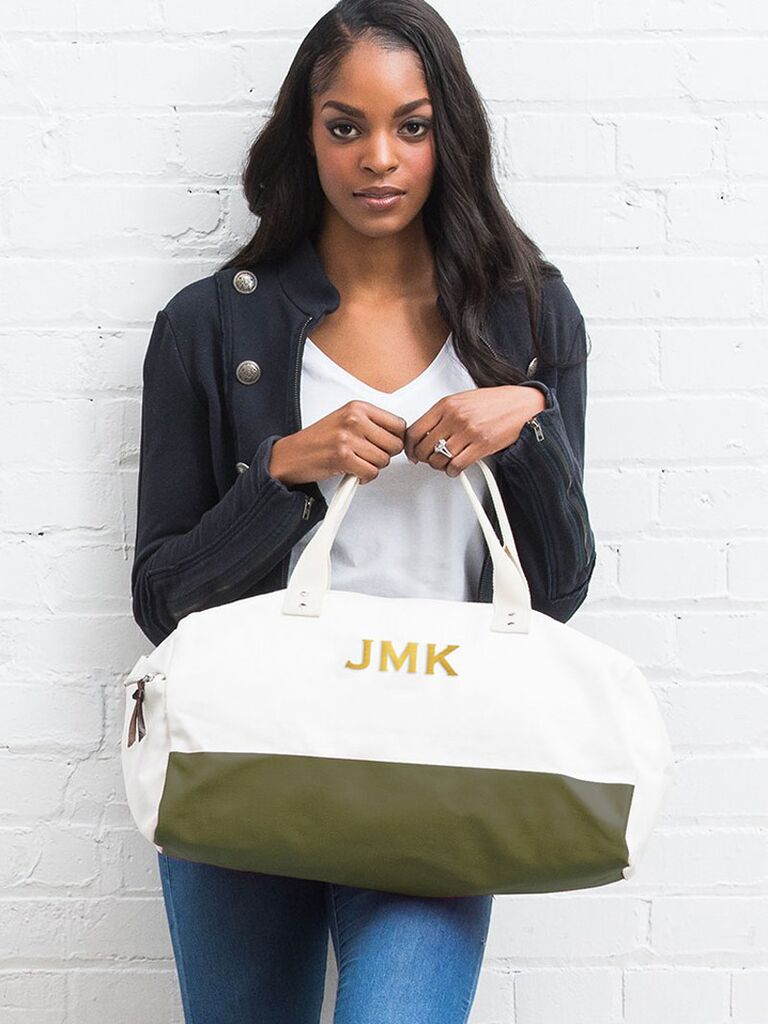 Gift your MOH this chic duffle bag before the wedding weekend so they have designated luggage for all of their event necessities. Choose from a dozen thread colors (including three metallics) to embroider their initials with. Best of all, they'll definitely use this maid of honor gift again and again.
Engraved Lipstick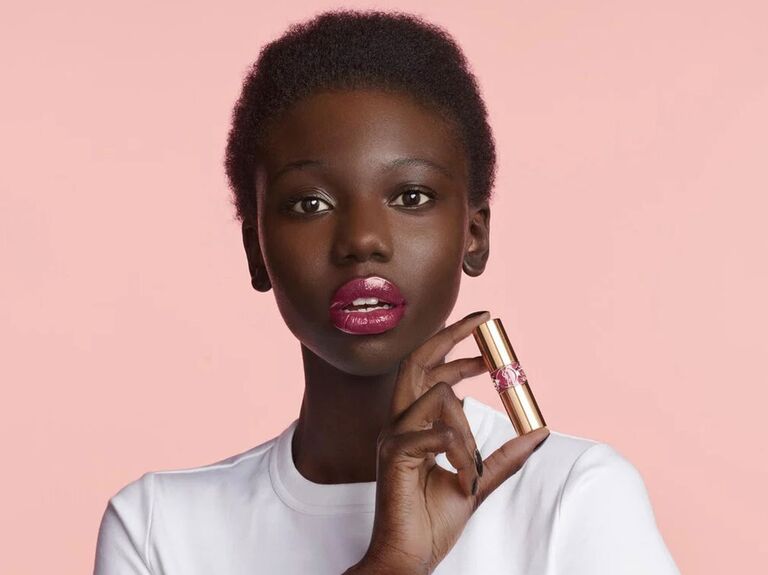 PSA: You can have YSL's lipstick personalized—and it's affordable! Choose between matte, gloss, stain or—our favorite for everyday use—colored lip balm, then have their name, initials or a short custom message laser engraved on the lid. It's a really special gift for your maid of honor that they'll want to hold onto even after they use up all the makeup.
Vegan Leather Cosmetics Case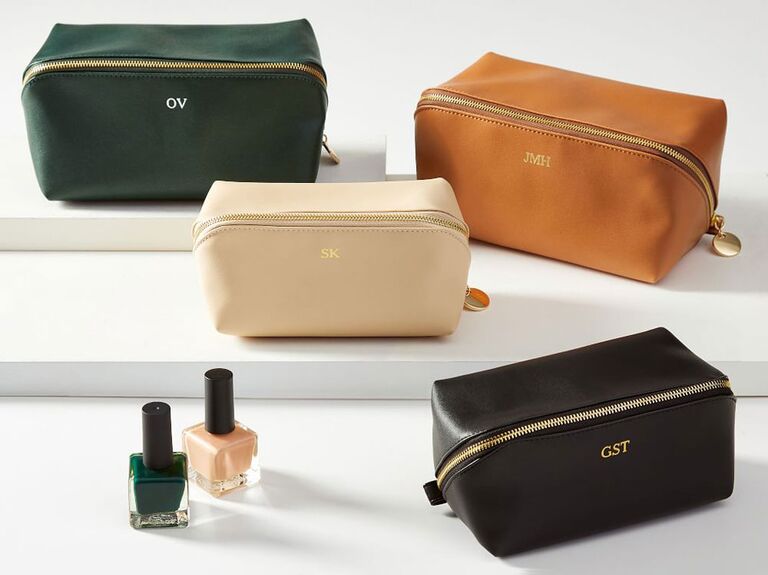 If your MOH is coming to the wedding from out of state, help ensure they don't forget any of their beauty essentials—and that they can pack more than necessary—with this travel pouch. It's crafted from durable vegan leather that is water and sun resistant, lightweight and flexible, so it can wedge anywhere inside of their luggage. For an extra charge, add their initials in gold foil for a practical and custom maid of honor gift.
Sister Maid of Honor Frame
Is your sister your maid of honor? Honor your special relationship with this sweet glass frame. It's etched with the poem: "Today my maid of honor, forever my sister," which can be followed by a custom message from you. Fill it with a nostalgic photo of the two of you from childhood if you really want the happy tears to flow.
Champagne-Inspired Candy
Whether you're shopping for a maid, matron or man of honor gift, you can't go wrong with gourmet candy. This bento box was made for a sweet celebration just like your wedding day. It comes with Champagne bears (fittingly packed in a Champagne bottle) as well as two other bubbly-inspired gummy flavors and strawberry candy. Yum!
The Best Maid of Honor Gifts Under $100
If your budget is a little more flexible, consider one of these maid of honor presents to thank your bestie with. Wow them with everything from sweatshirts to stationery.
Gold Initial Necklace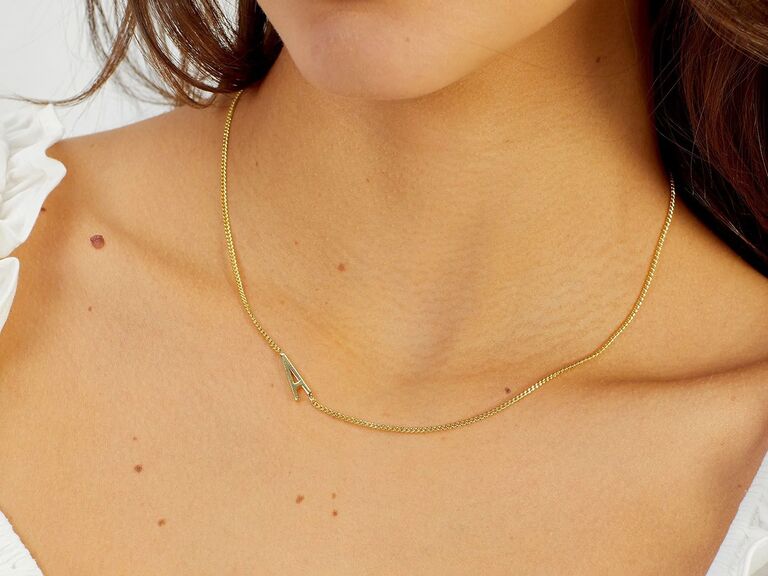 Jewelry will always be one of the best bridesmaid and maid of honor gifts—and this piece feels particularly timeless and personal. Choose their initial to be strung on this dainty chain necklace in 18K gold-plated brass. Its minimalist aesthetic is sure to blend seamlessly with their everyday style.
Wine Tasting Kit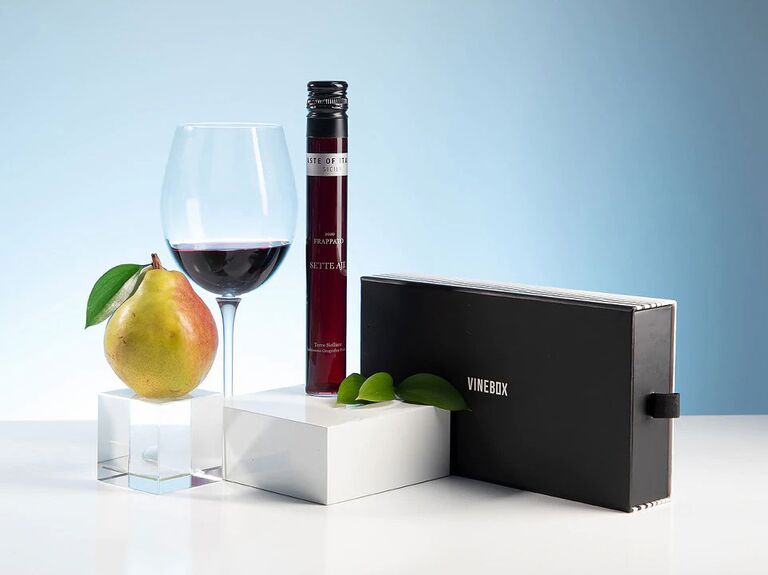 If you're shopping for a wine connoisseur, this maid of honor gift idea is extra thoughtful. The tasting box features nine 100-milliliter vials of wine from around Europe to transport them straight to gorgeous wine country without ever leaving their home. Fingers crossed they invite you over to help sample.
Rose Quartz Ring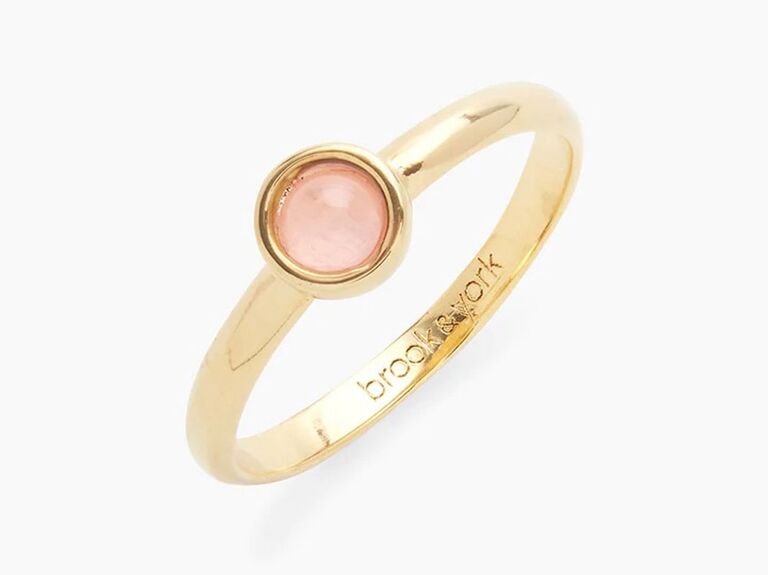 Did you know rose quartz symbolizes friendship? Just like your boo gave you a ring of commitment, give your maid of honor one featuring this meaningful stone. This 14K gold-plated brass ring has a solitaire rose quartz for a nice pop of color.
Silk Sleep Set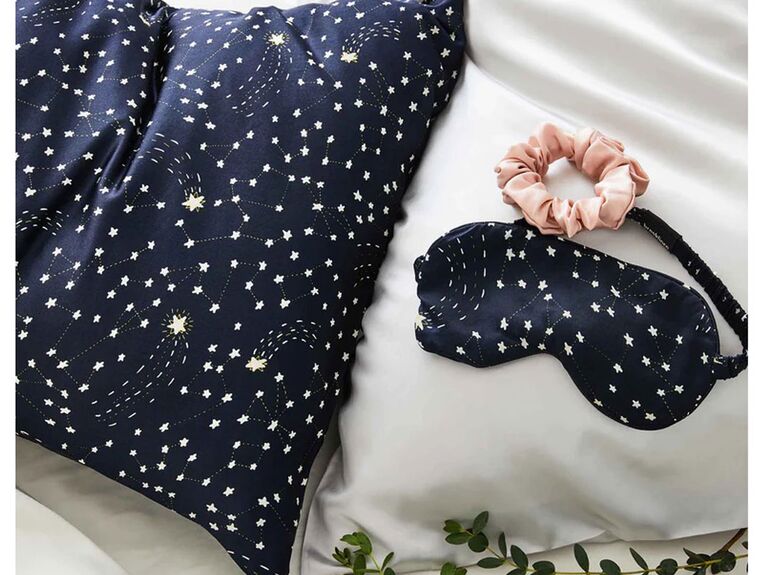 If your MOH stayed up late with you on many nights while planning the wedding, a great way to thank them is with the gift of sleep. This luxe sleep set comes with a mulberry silk pillowcase and eye mask—and you can pick a different color for each. It's made from pure silk, so it's extra luxurious.
Maid of Honor Appreciation Gift Set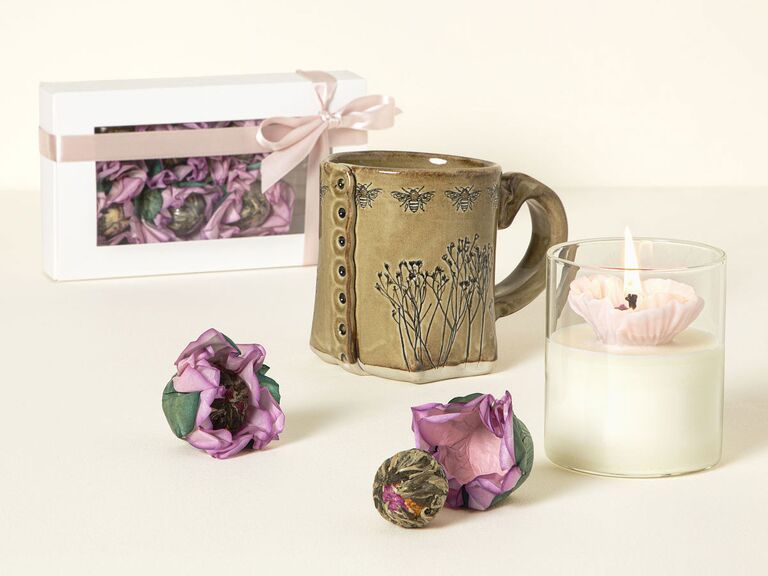 Between organizing the shower, to planning the bach party, to running wedding errands, your maid of honor deserves a thank-you gift—or two. This gift set comes with hand-sewn tea orbs, a poppy terrarium candle and a pressed wildflower mug, so you can hand over a few goodies of appreciation without needing to source from different retailers. Now, that's a MOH gift idea you'll both love!
Pearl Strand Bracelet
Pearls aren't just trendy, they're also classically bridal. Hand over a bracelet of petite freshwater pearls for your maid of honor to wear on the big day. It's an especially great jewelry gift idea if they have a preppy style.
Babe Sweatshirt
Let your MOH know they're your number one babe. Show just how highly you think of them with this comfy crew neck from popular lifestyle brand Brunette The Label. The front of the sweatshirt features a thoughtful definition of a babe: "A person who always assumes positive intent, goes out of their way to uplift others and focuses their personal energy on growing what is good in the world." So accurate!
Star Sign Stationery Set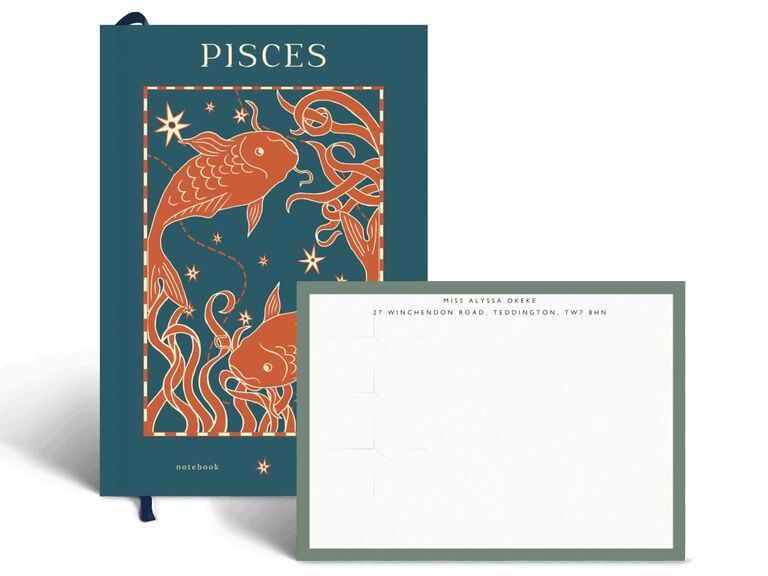 Now that they're no longer your eager assistant, they can really focus on themselves. Surprise them with a stationery set inspired by their star sign. This fun collection comes with a notebook and cards adorned with illustrations of their zodiac, they'll want to leave them out on their desk all the time to show them off.
Meat and Cheese Gift Basket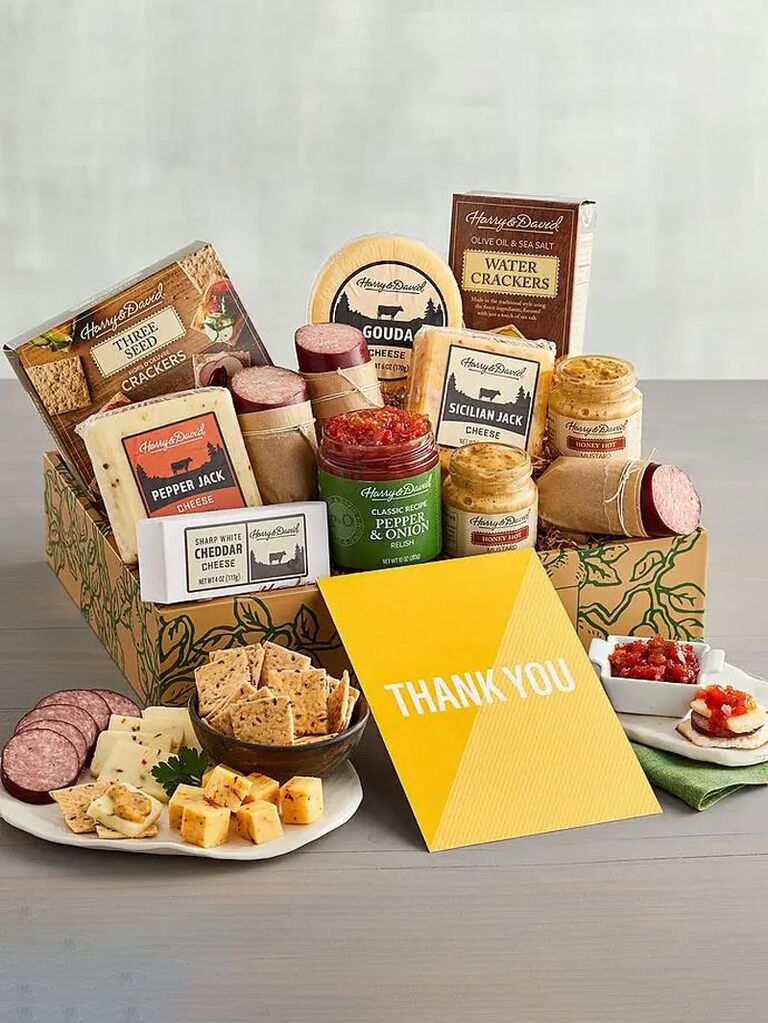 Do you and your maid of honor do your best bonding over charcuterie? Gift them this dream spread of meats, cheeses, crackers and more to compliment your first get-together post-nuptials. It even comes with a thank-you card, so all you have to do is sign it.
Long-Lasting Mani Set
If your maid of honor is a beauty lover, a set of salon-quality nail polishes from Olive & June will be a welcome addition to their collection. Plus, you get to pick out the color (or colors) yourself. Choose from dozens of shades—from neutrals and neons to metallics, then add on a top coat, a quick-drying oil or a strengthening serum.
Travel Jewelry Organizer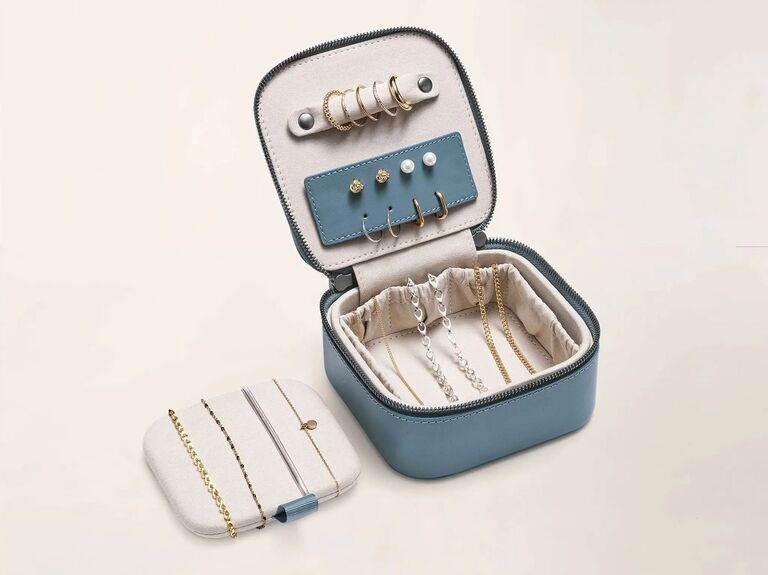 If there is one thing everyone needs in life—besides a good friend—it's a jewelry organizer. Make sure your maid of honor's baubles are safe while she travels to your wedding with this chic case. It has a flat panel for earrings, a padded cord for rings, clasps and slip pockets for necklaces, and a roomy main compartment for chunkier items. Basically, nothing will be lost or tangled. Best of all, you can add her initials in gold or silver metallic foil to the lid.
The Best Maid of Honor Gifts Over $100
These luxury maid of honor gifts are just the way to show your appreciation—and are guaranteed to be held onto for a very long time. Think: luxurious pajamas, personalized perfume and more.
Custom Engraved Perfume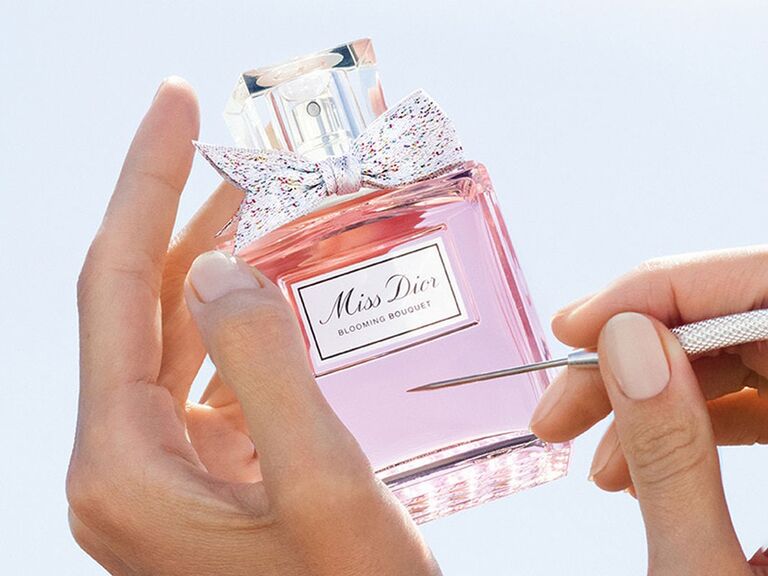 While you've probably thought about what your signature wedding scent will be, don't forget about your bridal party's fragrance as well. Give your maid of honor a bottle of their favorite Dior perfume engraved with their initials or name for a unique and awe-worthy gift. The scent will perfectly compliment her floral bouquet.
Luxurious PJ Set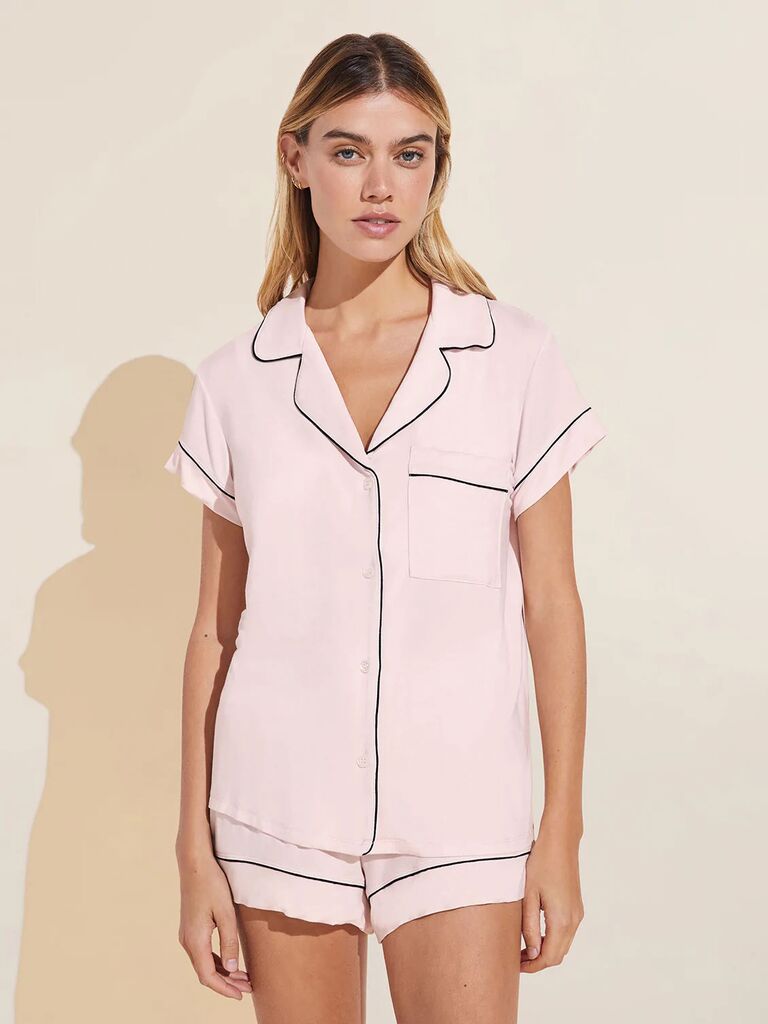 Pajamas are another popular maid of honor gift idea from the bride, but we have a few tips to make sure your MOH loves them as much as you do. For starters, choose something you know they'll wear again. Eberjey has lots of super classic (and ultra-comfy) sets to choose from, including this short sleeve button down top and short set. They're so soft they may not want to take them off.
Preserved Bouquet of Roses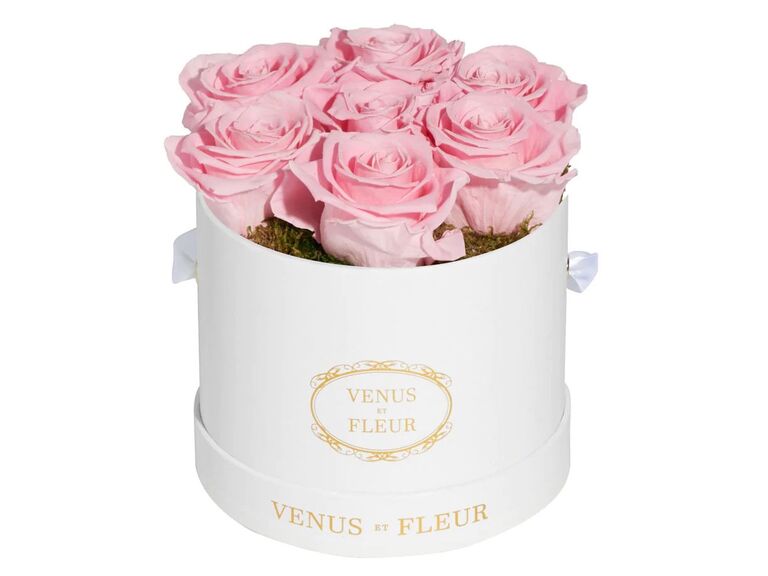 For a long-lasting friendship, consider the gift of long-lasting roses. Shop Venus ET Fleur's selection of preserved roses elegantly presented in a bed of lush green moss inside of a Parisian hat box. Just don't forget to add a card.
Aphrodite Necklace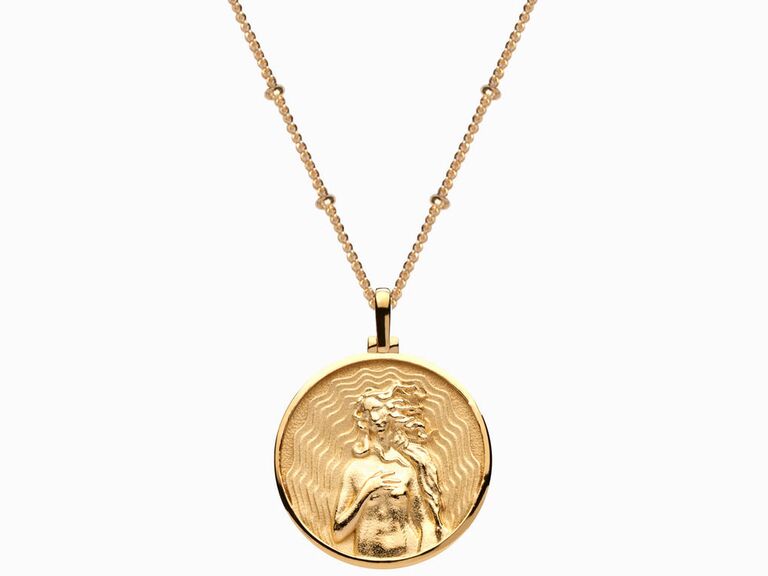 Figuring out what to give your maid or matron of honor can be tricky, especially if they already have everything they need. That said, we don't think there's ever such a thing as too much jewelry. Encourage your bestie to unleash their inner goddess with this eye-catching gold vermeil necklace inspired by the Greek goddess of love and beauty: Aphrodite.
Custom Beaded Clutch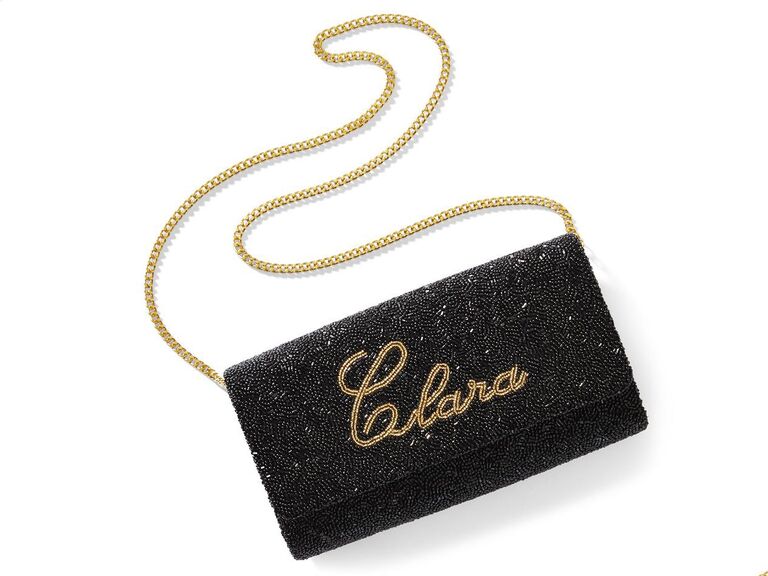 Look no further for a one-of-a-kind gift idea for your maid of honor. This foldover clutch is hand-beaded with your MOH's name for a truly dazzling accessory. It comes with a gold chain to turn it into a crossbody, so they can show it off hands free. They'll definitely want to flaunt this at the wedding.
Naoimh O'Hare contributed to this article.