30 Gifts for the Ring Bearer Who's Going to Rock This Special Role
These are the best ring bearer gifts, no matter their age.
We have included third party products to help you navigate and enjoy life's biggest moments. Purchases made through links on this page may earn us a commission.
Don't forget your youngest attendants when shopping for wedding party gifts. Just like you would for bridesmaids and groomsmen, giving flower girl and ring bearer gifts is a considerate and appreciated gesture—and they don't have to be big. If you need gift ideas for your ring bearer (or bearers), you've come to the right place. From day-of props and fun toys to sentimental keepsakes, we've rounded up the best ring bearer proposal and thank-you gifts that'll excite them and make them feel valued.
The Best Ring Bearer Proposal Gifts
Looking for creative ways to propose to your ring bearer? One of these ring bearer-asking gifts will get them excited for their future role in your special day.
Ring Bearer Super Cape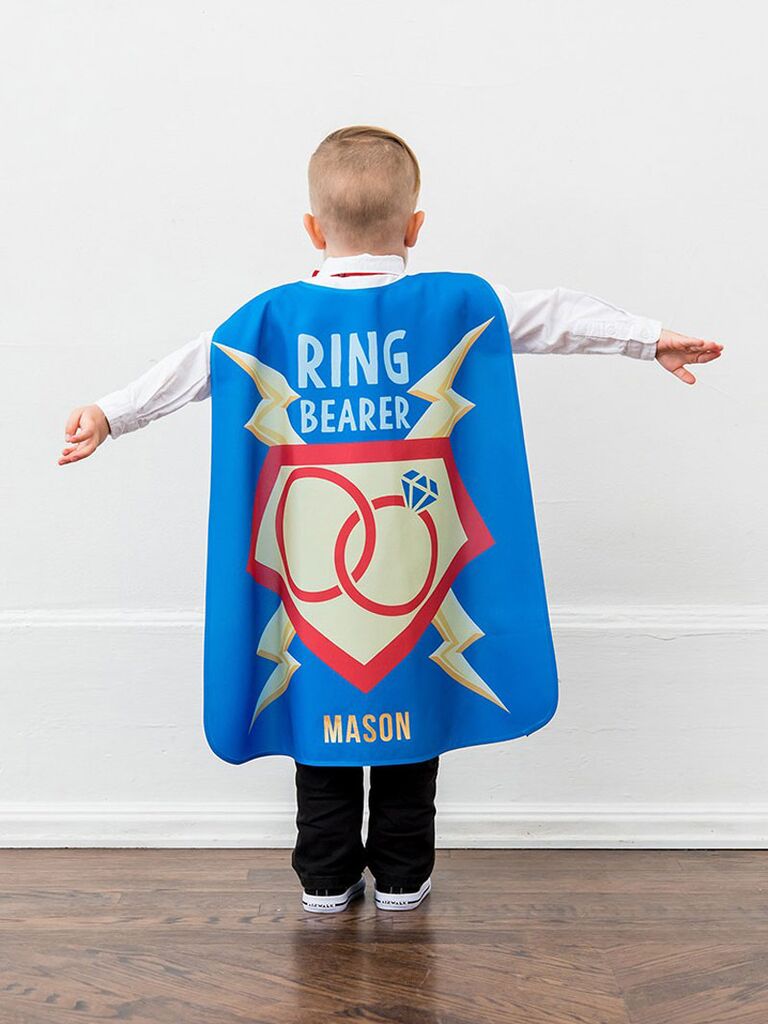 Shopping for a super kiddo? Get them excited for their upcoming role as ring bearer with this personalized cape. It's a vibrant blue, with a symbolic logo to mark them as the protector of the rings with their name underneath. (Psst, there's a coordinating flower girl cape, too.)
The Ring Bearer Book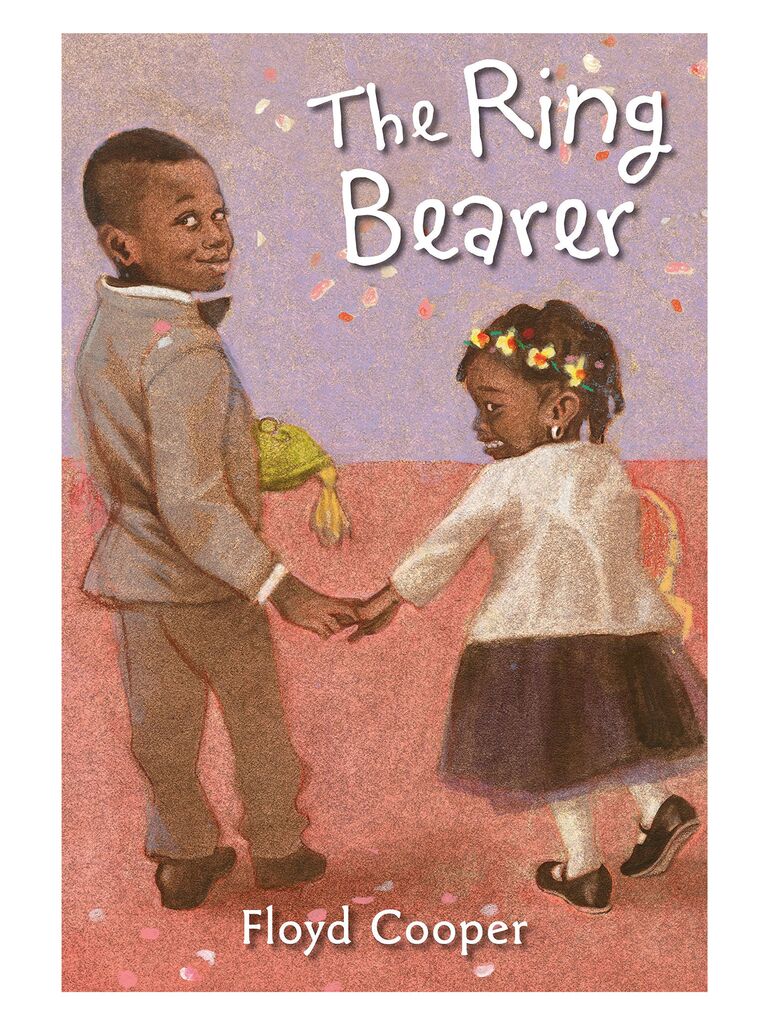 Young readers are constantly on the lookout for new stories to dive into. This on-theme picture book that tells a heartwarming story about a ring bearer is sure to go over well. It will teach them about all the expectations of their new role and get them excited for the big day.
Ring Bearer Teddy Bear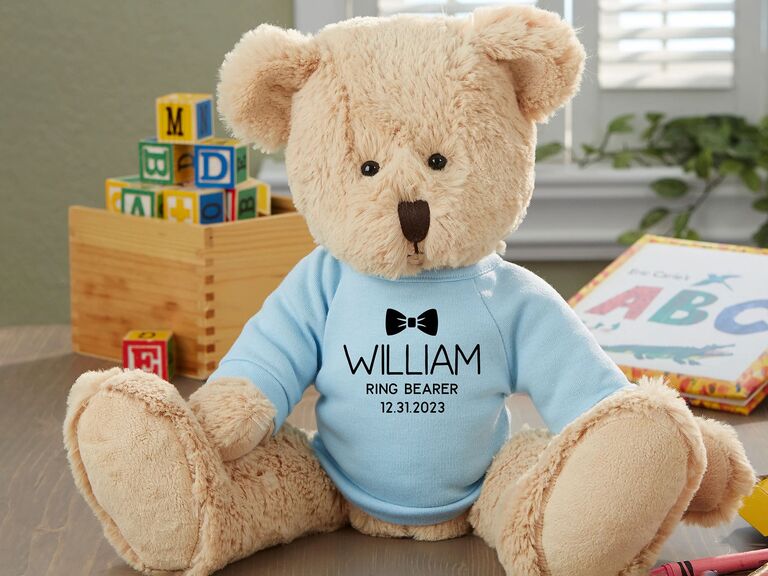 If you appreciate a good pun, a ring bearer teddy bear is just the thing to give your little helper. Plus, plush toys are go-to gifts for kids, since they're great to play and snuggle with. This super soft bear stuffed animal is dressed up with a shirt personalized with the ring bearer's name, role and your upcoming wedding date, so they know exactly the who, what and when of your ask.
Ring Bearer Jigsaw Puzzle
This fun puzzle will pop the question for you. Simply choose your desired color and font, and even a little character from a selection of illustrations to make this puzzle extra personalized. Once it's built, they can frame it and hang it as a meaningful keepsake gift.
Ring Bearer Peg Puzzle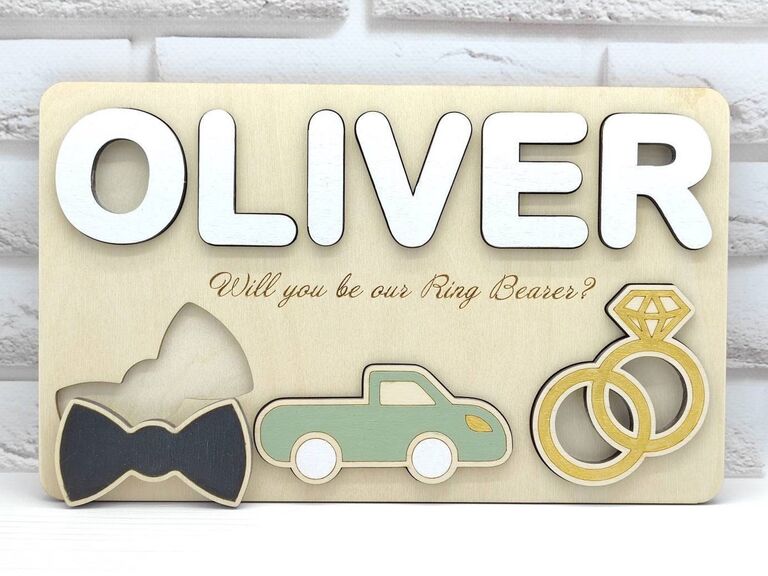 No worries if your ring bearer is on the younger side. This personalized wooden puzzle simply has them find the proper holes for their name, a bowtie, car and pair of rings. Best of all, the back can be engraved with you and your spouse-to-be's names.
Ring Security T-Shirt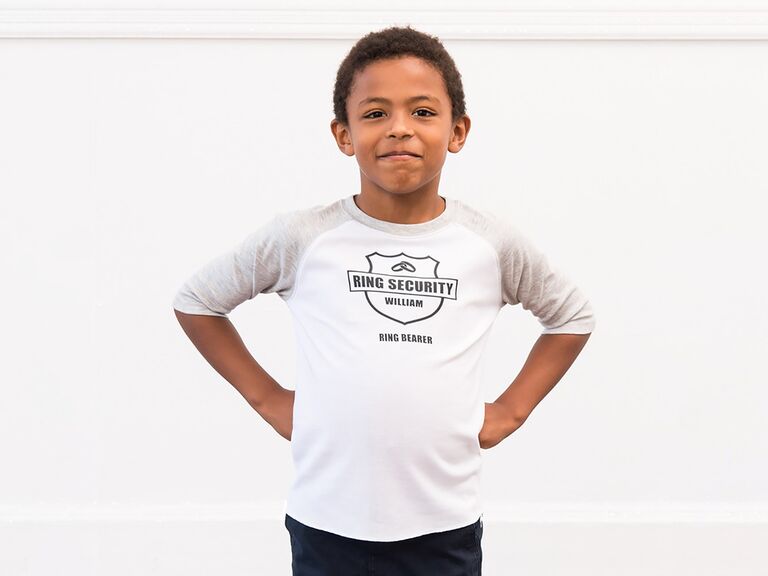 Custom, thematic attire is another great gift idea for a ring bearer. Tell the world (or at least your guests) who your ring bearer is with this adorable baseball tee that declares the wearer "ring security." They can wear it proudly at the wedding shower, rehearsal dinner or even down the aisle if your wedding is a more casual affair. Plus, it'll make for a silly photo op.
Personalized Polarized Sunglasses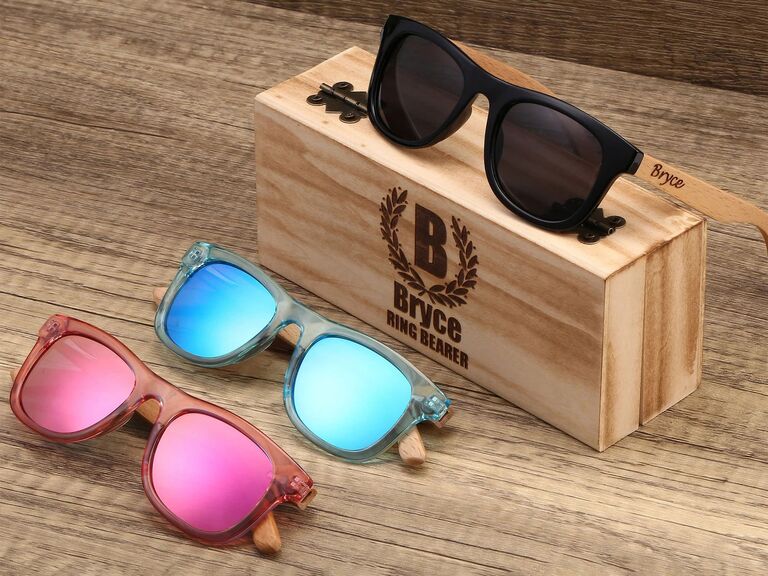 Every good security officer is outfitted in some sleek sunglasses just like these. They're made from bamboo wood with polarized lenses and are engraved with their name on the side. For an extra charge, wrap them in a personalized case featuring their name and new role. They fit kids three to nine years old.
Ring Bearer Ring Pop Box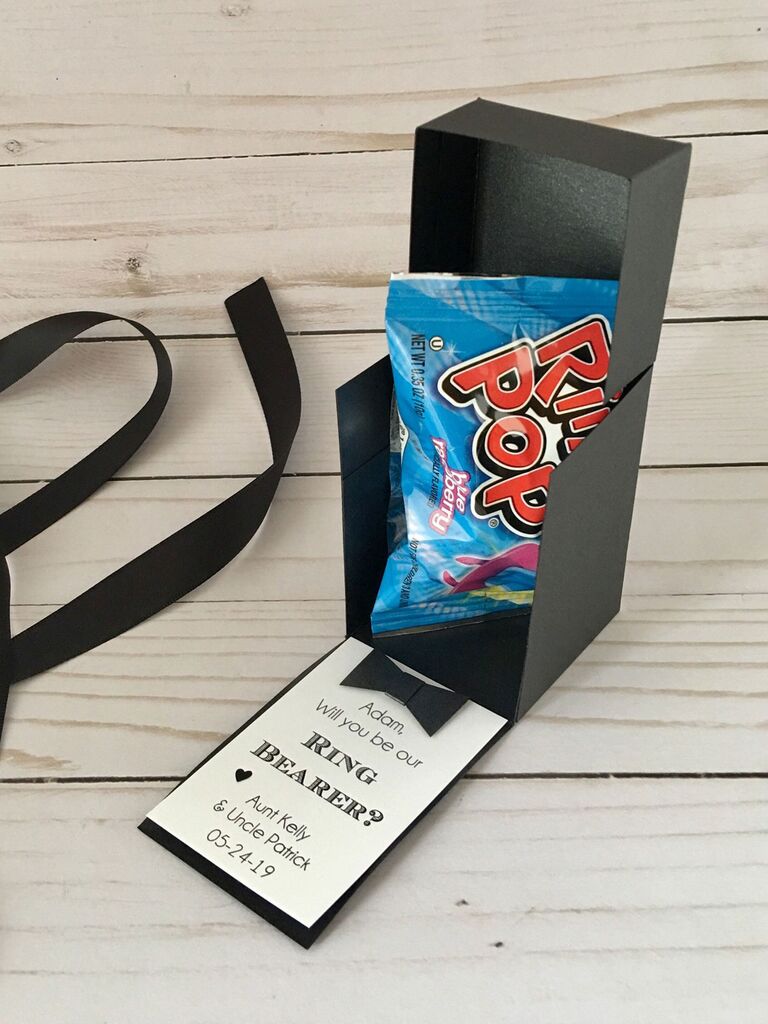 We've yet to meet a kid who doesn't love candy. If you're looking for a simple, yet fun ring bearer proposal box, this gift "pops" the question with a ring pop. They'll definitely say "yes" (or "mhmm," if they're already diving into the sucker).
Wedding Coloring Book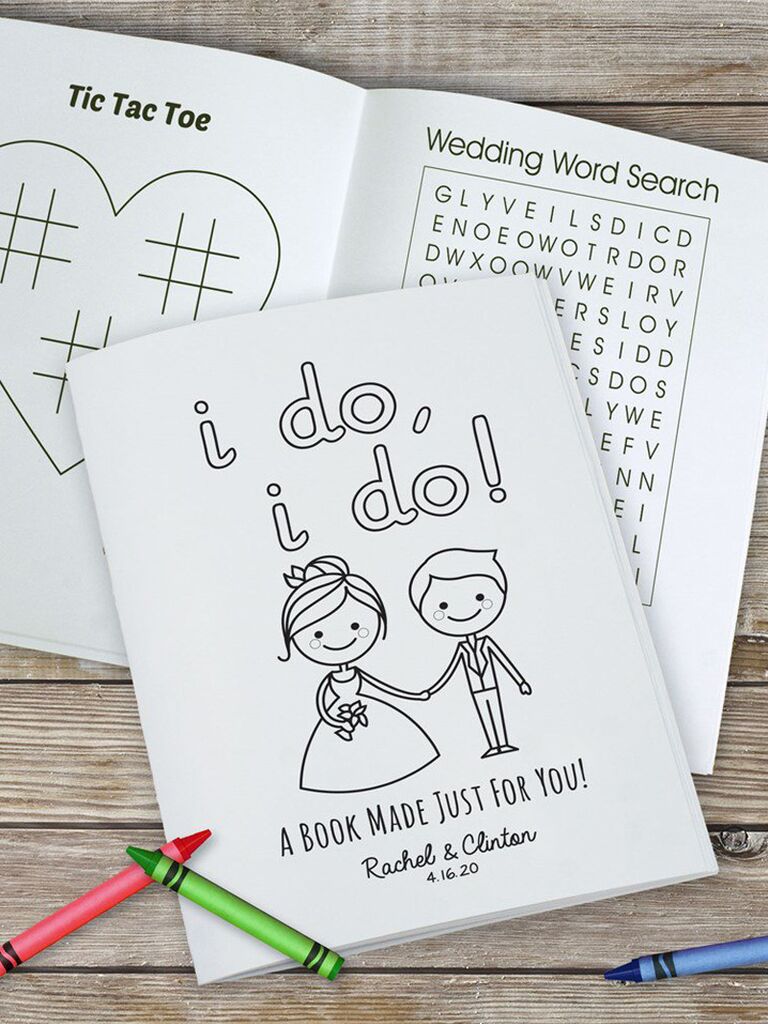 Keep your ring bearer entertained until the big day (and perhaps after at the reception) with this activity book. It has 20 pages of coloring and games, and the front can be personalized with your event details. Best of all, it comes with a 24-count box of Crayola crayons. Let your ring bearer's creative side come alive!
Glow in the Dark Terrarium Kit
What gift do you get a ring bearer who loves the outdoors? This thoughtful DIY terrarium. Just as your new adventure begins to blossom, this cute present offers them the same opportunity to watch their seedlings come to life. And what kid doesn't like glow-in-the-dark stickers? By the time the wedding rolls around, they'll have a whole garden to show off.
Ring Bearer Tote Bag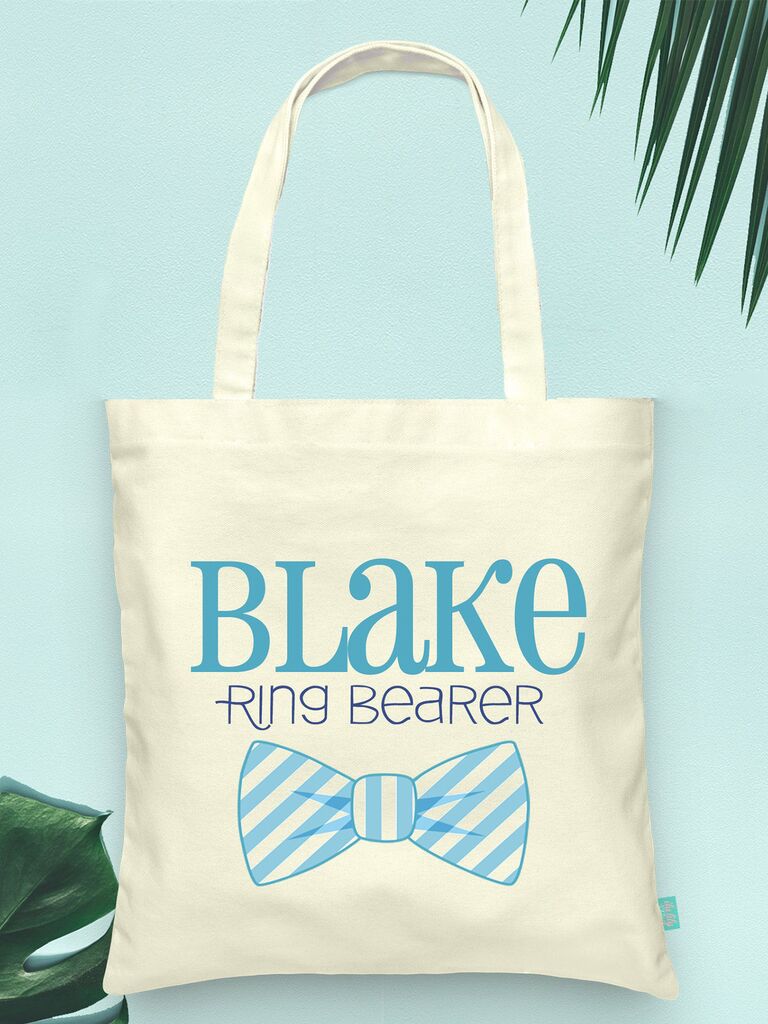 Are you hoping to build your own ring bearer proposal box (or bag)? Start with this adorable canvas tote personalized with their name, role and a bow tie. Fill it with little surprises that suit their personality. Better yet, your ring bearer's parent or guardian will appreciate having a special place to carry all their wedding essentials.
Personalized Ring Bearer Tumbler
Now comes filling the gift box or bag! Personalized drinkware is a classic gift idea for anyone in your wedding party, including your ring bearer. This reusable, stainless steel cup is labeled with their name and wedding role. The lid has an easy-to-use straw, so even the youngest ring bearers won't spill their drink.
Children's Plaid Bowtie
Is there anything cuter than a kid in a bow tie? We think not. This colorful plaid one will make them look extra dashing on the big day. Gift it alone or add it to a bag of other goodies and accessories so they know exactly what they're wearing to the wedding.
Animal Face Hooded Towel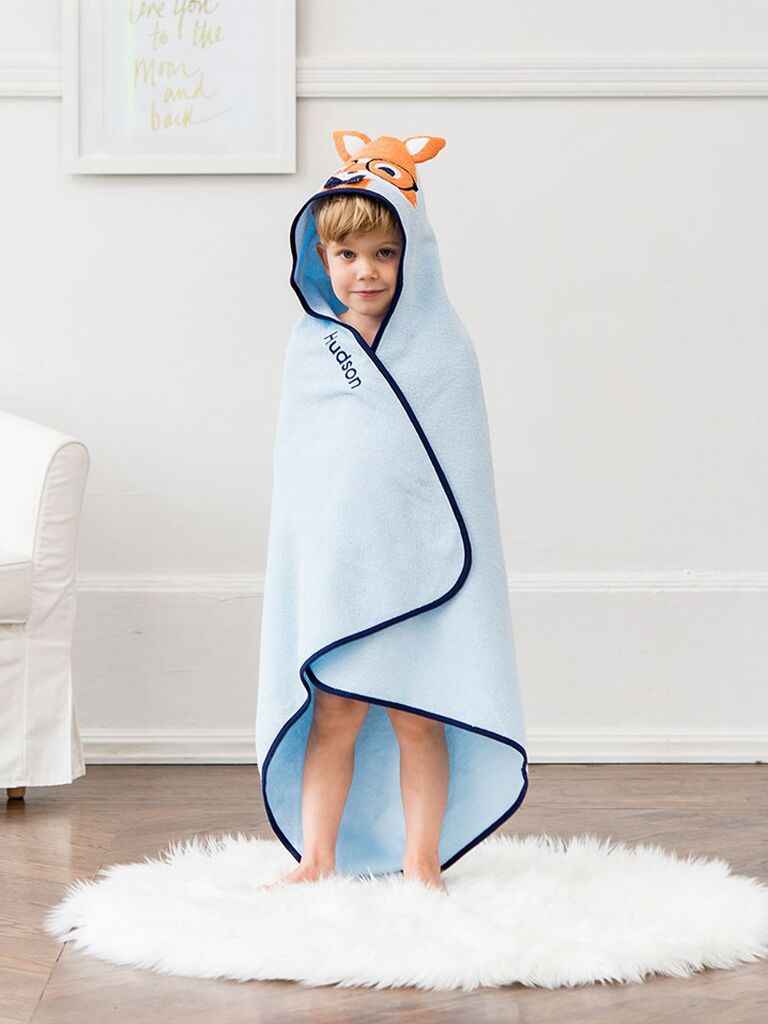 Help your ring bearer get ready for your nuptials with this fun towel. It's made from soft and absorbent terry cloth and the hood is a studious-looking fox. Embroider their name and initial on the side so it feels extra special.
Ring Bearer Proposal Baseball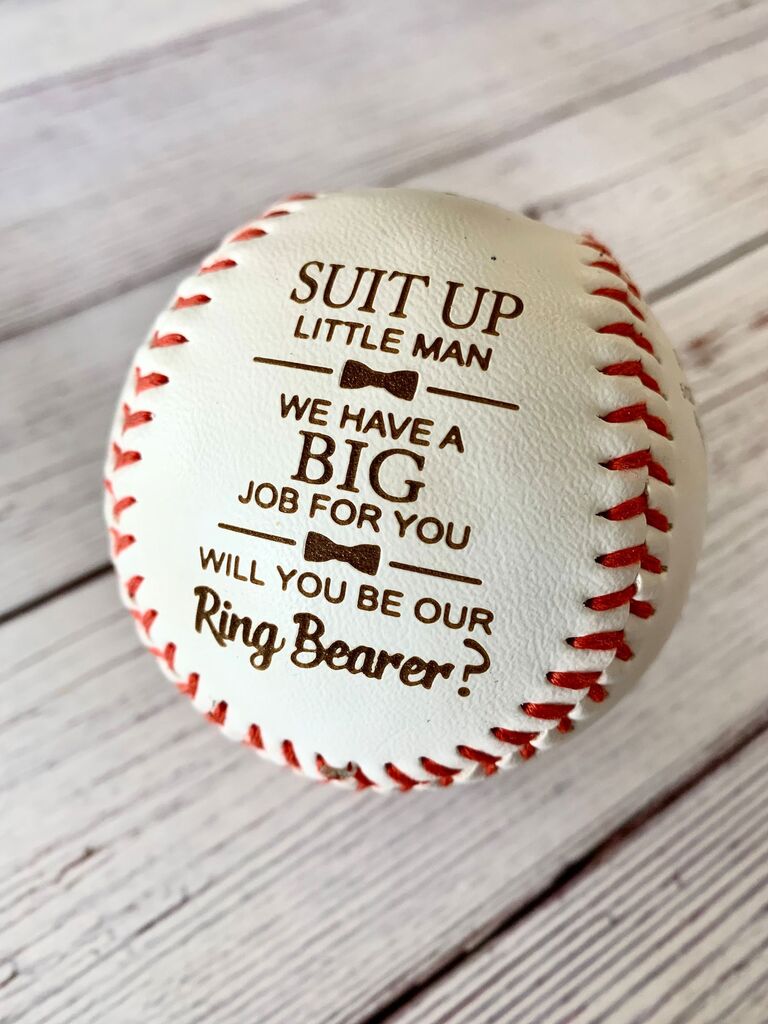 Ask your future ring bearer if they want to play catch, then toss them this baseball. It's engraved with the phrase, "Suit up little man, we have a big job for you. Will you be our ring bearer?" Tell them to throw it back if they accept the role.
The Best Ring Bearer Thank-You Gifts
Look no further for what to get your ring bearer for a wedding gift. These thank-you presents will show them how much you appreciate them stepping up and handing off the rings.
Personalized Ring Bearer Hanger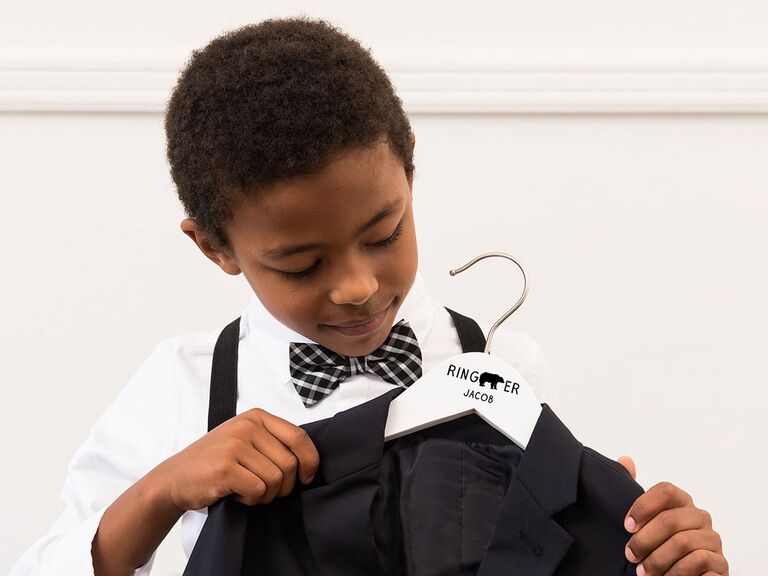 Reserve your little man's space in the getting-ready suite with this personalized wooden hanger. It's painted with their role as ring bearer (except the "bear" is really a bear) and their name underneath. They can use it to hang their formal attire on the wedding day and then save it as a keepsake to use as they grow up.
"Avengers" Pajama Set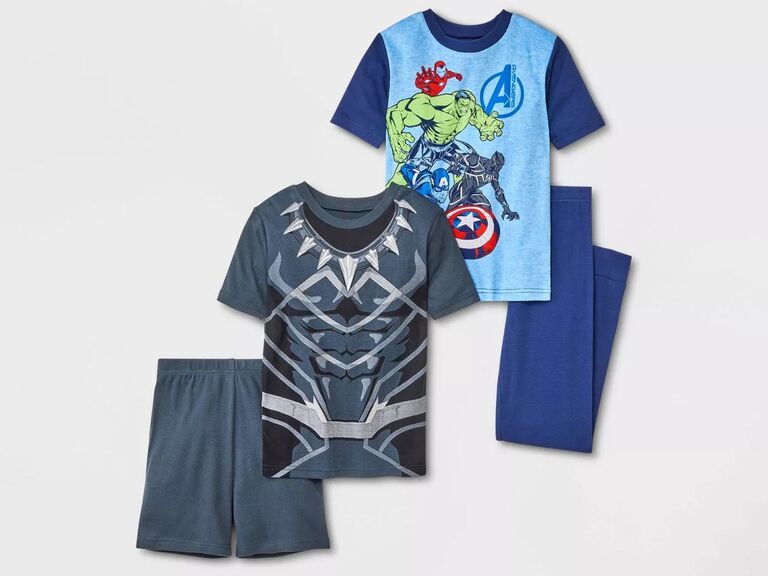 Your ring bearer will likely be tired after all of the wedding festivities. Make sure they get the rest they need with a new pair (actually two) of pajamas. This four-piece set of Marvel "Avengers" pajamas can be mixed and matched, and will definitely align with their interests. They come in sizes four through 10.
Shark-Shaped Blanket
This blanket is so much fun, we want one too. It's shaped like a shark and sewn like a sleeping bag, so kids can climb inside and get cozy during movie nights—or when they're a little worn out after dancing at the reception. (Of course, we doubt any of their friends have this cool blanket that they'll get it mixed up with.)
Personalized LED Sign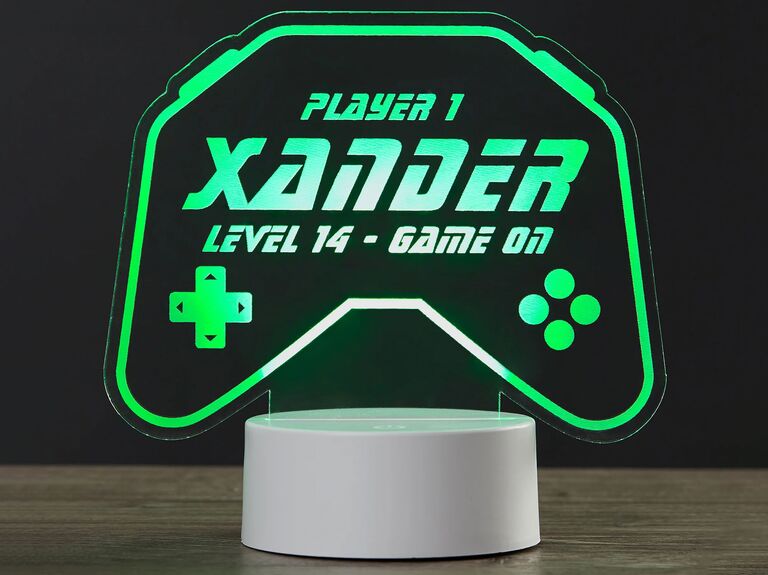 No bad dreams here! Keep the monsters away with this personalized night light. It'll be a welcome addition to their bedroom collection—just choose the design that most aligns with their interests. There are game controllers, dinosaurs, UFOs, sports balls, a monster truck and more.
Mickey Mouse Three-Piece Gift Set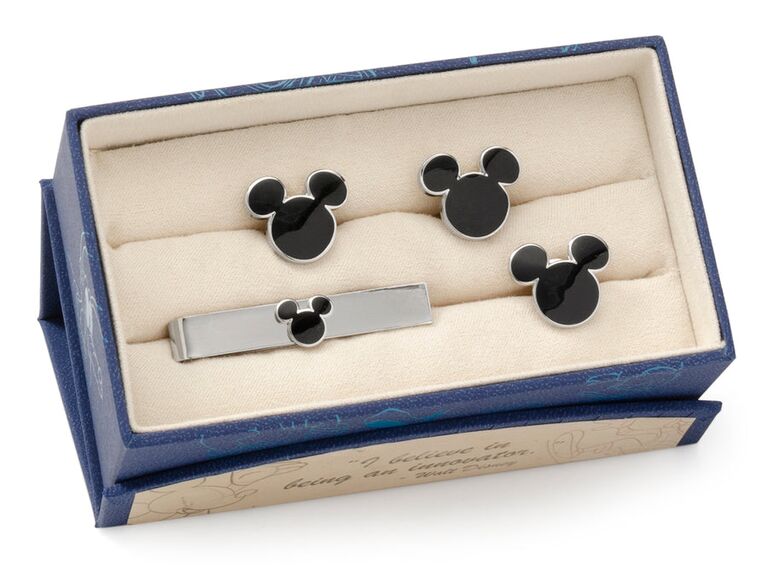 This is a gift your ring bearer will cherish for years—possibly even until their own wedding. A luxe cufflink, lapel pin, and tie bar set will be the finishing touch to their outfit on the big day. And this gift set is sure to excite, thanks to its dapper Mickey Mouse silhouette.
Leather Strap Watch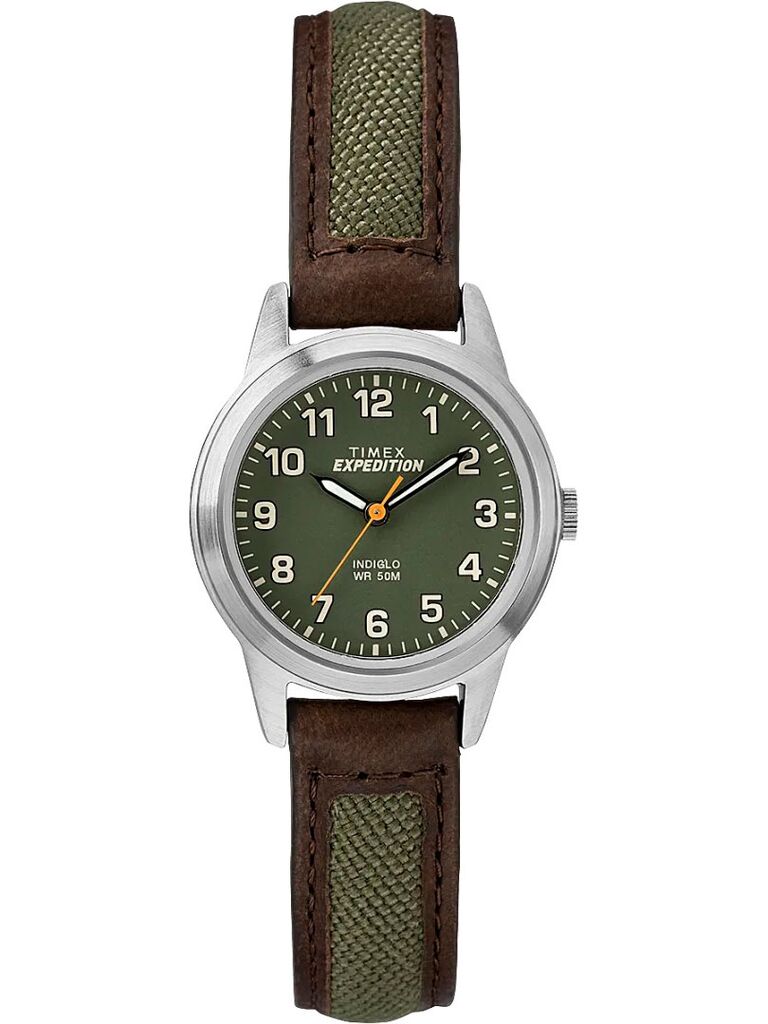 Thank your ring bearer for their time with a fancy new watch. It's a classic gift idea for your groomsmen and that your littlest attendant will want to get in on, too. This children's watch has a rugged metal construction with a green fabric strap trimmed with brown leather. It's water-resistant and has a night light.
Their Very Own Star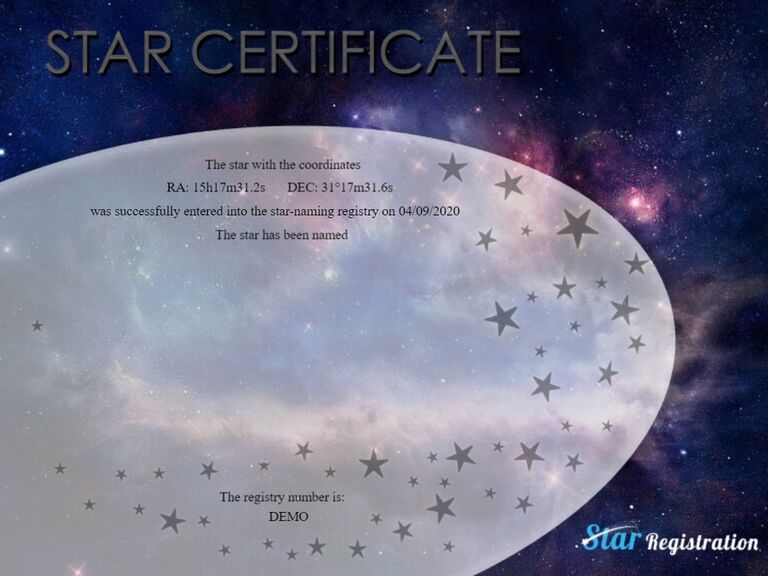 This unique ring bearer gift is ideal for the kid who has a keen interest in all things outer space. Is there a cooler way to thank the shining star that is your ring bearer than to buy them a real star? We don't think so. They'll receive a certificate with a personal message and the coordinates of their very own celestial friend.
Custom Yo-yo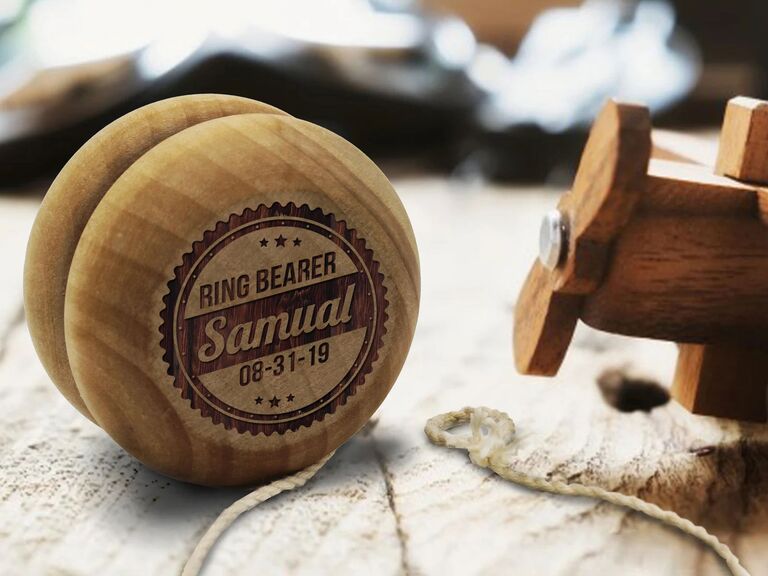 Help your ring bearer bond with other wedding guests with this wooden yo-yo—a classic toy everyone loves playing around with. To make this ring bearer gift even more special, customize it to display their name (and any other details you'd like to include, like their role and the wedding date) on the side. The personalization makes it a great keepsake gift as much as a fun one.
Giant Bubble Kit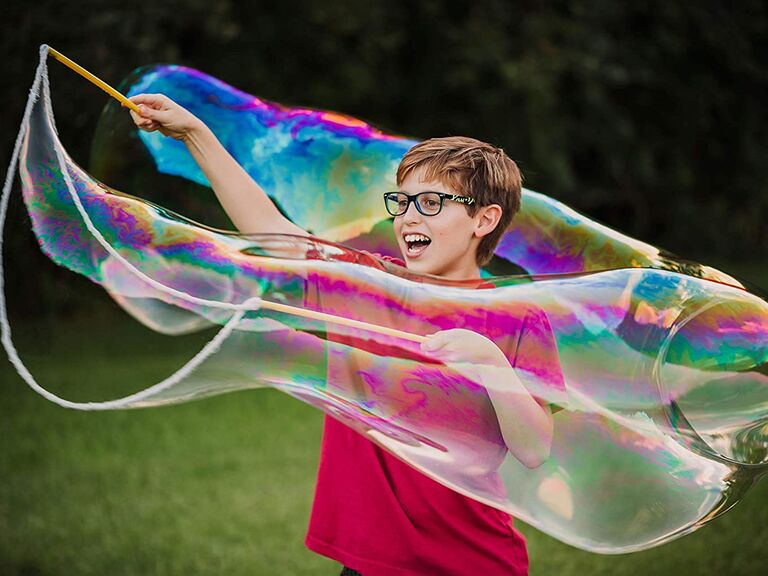 If your wedding is outdoors, bubbles are an easy and exciting gift for little ring bearers (and other wedding guests!) to play with. Plus, they make for super unique photos you'd think were pulled right from Pinterest. The kit comes with five refills, so they can enjoy it again and again.
Personalized Glass Picture Frame
Ensure your youngest gentleman remembers the day with this sentimental ring bearer gift. The glass frame is etched with their name and title, making for an elegant place to display your favorite wedding photo together. It will definitely get a place of prominence in their room.
Bear Baby Blanket
This handheld, cozy blanket is the perfect item for your little ring bearer to curl up with after a night of dancing at your wedding. It's custom embroidered with their name, role, and your wedding date on one side, while the other looks like a soft brown bear. This will become their go-to toy to carry around.
Race Car LEGO Set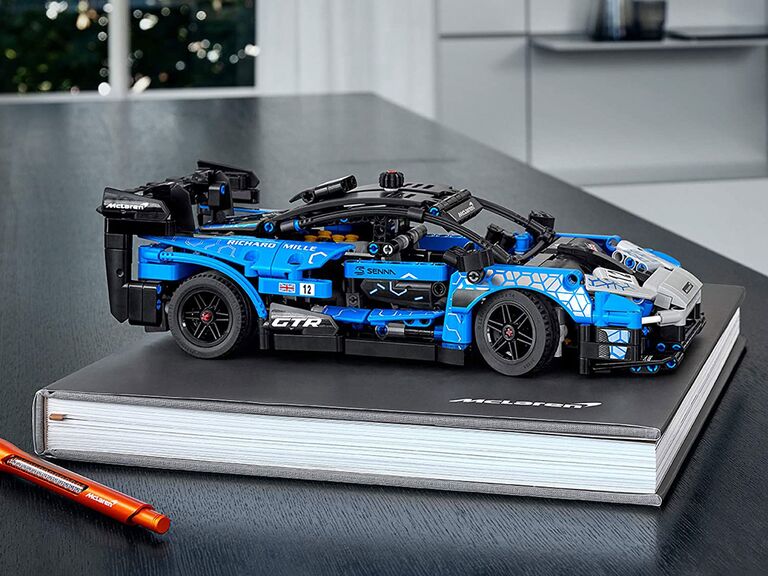 You'll be their favorite person when you surprise your ring bearer with this thank-you gift. The Technic McLaren Senna GTR 42123 toy model has realistic features, like a V8 engine with moving pistons and dihedral doors that open up and out, to spark their imagination and keep them occupied for hours. They'll want to open it right away, though we advise that they wait until they get home, so they don't lose any of the pieces. (Note: Suitable for ages 10 and up.)
Personalized Football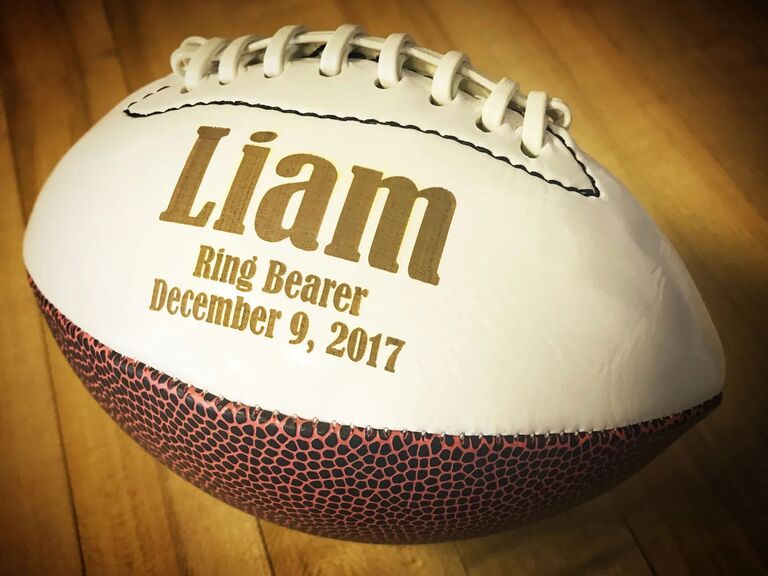 If you want a thank-you gift for your ring bearer they can play with right away, try this personalized football. The leather is engraved with a custom note. Get creative and write: "Thanks for making our wedding a touchdown." Just make sure they're not playing catch anywhere near the cake!
Kids Dinosaur Backpack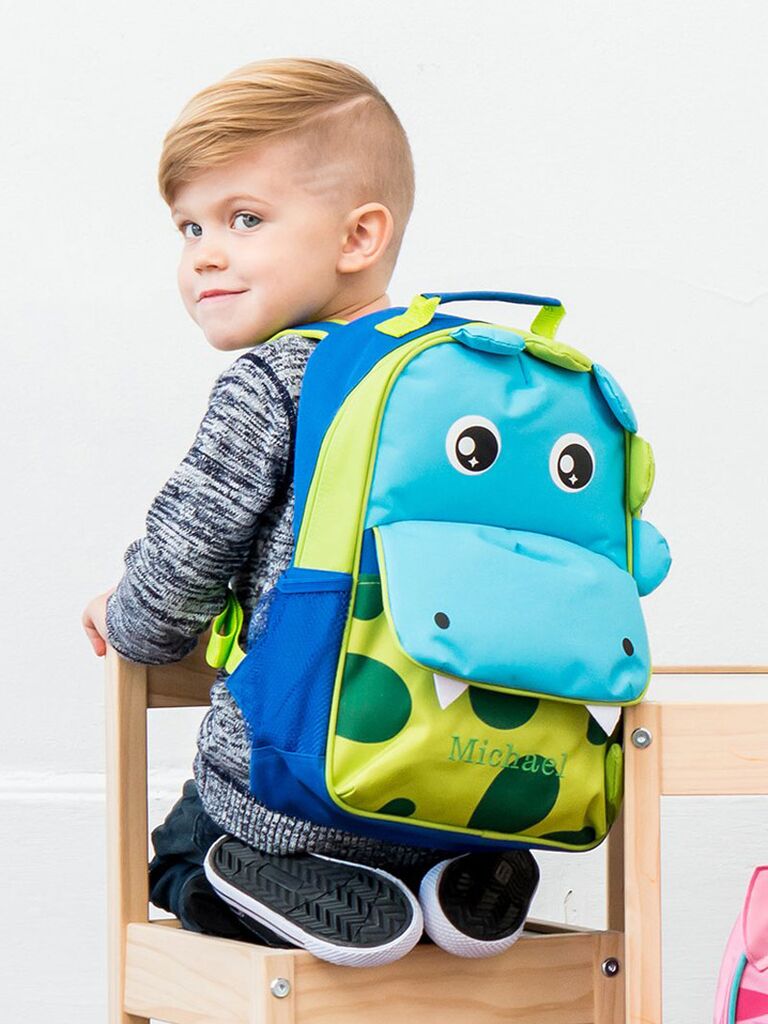 Help them carry their toys and other knick-knacks in this super-cute backpack. It looks like a dinosaur and can be embroidered with their name in a thread color of your choice. It's a handy piece that can be used after the wedding for school, travel and beyond.
Custom Message Handkerchief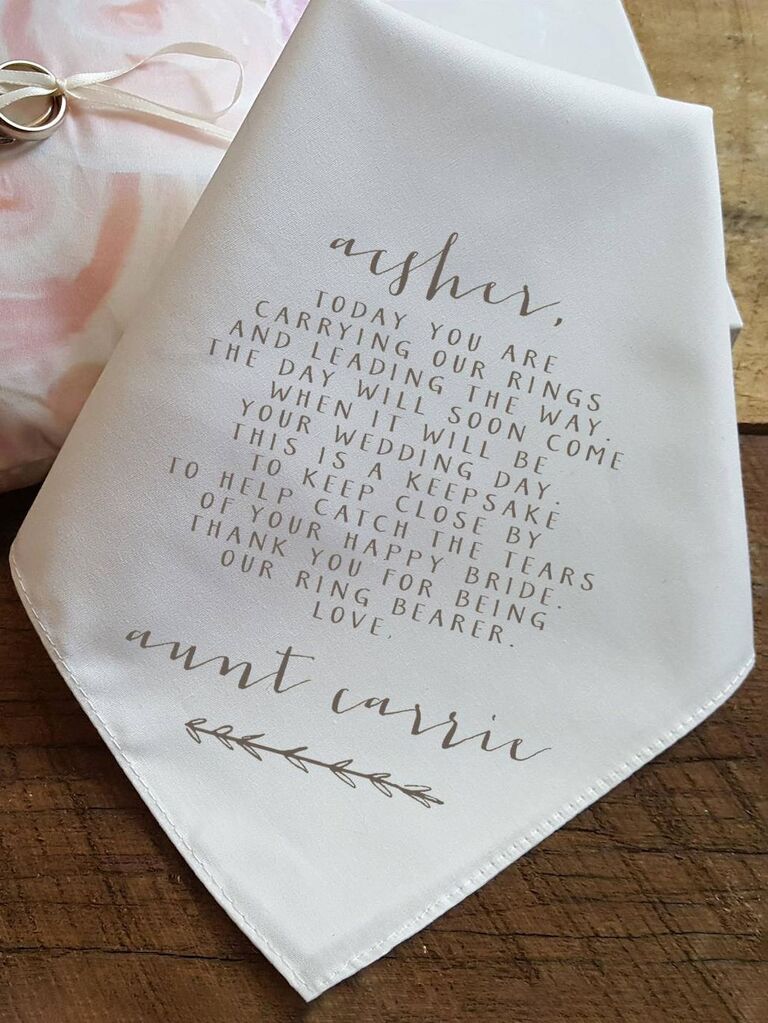 Personalized ring bearer gifts don't get much more meaningful than this. The white cotton handkerchief is printed with a sweet poem about their role and can be signed with your names. They can slide it into their suit pocket for a dashing touch to their formal attire knowing there's a hidden message just for them. So special.