Inside Will Smith and Jada Pinkett Smith's Marriage
The couple opened up about their partnership during a 2020 episode of "Red Table Talk."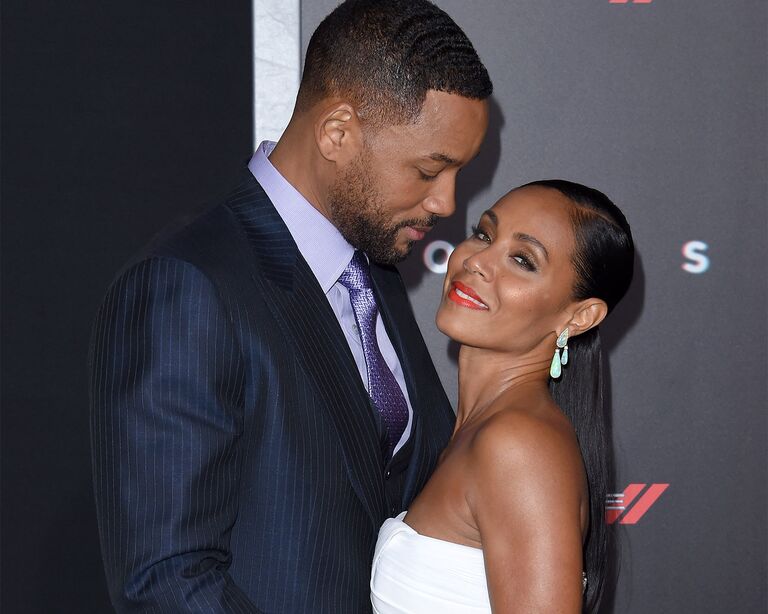 Axelle/Bauer-Griffin/FilmMagic
Will Smith, wife Jada Pinkett Smith and the overall family have always been candid about life at home in the famous household. However, they're still learning new facts about each other daily. On a 2020 episode of Red Table Talk, the actress shared a rather surprising, but deep, truth. The episode, aptly about relationship survival while social distancing, revealed what Pinkett Smith has learned during these unprecedented times, and just how little she actually knows about her husband of 23 years.
"I gotta be honest," Pinkett Smith said. "I think one of the things that I've realized is that I don't know Will at all." The star's mother, Adrienne Banfield Norris, pressed her to expand upon her unusual statement. (Norris and Pinkett Smith co-host the Facebook Watch series together, along with 19-year-old Willow Smith.)
"I feel like there's a layer that you get to: life gets busy and you create these stories in your head. And then you hold onto these stories and that is your idea of your partner. [But] that's not who your partner is." Here's what to know about the high-profile marriage between Will Smith and wife Jada Pinkett Smith.
They're Constantly Refreshing Their Relationship
Pinkett Smith further explained that this discovery is a positive thing for their relationship, because it's allowing the pair to really dig deep and get to know each other anew. It's been refreshing, she said, to go through "the process of having to dissolve all of those stories and the ideas of Will."
"This is intimacy," she said. "Just being able to get to who our loved ones are beyond that which we have perceived."
By that same token, she explained, the pair have also been getting to know themselves better, which she knows will only strengthen their relationship. "Will and I are in the process of him taking the time to learn to love himself, me taking the time to learn to love myself and us building a friendship along the way. Let me tell you, that's been something, to be married to somebody 20-some odd years and realize I don't know you and you don't know me and also realizing there's an aspect of yourself you don't know either."
They Are, Without a Doubt, "Life Partners"
Both Pinkett Smith and Smith have been vocal about their insistence on bucking tradition in favor of a deeper, more intimate relationship. In July 2018, Smith appeared on an interview with TIDAL's Rap Radar, and clarified that though he and Pinkett Smith have technically been married for upwards of two decades, they prefer not to call each other "husband" and "wife."
"We don't even say we're married anymore," he said at the time. "We refer to ourselves as 'life partners.' You get into that space where you realize you are literally with somebody for the rest of your life. There's no deal breakers. There's nothing she could do. Ever. Nothing that would break our relationship. She has my support [until] death, and it feels so good to get to that space."
One year later, Pinkett Smith echoed her life partner's sentiments, telling The Guardian, "I knew that I was not built for conventional marriage. Even the word 'wife': it's a golden cage, swallow the key. Even before I was married, I was like, 'That'll kill me.' And it damn near did! So why wouldn't you share what you've been through, when you see that other people are out there, trying to figure this crap out? We decided to make it public because it's part of the healing. I feel like if we don't have real understanding about it, I don't know if interpersonal relationships are possible."
Their Dynamic Is "Magic"
Even though their partnership may appear unconventional from an outsider's point of view, the foundation of their relationship is rock solid. Both Smith and Pinkett Smith have expressed gratitude and respect for one another over the years. They originally met on the set of The Fresh Prince of Bel-Air back in 1994, when Pinkett Smith auditioned for the part of Smith's on-screen girlfriend. She didn't ultimately get the part, but the pair kept in touch and started dating the following year, after Smith's then-wife Sheree Zampino Fletcher.
"I knew there was something in our energy that would be magic," the actor said on an episode of Pinkett Smith's "Red Table Talk" last year, adding how he knew Pinkett Smith "was the woman I was supposed to be with."
The pair married in December 1997 and have been one of Hollywood's most enduring relationships ever since. "When you see couples that have been together long … and you have that look between them, you just know," he told E! News last December. "If you haven't been with somebody that long, you just can't really say the thing where you get to that place. [It's] where you find the magic in the mundane, where you're not seeking the high stimulus and all of that ravaging, craving. It's just really simple and really easy, you know? It's certainly not what I pictured in my mind … what it's supposed to be. It's like, unconditional love is a whole lot harder and different than it looks in the movies.