Your Bridal Beauty Plan
From head to toe, what to do once a month, week, day -- and at least once -- to look positively radiant on your wedding day.
by Kate Wood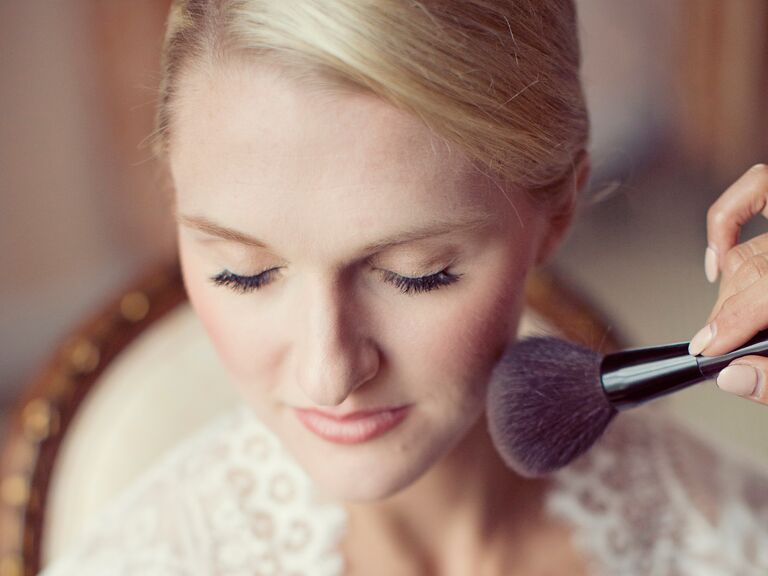 photo by
Sarah Kate Photography
Your Hair
Once a Month: Show your locks a little tenderness with a deep conditioning treatment. It'll help mend ends and fortify your strands while making them silky smooth -- and, come on, like you'll really mind just sitting still and doing nothing for 10 minutes! For stressed tresses, Paul Mitchell Hair Repair Treatment ($8.75) is just what the doctor ordered. Call (800) 321-JPMS to find a salon near you.
Once a Week: Give your hair a rest! All that drying, styling and, yes, even shampooing has been causing it some serious stress. If you feel you can't go even one day without at least a good scrub, use a shampoo that's formulated for frequent use, like L'Oréal VIVE Fresh-Shine Shampoo ($4); drugstores nationwide.
Once a Day: If you're a blow-dryer (or flatiron) junkie, protect your locks first. Matrix Biolage Fortifying Heat Styler ($13) adds shine and strength while controlling frizz. A dab'll do you when it comes to protecting your tender ends. Check out Matrix.com.
At Least Once: Get a trim to remove your dead ends and clean up your cut. If you do this only once, do it a week before your wedding. Worried your roots will be unwelcome wedding guests? Give them a quick touch-up with ColorMark ($20), an instant liquid hair color that bonds to hair in just a minute. With 12 shades to choose from, it's easy to meet your match. Call (888) 612-HAIR.

Your Face
Once a Month: This isn't for sensitive types, but for the rest of us, an at-home peel may be just the thing to clear out dead, dull skin cells, and make way for a radiant face. The key is to keep it moving -- work in a circular motion to cover your whole face, and don't focus on one spot for more than a few seconds. Skip the derm's office and try it yourself with Philosophy's DIY kit, Peel ($45); QVC.com.
Once a Week: Purge pores with a deep-cleaning mask. Choose the right formula for your face; an exfoliating mask that doubles as a scrub is ideal to slough off dry skin, while a clay-based mask will minimize pores and help reduce shine on oily complexions. Two to try: to eradicate flakes, Honey & Oat 3-in-1 Scrub Mask ($14); for an attack of the greasies, Tea Tree Oil Face Mask ($12). Both from The Body Shop.
Once a Day: Keeping your face clean is a no-brainer, but make sure you protect your investment with a good moisturizer. It's a must whether your skin's dry or oily. Look for a moisturizer that is formulated for your complexion and is at least SPF 15 (read the fine print too—you want broad UVA and UVB coverage). Sonia Kashuk Nourishing Face Cream SPF 15 ($12) is a good, basic lightweight moisturizer. Take special care around your eyes, where the skin is more delicate. Use a cream or gel that's made just for this sensitive skin, like Sonia Kashuk Hydro-Firm Eye Cream ($12), which will moisturize, brighten, and send your under-eye bags packing. Find them at Target.
At Least Once: Get a facial. A professional skin expert will be able to clean you up, clear you out, and also identify (and help troubleshoot) skin problems. So don't just lie there -- speak up, ask questions, and find out what you should add to (or skip) in your beauty routine, what kinds of ingredients you should be looking for to suit your skin type, and plenty of other insider info.

Your Body
Once a Month: Defuzz with a visit to your friendly neighborhood salon. To take some of the sting out of waxing, pop a pain reliever and drink a glass of water before you head out, and try to avoid scheduling services when you're premenstrual (you'll be way too tender). Want to take matters into your own hands? Try the Poetic Waxing Kit from Bliss ($40). It's got everything you need to do a professional job -- including tinted wax, so you can tell exactly where you applied it! Go to BlissWorld.com.
Once a Week: Say sayonara to scaly skin. Hop in the shower for some serious exfoliation. Clearing out dry, dead cells will help skin stay rejuvenated. Tutti Dolci Lemon Meringue Body Buff ($20) isn't just heaven-scent (think a dollop of heavy cream with some citrusy zest) -- it's also a hard-working body polisher. You'll be glowing in no time. Bath & Body Works.
Once a Day: Keep your glow going with a daily head-to-toe lotion rubdown. During the warmer months, look for a lighter formula that's spiked with an SPF of at least 15. In winter, fight dryness with a megamoisturizer like Mark Self Sanctuary Body Butter ($7). (Bonus: It comes in yummy fragrances like grapefruit ginger.) Visit MeetMark.com.
At Least Once: Hit the spa. A little posh pampering is ultrarelaxing, and there are some beauty routines (like a back facial or a full Brazilian waxing) that you just can't DIY. Indulge yourself with at least one tempting treatment -- you won't regret it.

Your Hands & Feet
Once a Month: Get a professional manicure and pedicure to ensure your hands and feet look great. Plus (bonus!) you'll always be prepared to show off your engagement ring. You'll feel especially wedding-ready in a classic pale pink like Essie's Flower Girl, a superpale pastel ($8); or Orly's Lift the Veil, a pinker polish ($6.50). For Essie products call (800) 232-1155; for Orly, call (800) 275-1111.
Once a Week: Show those tootsies some tough love. Slough off any dead or dry skin with a foot scrub like Sally Hansen Smoothing Foot Scrub ($6). This callus blaster will eliminate any rough spots and leave your feet totally sandal- worthy. Available at drugstores nationwide.
Once a Day: Make a habit of hand cream. Even if your hands aren't dryness-prone, a little deluxe treatment for your digits can't hurt. Tuck a tube of it in your purse. American Beauty Double Hydrating Hand Treatment ($14) is supernourishing, plus it boasts mulberry root and grape extract to even out skin tone. Find it at Kohl's.
At Least Once: Yes, it's kind of creepy -- and definitely squishy. But spending the night deep moisturizing your hands and feet (inside socks and gloves) will enrich your skin and leave it unbelievably moist. Take out some of the ick factor by picking up a product just for this purpose, like True Blue Spa Beauty Booties Moisturizing Gel Socks and Beauty Queen Wave Moisturizing Gel Gloves ($38 each); Bath & Body Works. See, once is enough!