Home

Bridal Reflections
About this Vendor
Bridal Reflections
Bridal Reflections has been assisting brides and their families for 40 years. We offer some of the world's foremost designers in bridal and evening wear. Our professional bridal consultants and world-class seamstresses are experts at making every bride look and feel as special as the moment!
Details
Bridesmaid Dresses, Flower Girl Dresses, Mother of the Bride Dresses, Shower + Party Dresses, Wedding Dresses, Dresses, Alterations, Bridal Stylists, Custom Designs, Dry Cleaning + Preservation, Private Appointments Available, Fashion Services, Fashion
Contact Info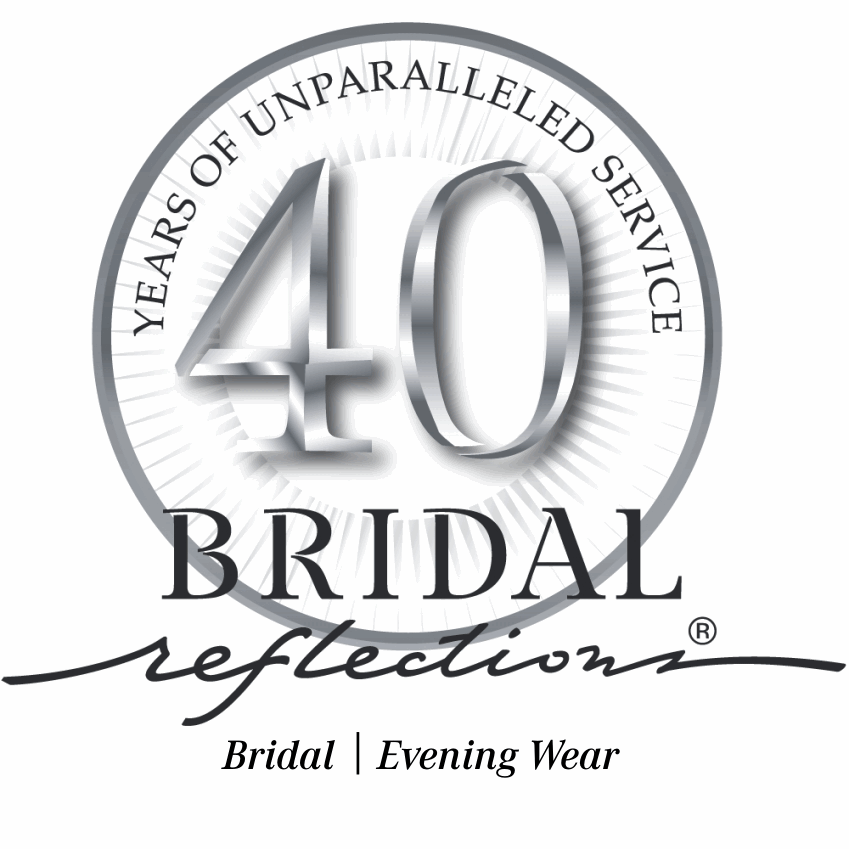 80 Westbury Ave, Carle Place, NY
LOVE BRIDAL REFLECTIONS!
Reviewed on

12/28/2013
Laura A
Bridal Reflections in Massapequa was the first and only place I looked for my dress! I did my research and knew they carried the designers that I wanted to try, and ended up buying the third dress I ever put on! The sales associate was not pushy and really listened to what I wanted in the way of style and look of the dress. I ended up buying the Maggie Sottero Phillipa with the corset back in ivory. I LOVED my dress and working with the ladies at Bridal Reflections. We were all so pleased with my experience, that my mother, her twin sister, my bridesmaids and flower girls all got their dresses from them too! We all felt very comfortable with the seamstresses and they tailored each dress to each individual. I had no problems with alterations and my dress came in in a timely manner. I would highly recommend Bridal Reflections to any bride or bridal party!
---
Fantastic Bridal Store!!
Reviewed on

12/02/2013
Pamela Z
I Absolutely loved my Ines Des Santos gown from Bridal Reflections! I loved me sales person, loved all the girls who help during the fittings and loved my seamstress Emilia! :) Gown fit perfectly, store was nice, experienced, accommodating and highly professional! I highly recommend them to any bride!! They have a large selection, in a range of styles and prices
---
MASSAPEQUA, NY LOCATION MADE ME BEAUTIFUL
Reviewed on

9/20/2012
Lisa M
AS A PLUS SIZED BRIDE, I WAS EXTREMELY NERVOUS ABOUT SHOPPING FOR A WEDDING DRESS. NICOLE AT BRIDAL REFLECTIONS IN MASSAPEQUA, NY MADE ME FEEL WELCOME AND BEAUTIFUL. SHE FOUND THE MOST FLATTERING DRESS FOR ME ON MY FIRST VISIT. I DIDN'T COMMIT BECAUSE I WANTED TO TRY ANOTHER SHOP. THEY WERE GOOD TOO BUT, THE DRESS I LOVED WAS AT BRIDAL REFLECTIONS. AND BECAUSE OF NICOLE'S CARING AND WARM NATURE, I WAS SOLD. THERE WAS NO PRESSURE EVER. ALSO ALL MY FITTINGS WERE PERFECT. ZIZI IS A GREAT SEAMSTRESS. THERE WERE NO SURPISE CHARGES. NOT ONLY DID EVERYONE SAY I LOOKED BEAUTIFUL ON MY WEDDING DAY BUT I FELT BEAUTIFUL. AND ALL THANKS TO BRIDAL RELECTIONS IN MASSAPEQUA, NY.
---
Reviewed on

6/10/2015
Nicole W
The selection at this salon was amazing and the employees were wonderful !! Ask for Jackie as your bridal consultant, she was the best !!
---
Reviewed on

5/26/2015
kara s
I bought my bridal gown at Bridal Reflections and i couldn't have been any happier with my purchase. Aside from the friendly staff and knowledgeable workers, the dress I got was stunning!! I went a few times to try on dresses before I finally purchased one and the girls never rushed me or made me feel like I had to make a purchase or I was unwelcome. The bridal attendants really cared about finding me the perfect dress I wanted and ultimately did! My dress was stunning and the price was not astronomical. Additionally, they were nice enough to tell me when the designer of my dress was having a trunk show and I was able to get an additional 10% off. I would recommend Bridal Reflections on a whole to brides looking for their dream dress. I did visit all 3 locations and did have a pleasant experience at each. However, I wound up going with the Carle Place location because the people at that location were truly exceptional. The seamstress I had was so involved in my fittings that she felt more like a member of the family then a worker. To sun it up, I did visit other bridal salons like Kleinfelds and I found that they were all lacking in comparison to Bridal Reflections. I would recommend Bridal Reflections a million times over!!
---
Horrible experience!!
Reviewed on

1/03/2015
Marisa T
olute horror. Worst experience I have ever had. I am going to be my sisters Maid of Honor and had come here with my sister (the bride), mother, future mother of the bride, and future sister in law of the bride. We decided to look at some dresses for my mother and future mother in law, the lady who worked in the department had told us that we should check out other dresses first, because the section we were in was more expensive. After this, we were given a lady who was about 85 years old, had no clue what she was doing, and kept stating that nothing would fit the bride. Everyone in this location (Carle Place) were unfriendly and horrible. They made the bride feel completely uncomfortable which is the worst part. Please do not ever shop here. Take your money elsewhere.
---
Please do not use this salon
Reviewed on

10/25/2014
Gina C
I loved my wedding dress but that's the only thing about bridal reflections that I liked. My entire experience at the massapequa salon was miserable. The staff was rude they always made me wait and changed my appointments all the time. The steams tress was always rude and always had excuses why she was late. My bustle was done sloppy and dragged on the floor all night.mi was very unhappy with my entire experience!!! I would never let anyone I know go there.
---
Beautiful dresses!
Reviewed on

10/21/2014
Amanda P
I got my dress at Bridal Reflections, it was absolutely beautiful. They were able to work with the dress designer so that I can have a one of a kind dream dress! It was perfect! When it came time to scheduling fitting appointments, it was at time difficult because appointments book up quickly...try to make an appointment ASAP. The woman who fitted my dress made a few mistakes but was able to correct them, after some issues it ended up coming together perfectly. I love my dress!
---
Convenience
Reviewed on

9/28/2014
Shari M
I had my bridesmaids dress style picked out before coming to BR and picked out the colors at the shop. I chose them because of their multiple locations which allowed for convenience for my bridal party. There was nothing above and beyond in the service but also nothing which disappointed me.
---
Nice gown, great seamstress
Reviewed on

9/19/2014
Kristen F
Gown was great but accessories were expensive. Staff didn't properly inform us of bustle charge but honored our price anyway. Seamstress does amazing work and is very nice!
---
wonderful to work with!
Reviewed on

9/18/2014
Liliana F
I went to the bridal reflections in massapequa and they were amazing, always willing to help and on point with everything. Loved the experience.
---
Wonderful!
Reviewed on

9/09/2014
Katlyn R
I got my seven bridesmaids dresses and two junior bridesmaids dresses at the Massapequa store. The dresses were beautiful and the service is absolutely impeccable. The girls working the front desk are so helpful and on top of everything, and the seamstresses are tough but they really know their work. Every dress came out perfectly! They also added on a sash for my Matron of Honor that we had purchased from Etsy. I even had two cousins come from Germany and they only arrived two days before the wedding and Bridal Reflections did all their alterations within hours, no problem at all. Would definitely recommend!
---
Excellent!
Reviewed on

7/04/2014
Nicole C
I recently got married two weeks ago on June 21st 2014 and I went to the massapequa location to find my wedding dress, flower girl dresses, and bridesmaid dresses. Everyone who works there is so friendly and I worked with Nicole in bridal. She made all my dreams become reality. We picked out 5 dresses to first start trying on and I knew after trying on the 3rd dress it was my dress. Nicole is so professional and made the whole trying on dresses experience wonderful. She also helped me pick out the perfect veil, headpiece, and earrings. Nicole is so sweet and I can't thank her enough and bridal reflections for all there help! }
---
Stunning bridesmaid dresses
Reviewed on

6/16/2014
Dorothy C
I used Bridal Reflections for my Bridesmaid dresses. They were very easy to work with and accommodated several group appointments. The dresses were stunning and the place itself is very nice. I cannot comment on their alterations because we used our own personal seamstress. I used the Massapequa location.
---
Wonderful
Reviewed on

6/11/2014
Hannah B
I have gone here for bridesmaid dresses in the past and have had a wonderful experience on three different occasions
---
Must use the store in Massapequa!
Reviewed on

6/10/2014
Kimberly S
The people at carle place are rude and the store is messy and overwhelming. At massapequa they are absolutely wonderful! They lowered the price of my dress to work with my budget. The seamstress had a bit of a poor bedside manner at first but she warmed up and did such amazing work it didn't even matter!
---
Beautiful dresses
Reviewed on

6/10/2014
Melissa D
I went to bridal reflections in Massapequa. The service was excellent, I had a wonderful attendant who really helped me find the perfect dress and the alterations were perfect.
---
Don't use them!
Reviewed on

5/22/2014
Cari C
We had nothing but problems, from them "misplacing papers" to butchering some dresses. Every one of my bridesmaids that had their alterations done there had a problem, one dress was so butchered it looked nothing like the original dress and their answer was "well theres nothing we can do now, we already cut it". One bridesmaid was given her dress to try on after alterations, that very clearly had a rip in it. They weren't going to fix it, they said there was nothing else to do, and not to mention it was falling down! There was magically something to be done when my bridesmaid was getting upset and other customers could hear her. They are lazy and don't want to be bothered with alterations. Do not get any dresses there! Im hearing more and more people having problems there.
---
Disaster
Reviewed on

4/26/2014
Maura G
Do not buy your dress here! They ripped my dress and tried to blame the manufacturer....had to order me a dress one month before my wedding.
---
Stay far away from these crooks
Reviewed on

1/08/2014
angela p
When I think about my wedding planning process, I think of fun, laid back, special moments, that i will never forget. Until I think of the nightmare i dealt with at bridal reflections in carle place. I got married this past November 23rd, purchased the dress last april. I knew the dress i wanted so i literally tried on 2 dresses, knew I wanted my dress, and was in and out in an hour. That was the first appointment. THEN the problems started. They had also recommended a belt to put on the dress which i fell in love with. Didn't know it was $600 and pushed the total price over my budget, but i was ok with that because i loved it. They also told me that the dress AND belt would be in by the end of september (belt didn't come in till 2 nights before my wedding). I am 5'1, 106 pounds. Been that since high school, never changed. I am very petite and I have a small chest. . When they took my measurements, they said that with the brand of my dress, and the size of my hips, i would need a size 8. As my mouth dropped, they said if i ordered a different size, it was at my own risk and if it didn't fit, they would not help me in any way. Clearly, that wasn't a risk i was willing to take. Now, I know these dresses run VERY small, but lets get real- Im a size 0!! Maybe a 2 when I'm bloated. I was nervous so i trusted their judgement. The dress came in in september, on time, not the belt though. I put the dress on, and mine and the alterations ladys face dropped. she said "is this the wrong dress?? why is it so big on you??". I was SWIMMING in it. The alteration lady was SO sweet and so good at her job. She said "I'm going to have to cut a LOT of this dress, and practically make a new one". WHen i went to the front desk, they informed me that my total cost for alterations would be $650 (on top of the price of my dress)!!! So i had to pay for them ordering 8 sizes too big. We asked them why they did that, but i didn't want to fight with the people who had my wedding dress in their hands. Overall, it was a very frustrating experience. I had to have 5 fittings (the seamstress said so) and there was so much work done on this dress. One week before my wedding the belt still wasn't in, so they brought out a box and said "here it is, we couldn't find it". It was a totally different belt. The place is a disaster. They have lost a lot of business because i tell ALL of my clients who are getting married about my experience. They are crooks, and they WILL do it to anyone they can. I don't know about the other locations, but I'm sure its a little trick they all pull!! Be smart ladies!!
---
Great sales team, Awful post-sale experience
Reviewed on

11/24/2013
Jen S
When shopping for my gown, Christina was our sales person and she was amazing. She helped me find exactly what I was looking for in my budget range. All of the issues starting during the fitting process. In the end, the seamstress (Zizi) did what I wanted and the dress came out amazing. However, her demeanor and tone were very unpleasant and everything was an argument. It was a very negative experience. I would not recommend getting your dress altered here.
---
Beautiful dress but ...
Reviewed on

11/05/2013
Mary M
Most importantly I found the dress of my dreams here! The saleswoman picked out 3 dresses for me and the third dress legit brought tears to mine and my mom's eyes. After that not so great- they are very limited with times for fittings- because they have 1 woman doing all the fittings- she did do a great job though. It was just very difficult for me, as a "9 to 5er" to get an appointment especially since they don't do any fittings on the weekends. But almost everyone was nice and pleasant there.
---
Wonderful fun experience!
Reviewed on

10/28/2013
Lori E
Vicki was absolutely amazing she was so easy to work with and my family and I had a great time working with her. She helped me pick the perfect dress for my special day. Wonderful clean store with a helpful staff.
---
Loved my dress!
Reviewed on

10/22/2013
Kelly-Ann K
Every girl says that they love their dress and it was the same for me. I loved my gown. The service here was great! Ally was my consultant when shopping and she made it a wonderful experience. One of the first dresses she pulled for me to try on was the one I purchased. She accessorized my look with the perfect matching veil too. She was very helpful in my shopping experience. Bridal Reflections was the last store I went to out of 4 shops and by far was the best experience! The alterations department is top notch! My gown fit like a glove!
---
A wonderful experience
Reviewed on

10/21/2013
Jenna S
Everyone at Bridal Reflections made the dress shopping (and eventually fittings) a fabulous process. While I was dreading this process, Vicki, one of the bridal consultants was awesome. When I told her what I wanted, she went to pick out a special dress for me- and it was the one I picked. The seamstress Emilia took a late lunch to squeeze me in for a third fitting. Everyone was so accommodating and they have a great selection of dresses. I would recommend this place, just book early for Saturday appointments.
---
Send Message