Home

Washington Athletic Club
About this Vendor
Elegant. Personalized. Timeless.
From leisurely gatherings to grand celebrations, an unforgettable event calls for an unforgettable setting. Be swept away under exquisite chandeliers by the timeless grandeur of our Crystal Ballroom, the intimacy of our Lobby Lounge or Puget Sound and city skyline views at the top.
Amenities + Details
Amenities
Handicap Accessible

Liability Insurance

On-Site Accommodations

Indoor

Reception Area
For more details about amenities, please message the Venue.
Ballroom, Country Club, Historic Venue, Hotel, Restaurant
Bar + Drinks, Cakes + Desserts, Food + Catering, Rentals + Equipment, Service Staff
Contact Info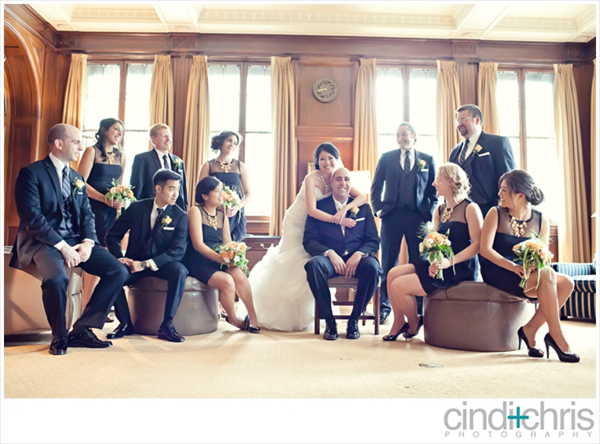 1325 Sixth Avenue, Seattle, WA
Wedding Gem!
Reviewed on

7/03/2013
Jody W
To say that the Washington Athletic Club provided the backdrop to our dream wedding is an understatement. We were treated like honored guests the moment we stepped through the doors, and the royal treatment continued throughout our entire wedding experience. When we were searching for a downtown Seattle location to have our 120 guest wedding, we were shocked at the prices other venues were charging. We chose the WAC because they didn't have the hefty add-on prices that other venues were charging AND, most importantly, we didn't have to sacrifice in location, beauty, service, or the late night snacks! We also really liked how the wedding packages were customizable to our personal preference. With the WAC, we were able to have it all – a gorgeous ballroom with crystal chandeliers, a lounge with a grand piano and Chihuly glass on display, stunning hotel suites with balcony views of downtown Seattle, and ample guest parking. The WAC even made our very delicious wedding cake, which was included in our package – meaning one less vendor to work with (and pay for)! We also opted to have a second (groom's) cake made by the WAC's partnered cake vendor. This meant that we could have a fun, whimsical second cake without paying the delivery or cake cutting fee, which was a nice bonus! Our wedding coordinator, Rebekah King, was excellent in understanding all of our wedding details and sat down with staff to make sure they all understood exactly what we wanted. She listened to all of our ideas and worked with us to figure out what would be the best. She also provided space for the groomsmen and bridesmaids to get ready in on the morning of the wedding and she also provided us with a gorgeous suite for us on our wedding night. Rebekah was very responsive to emails throughout the planning process and was a superstar on the day of the wedding, swiftly taking care of the details and the wedding party, all while staying behind-the-scenes. The groomsmen liked her so much that they nicknamed her "W.C." (short for wedding coordinator, of course!). Our guests raved about our wedding at the WAC – they loved the classic venue, the quality service, and the delicious food and wine. I could go on and on, but I think you get the point. The WAC makes elegant weddings so effortless; it truly is a bridal gem in Seattle and we are so happy we chose to have our special day here!
---
Gorgeous venue, amazing food, incredible service! Best wedding venue ever!
Reviewed on

7/01/2013
Melissa P
We had our wedding and reception at the Washington Athletic Club on January 12, 2013. We initially had this and the Arctic Club Hotel on our list of venues as top two. We walked into the Crystal Ballroom and immediately knew that the WAC was it. Through the entire process of planning, the staff at the WAC was phenomenal! Every time we communicated with them via email, phone or in person we were constantly "wow-ed"! They went above and beyond every single time! I had a cake design that I drew out and they said they had never done one like it but that they would take time to work out the details and make it happen, and they did! The cake was BEAUTIFUL and tasted AMAZING! Our menu tasting and selection was divine, everyone is STILL raving about the food! They provided so much! Not only were they a perfect venue for amenities and beauty, but my family flew in the week of the wedding and stayed at a discounted rate in their hotel rooms with zero complaints! The WAC had places for everyone to eat, work out and enjoy themselves, plus it is located in an area where they got to easily walk to the SAM etc. They also had us stay in one of their gorgeous suites for the wedding, which was just incredible! I stayed the night before with the girls, and then just me and my husband the night of the wedding. When we walked into our room that night, they had even left two gifts on the coffee table for us! A beautiful crystal vase, some champaign and champaign glasses! I absolutely NEVER expected that! My mom is gluten free and lactose free, and they made every single accomodation for her and were completely gracious the entire time! The staff was phenomenal the entire event, we even had our own waiter at the head table! I just am floored by how amazing the WAC was. We definetely picked the PERFECT venue. Bottom line- if you are considering having your wedding here....DO! You will never come across a more perfect, gracious, helpful, generous, and beautiful location and staff! We absolutely LOVE the WAC and plan on spending our one year anniversary in one of their suites :) seriously. Hands down THE BEST!!! Thank you Washington Athletic Club for the most amazing wedding ever! You made our dreams come true, and then some! :)
---
The best service imaginable
Reviewed on

10/26/2011
Eugenia L
Jessie, the coordinator, was the best! We couldn't have pulled this off without her ... she was incredibly patient, kind, informative, and made everything we wanted happen! Plus, the staff were so attentive and the food was utterly delicious! I would highly recommend everyone to get married at this venue!
---
Reviewed on

7/20/2015
Alisa D
We fell in love with this venue the moment we saw the crystal ballroom! We originally worked with Rebekah King, catering manager, who later left the WAC for a different position. We then worked with catering manger Renee Brussard and she was beyond exceptional--making sure everything ran seamlessly during our wedding. We only have positive things to say about the WAC's catering/banquet team--very professional. We didn't get the name of the older gentleman, who makes sure the food is on time, but he is a true asset to The WAC. He provided excellent service during our food tasting and during our wedding. The WAC took care of all the food, drinks, and cake as part of the package, so we didn't have to worry about different vendors. All of our guests complimented the chef's food, which is amazing, because our family are very picky eaters. Our 5 layered wedding cake was amazing as well, many of the guests complimented the cake even weeks after our wedding. The WAC also gave us an option to customize every single layer of the cake and provided us 3 choices of cake stands to borrow if needed. The only negative thing I would say about The WAC is the reservations/front desk dept. We were informed by two of our guests that they never heard back from reservation when trying to book a room. We also had a negative encounter with Chris Ramos, the night time front desk manager, who was awful to us when we informed him that we could not access our room after the wedding. Overall, if we had a chance to "re-do" our wedding, we would still choose The WAC and Renee's team! The service from Don, the bellman, is also excellent. Worth every penny!
---
Disheartening
Reviewed on

10/10/2014
I booked a wedding through the WAC in early January for December of that same year. In early April, my [now] husband's father was given 6 months to live. Upon learning of this devastating news, we made the difficult decision to cancel our upcoming wedding at the WAC for that December. There was simply no way we could put his family through such a large wedding during such an emotional time. Considering the situation, we were shocked when the WAC staff refused to grant a full refund; thus, keeping nearly $3,000 of our deposit. After my father -in-law passed away that August, I contacted their VP of food & beverage to explain all of the information in hopes of their reconsideration. He replied via email stating that, "The prospects are not looking strong that we will book an event for that December date and thus release you from your contractual obligation… we will be upholding the terms of the contract and your remaining deposit will not be refundable." I understand that we were under contract but their lack of sensitivity was disheartening under an already difficult time.
---
Beautiful place! Great service!
Reviewed on

10/13/2013
Erin C
I am so happy with the service I received! The Staff were very attentive to my needs the day of and were very professional! Rebekah is great to work with she was super helpful during the planning process. The venue is so beautiful! The crystal ballroom took my breath away! WAC is a great place! I am very happy with how everything turned!
---
Elegant Seattle Wedding Venue with Exceptional Service
Reviewed on

9/02/2013
Katie N
We were so happy that we selected the Washington Athletic Club for our wedding reception venue. It provided the perfect combination of elegance and affordability, all in a desirable downtown Seattle location which was a must for us. The WAC provided an all-inclusive wedding package that made planning from afar easy and enjoyable. The WAC staff and Event Manager, Rebekah King, were incredibly easy to work with and listened to what we were looking for while providing helpful suggestions. We were able to customize the WAC wedding package to fit our specific needs. The WAC staff was also extremely professional and always responded to emails and phone calls right away, and were also very accommodating with our schedule when setting up appointments with them. We loved the atmosphere that the entire WAC provided. From the cocktail hour in the Johnson Lobby Lounge to the stunning Crystal Ballroom – we wouldn't have changed a thing! I also LOVED the wedding cake. It was beautiful and tasted delicious (all done through WAC catering). An added bonus was definitely the Elliott Bay Suite. It was the perfect place for outdoor wedding photos with a gorgeous Seattle backdrop. We were also able to reserve a block or rooms for our guests at the Inn at the WAC. I would highly recommend the WAC to any bride looking for a classic and elegant wedding venue with first class service and the convenience of customizable inclusive wedding packages.
---
Above and beyond all my expectations!
Reviewed on

8/23/2013
Alison G
If you are looking for the perfect wedding venue in Seattle, look no further than the Washington Athletic Club. Our experience there was absolutely incredible and exceeded all of my expectations. From the moment we began working with the WAC, it was clear they were different from the other wedding venues that we had spoken with. Their team allowed us to customize every little detail of our 150-person wedding to make it our own, without extra charges for any of it. Whenever I had a request that I thought would be a challenge or something that would cost more, the response was always "Absolutely - no problem!" Our wedding coordinator, Rick Cardona, was incredible. He was so thorough and on top of things - he made the planning process stress-free! The day of the wedding went off without a hitch. I kept waiting for something to go wrong, but nothing did at all. We had a great time and so did all of our guests. We received wonderful feedback from all of our guests about the quality of the service, the tasty food, and the beautiful setting. I give the WAC my highest recommendation to anyone looking to get married in Seattle. The venue is absolutely beautiful and the people are better than you can imagine! We couldn't have made a better choice for our special day!
---
Beautiful
Reviewed on

7/11/2013
Melissa B
We just had our wedding at the WAC and it was simply stunning. The Crystal Ballroom was beautiful and we got so many compliments about our entire wedding reception including food, venue and service. The ballroom is beautiful on it's own. We brought very little decorations to the venue because it simply wasn't needed. The in house event coordinator Rebekah was incredible. Everything went smoothly because of her. The food was amazing as well as the cake. For an all-inclusive downtown Seattle venue, the price and quality is likely unbeatable.
---
The WAC! guaranteed to make your wedding day stress free.
Reviewed on

7/10/2013
Julie Z
The WAC, in all it's old Seattle feel, was the perfect spot for my reception. All the planning was with Amanda Schwanitz and I could not have been more pleased with her! Amanda was always responsive to my questions, helped me with ideas, and worked within our budget. But the best part? On the day of the wedding, I had full faith in her to make decisions without running them by me. And when Amanda snuck me into the ballroom before all the guests filled it up, I was delighted! It looked exactly as I pictured. The food was outstanding. Feeding 230 guests can be tricky, but everyone I talked to said their salmon (or chicken) was perfect. They took care of me, my groom, my wedding party, my parents & grandparents like royalty! All special requests were met (and our signature cocktail was a huge hit!). In the days before & after the wedding, guests kept coming up to me saying how much they love the WAC (we had heaps of out of towners). ALL STAFF at the WAC were incredible. If I could throw another large party, I'd do it at the WAC in a heartbeat. (and the wedding suite....amazing. didn't want to leave....)
---
Extraordinary Weddings
Reviewed on

7/03/2013
Nicole L
If you want the perfect wedding that costs WAY too much, the WAC can give it to you for what you can afford. Stop looking, put all other venues on hold and go to the WAC. The gold filigree box stops here ladies and gentleman, if you want perfect assistance, dazzling smiles, valuable experience, a timeless venue, mouthwatering meals and delectable deserts....this is it. The moment you step out of your car, door opened by a broad-smile, incredible doorman, you can casually hand your keys to the attentive gentleman who safely whisk your car into a covered and secure parking garage. The man at the counter who takes your name, will know exactly who you are looking for and you wait for barely a moment for one of the wonderful women who will plan every detail of your wedding...if you need. And believe me, no matter who it is, picky or worried, hair standing on end, mascara down your face, crazy moms, groom who doesn't really care, whatever, they can handle it, and they will take care of whatever you need. They will open the restaurant that is closed. They will let your men play pool in a very masculine lounge when you take hours to get ready. They have the sweet get away spa for massages, hair, nails, makeup, these ladies are practically certified psychologists with their calming, voodoo-like voices that make you feel like your special day will be a breeze. And trust me it will. If something goes wrong, if you notice, which you most likely wont, they have it. They know the vendors, they will give you whatever you need, if you forget something, they have it. If you need something, they get it. AMANDA IS A GOD. Go get her! Your photographer practically has free reign to get whatever shots he needs. I didn't even mention that if you have a certain number of guests (which you almost definitely will) you get a FREE suite for your wedding night? Stop reading, just go, go look a the suite, the ballroom, the library, the artwork, the beautiful lobby. Get married on the stairs because other venues don't even compare to that photo opportunity. One thing, get a permit if you want to take pictures across the street, their is a GORGEOUS park, but your photographer needs ahead of time permission. There is nothing like the WAC, and we looked EVERYWHERE, yes ladies, I am one of those, and this is definitely the go-to venue.
---
A Dream Come True
Reviewed on

7/01/2013
Trina L
When my husband and I set out to find our venue, we didn't have to search for far since my eye was already set on the WAC from a recommendation of a colleague who was getting married there in September (thanks Kathy S. !!!) When we got there for our first look, i instantly fell in love with the place. From the first moment the bellhop opened the door for us, to wow factor of the chandeliers in the Crystal Ballroom. I knew then that this was the place for us. We had our reception in the Crystal Ballroom, and everyone that night from our families and friends to the staff at the WAC made it a dream wedding come true for us. We love the collaboration between the catering staff and my husband and I. They were always readily there to help us with whatever they can accommodate, to booking hotel rooms for us, helping set up our table decorations and settings, to setting up the party favors, and piano for our first dance. Anything that we needed, Rebekah and her staff were ready to help us out. If they could not, they would provide us with a resource to do so. That is how we found our photographer and videographers (which we loved as well). Our families and guests cannot stop talking about the food and services that were provided that night. The crab bisque was smooth and to die for! my mother who American food hard to eat, loved it! The stead and halibut was cook to perfection and presented just like a piece of art. The cake was the crown to top it all off. We had alternate layers and flavors of cake and our guests could not stop eating it. The drinks were amazing! We had three separate special drinks set aside for our guests to choose from if they don't know what they want, and there were so delicious! The service provided from the staff was phenomenal. They had appetizers and drinks ready for my husband and i and our bridal party in a separate room nearby and made sure that we are not hungry and dehydrated. The staff made sure that we were comfortable and are very professional, respectful and outright helpful to our guests. After the reception, so many of guests raved and complimented the food and services that were provided to us. To top it off, my husband and I spent two nights in the Elliot Bay Suite with sweeping views of Downtown from the ginormous deck! it was a beautiful way to start our life together. Thank you WAC for all your hard work and those beautiful gifts on our wedding day. We thoroughly enjoyed and will treasure them and will be forever grateful to the Washington Athletic Club.
---
Absolutely Perfect
Reviewed on

6/26/2013
Aja T
The WAC was the second place we looked at but we knew right when we walked in that it was perfect. It's got beautiful architecture,and the people there are so friendly and willing to help. It looks expensive but it's only as expensive as you want it to be (plus their minimum). Everything was just beautiful. The food was spectacular, and the fact that they provide food saved us the worry of finding a caterer. They provide tables, chairs, linens, a dance floor, simple center pieces (ones you can see people over) and almost anything else you might need, though you are certainly able to provide your own. We went with all of their house items and it was just beautiful. We knew it was going to be a nice wedding, but we didn't know just how nice. Amanda (the woman who was in charge of my file or whatever you call it) was just great and experienced. It was just so spectacular. Everyone told us they loved it. I highly recommend this place for anyone having a wedding in the Seattle area, or even outside of it! I just cannot stress enough how wonderful it all was. You would be surprised just how great it is. We got a night in one of their suites free, too. Seriously, just perfect. There are no words.
---
Simply perfect!
Reviewed on

10/08/2012
Kathryn S
After attending many many weddings over the past few years, my husband and I knew exactly what we wanted in a venue. The Washington Athletic Club not only met our expectations, but surpassed them! Not only were we impressed, but our guests could not stop raving about how welcomed they felt by each WAC employee, the elegance of the facilities, and the impeccable food. We held our cocktail hour in the Noble Room, and had guests move to the Crystal Ballroom for the reception. When guest walked into the ballroom their jaws dropped on how classic, elegant, and romantic it felt. My family could not stop talking about how delicious the food was, from the crab bique to the end of the night sliders. Both the salmon and steak were cooked to perfection. The location of the WAC was also perfect! Out of town guests were able to spend the weekend in beautiful rooms, utilize the facilities, and spend time in Downtown Seattle. They did not want to leave! The Washington Athletic Club also served to provide an all-inclusive wedding weekend. They took care of parking for our guests, luxurious hotel rooms, and all the details a bride could only dream of. They took care of the cake, menu cards, setting up the tables, linens, storage, security of gifts, lighting, sound system, projectors, dance floor, optimal seating arrangement, and overall unforgettable experience. Rick Cardona upholds a standard of service that our photographers and florist have never seen. Rick made sure no small detail was overlooked, he kept in touch with us constantly, and he made us feel loved and welcomed.Rick became a part of our family celebration, and was even called Uncle Rick by the end of the night. We could not have found a more perfect wedding venue, and we are extremly grateful for the amazing people at the Washington Athletic Club.
---
Amazing Service
Reviewed on

7/11/2012
Danielle K
We booked the Crystal Ballroom for a beautiful June wedding. Olivia, our catering/events contact was a gem. Helpful every step of the way and really went the extra mile to ensure everything was perfect. The only downside? Beware of fees, fees to use the wireless mic, fees for an ipod hookup, cake cutting fees, etc. quickly add up. Totally worth it though. Would do it again in a heartbeat.
---
Great venue that takes care of everything
Reviewed on

10/04/2011
Angela K
The Washington Athletic Club was a great place to have our ceremony and reception. We had our ceremony in the Lobby Lounge, and it was a pretty room with Dale Chihuly glas artwork displayed. We had our reception in the Crystal Ballroom, and it was absolutely gorgeous! The three giant crystal chandeliers and the decor gave it a "European ballroom" feel. Our guests were definitely wowed when they entered the ballroom. The catering and banquet department were awesome. They were very knowledgeable, helpful, understanding, and patient. They helped fill in the little details that I had forgotten or overlooked. The food was exceptional, and our guests really enjoyed the food--especially the ice cream sundae bar. We were even provided a suite at the the Inn on the night of the wedding which was a great bonus! If you want to save yourself the hassle of finding and working with multiple vendors, I would definitely consider the W.A.C. They take care of everything, so you can focus on the other aspects of the wedding. They provide: ceremony and reception rooms, catering, wedding cupcakes and/or cakes, setup, clean up, tables, chairs, glassware, utensils, and etc. There's also valet parking, which was extremely nice especially since I had my hands full. The only snag, which was a VERY small snag, was finding a room to get ready in. They don't provide you with a room to get ready in, but you can ask for early check-in to your suite that's provided to get ready there. That's what I did, and the guys got ready in one of the groomsmen's room.
---
Wedding
Reviewed on

3/29/2011
C G
Great place !
---
nice
Reviewed on

3/27/2011
Lenora S
Attended a wedding reception here. The food was good and the setting was old school nice.
---
Beautiful elegance
Reviewed on

2/01/2011
Stephanie S
The wedding I was in here was extremely well done, the decore was imaculate and the food was superb. The only thing that kept me from a 5 star rating was the price, everything down to the details of hair, make-up and eye brow waxing was super expensive. But the day was very well done, the rooms accomodated the whole bridal party nicely while we were getting ready and everything was readily available so that we did not have to worry about leaving the ground to get everything done for the day.
---
Send Message