Ring in the Roaring Twenties with a 1920's Inspired Wedding Dress
These 23 picks offer sequins, fringe and all that jazz.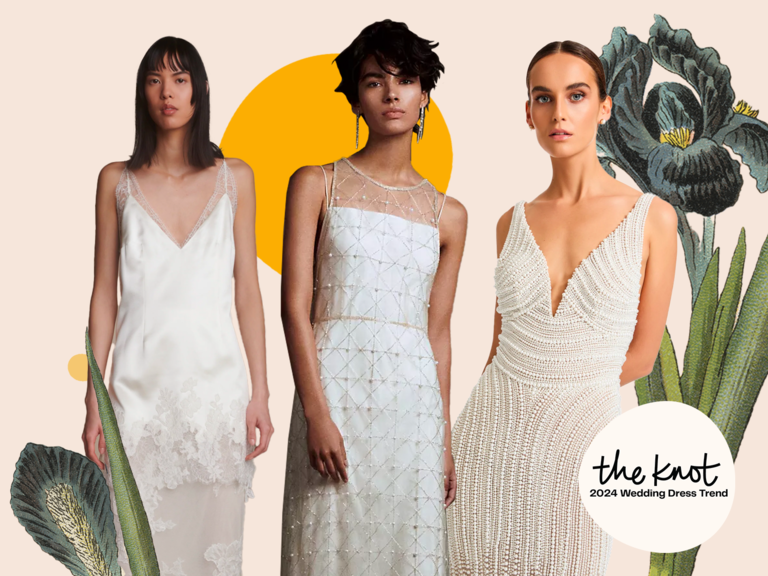 Photos: Danielle Frankel, Anthropologie, KYHA,Design: TIana Crispino
We have included third party products to help you navigate and enjoy life's biggest moments. Purchases made through links on this page may earn us a commission.
The Twenties are upon us once again, and the great news for vintage-obsessed brides is that there's never been a better time to shop for a 1920s wedding dress. This spring at New York Bridal Fashion Week, brands like Danielle Frankel and Esé Azénabor took us back in time by showcasing designs reminiscent of the Jazz Age. Gowns featuring Art Deco detailing, sequins and fringe brought the era of opulence and glamor back to life—and we're predicting this trend will soon be roaring its way through 2024.
It's no mystery why these century-old styles are having a major revival right now. The 1920s 'flapper', is a lot like the modern bride. Both are known for their desire to defy tradition and make their own rules. One thing's for sure: no matter what century you're in, there's no better way to make a statement than with a bit of glam. Keep reading to discover 23 of our favorite wedding dresses inspired by the Roaring Twenties. Then, head to your local bridal salon to find out where you can try them on in person.
What Defines Art Deco Wedding Dresses
Stylized Geometric Patterns
Nothing captures the essence of the Jazz Age quite like Art Deco does. The design style, which was popular between the 1920s and 1930s featured bold geometric patterns with decadent detailing. The influence Art Deco had on the fashion industry was far-reaching, and many bridal designers today still draw inspiration from it.
Intricate Beading and Embellishments
The Roaring Twenties were known for glitz and glamor, especially when it came to fashion. The iconic style of the flapper can be characterized by intricate beading, sequins and crystal embellishments—basically, anything that sparkles. Art Deco designs were commonly hand-beaded onto gowns for added glam.
Column Silhouettes
As a way to rebel against the beauty standards of preceding decades, women of the 1920s embraced a more "boyish" style. Column silhouettes, which draped straight down from the shoulders without any definition around the waistline, were an ultra-popular choice for both wedding and day-to-day attire. When curves were defined, it was typically in the form of a bustier bodice with a waistline at or below the hips.
Shop The Best 1920s Style Wedding Dresses for 2023-2024
Whether you want your reception to feel like a party at Gatsby's house or are simply a bride who loves all things vintage, you'll love these 23 shoppable looks inspired by the 1920s
Dana Harel Isabella Gown
As a non-traditional bridal look, the Isabelle gown embodies the sense of rebellion that 1920s flappers were known for. With a fit and flare silhouette, open back and Art Deco design adorned in crystals and pearls, it's certainly a standout pick for nostalgic brides.
Size Range: Custom
Valentine Avoh Grace Gown
With a drop waist and pleated georgette skirt, this silk crepe gown is guaranteed to take you back in time. A birdcage veil and bold red lip would lend themselves nicely to the Jazz Age inspired ensemble.
Size Range: Custom
BHLDN Clemence Beaded Overlay Mesh Wedding Gown
Inspired by the Roaring '20s, this gorgeous pick certainly gives us plenty to roar about. The ivory-colored column gown is topped with a mesh overlay that features pearl embellishments in a unique geometric pattern.
Size Range: 0 - 16
Danielle Frankel Mel Top and Dree Skirt
If we could take a peek into a flapper's wardrobe, we'd expect to find something just like this bridal look. Made from iridescent silk wool, the tank top and maxi skirt set combines understated elegance with vintage charm.
Size Range: 0 - 12
KYHA Ortiz Gown
As symbols of new opportunity, pearls came to define Jazz Age fashion, not only in jewelry but clothing as well. This fit and flare gown, adorned in intricate pearl beading, makes a beautiful (and meaningful) pick for your special day.
Size Range: Custom
Varca Sheena's Party Dress
Get ready to party like it's 1920. This festive mini dress, with tiers of fringe and Swarovski crystals, is the perfect pick for your Vegas elopement or wedding after party.
Size Range: Custom
Khaite The Marca Dress
Travel back in time with this ivory-colored gown, which features an off-shoulder neckline, drop waist and pleated skirt. Because it's made from lightweight jersey fabric, it's an excellent lightweight pick for summer nuptials.
Size Range: XS - XL
Dana Harel Jolene Dress
Exposed boning and a figure-hugging silhouette make this gown a uniquely modern way to embrace 1920s style. Its pattern of beading is meant to beautifully accentuate your natural silhouette.
Size Range: Custom
KYHA Miro Gown
As a modern take on a classic '20s style, this strapless gown makes the perfect pick for your vintage-themed nuptials. Its drop waist and structured corset bodice would pair perfectly with evening gloves and a unique headpiece.
Size Range: 0 - 11
Galia Lahav Dakota Gown
Inspired by the glamor of old Hollywood, this mermaid gown will make walking down the aisle feel like walking the red carpet. Complete with matching gloves, its fitted bodice adorned in glass beads and crystals gives way to a dramatic tulle skirt and train.
Size Range: Custom
Lulus Make Them Marvel White Beaded Mermaid Maxi Dress
This shimmering pick is the perfect way to capture all the glitz and glam of the Jazz Age on your big day. The mermaid silhouette gown features a princess seamed bodice and sequin embellishments throughout.
Size Range: XS - XL
Danielle Frankel Claudia Dress and Lenny Skirt
For brides hoping to embody the sense of rebellion that flappers were known for, the Claudia dress and Lenny skirt make ideal picks. The vintage-inspired mini dress and maxi skirt set are hand-embroidered with genuine baroque pearls and transparent sequins.
Size Range: 0 - 12
Karen Willis Holmes Cassie Gown
Here's a modest option we love for a church ceremony. The long-sleeved gown features sequins and beading throughout its geometric Art Deco design, and is finished off with an elegant beaded belt.
Size Range: 2 - 14
Markarian Jasmine White Silk Faille Gown
There's certainly nothing dated about this 1920s-inspired look. Its classic silhouette, with a drop waist and full skirt, is made modern by gorgeous crystal-trimming along the bodice and waist belt.
Size Range: 0 - 14
Lulus Dreaming of Eternity White Beaded Mermaid Maxi Dress
You're guaranteed to be the life of the party in this festive number. The fit and flare silhouette gown features an illusion neckline, soft godets on the skirt and dazzling pearl and sequin beading throughout.
Size Range: XS - XL
Danielle Frankel Dan Dress and Theo Skirt
Beloved by flappers and modern brides alike, straight-line chemise gowns offer a look that's effortlessly elegant. This set, inspired by that same silhouette, features silk wool and a lace trimmed neckline with hand cut chantilly appliques along the hem.
Size Range: 0 - 12
Dana Harel Sasha Gown
As a modern look that incorporates 1920s elements, the Sasha gown is sure to make a statement for your big day. The long-sleeved mermaid gown has a base of chantilly lace and is topped with a dazzling Art Deco beaded overlay.
Size Range: Custom
Jenny by Jenny Yoo Sheridan Drop-Waist Stretch-Satin Wedding Gown
A dreamy drop waist, full skirt and chapel length train, make this an ideal pick for any vintage loving bride. Available in both standard and plus sizes, you'll love topping off the look with antique jewelry and accessories.
Size Range: 0 - 26
Esé Azénabor Hazel Gown
There's certainly no shortage of bridal glam here. The long sleeve turtleneck gown features all-over pearl beading in an eye-catching Art Deco design. One word: showstopping.
Size Range: Custom
Karen Willis Holmes Fontanne Gown
This simple silhouette makes a statement, thanks to its all-over beaded embellishments inspired by the Jazz Age. With a form-fitted bodice and a cinching waist belt, it's guaranteed to flatter your figure in all the right ways.
Size Range: 2 - 14
Naeem Khan Izura Dress
Here's another second look we love. The sequined mini dress with a festive fringe trim was practically made for a night twirling on the dance floor.
Size Range: Custom
Fame and Partners Gathered Drop Waist Gown
Let's raise a glass to this champagne-colored pick. Made from matte satin fabric, the vintage-inspired gown features a corset bodice, drop waist, and gathered skirt. Top off your '20s look with a long pearl necklace.
Size Range: Custom
Lulus Splendorous Love White and Beige Sequin Trumpet Hem Maxi Dress
Emulating the opulence of the Jazz Age doesn't have to mean breaking the bank. Between its plunging neckline, trumpet silhouette and shimmering mesh overlay, this affordable wedding dress would dazzle in the '20s as much as it does today.
Size Range: XS - XL
Frequently Asked Questions About 1920s Wedding Dresses
Can I wear a flapper dress to my wedding?
The short answer: yes! There are no rules when it comes to your wedding attire. If you're a bride who's always wondered what it would be like to be decked out in fringe, feathers and pearls and party like you're at Gatsby's house, your wedding provides the perfect opportunity to do so. Even if you decide to go a more traditional route for the ceremony, you could always change into a flapper dress for your reception or after party.
Where can I find a real 1920s vintage wedding dress?
While there are plenty of 1920s inspired gowns on the market for brides today, you might be on the search for an authentic vintage look. If that's the case, it's never a bad idea to peruse your local vintage shops—many boutiques actually specialize in clothing from a particular time period! If you're looking to streamline the process, Etsy, eBay and Gossamer are our go-tos!
Can you get an Art Deco beaded wedding dress altered?
Beaded gowns can be altered the same way that any other dress would be, however, it will take a skilled professional to get the job done. Be sure to do your research beforehand to find a tailor that is experienced at handling beaded gowns. Because the task is a bit more involved, you may encounter higher fees for the alterations. We recommend keeping this in mind when determining your wedding dress budget.