Inside Ashley Tisdale and Husband Christopher French's Marriage
The couple is celebrating their seventh anniversary.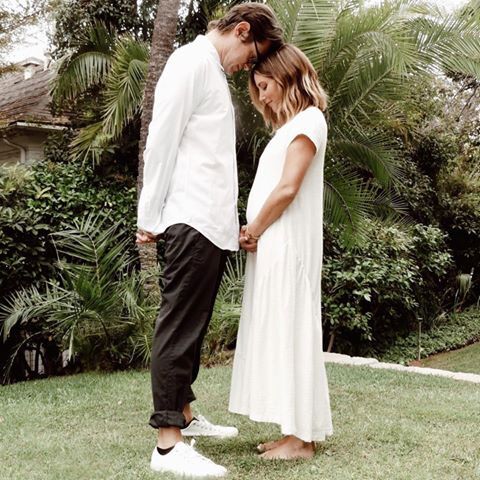 Ashley Tisdale / Instagram
High School Musical's Ashley Tisdale and husband Christopher French are seven years into marriage. The actress took to Instagram on September 8, to commemorate her latest wedding anniversary with a sweet glimpse into life with her husband and their expanded family.
"Wow. I can't believe we've been married 7 years!!!" wrote Tisdale. "I tried putting together pictures of the last seven years but there's no way to share everything we've been through. There's been lots of laughter, dancing, homes, construction but also tears, loss, and the occasional arguments."
Particularly reflective, Tisdale continued: "Our Relationship isn't picture perfect but our love for each other triumphs any hard times we go through. Marrying you @cmfrench was the best decision of my life , I'm so lucky to have you as a partner through everything. And the love we have for each other brought this beautiful baby girl Jupiter. Thank you for continuing to choose us! I love you baby."
Ashley Tisdale's Wedding Details
The couple's wedding style was a rustic-meets-bohemian theme, and designed and executed by international celeb planner Lisa Vorce. Photographer Corbin Gurkin captured images of the outdoor affair, held at the Villa Sevillano in Santa Barbara, California.
Tisdale wore a Monique Lhuillier wedding dress, which she paired with a flower crown adorned with baby's breath. The bride also opted for mismatched bridesmaid dresses, which has since emerged as a popular attire trend.
Like his wife, French also got sentimental about his latest marital milestone with a sweet tribute to Tisdale on their wedding date. "Every year, I try to come up with words to describe how much I love this woman, but the truth is there are no words," he wrote. "Amazing wife, mother, best friend, I love you more than any words could ever say. Happy Anniversary my love, best 7 years of my life so far."
Inside Ashley Tisdale's Marriage
The couple announced that they were expecting their first child together in September 2020, six years after celebrating their wedding. The Disney actress posted a barefoot photo of herself, cradling her baby bump, as she and French both look down adoringly at her growing tummy. While no caption accompanied the loved-up snaps of the proud future parents, their friends and family members reacted to the post with celebratory comments. "Just the freaking cutest," wrote Tisdale's best friend and High School Musical co-star Vanessa Hudgens.
Tisdale and French announced the birth of their first child together, a daughter, in March 2021. "Jupiter Iris French arrived earthside 3.23.21," Tisdale wrote.
As recalled, French proposed high up in the clouds on the 103rd floor of the Empire State Building in NYC. "Chris you truly have made me a better version of myself because you keep inspiring me everyday," Tisdale wrote to celebrate her sixth anniversary in 2020. "Your heart is pure, you would do anything to make me happy, through the ups and downs you are my solid rock. I'm so grateful I get to be your wife. I love you and after all this time I'm still into you... ps the last pic is my favorite."
Tisdale and French first met in late 2012 after being introduced through mutual friends. "I think from the moment that him and I met, I just knew it," the actress said in a 2013 interview with Ryan Seacrest. "I was like, 'OK, this is the guy,' And he knew the same thing. It doesn't get any better. I just can't explain it."
According to The Knot 2019 Jewelry and Engagement Study, 19% of engaged couples meet through mutual friends while dating apps reign supreme with one in four to-be-weds initially connecting through this medium.