The Ultimate Guide to Planning a Destination Wedding in Bali
Say "I do" in Bali with our destination wedding planning tips.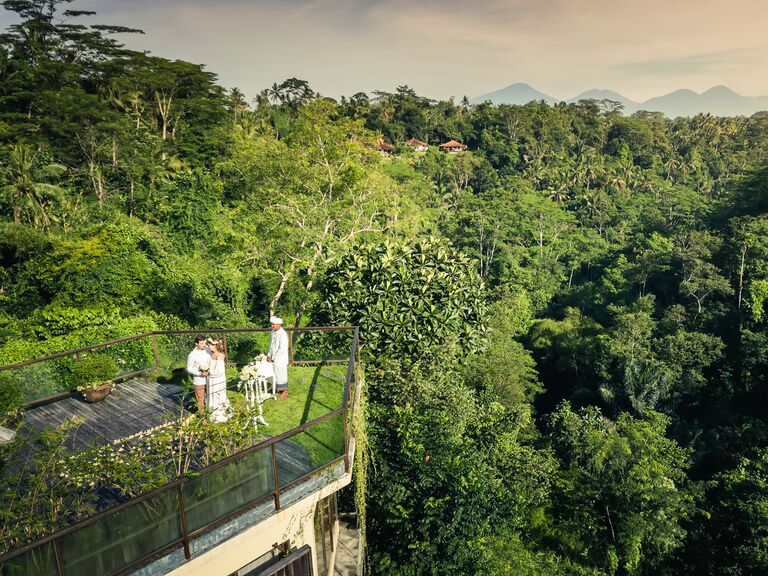 Whether you've visited Southeast Asia or simply seen its natural beauty on social media, it only takes seeing a few swipes to prove Bali's status as a dream wedding destination. From stunning beaches to a lush landscape, Bali's natural beauty lends itself well to a fairytale wedding.
Planning a destination wedding can have its challenges, including navigating the legal requirements and deciding where to celebrate. We spoke to Leisa Brenchley, founder of the blog The Bali Bride. Brenchley has curated the best of the best in Bali wedding vendors on her website, where she showcases photos and stories from beautiful Bali weddings. From elopements to grand events, The Bali Bride has resources for every type of wedding, and Brenchley's expert advice can help anyone planning their big day.
Why Couples and Wedding Guests Love Bali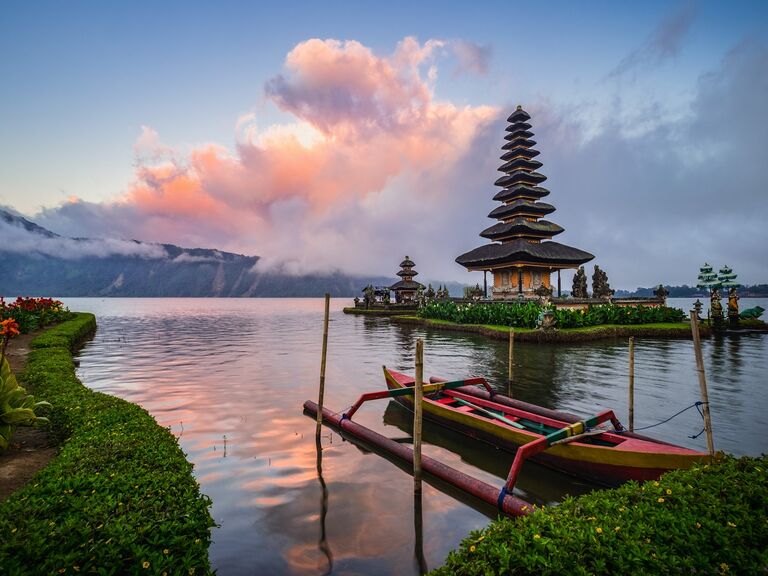 As a providence of Indonesia, Bali includes the island of Bali as well as a few neighboring islands. Bali is especially known for its beaches, mountainous rainforests and spiritual culture. Whether you want to relax by the water, hike through mountains, or explore historical temples, Bali has something for every couple and interest.
Many of the accommodations in Bali are intimate villas that generally sleep 10 to 20 guests. Those hosting an intimate wedding could book a private villa and enjoy an extended weekend with their closest family and friends. For couples planning a large celebration, Bali also includes several beach resorts where your guests can relax and feel pampered. Either way, both you and your guests will make amazing memories at your wedding weekend.
Brenchley herself got married in Bali. She grew up visiting the island and fell in love with the Balinese food and people. For Brenchley and her husband, getting married in Bali was a no-brainer. "We wanted the opportunity to show our families and friends the wonderful land of Bali and enjoy what would be a seven-day celebration with everyone," she said. "The food, the sunset locations and accommodations suit everyone's budget." It's also what makes Bali appealing for destination weddings.
The Best Places to Get Married in Bali
Ketewel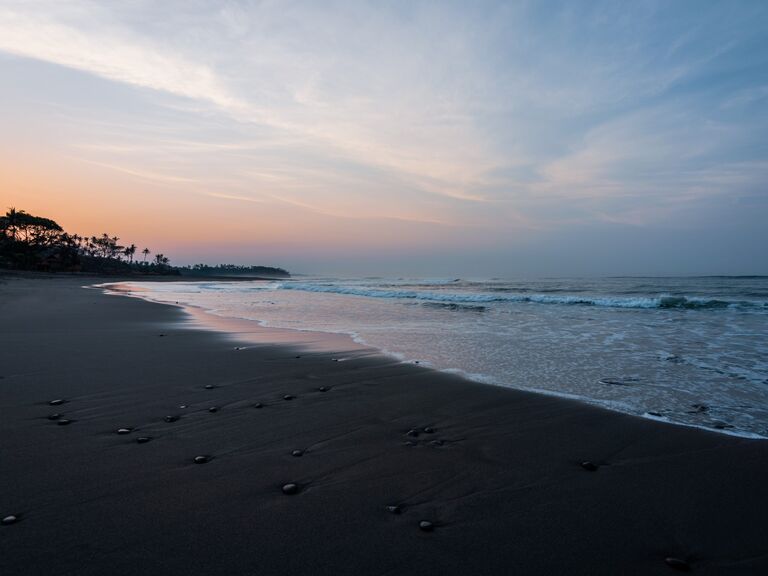 A small black-sand beach frequented by surfers, Ketewel's surrounding area features several wedding villas and beachfront resorts that can host destination weddings. Brenchley recommends staying at Villa Puri Nirwana, as they offer direct beach access and offers beautiful weddings of up to 120 guests.
Seminyak
Couples looking for a lively but luxe beach destination will love Seminyak. The area includes expansive beaches, resorts, shopping, restaurants and nightlife. You can host a beachfront wedding ceremony with views of the Indian Ocean before heading into your resort to the party the night away. Consider booking a tour while you're there to experience the best Bali has to offer, from traditional Balinese food to the Puri Saren Palace.
Ubud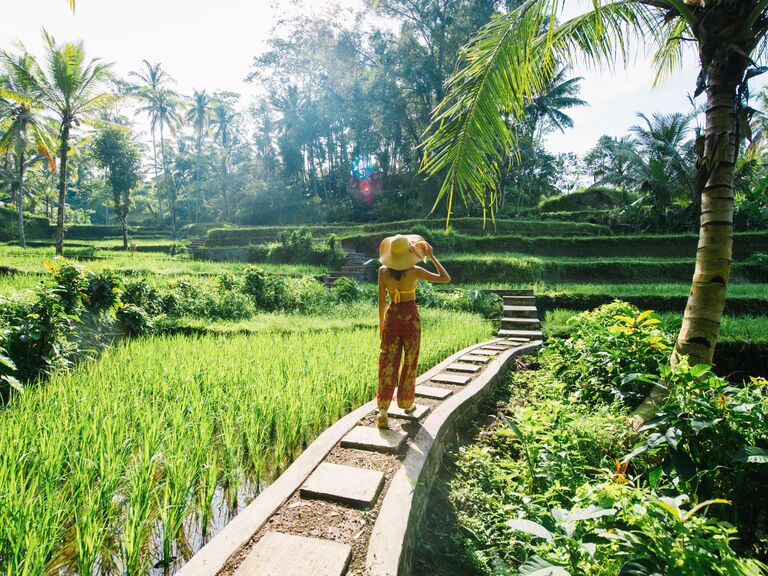 Couples who want to ingrain themselves in the local culture will enjoy wedding planning in Ubud. From cultural landmarks to art markets, there's plenty in Ubud to keep both the couple and their guests busy throughout the wedding weekend. Enjoy some pre-wedding sightseeing and meditation at the Goa Gajah (or Elephant Cave) sanctuary, or walk through stunning scenery at the Tegallalang Rice Terrace.
Jimbaran
Jimbaran is home to several luxurious resorts and spas, including the Ayana Resort and Spa and Banyan Tree Ungasan Resort. Couples planning a larger event and seeking luxe venues and grand accommodations will find Jimbaran perfect for their big day.
Wedding Legal Requirements
Planning ahead for the legal requirements for any destination wedding is a must-do. Brenchley noted that many couples get legally married in a small civil ceremony in their home country before having a second ceremony and reception in Bali. However, if you and your spouse-to-be would prefer to get legally married in Bali, there are some logistics you'll need to be aware of ahead of time.
Legal Weddings vs. Symbolic Weddings
A legal wedding is when you and your spouse officially become husband and wife. Like many countries, Bali will give you an official wedding certificate to show you're legally married. Or, you may choose to get legally married in your home country before celebrating the second ceremony in Bali. This is acceptable in Balinese culture, and due to the prevalent spiritual life in Bali, you may want to consider incorporating ceremonies, hymns or traditions that represent you and your spouses' spiritual lives.
Required Legal Documents
Couples getting legally married in Bali will need to bring their passports, birth certificates, as well as the passports for their two witnesses. You'll need to visit your home country's embassy to register your wedding and receive a letter of non-impediment. You'll also need to take eight four-by-six centimeter, side-by-side photos for the wedding certificate. If this is your second marriage, you may also need proof of divorce or a death certificate. If you are planning a religious ceremony, you may also need other documents, such as proof of baptism.
Legal Marriage Timeline
Brenchley advises couples arrive at least three days ahead of their wedding to ensure they can receive all required certifications from the embassy before the wedding.
Legal Marriage Cost
The cost for a legal marriage in Bali can vary due to possible fees at your embassy. However, most couples can expect to pay between $300 and $500 USD.
Wedding Planning Tips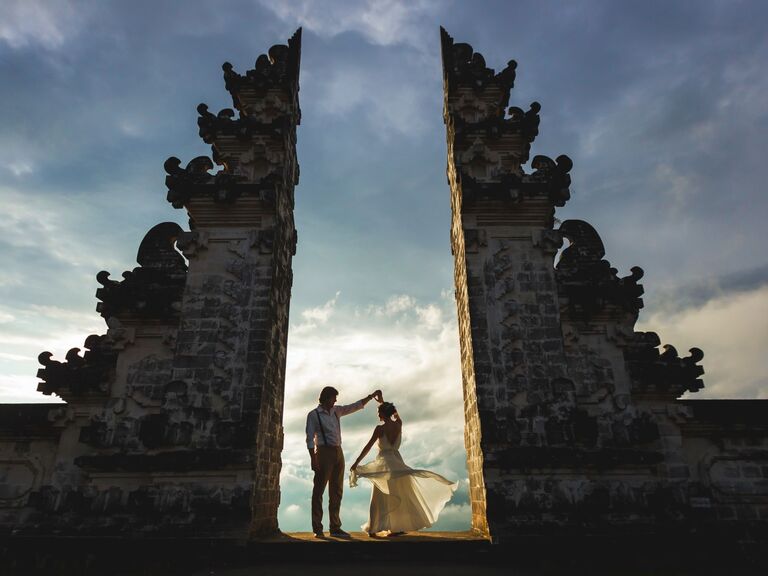 Planning any getaway can feel stressful, let alone a destination wedding. Luckily, we've compiled some expert tips to help ensure a smooth process for planning your special day.
How to Get There
Because Bali is an island, the main way to get there is by flying. Most direct flights departing from the US are from the West Coast, so those on the East Coast may have a layover.
Bali does offer a public bus and taxis. You can also rent a car, scooter or motorcycle, but Bali roads get chaotic.
Bali Weather
Bali's proximity to the equator creates a warm and humid climate year-round. November through March is rainy season, while the spring and summer are dry with a cool breeze.
Choosing Your Venue and Vendors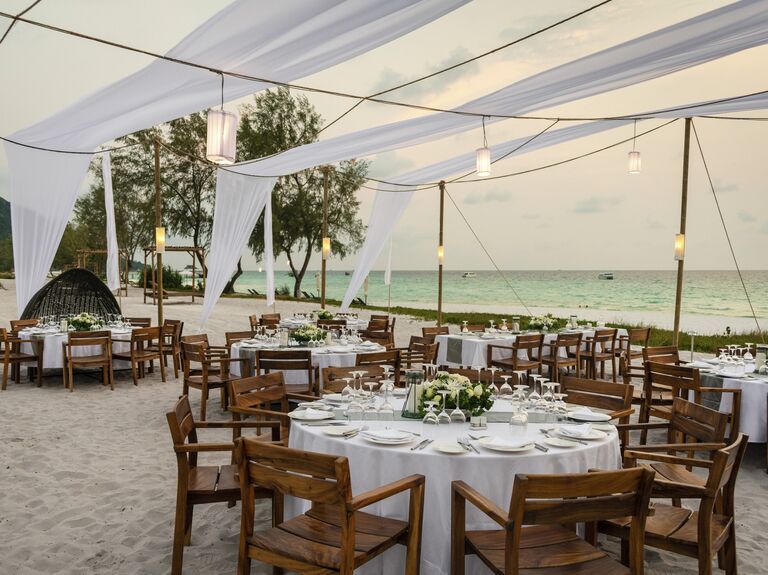 Bali offers any wedding venue and style you can imagine: those with clifftop views, villa celebrations, and beachfront or even poolside ceremonies. Brenchley's biggest tip for choosing a Bali wedding venue is to visit Bali ahead of planning.
"With so many beautiful locations and styles to choose from, it is so easy to get caught up and do the exact same things as something you've seen before," she said. "If you can, get to Bali, have a look around, and choose something to suit you and your partner. Then build your style and decor around the location. With so many jaw-dropping locations, sometimes you don't need much, and this can really save you in your budget."
Couples can also look to online guides to find recommended vendors and the best wedding venues. The Bali Bride has a list of some of the top vendors in Bali to help those planning a destination wedding. You can also search The Knot Marketplace to find wedding planners and pros who specialize in destination weddings.
Budgeting Tips
Bali's currency is the Indonesian Rupiah (IDR). 1 USD equals roughly 14,467 IDR. Keep in mind that many hotels' online prices are listed in USD.
Brenchley said that generally, Bali weddings are less expensive than many other countries. "Weddings in Bali can cater for all budgets, as there are so many options to choose from," she notes. Because there are many luxe resorts in Bali, weddings can cost as much as $200,000, but $10,000 is also a reasonable budget.
Brenchley's number-one piece of advice for couples looking to save money for a Bali wedding is that every bit counts, even just a few dollars each week. She said that because there are so many different venue options and styles available for a Bali wedding, most couples can plan a beautiful Bali wedding that works within their budget.