10 Bride Gift Boxes That'll Make Her Feel Celebrated
These preassembled gift boxes take the guesswork out of shopping for the bride in your life.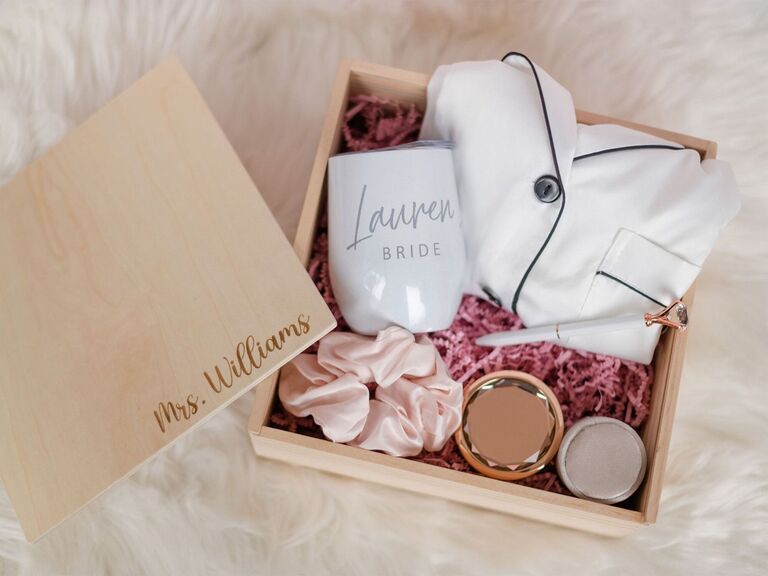 We have included third party products to help you navigate and enjoy life's biggest moments. Purchases made through links on this page may earn us a commission.
If someone special in your life has recently gotten engaged or will soon walk down the aisle, it's time to shop for a meaningful gift. While the bridesmaids and groomsmen seem to get all the fun when it comes to gift boxes, a bride gift box is a great way to give her a few thematic presents to celebrate her bridal status—from spa-like self-care items to help with wedding stress to goodies that proclaim her new title. Also, these boxes often allow you to customize the items inside, so you can curate a gift that she's sure to love with very little effort on your part. We call that a win!
Here, we've rounded up some of the very best bridal gift boxes for you to consider when it comes time to celebrate your favorite bride, whether she's your bestie, your sister or your very own wife-to-be.
1. Pretty Pink Bride Gift Box
Gift this beautiful new bride gift box to the lady who's recently engaged. The expertly curated box includes essentials like a wedding planning notebook and sweet books for writing vows—both of which we're sure she'll get good use out of ahead of the big day. Fun extras include goodies like an acrylic ring box, a pretty pink "love" balloon and stemless Champagne flutes.
2. Personalized Bride Gift Box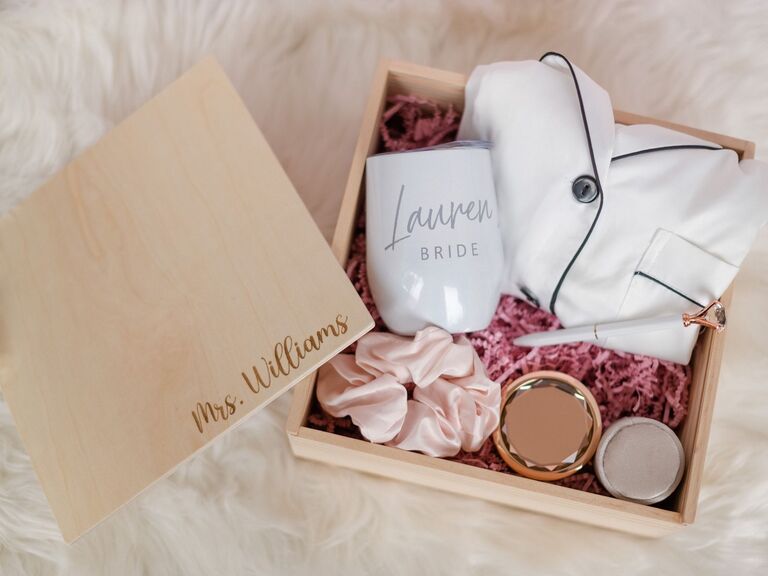 If you'd like to give the bride a gift that can be fully customized, but still arrives beautifully packaged with zero effort on your part, this personalized bride gift box is a great option. Eight box options allow you to choose different arrays of items the bride will use (and love) during her engagement period—like a ring box, pajamas, an engraved tumbler and a pen with a diamond topper—many of which can be emblazoned with her first name or name as a future Mrs. Each box comes with anywhere from five to eight presents, depending on which set you choose. You can even pick the box they'll arrive in, too.
3. Engagement Mystery Bride Gift Box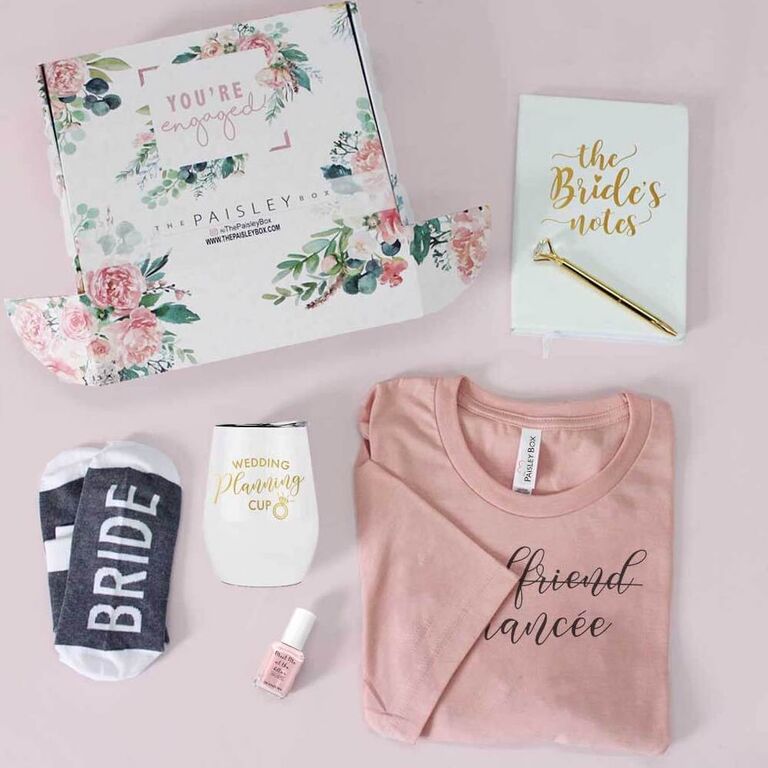 Gift the bride-to-be with this bridal gift box while she's still basking in the glory of her newly engaged status. The pretty floral box, designed by The Paisley Box, features five fun gifts for her: a pair of socks, a T-shirt and three "secret" engagement gifts (options could include presents like wine tumblers and pink nail polish). Trust us—this is a winning option when it comes to an engagement gift box for a bride.
4. Self-Care Bride Gift Box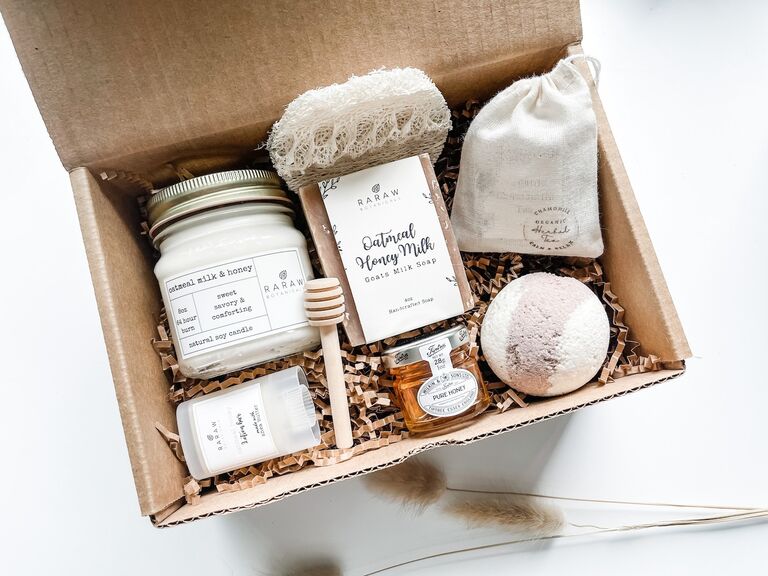 If she enjoys natural bath products, this is the bride-to-be gift box you're looking for. Stuffed with plant-based spa day essentials like soothing honey-oatmeal soap, a bath bomb and a lotion bar (as well as sweet extras like tea, raw honey and a soy candle), she can use these items on the morning of her big day or simply to relax and unwind during the wedding planning process. We love this as a "to my bride" gift box option, since we think it's a great way to let your partner know not to stress about wedding planning—you're here to help her!
5. Simple Elegant Bride Gift Box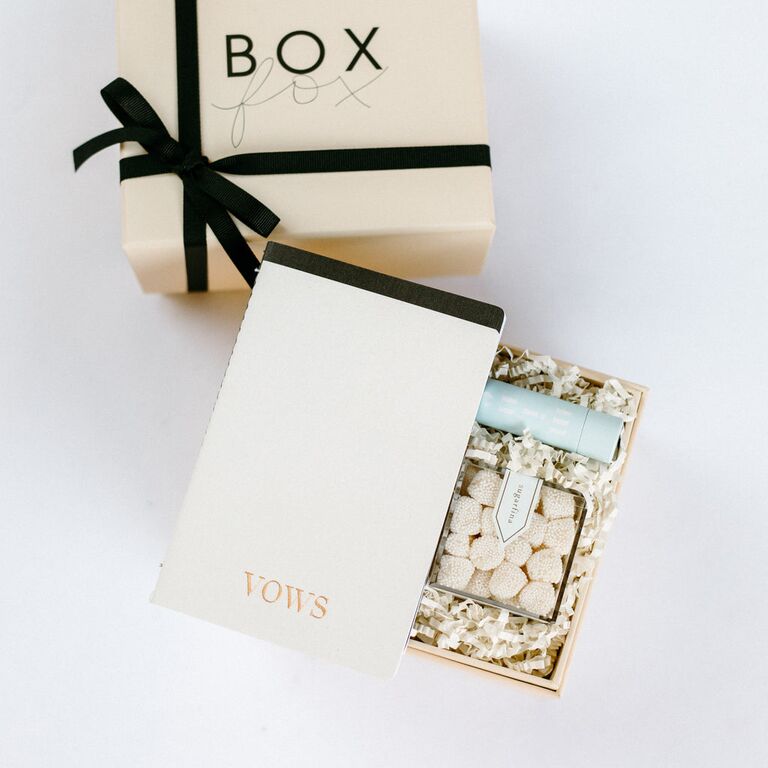 BOXFOX's Something Blue gift box is a sweet and useful surprise. The gift set includes a beautiful vow book, a pocket-sized ring cleaner and a box of Sugarfina Champagne Bubbles candies. It's also packaged oh-so elegantly.
6. Plant Lover Bride Gift Box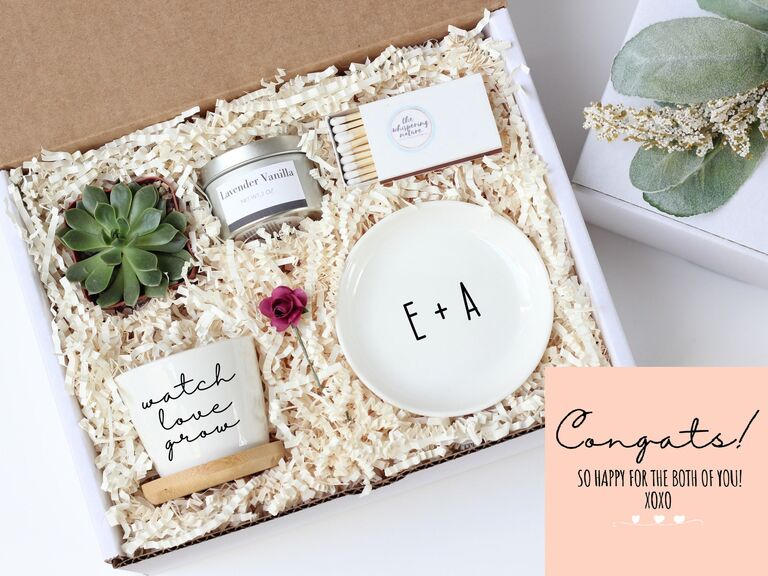 This boho gift box for a bride includes everything she'll need to add some bridal decor to her favorite space. With a coordinating trinket dish and planter, a small succulent and a soy candle, this bridal gift box comes beautifully packaged just for her. We especially love that the ring dish can come personalized with the bride's and her future spouse's first initials. And the accompanying blush "Congrats!" card is the cherry on top.
7. Wedding Day Countdown Bride Gift Box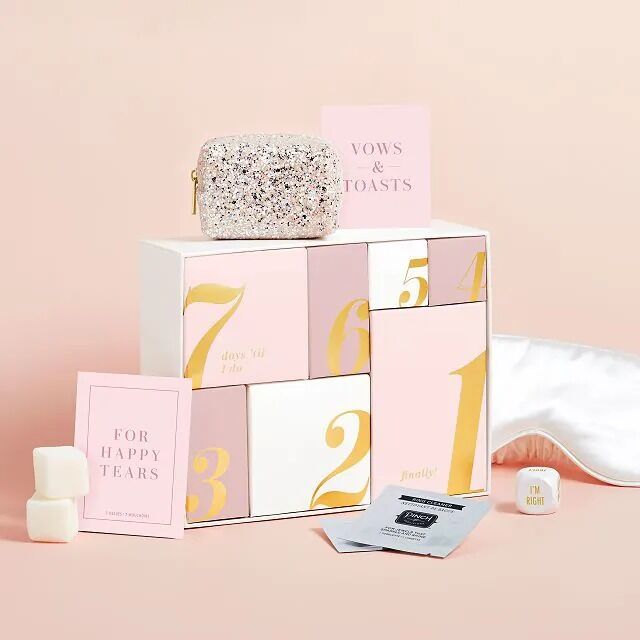 Here's a truly unique gift box for a bride-to-be. It contains seven smaller, numbered boxes to help her count down the final week until her big day . Each numbered box contains a fun bridal surprise, like an eye mask, a notebook and pen set or ring wipes to keep her rock sparkling. The final box contains a handy bridal emergency kit with essentials she might need on her wedding day. Beautifully packaged, this option would make a great bridal shower or wedding shower gift box for a bride in your life.
8. Spa Essentials Bride Gift Box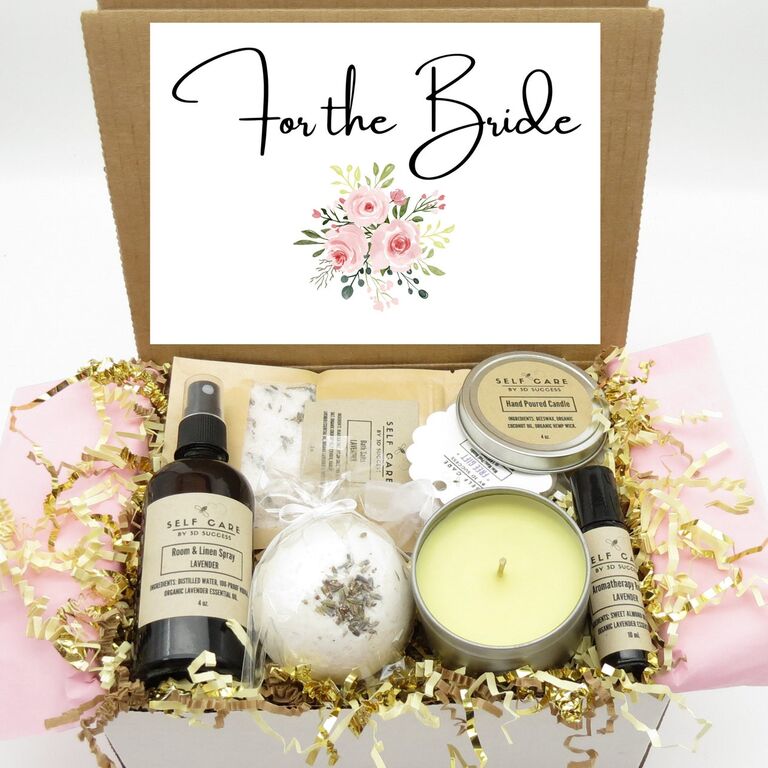 Looking for a gift box for the bride on her wedding day? Consider this one, which includes pampering essentials like a bath bomb, bath salts, essential oil room spray and a beeswax candle. Choose from three scents—lavender, peppermint or lemongrass—any one of them will do wonders to help her unwind the day after her nuptials.
9. Luxury Facial Bride Gift Box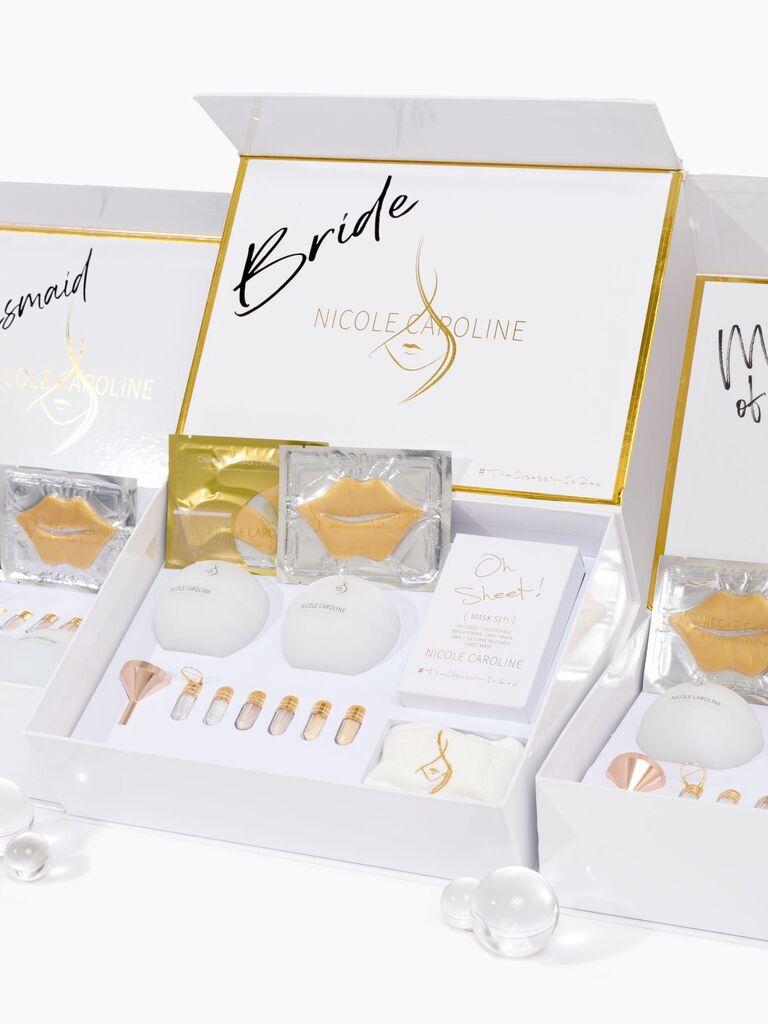 This luxury bridal gift box is full of goodies from master aesthetician Nicole Caroline and includes everything the bride will need for top-notch prewedding skin care. It comes stocked with skincare blends containing beautifying agents like collagen, eye and lip masks as well as soothing ice globes. When she glows on her wedding day, she'll have you to thank, at least partly!
10. Playful Bride Gift Box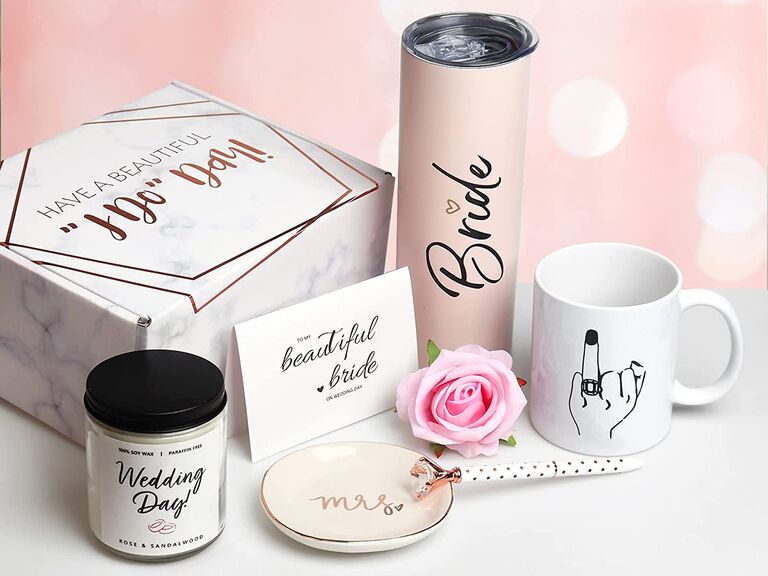 If you'll be standing right next to her on her big day, you may be searching for the perfect bride gift box from a bridesmaid. We love this one, which includes a handy stainless steel tumbler—which displays her bride status—and a coffee mug that seems naughty at first glance, along with a few other fun items she'll love. Because of its playful tone, we love this as a bachelorette gift box for a bride, too.