14 Groomsmen Gift Boxes That Go the Extra Mile
More presents, more fun.
We have included third party products to help you navigate and enjoy life's biggest moments. Purchases made through links on this page may earn us a commission.
Your groomsmen will be by your side on one of the biggest days of your life. So why not go big with your groomsmen gifts? Lately, bridesmaid and groomsmen gift boxes have been replacing one-off thank-you presents. That's because they feel extra-thoughtful—and because the market is newly saturated with tons of cool and curated options. After all, what better time to get a little mushy with a special gift? (Just think how far you've all come since your college days or childhood family parties!) While more presents aren't necessarily more meaningful, the right groomsmen gift set will leave a lasting impression—as much as these options definitely left lasting impressions on us.
1. Whiskey Groomsmen Gift Box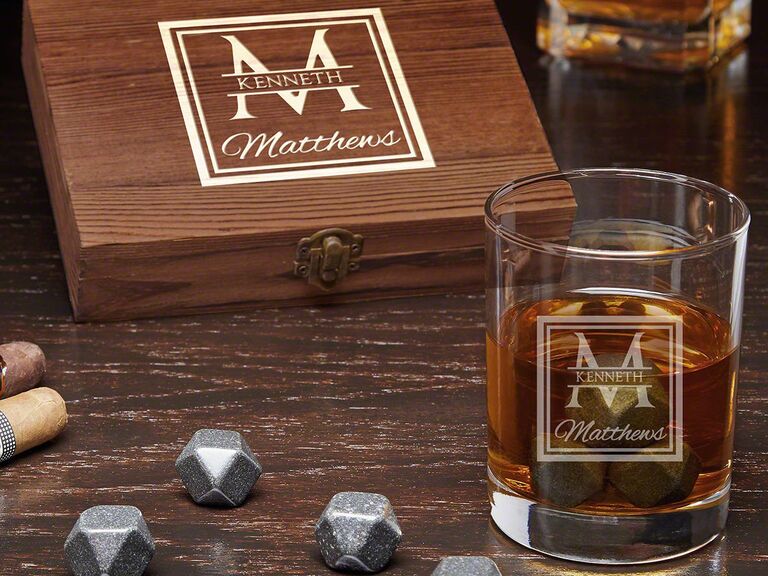 What makes a custom whiskey glass even better? Chilling stones to go with it. That way, your groomsmen can sip in style and enjoy every drink at the ideal temperature. Because that's how it's supposed to be done.

Home Wet Bar Oakhill personalized black onyx whiskey stones set with Eastham glass, $55, Etsy.com
2. Flask Groomsmen Gift Box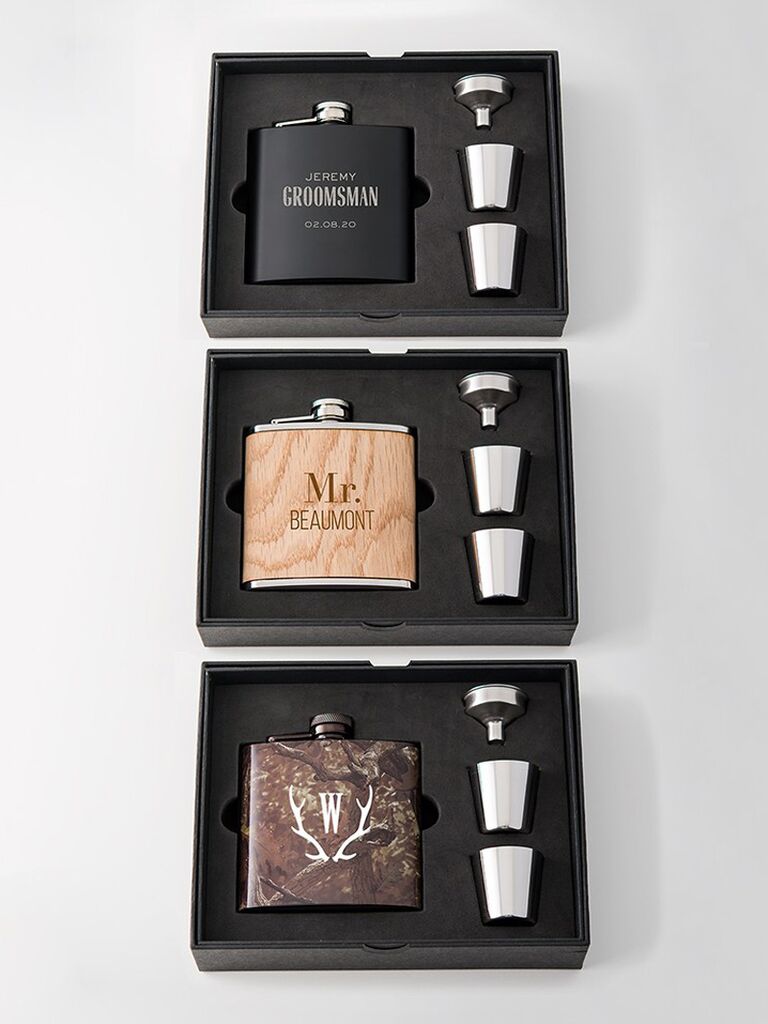 Flasks are tried-and-true groomsmen gifts, but why stop there? This groomsmen gift box comes with two stylish shot glasses, a slot for the personalized hip flask of your choice (sold separately but available from the same store) and a funnel for filling said flask. Now they have all the drinking essentials they need. (Plus, you can score the complete set for under $20 per guy!)

The Knot Shop gift box set for hip flask, $6, TheKnotShop.com; The Knot Shop personalized standard 6oz hip flask, from $10, TheKnotShop.com 
3. Personalized Groomsmen Gift Box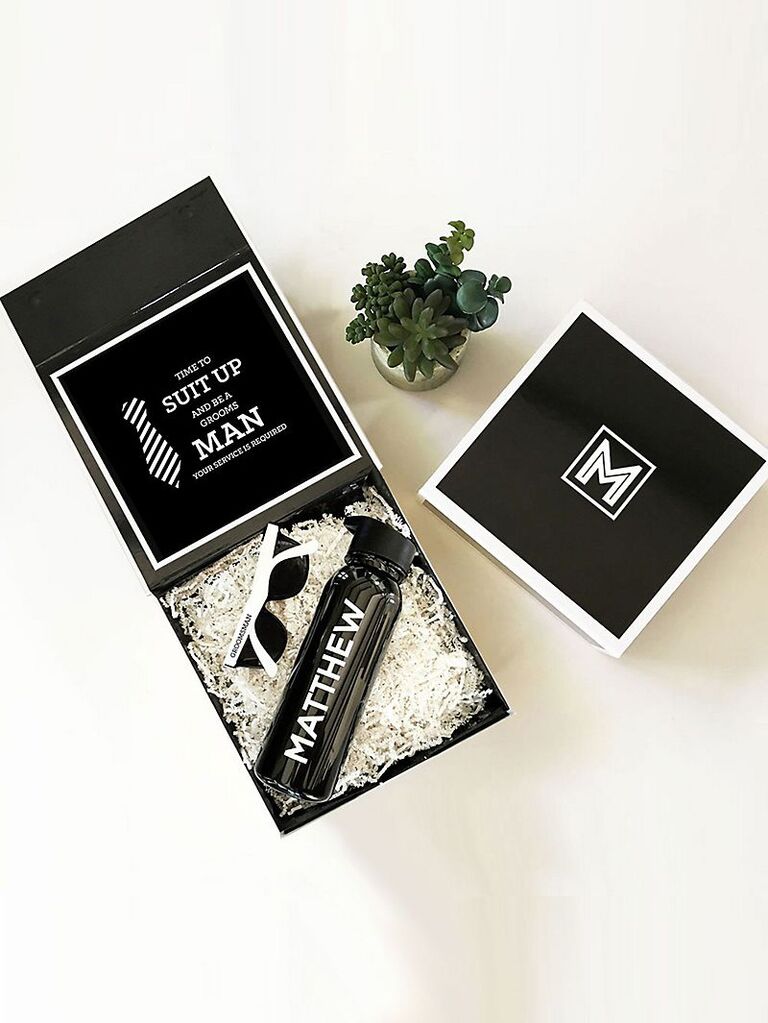 Really, you can fill this monogrammed groomsmen gift box with anything—David's Bridal carries tons of small items to choose from. How about a coordinating pair of shades and a reusable water bottle?

David's Bridal personalized groomsmen gift box, $23, DavidsBridal.com; David's Bridal personalized white and black sports bottle, $25, DavidsBridal.com; David's Bridal white groom and groomsmen sunglasses, $23 for a set of 6, DavidsBridal.com  
4. Bloody Mary Groomsmen Gift Set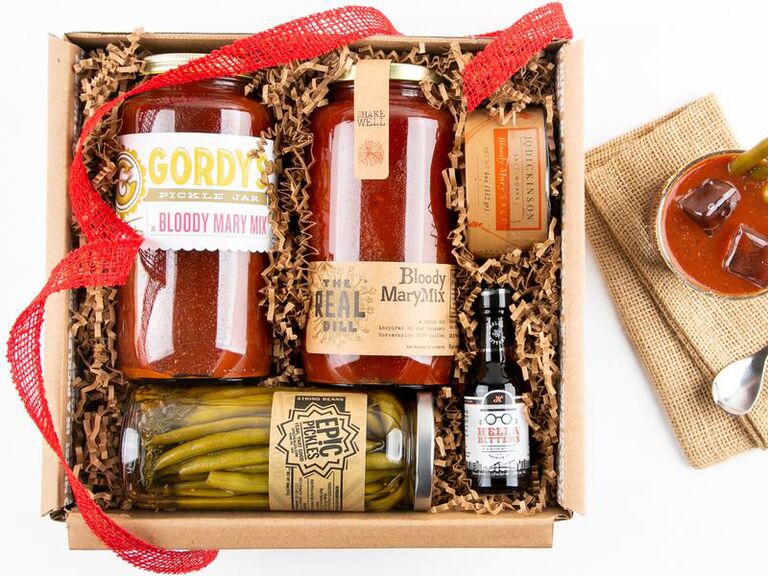 Feel free to think outside the (classic groomsmen gift) box. This fun set has nothing to do with weddings—and that's perfectly okay. At the end of the day, it's all about finding something they'll actually love. And if they're really into Sunday morning Bloody Marys, this ingredients kit is it.

Mouth Bloody Mary cocktail kit, $70, Mouth.com
5. "Thank You" Groomsmen Gift Box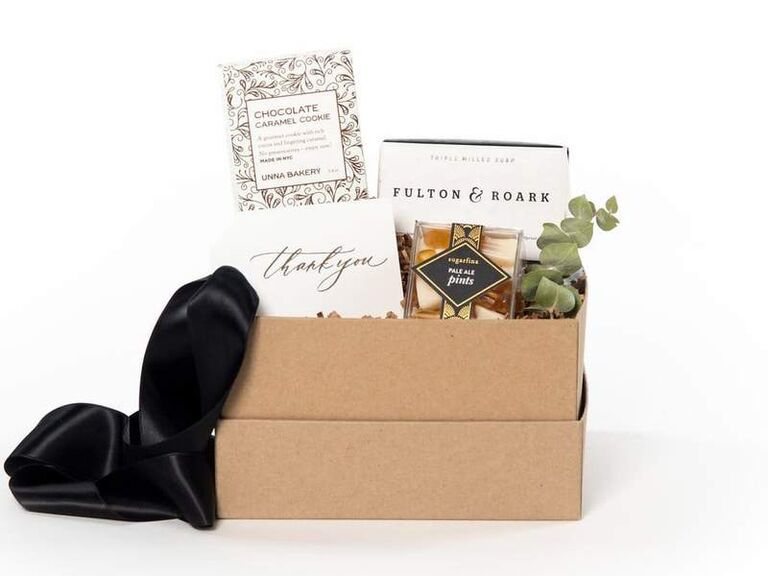 This groomsmen gift box literally says "thanks" courtesy of an elegant gift tag. It's filled with gourmet chocolate-caramel cookies, gummies shaped like beer pints and some very, very nice soap. How's that for a groomsmen gift set that's part fancy, part fun? 

Marigold & Grey Thanks, Man curated gift box, $69, MarigoldGrey.com
6. Party-Ready Groomsmen Gift Box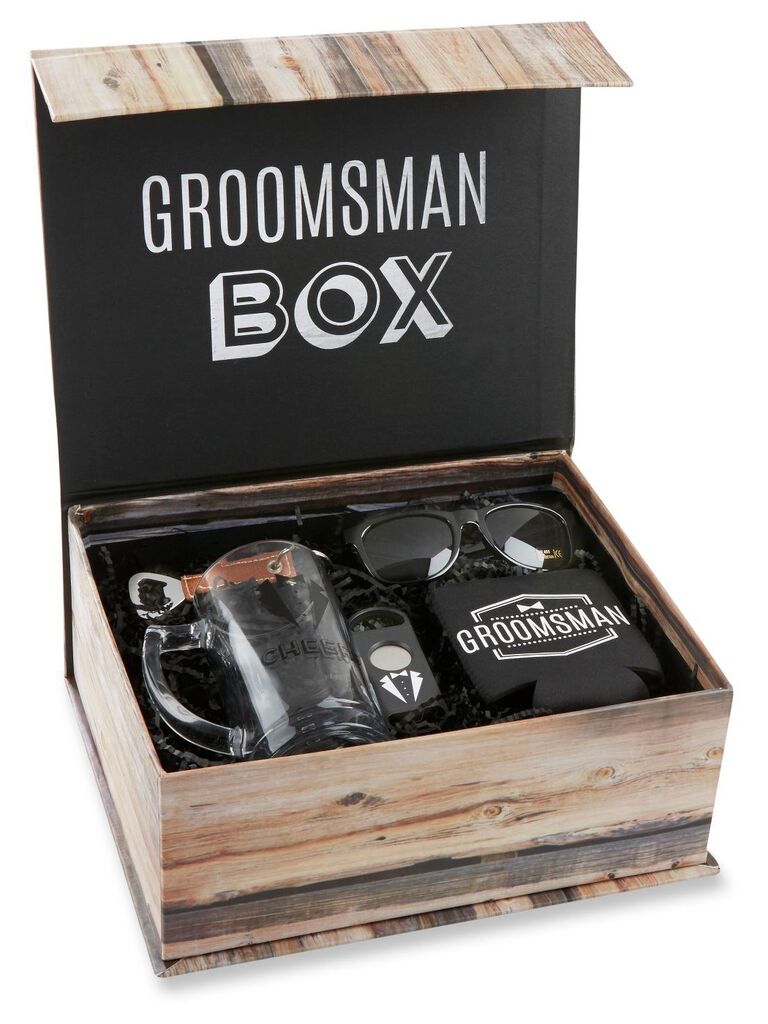 This groomsmen gift set contains five different tokens of your gratitude: a "cheers" mug, "groomsman" sunglasses, a "groomsman" koozie, a tuxedo-inspired cigar cutter and a leather bottle opener. The guys will bond over all their matching gear—bonus points if they pose with the goodies for lighthearted getting-ready photos.

Kate Aspen Groomsmen Box wedding kit, $44, Target.com 
7. Playful Groomsmen Gift Box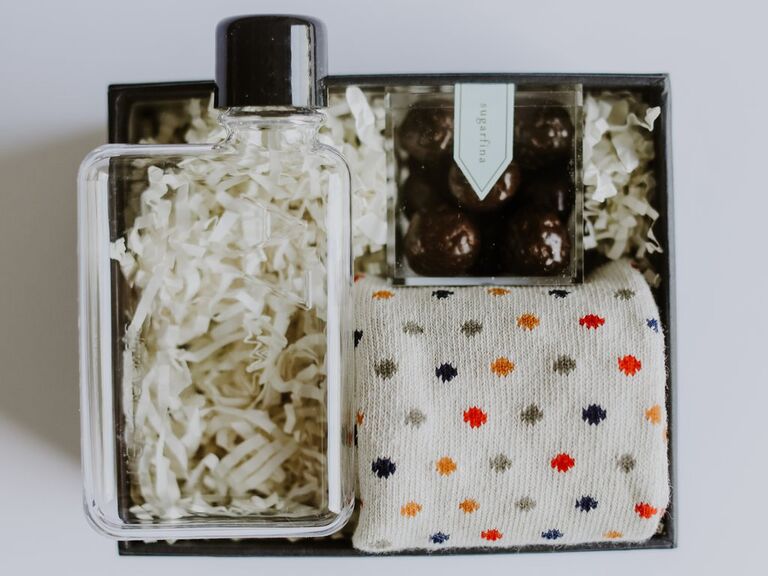 This three-piece groomsmen gift set has it all: something sweet (Scotch-flavored candies), something stylish (wedding-worthy polka dot socks) and something celebratory (a cool, discrete flask). What more could you ask for?

BOXFOX Groomsmen gift box, $55, BOXFOX.com
8. Funny Groomsmen Gift Set
Speaking of groomsmen socks, get a hold of this hilarious gift set. The "pizza box" contains four topping-heavy "slices" which are actually patterned pairs of socks. Surprise the guys with the "special delivery" on the wedding day, and if you're feeling extra-fun, ask them to wear the accessories down the aisle.
Rainbow Socks Pizza Socks box with 4 pairs, $26, Amazon.com 
9. Self Care Groomsmen Gift Box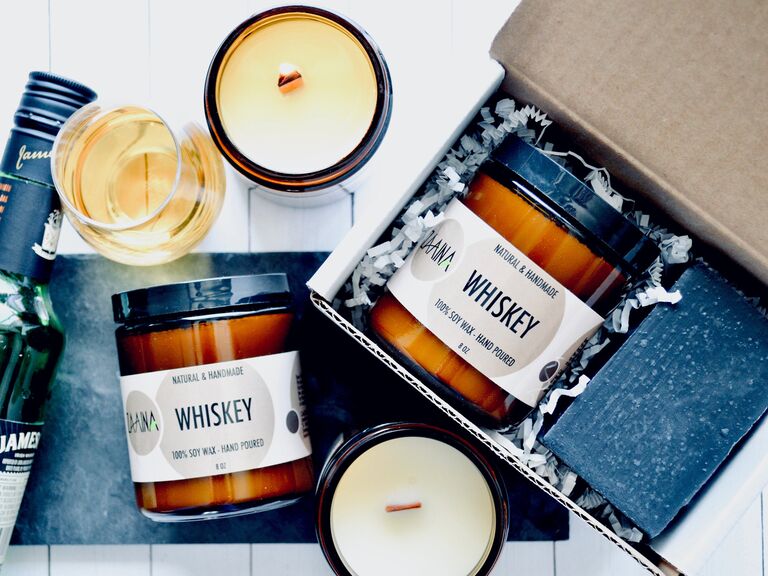 Maybe all your groomsmen want after the wedding festivities is a little R & R. If that's the case, treat them to these groomsmen gift sets. Each box contains a whiskey-scented candle, plus a handmade soap.

Zaaina personalized Cozy Retreat groomsmen gift box, $30, Etsy.com
10. Luxe Groomsmen Gift Box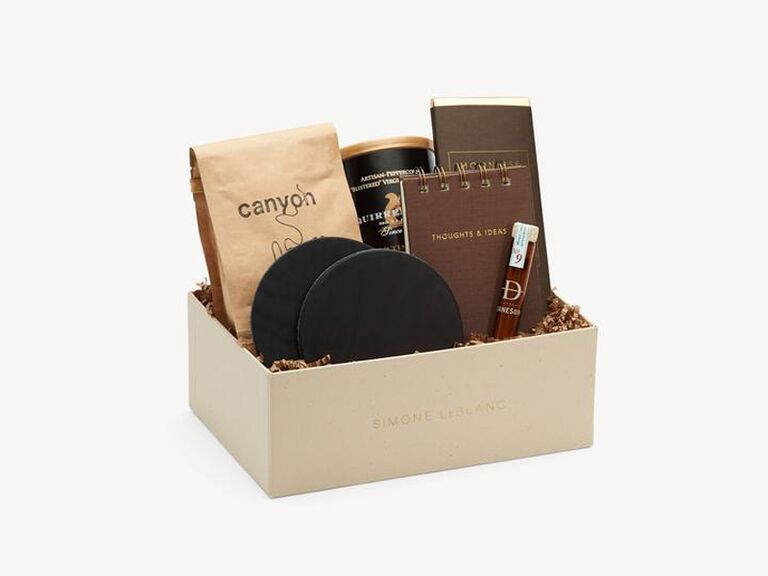 Shopping for a suave set of lads? Impress them with this fine selection of upgraded goods. Each groomsmen gift box includes two leather coasters, mint-flavored toothpicks, savory salted caramels, a notepad for their important thoughts, a decadent chocolate bar and "remarkably smooth" coffee (just like them). Add a monogram to really go above and beyond.
Simone LeBlanc Man of Good Taste gift box, from $78, SimoneLeBlanc.com
11. Useful Groomsmen Gift Box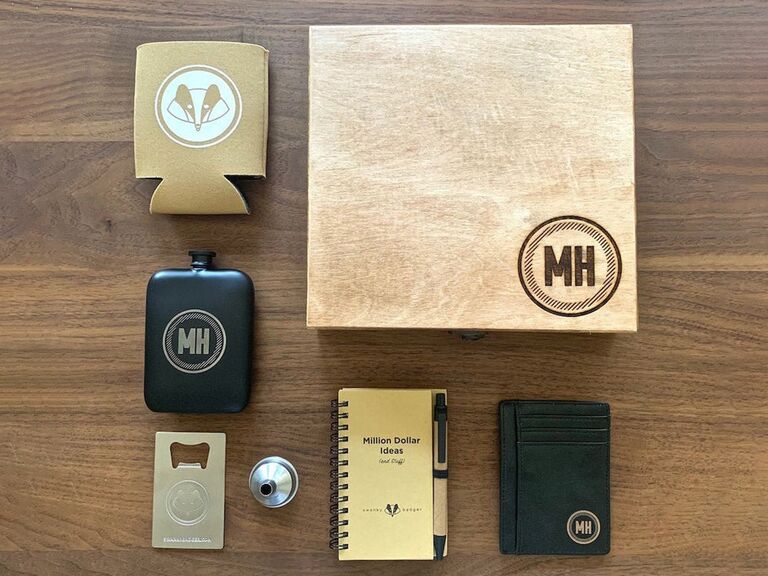 This wooden groomsmen gift box is truly jam-packed with presents, from a monogrammed leather wallet to a super-sleek bottle opener they can store in a credit card slot. There are six pieces total, aka six different ways to surprise and delight.

Swanky Badger custom groomsmen gift box, $80, Etsy.com
12. Dapper Groomsmen Gift Set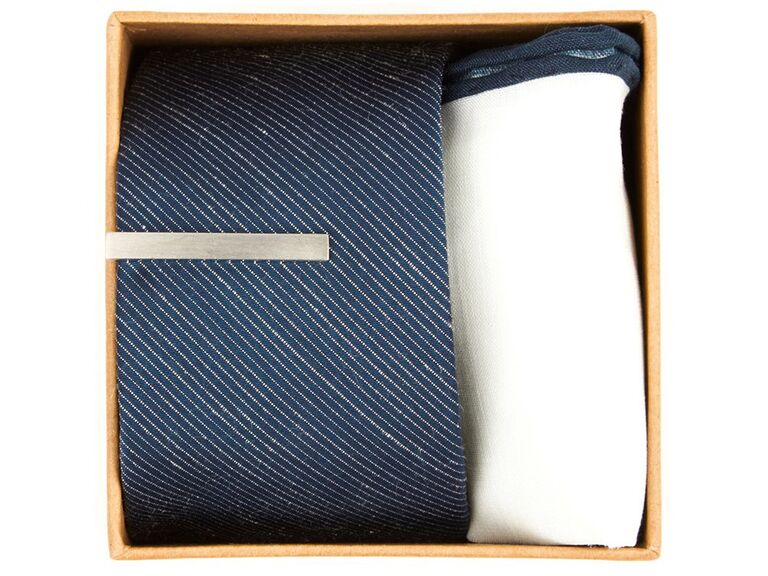 Chipping in on your groomsmen's wedding ensembles is always appreciated. (Plus, it better guarantees they'll all look polished on the big day.) This groomsmen gift box comes with a tie, a tie bar and a pocket square. Looking for more color options? The Tie Bar makes a few different versions of the accessories trio—check out all the brand's gift sets.
The Tie Bar x BHLDN navy solid gift set, $50, TheTieBar.com
13. Gourmet Groomsmen Gift Set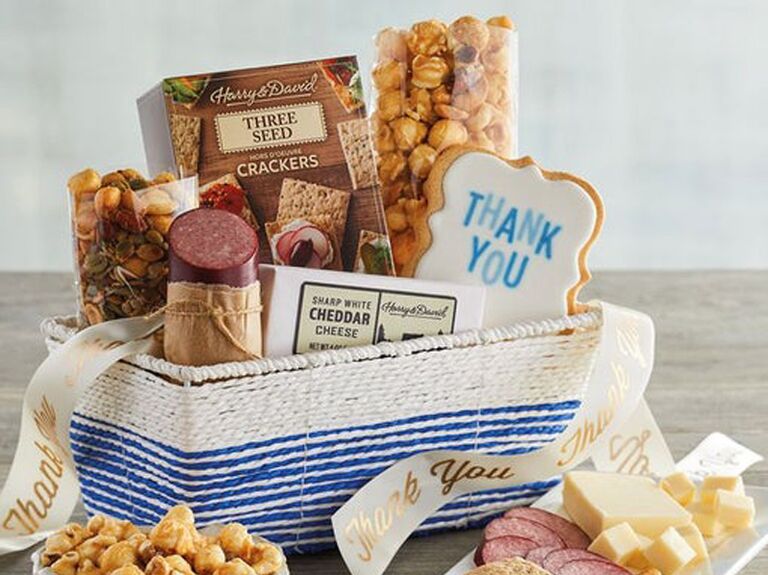 Win their bellies over, win them over. If that describes your groomsmen to a T, consider an edible gift set. This "thank you" basket has a whole bunch of delectables, from gourmet cheese and sausage to premium popcorn. Every time they reach for one of the snacks, they'll be grateful to you.

Harry & David Thank You gift basket, $40, HarryandDavid.com
14. Sophisticated Groomsmen Gift Box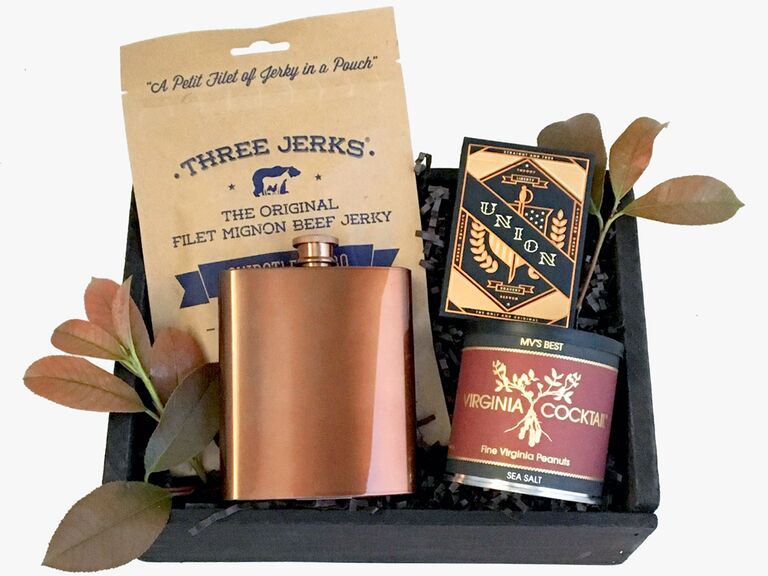 Willing to splurge? These groomsmen gift boxes just might be worth it. Each set includes a handsome, high-quality flask; a deck of heirloom-worthy, American history-inspired cards; crunchy cocktail peanuts to elevate their bar; and tasty beef jerky for your favorite, lovable jerks.

Loved and Found Best Men box, $92, LovedandFoundBox.com