20 Bridesmaid Earrings Your Squad Will Absolutely Wear Again
Pretty pairs that are both cute and affordable.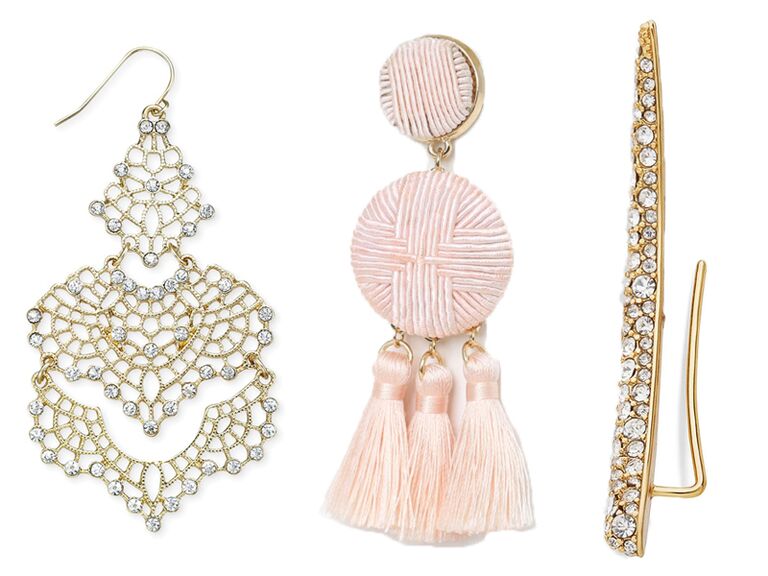 We have included third party products to help you navigate and enjoy life's biggest moments. Purchases made through links on this page may earn us a commission.
You've probably given tons of thought to what your bridal jewelry will look like on your special day. But don't forget to pick out wedding jewelry—earrings, bracelets, and necklaces for your bridal party! If you want your I Do Crew to have a uniform look as they walk down the aisle, you can consider gifting them with bridesmaid earrings or even a jewelry set including they can wear at the wedding. Of course, the goal here is to choose something they'll wear again, instead of having it collect dust in the back of their jewelry case.
That's why we've selected some of our favorite bridesmaid earrings you can give as a gift. You'll find lots of trendy baubles that transition from aisle to everyday with ease. Pearl earrings do this with ease, as do most sterling silver or gold bridesmaid earrings. Looking for those just-right statement earrings? We've got plenty of those, too. So if you're searching for the perfect bridesmaid earrings gift, you've come to the right place.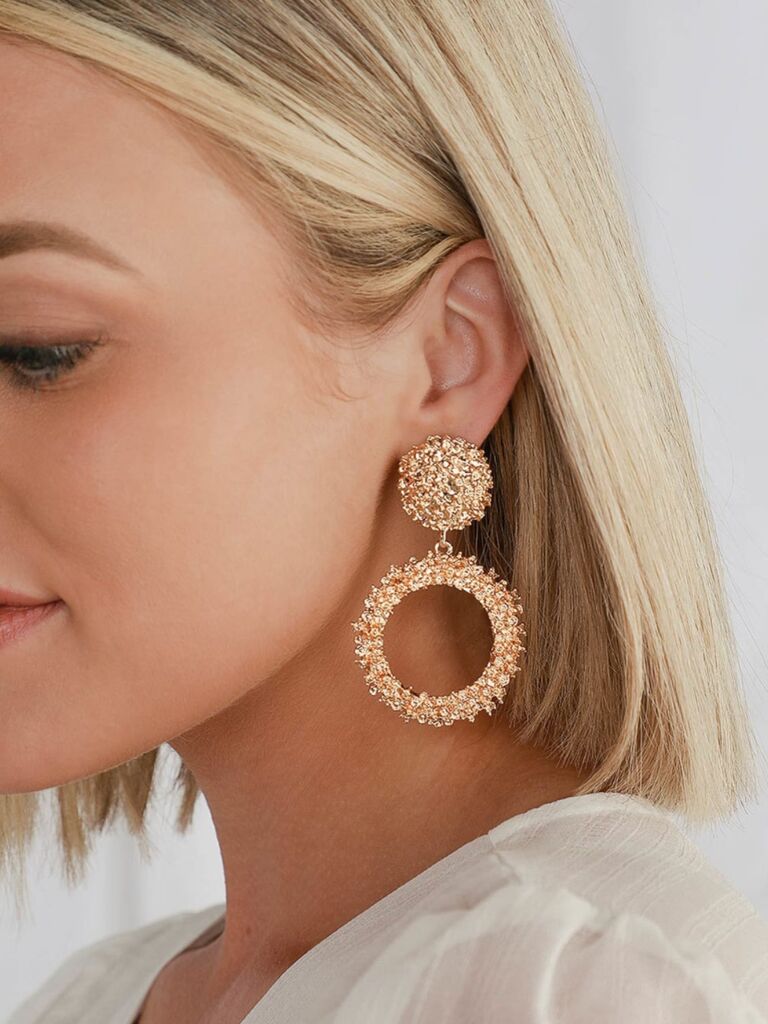 These beautiful match-with-anything baubles are sure to be worn again. Your crew will look totally stunning in these shiny gold earrings as they walk down the aisle, but this bridesmaid jewelry transitions perfectly for any dressy day at the office or evening on the town. With a hypoallergenic post, these drop earrings hang nearly three inches from the ear.
Lulus Creative Muse gold textured circle earrings, $14, Lulus.com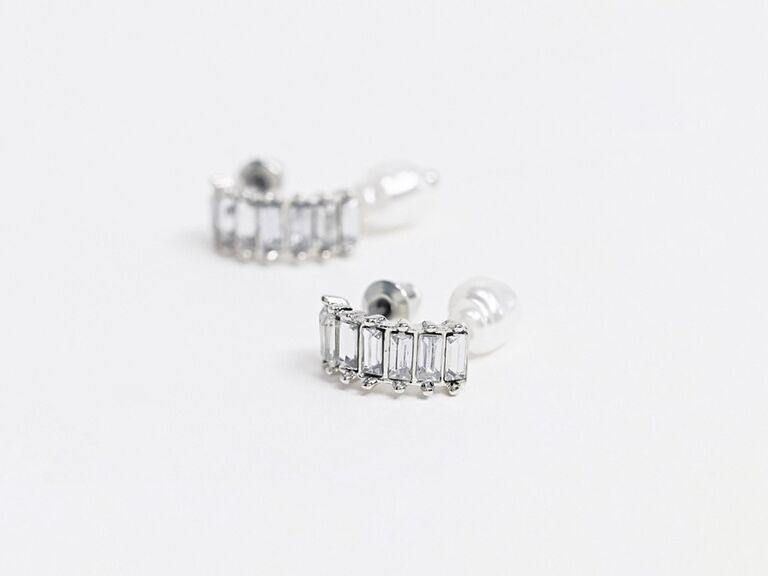 Want your I Do Crew to be decked out in diamonds without breaking the bank? These sparkly stunners from ASOS make a great choice. For only $8, they're studded with rhinestones that give way to a single pearl. Pretty enough to wear at any formal event or whenever she feels like sporting a touch of bling, these earrings make the perfect bridesmaid jewelry gift. For an extra touch, gift these with a pearl necklace.
ASOS Design stud earrings with crystal and pearl drop earrings, $8, Asos.com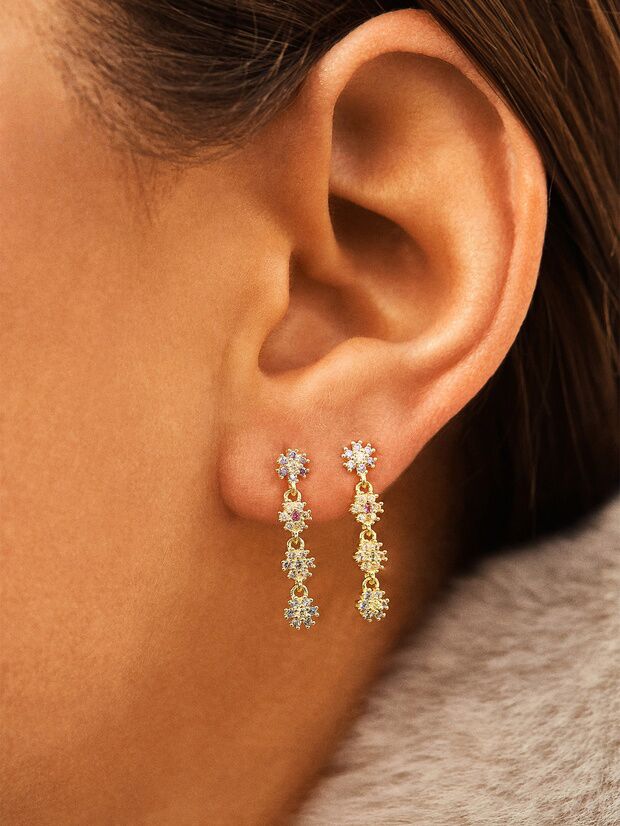 These sweet little 18-karat gold flower drop earrings are totally adorable for a springtime wedding. But with a hint of color and a reasonable size, we think they'd work with just about any outfit your girls could put together.
BaubleBar Flor 18k gold vermeil earrings, $68, BaubleBar.com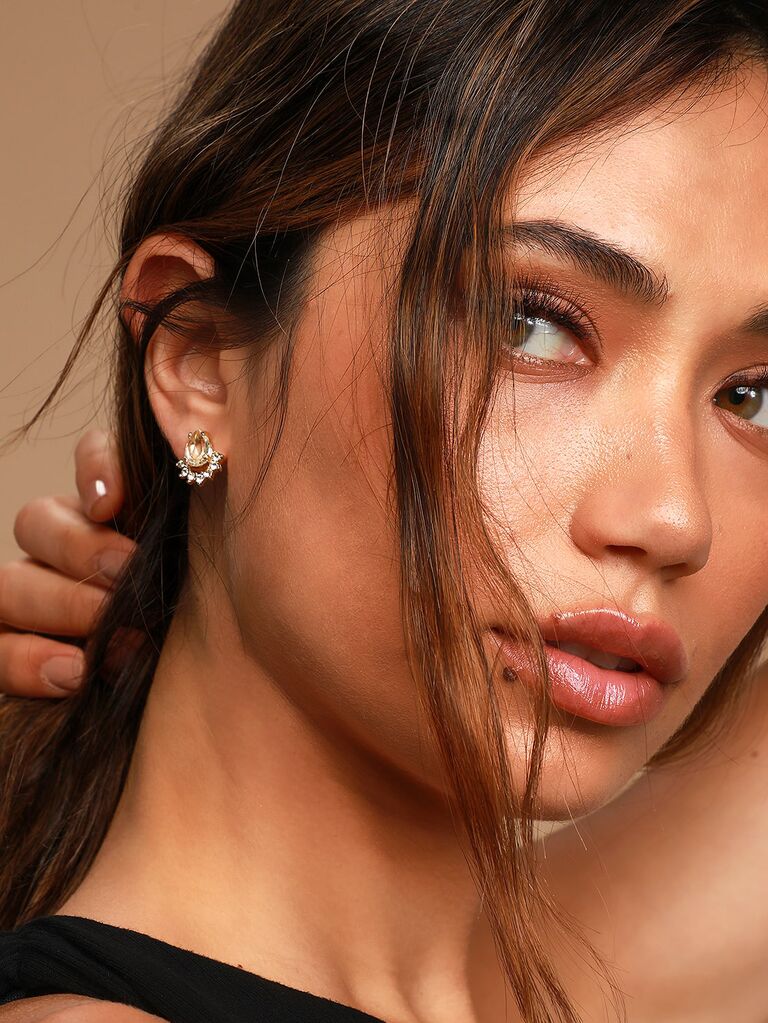 Looking for something dainty that still makes a statement? This rhinestone-studded earring set give that bridal look on a budget. Set in a gold frame, the clear, center rhinestone on these wedding-ready bridesmaid earrings is accompanied by several smaller stones.
Lulus Encased in Love gold rhinestone earrings, $15, Lulus.com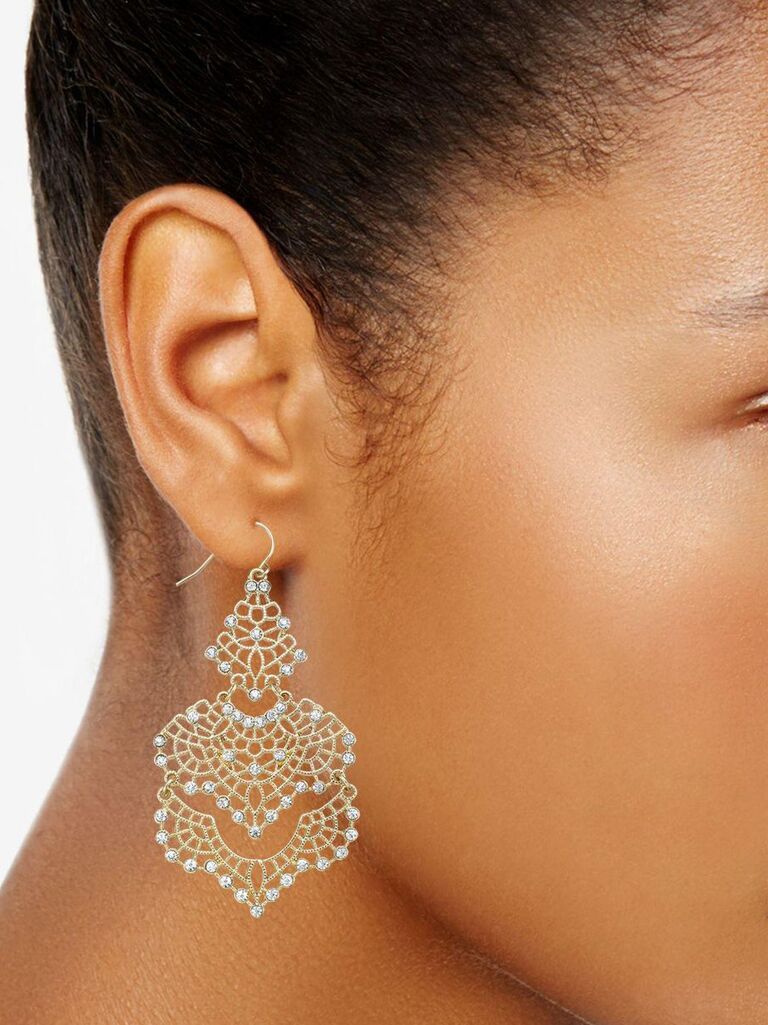 Your bridal party will stun when they wear these intricate chandelier earrings from INC International. A delicate lace-like pattern is utterly feminine, making them perfect for your big day, and everyday.
INC International Concepts crystal lace chandelier earrings, $30, Macys.com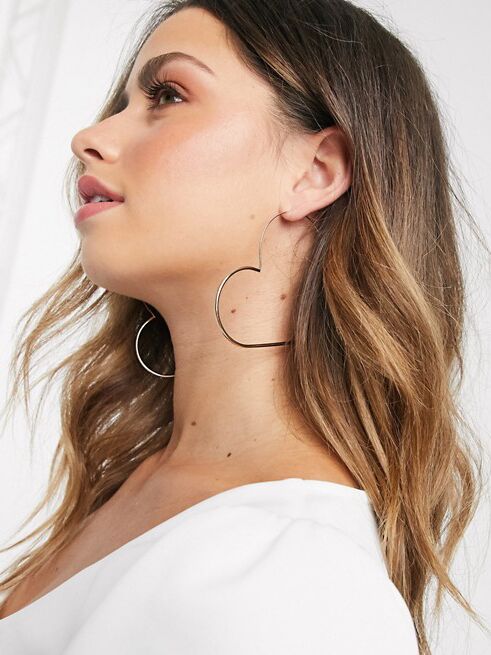 Your wedding day is one filled with love, which makes these heart pull-through earrings particularly apropos as a bridesmaid earrings gift. And bonus—they're sweet and simple enough to wear over and over again.
ASOS Design hoop pull-through heart-shaped earrings, $10, Asos.com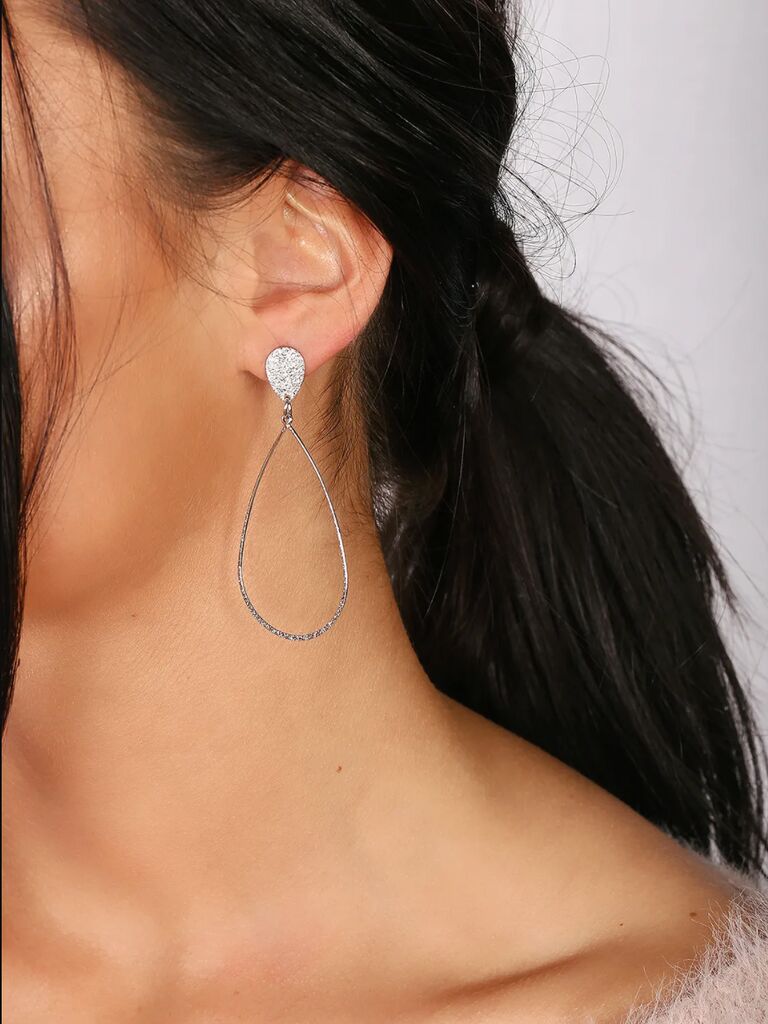 These elegant sparklers make a great bridesmaid earrings gift, especially if you're looking for something they'll wear over and over. The top glistens with a hammered metal pattern that'll dazzle as it catches the light. The drop part of these dangle earrings is a lightweight, simple sterling silver teardrop, which makes them easy to dress down for more casual days.
Lulus Glisten and Gleam silver teardrop earrings, $10, Lulus.com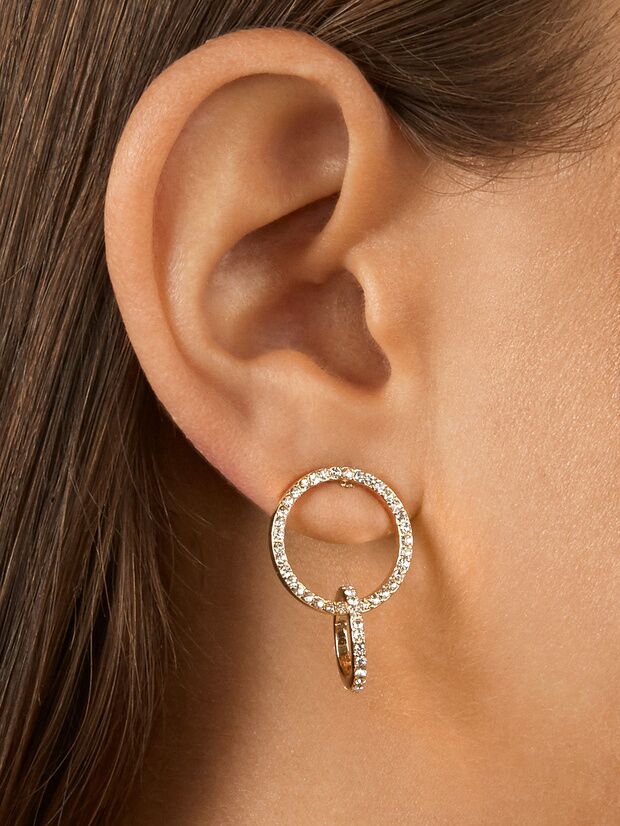 While these cubic zirconia-encrusted drop-hoop earrings can stand up to the most formal wedding, they somehow manage to look right at home in everyday clothing as well. So if you're having a formal wedding but you're looking for a bridesmaid gift your ladies will be happy to re-wear to other special occasions, we say give these a shot.
BaubleBar Cleo drop earrings, $38, BaubleBar.com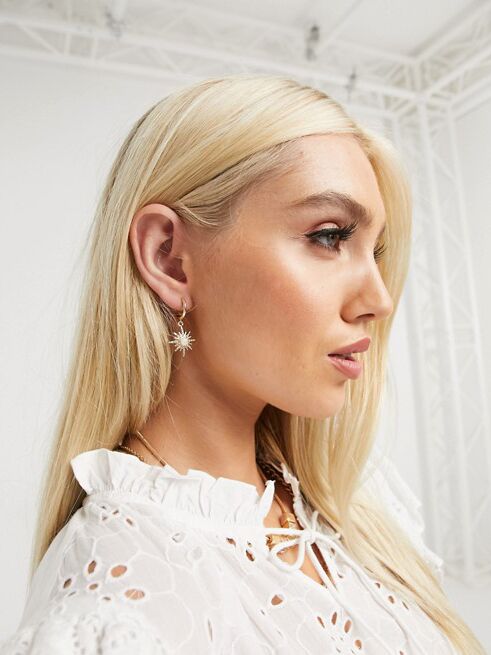 Star light, star bright—your best girls will be the stars when you opt for these starburst baubles. Here, a gold hoop gives way to a dramatic, starburst-shaped drop that'll look amazing with a variety of necklines. They're perfect for your special day, and many days beyond.
ASOS Design hoop earrings with starburst charm, $8, Asos.com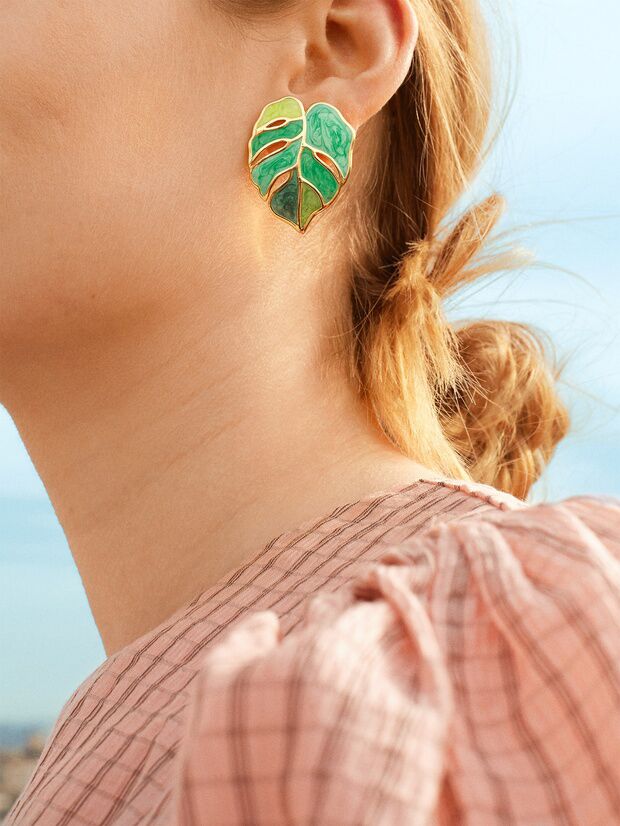 If your upcoming nuptials will be held in a tropical location, or if you're incorporating a tropical theme, these palm frond earrings will make the perfect bridesmaid earrings for your girls. Once your big day is over, we suspect these cuties will find a regular place in your girls' jewelry boxes.
BaubleBar frond button stud earrings, $38, BaubleBar.com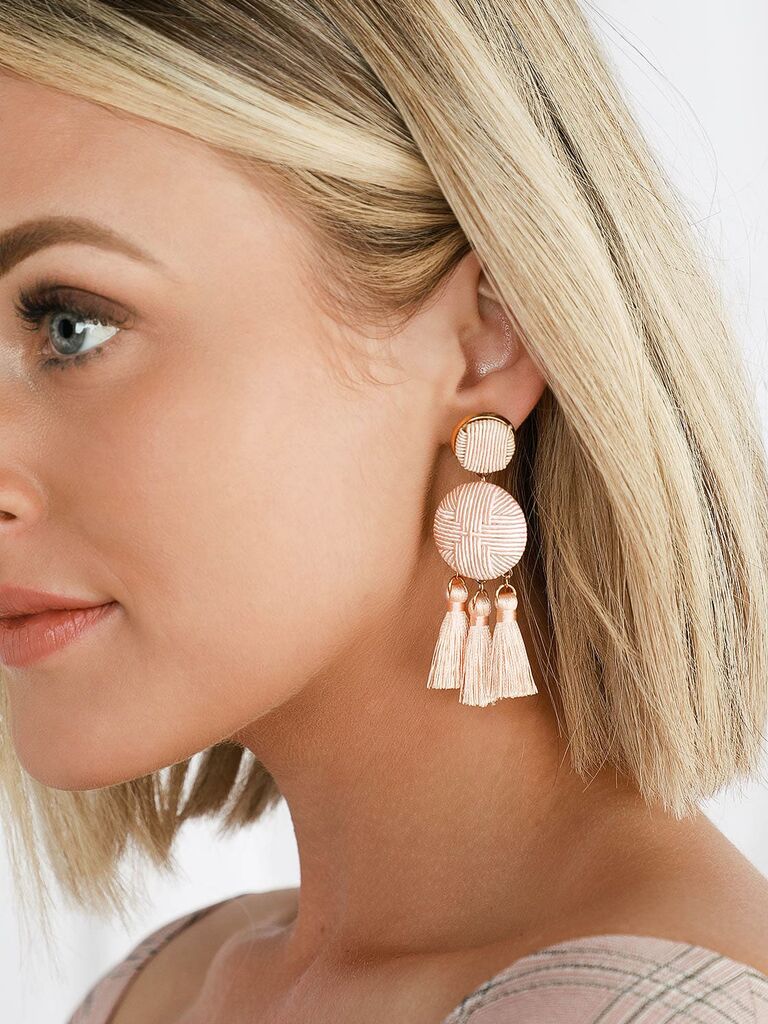 If your bridal party will be donning blush-colored gowns to walk down the aisle, these earrings will be the perfect finishing touch. The best news? They're totally cute enough for everyday wear. The boho-inspired, thread-wrapped style with added tassels will look right at home for a day at the office or simply running errands.
Lulus Afton blush tassel earrings, $14, Lulus.com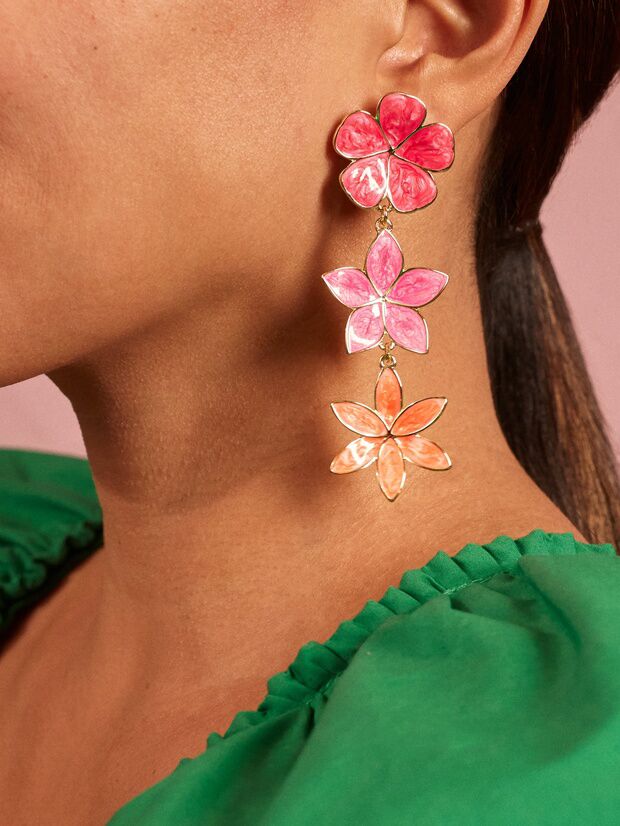 Your bridal party can channel spring when they wear these bridesmaid earrings on your big day. With three pretty-in-pink enamel flowers in a vertical drop style, these will be your bridesmaids' go-to earrings long after your wedding day has come and gone.
BaubleBar Buttercup drop earrings, $48, BaubleBar.com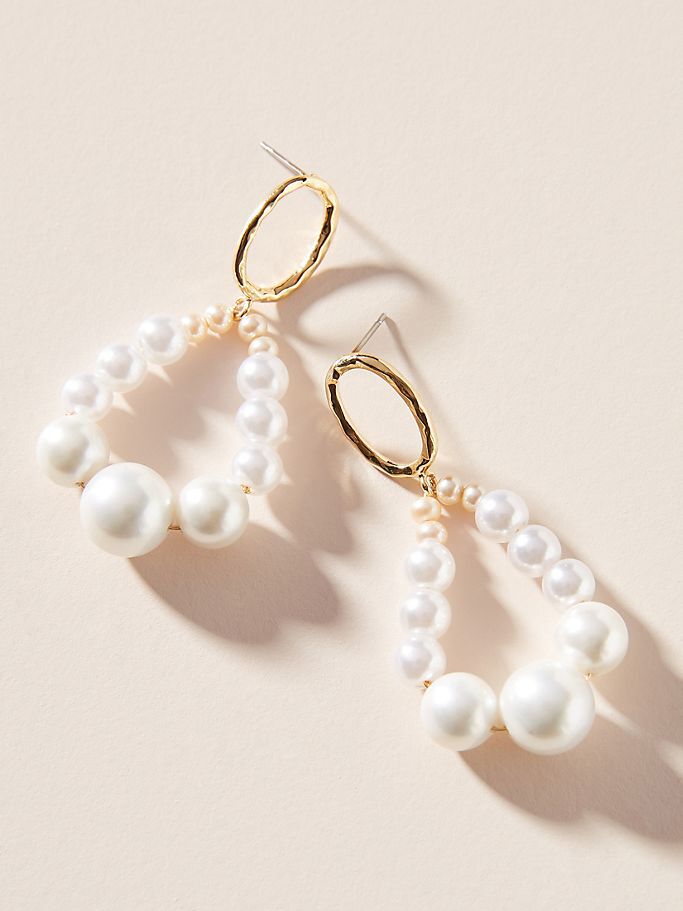 A dramatic pearl-studded hoop hangs from these stud earrings. The pretty pearls will look just right at your wedding, but these bridesmaid earrings are simple enough for everyday wear as well.
Serefina Kai beaded drop earrings, $58, Anthropologie.com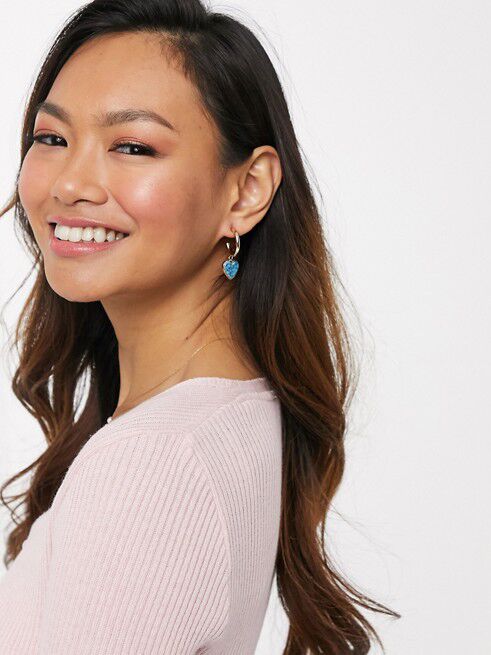 These cute turquoise earrings will coordinate perfectly with some of this season's hottest bridesmaid dress colors. But they're simple and casual enough to be worn with just about any everyday outfit your best girls could dream up.
ASOS Design hoop earrings with turquoise heart charm, $10, Asos.com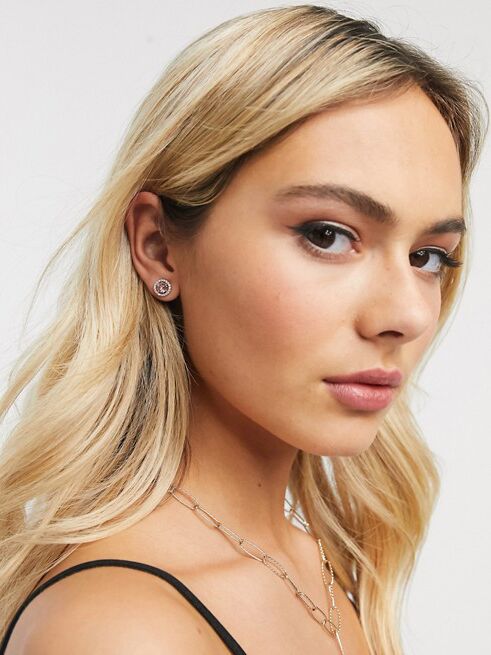 These beautifully feminine rose gold stud earrings are the perfect wedding-ready accessory for your bridesmaids, and they'd totally work as bridal jewelry if you want to match your girls. But trust us—they'll look just as amazing with jeans. The channel-cut cubic zirconia stones lend a vintage vibe your leading ladies will love.
Accessorize stud earrings in rose gold, $24, Asos.com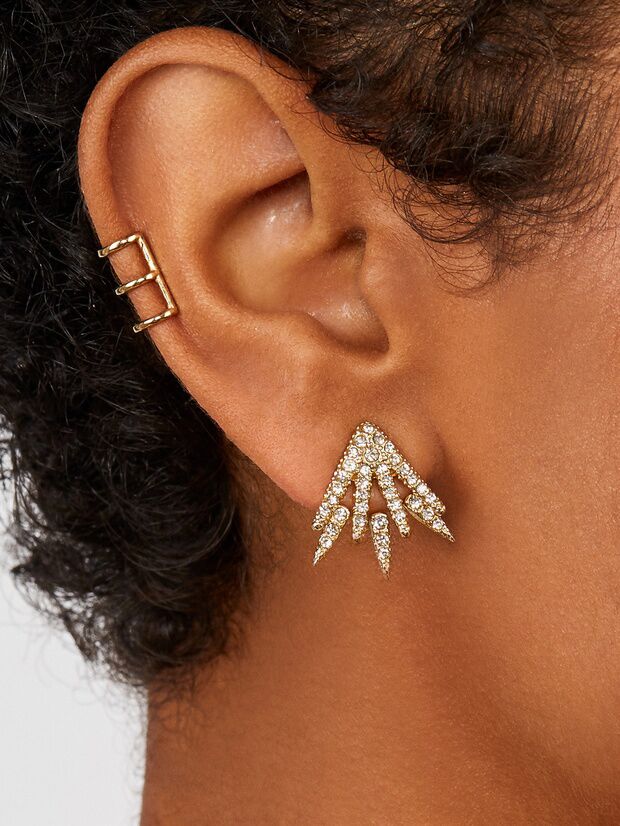 These trendy ear jackets are set with shimmery stones that will give your crew that touch of bling they so deserve. But when the wedding's over, these bridesmaid earrings will go the distance for your girls, with a chic look they'll love.
BaubleBar Centauri ear jackets, $36, BaubleBar.com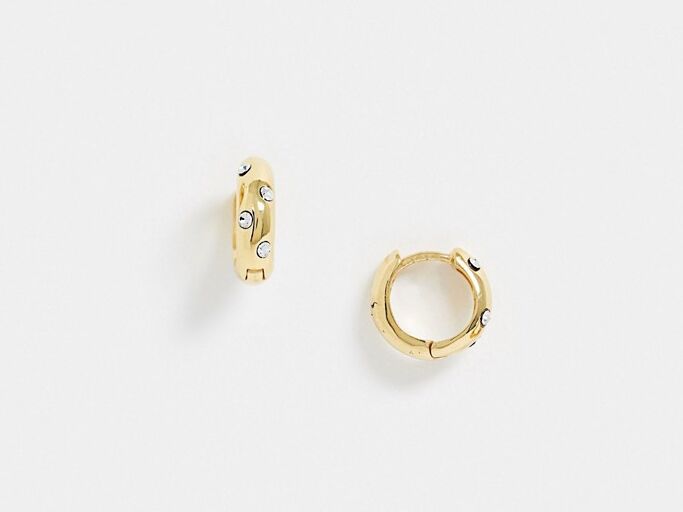 Who wouldn't love these sweet little huggie hoops? These yellow gold earrings will add just the right touch of bling as your girls walk down the aisle, but they'll transition perfectly to everyday wear as well—we literally can't think of any clothing that wouldn't coordinate with these simple yet pretty gold hoop earrings with crystal polka dots.
ASOS Design gold-plated huggie hoop earrings with polka dot crystals, 19, Asos.com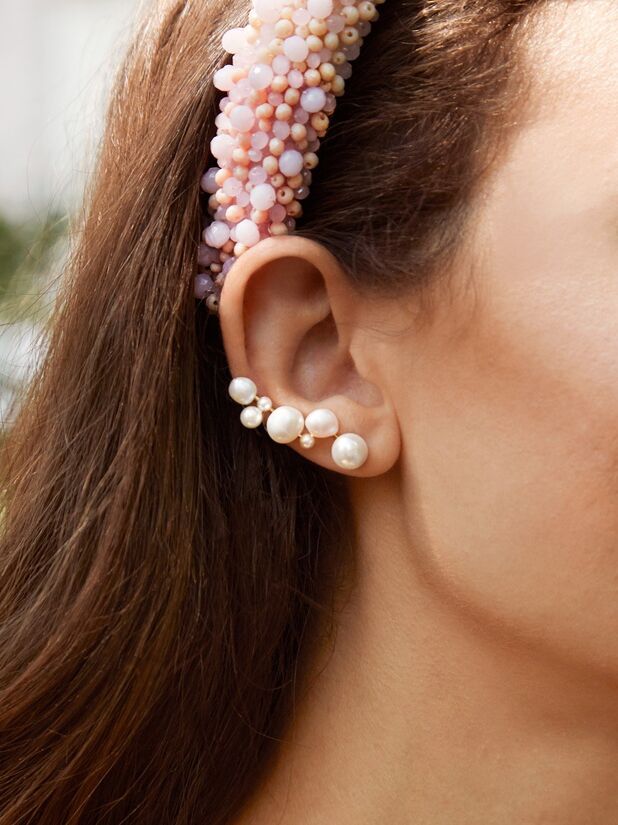 These pearl ear crawlers are absolutely gorgeous, making a simply perfect bridesmaid earring. But they're simple enough to be worn over and over again, whether your leading ladies choose to wear them to work or a fun evening out.
BaubleBar Soraida pearl ear crawlers, $42, BaubleBar.com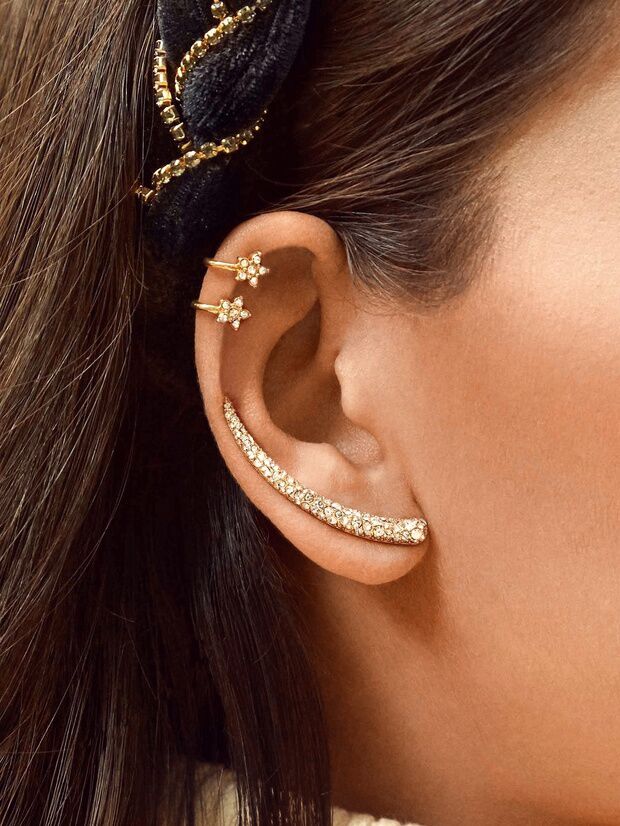 These tusk-shaped studs lend a dramatic amount of bling to your bridesmaids' ears—not to mention they'll coordinate beautifully with just about any dress they'll wear on your special day. But that match-with-anything flair will carry these earrings long past wedding wear. We're guessing your bridesmaids will reach for these crystal-encrusted studs many times.
BaubleBar Andromeda stud earrings, $38, BaubleBar.com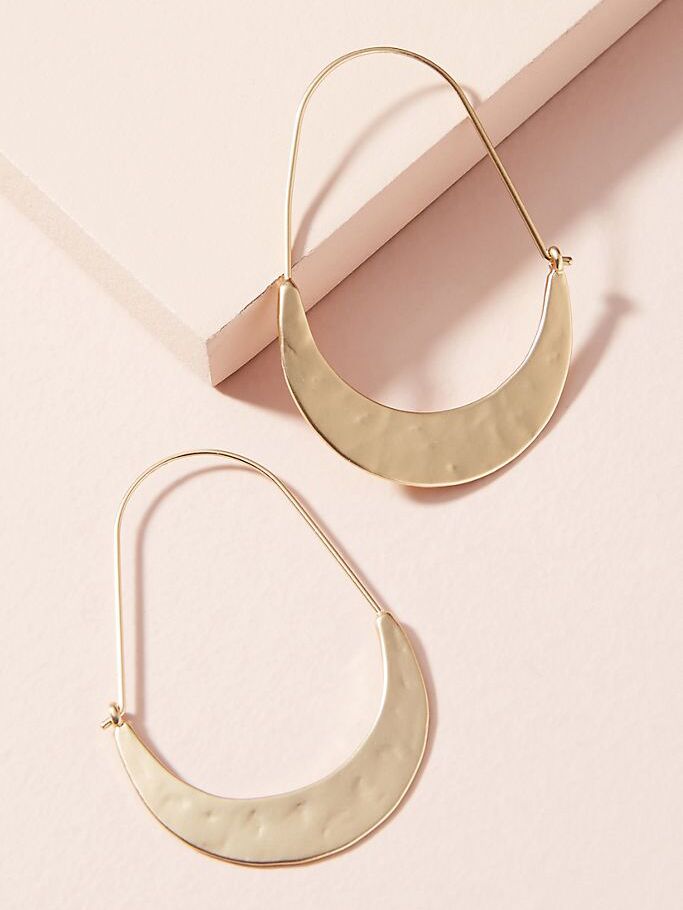 You can't go wrong when you choose these trendy crescent hoops for bridesmaid earrings. The simple gold finish ensures they'll match with anything, which can only mean one thing: your leading ladies will be reaching for these more than once!
Anthropologie Crescent hoop earrings, $38, Anthropologie.com