The Cutest Bridesmaid Jewelry Gift Sets for Every Budget
Show your appreciation with some adorable accessories.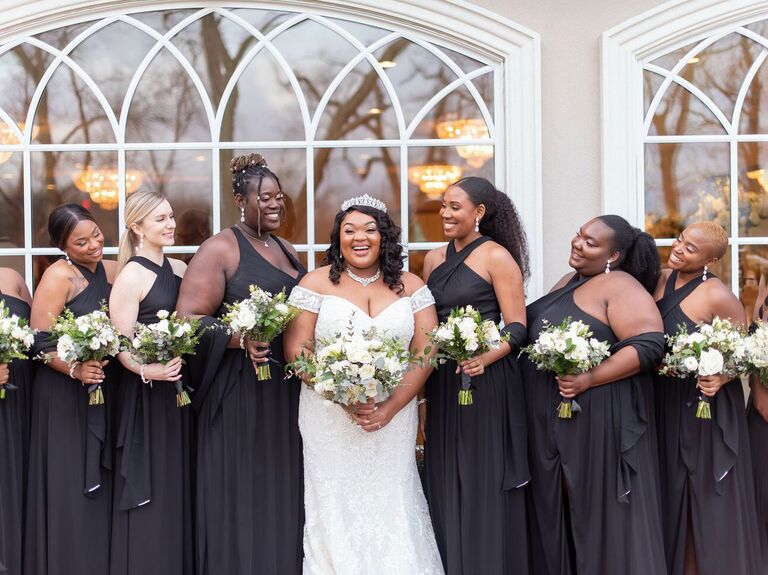 Janelle Jaqueline Photography
We have included third party products to help you navigate and enjoy life's biggest moments. Purchases made through links on this page may earn us a commission.
Whether you're shopping for the bridesmaid proposal, wedding day accessories or thank-you presents, jewelry is a sweet show of appreciation for your bridal party. If you can't decide between necklaces, bracelets and earrings, bridesmaid jewelry sets are the perfect solution. Prepackaged sets are extremely giftable and make accessorizing easy. Plus, there are options for every style and trend, from gold and silver to crystals and pearls. Here, we're sharing some of our favorite finds that you can buy online. No matter your budget, these bridesmaid jewelry gifts are sure to impress your wedding VIPs.
In this article:
Bridesmaid Jewelry Sets Under $50
Jewelry is a classic bridesmaid gift, but if you have a big bridal party or a strict budget, it can be hard to find affordable options. That's why we've rounded up the best bridesmaid jewelry sets for $50 or less. These earrings, necklaces and bracelets will be a sweet token of your appreciation as well as a sparkly addition to your crew's wedding day looks.
Personalized Swarovski Crystal Bridesmaid Jewelry Gift Set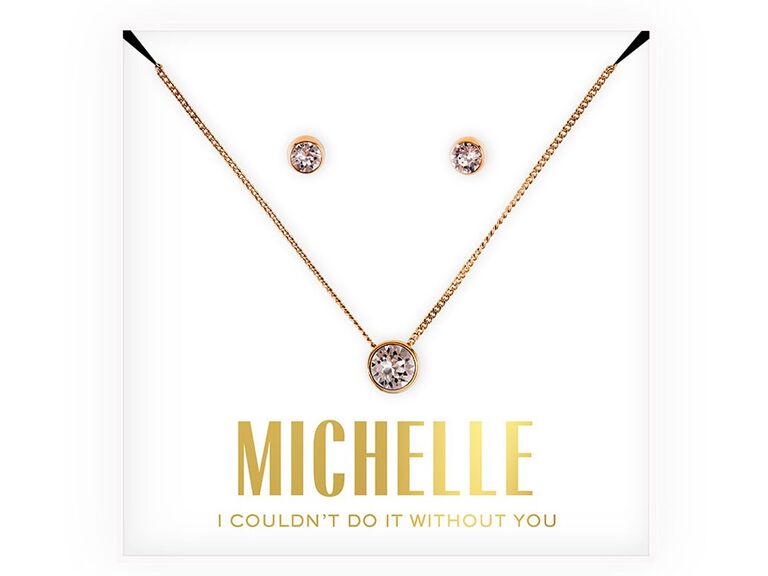 Show your crew some love on the wedding day with this affordable bridesmaid jewelry gift set. It comes with Swarovski crystal stud earrings that match the solitaire stone on the stainless steel necklace. The gift box can be personalized with your bridal party's names alongside a sweet note that reads, "I couldn't do it without you."
Marquise Crystal and Pearl Bridesmaid Bracelet and Earring Set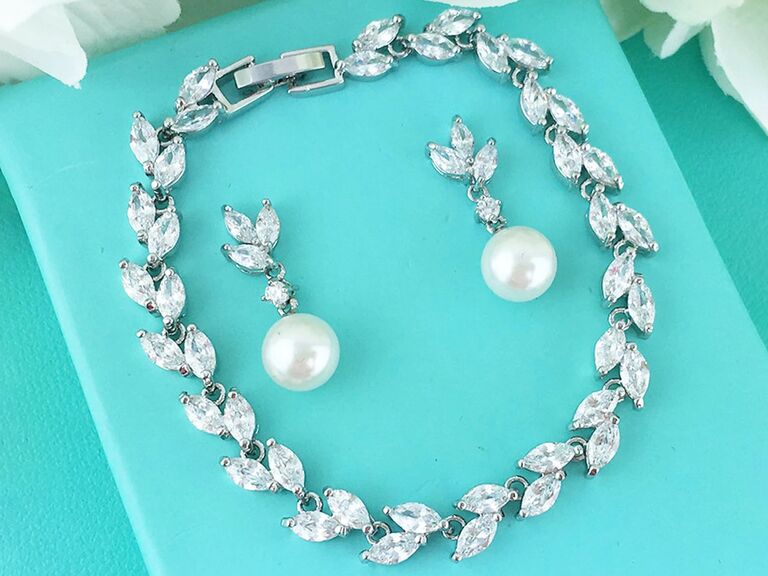 This bridesmaid jewelry set comes in silver, gold or rose gold. The sparkling bracelet boasts marquise cubic zirconia stones and pairs with pearl drop earrings made from ivory glass. You can even customize the gift box with cards addressed to each bridesmaid.
Crystal Burst Sapphire Necklace and Earring Bridesmaid Gift Set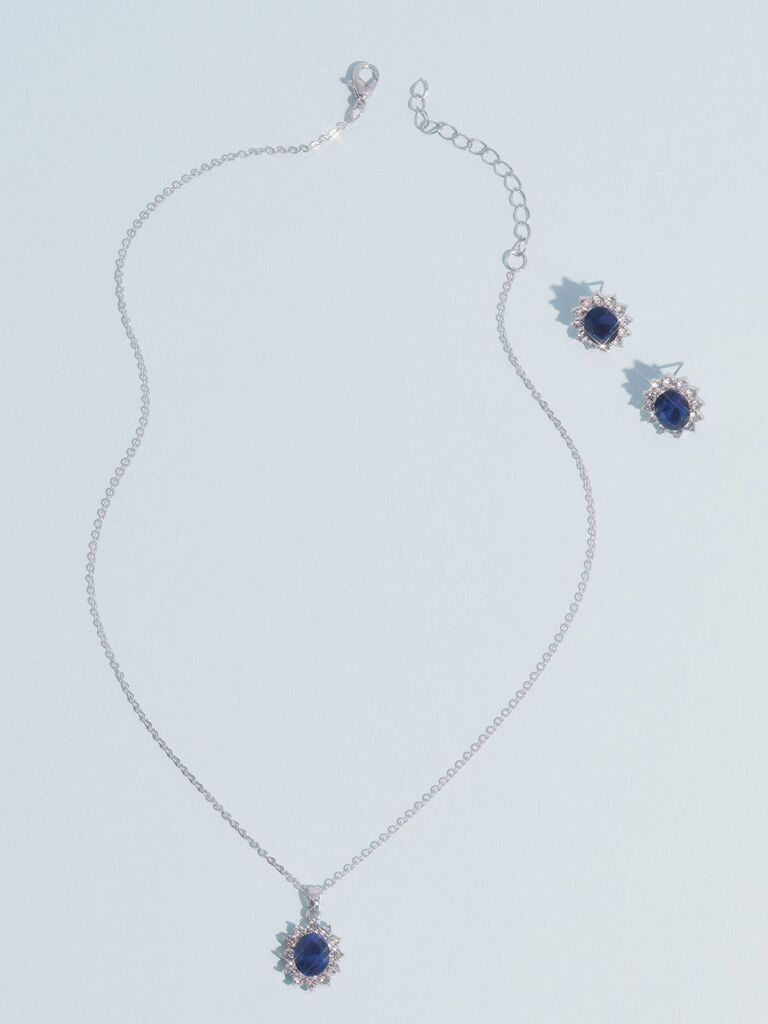 Dress your bridal party like royalty with a faux sapphire jewelry set. The silver pendant necklace and stud earrings all have a single blue stone surrounded by a crystal burst. The pop of color makes it especially unique jewelry for your bridesmaids.
Mismatched Gold and Rhinestone Bridesmaid Ring Set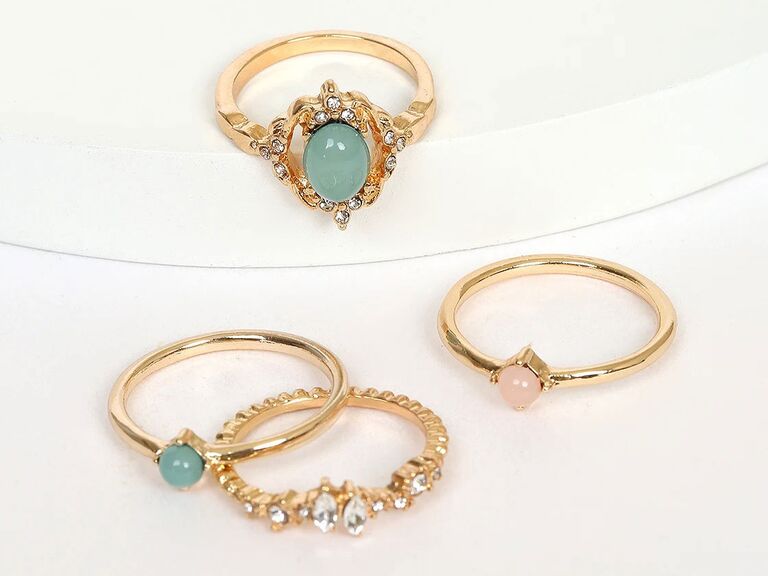 How about giving your BFFs rings to ask them to be your bridesmaids? This four-piece set of mismatched gold rings gives off vintage vibes. Each stackable ring has a green stone, a pink stone, cubic zirconia rhinestones or a combination. It's an affordable bridesmaid jewelry gift under $20 that your 'maids will love to style.
Three-Piece Gold Rhinestone Jewelry Set for Bridesmaids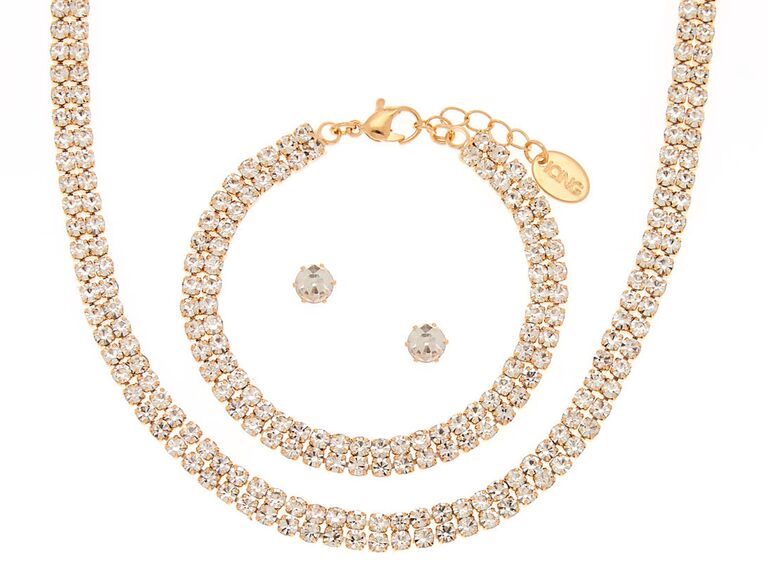 This gold-tone bridesmaid jewelry set offers the complete package: earrings, a bracelet and a necklace. The statement bracelet and glamorous choker boast two rows of shiny rhinestones that match the simple stud earrings.
Rose Gold Faux Pearl Teardrop Necklace and Earrings Set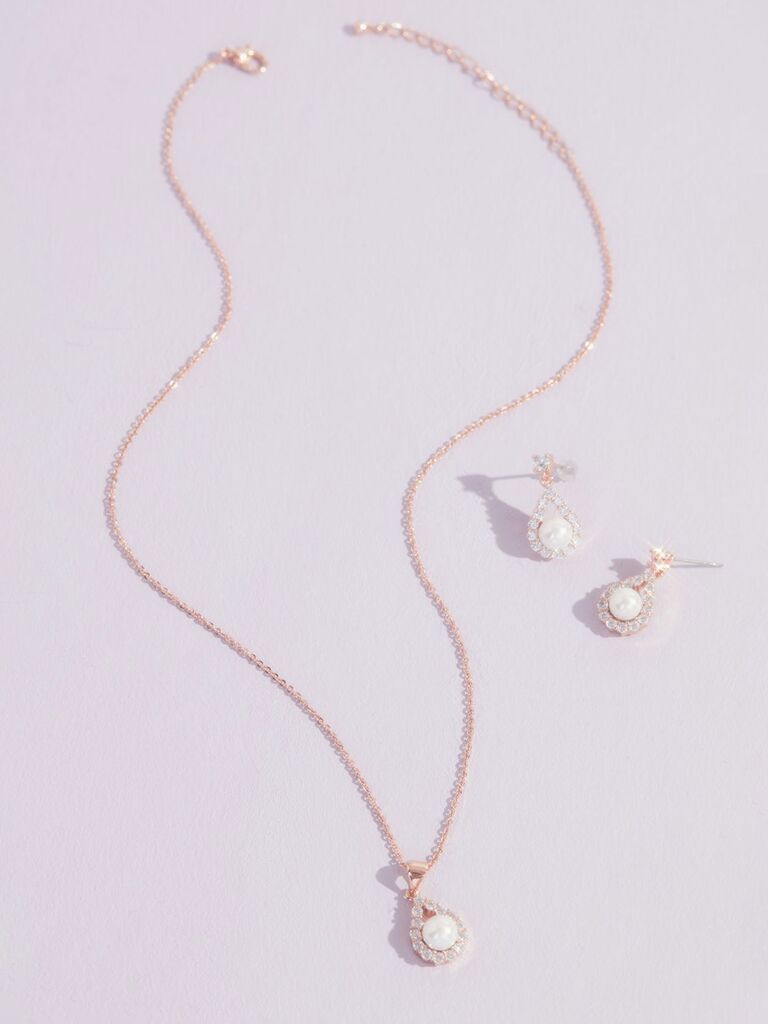 Pink and pearls are such a cute combination. This rose gold bridesmaid jewelry set has a rhinestone teardrop halo around a faux pearl on both the necklace and earrings. It's a nice touch of color and bling for your bridal party to wear on the wedding day and often after.
Layered Gold Chain Necklace Bridesmaid Jewelry Set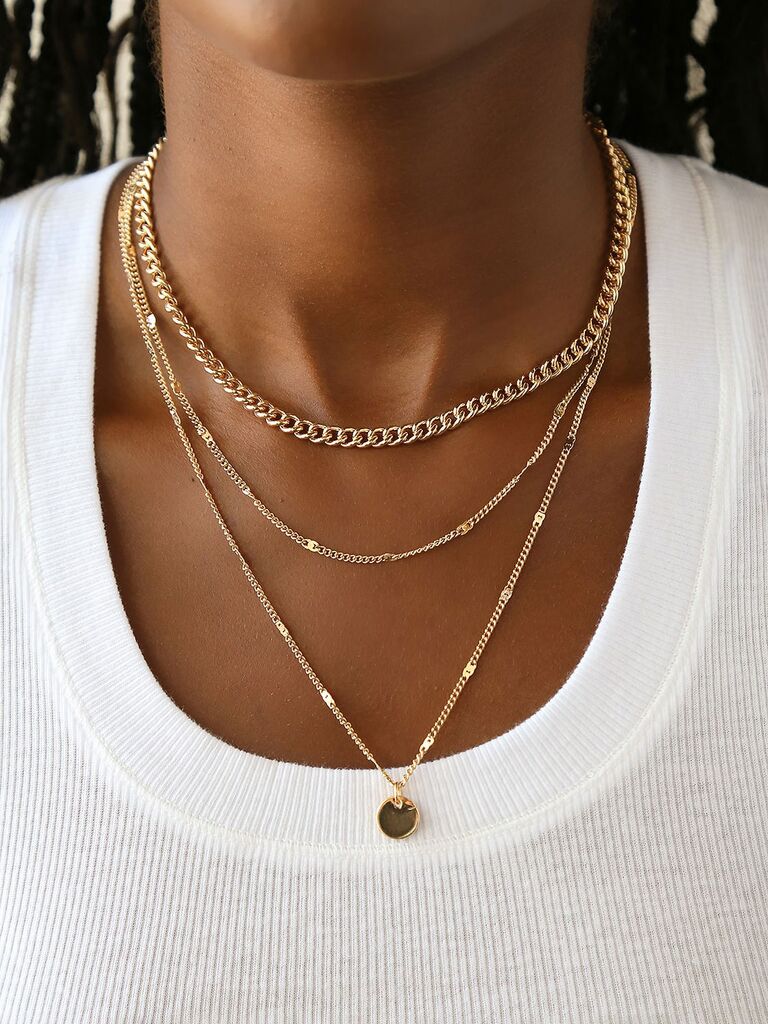 Looking for a small thank-you gift for your bridesmaids? Layered necklaces are in high demand. This dainty bridesmaid jewelry set of three gold necklaces has two chain styles plus a simple circle pendant. It also comes in silver.
Scalloped Teardrop Bridesmaid Necklace and Earring Jewelry Set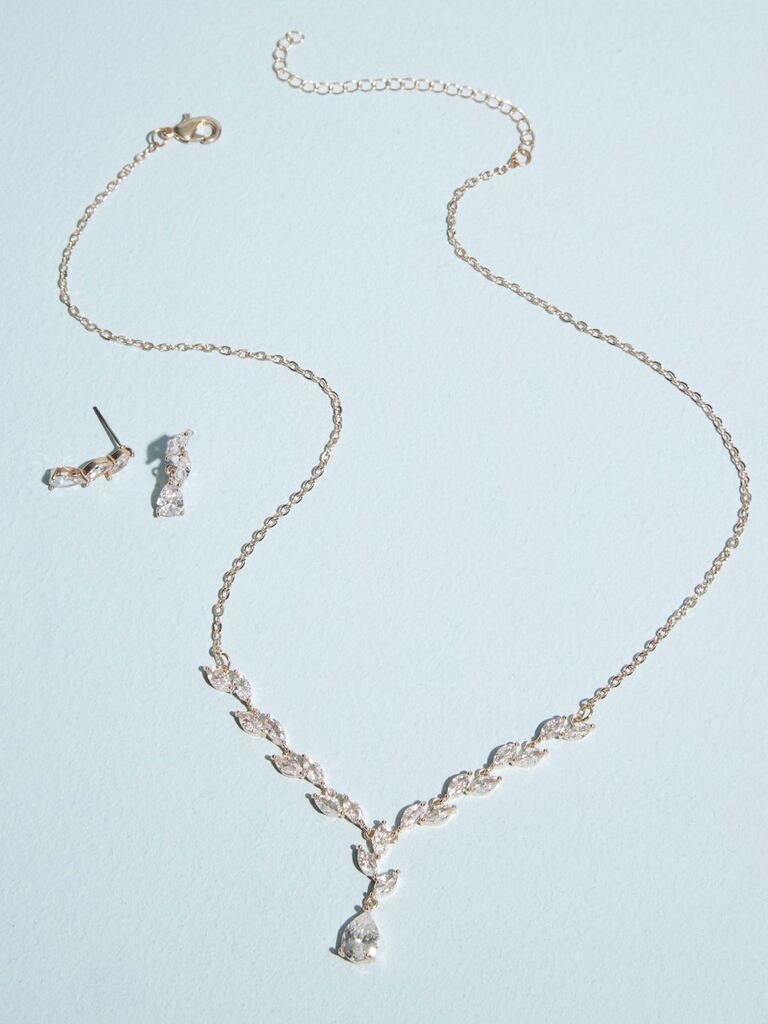 This silver-tone bridesmaid necklace and earring set is decorated with scalloped rhinestones for an enchanting design. It features a teardrop pendant necklace lined with marquise cubic zirconia crystals. The three-rhinestone drop earrings subtly add more glitz.
Boho Beaded Friendship Bracelet Gift Set for Bridesmaids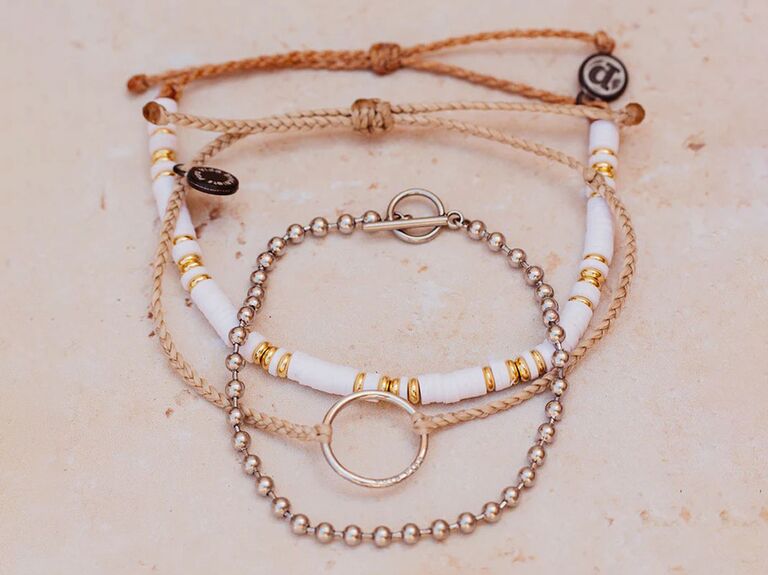 No one knows your bridesmaids better than you, so thank them for always being by your side with jewelry sets they'll really love. Pura Vida has dozens of colorful friendship bracelets so you can find unique jewelry for everyone on your list. This boho-style pack includes a neutral braided circle bracelet, a white and gold beaded bracelet, and a silver ball chain bracelet for everyday stacking.
Mother-of-Pearl Heart Necklace and Stud Earring Gift Set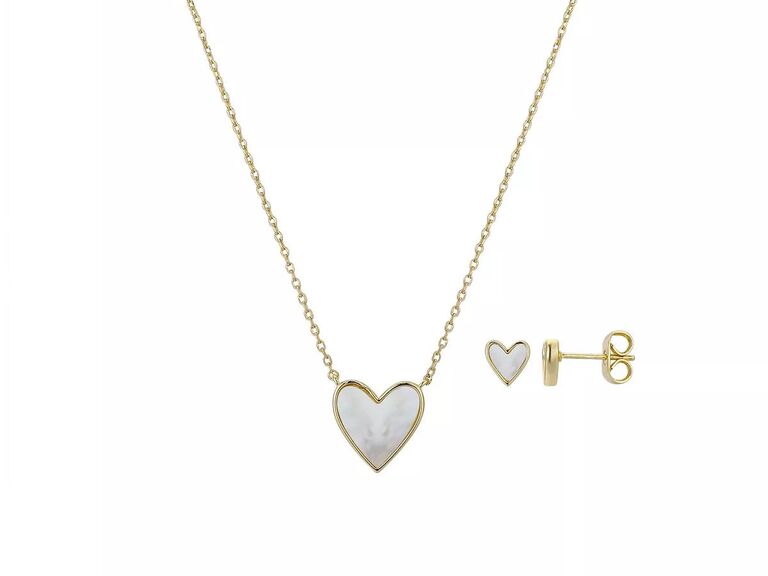 Heart-shaped gifts are a cute way to tell your bridesmaids how much you love them. This gold jewelry set features a mother-of-pearl heart-shaped pendant as well as matching stud earrings.
Crystal Collar Necklace With Earrings Bridesmaid Gift Set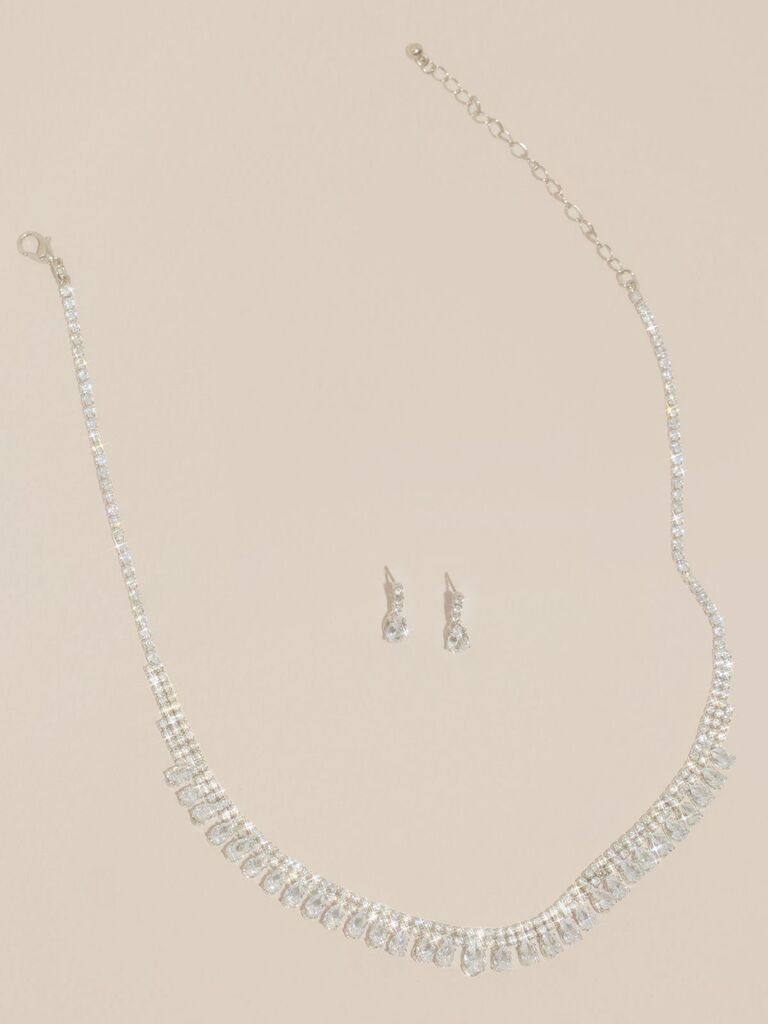 Shopping for bridesmaids who love their bling? This necklace and earring set is covered with eye-catching crystals. The collar necklace has two rows of pavé crystals with a third layer of teardrops that match the dainty dangle earrings.
Rose Gold Crystal Halo Bridesmaid Jewelry Gift Set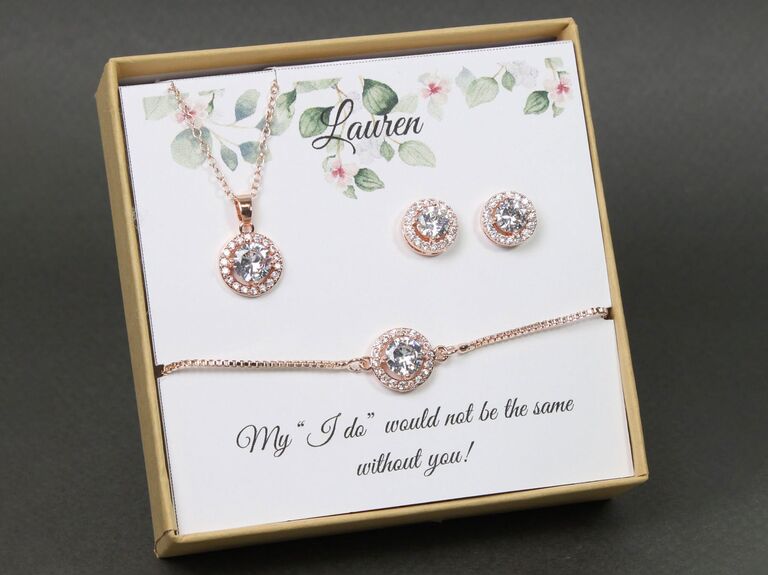 Here's another affordable three-piece bridesmaid jewelry set that'll be a gorgeous addition to their wedding day look. Cubic zirconia crystals set in rose, yellow or white gold decorate the pendant necklace, bracelet and stud earrings. The crystals can even be colored for a unique set for each bridesmaid. Finish the gift with a custom card that expresses your gratitude.
Champagne Stud Earrings Gift Set for Bridesmaids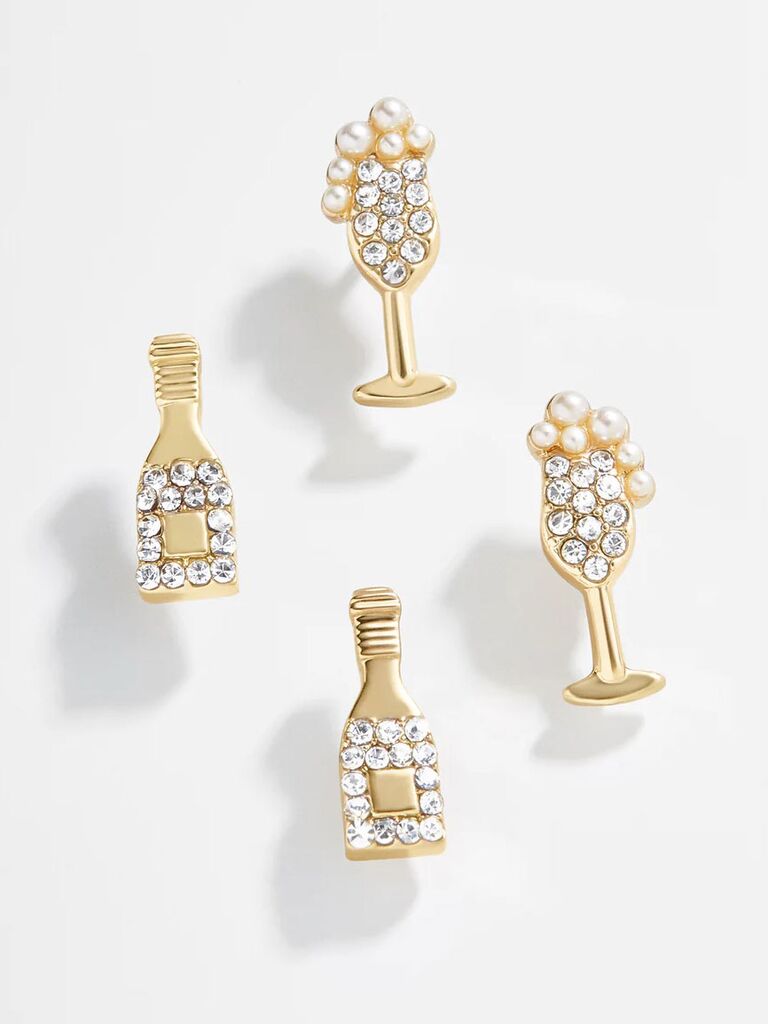 Pop the bubbly! Add these gold champagne bottle and flute stud earrings to your bridesmaid proposal boxes for an extra-celebratory touch. They're the perfect accessories for the bachelorette trip.
Silver Faux Pearl Necklace and Drop Earrings Jewelry Set
Pearls are everywhere right now, making this inexpensive bridesmaid jewelry set a super-trendy option. It comes with faux diamond and pearl drop stud earrings as well as a simple double-gem necklace all finished in silver metal.
Gold Knot Pendant Necklace and Stud Earrings Gift Set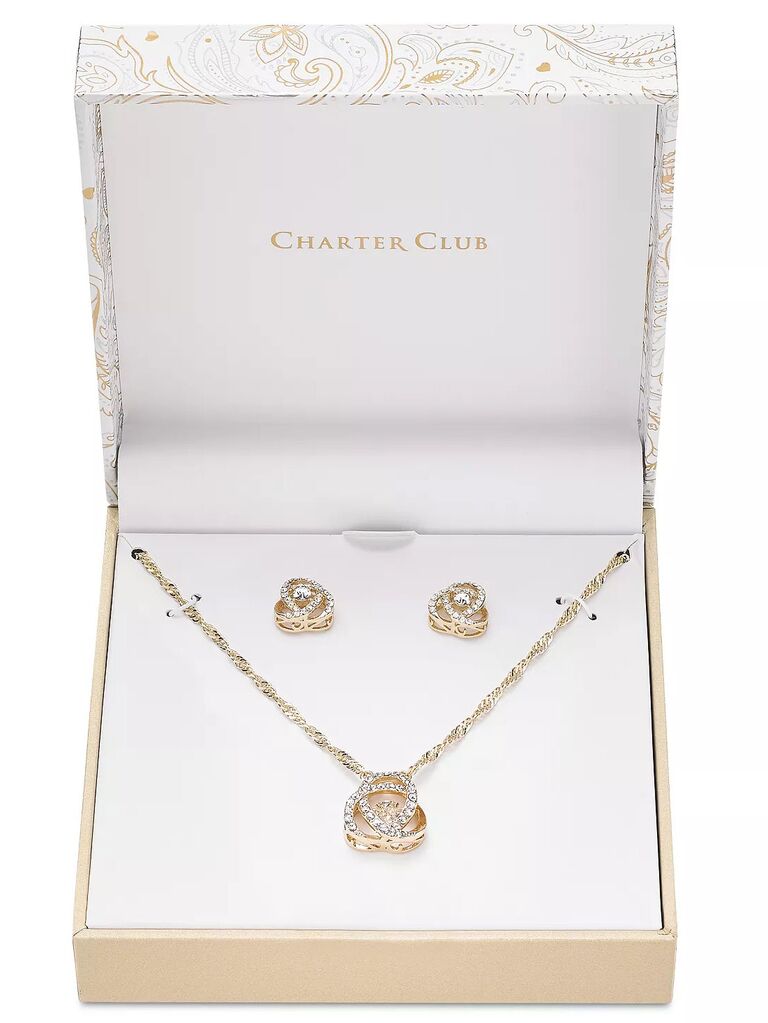 If you're looking for super-meaningful bridesmaid jewelry, this symbolic necklace and earring set will make a winning gift. The pieces are designed in the shape of love knots embellished with pavé crystals. Bonus: The gold-plate chain is uniquely twisted for extra detail.
Bridesmaid Jewelry Sets Over $50
If you want to splurge on your bridesmaids or your maid of honor, these stunning jewelry gifts are worth it. Your attendants will definitely wear these earring, necklace and bracelet sets long after the wedding.
Mismatched Gold Crystal Cuff Bracelet Gift Set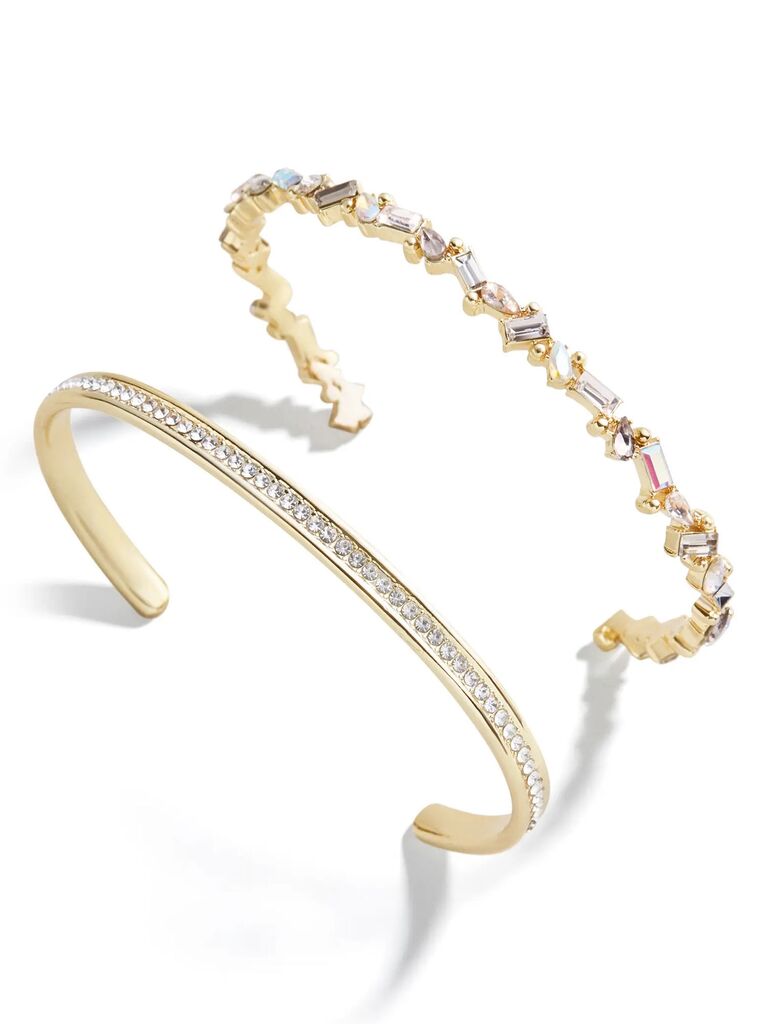 Searching for trendy bridesmaid jewelry ideas? How about a set of cuff bracelets? These gold-tone stackable wristbands shimmer and shine. One is embellished with a classic pavé crystal design while the other mixes pear and rectangular pastel rhinestones. They're beautifully special wedding day accessories for your bridal party.
Dainty Birthstone Ring and Earring Gift Set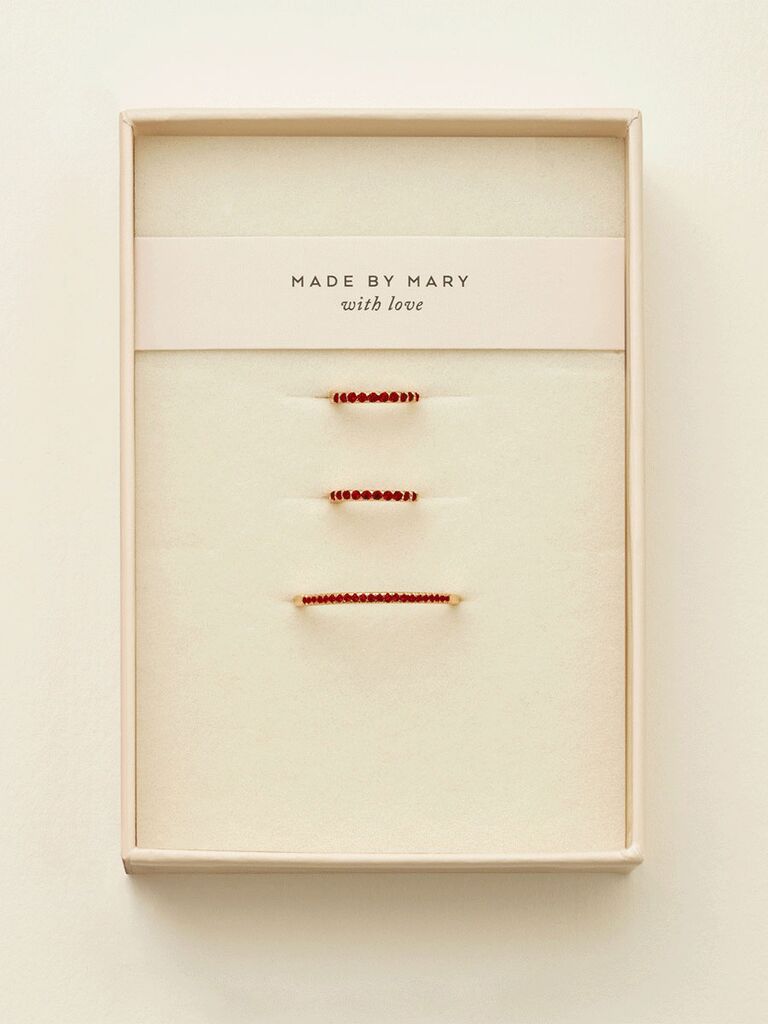 Gift each bridesmaid jewelry that's unique to them. This dainty set includes a stacking ring and matching hoop earrings made from gold vermeil and cubic zirconia crystals. Find everyone's birthstone color for a sweet gesture.
Pink Diamond and Pearl Bracelet and Earring Set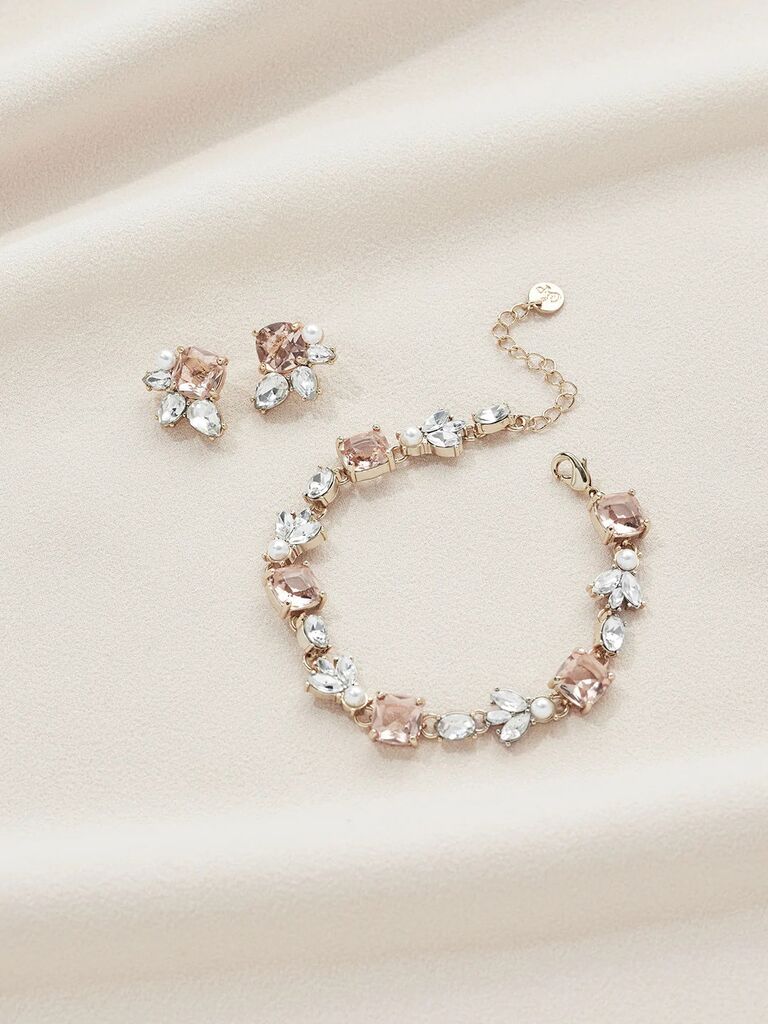 This bridesmaid bracelet and earring set will be the perfect finishing touch to each attendant's wedding outfit. Pink and clear glass crystals pair with faux pearls for delicate and timeless accessories. We love the dreamy mix of stone shapes.
Iridescent Drusy Necklace and Stud Earrings Gift Set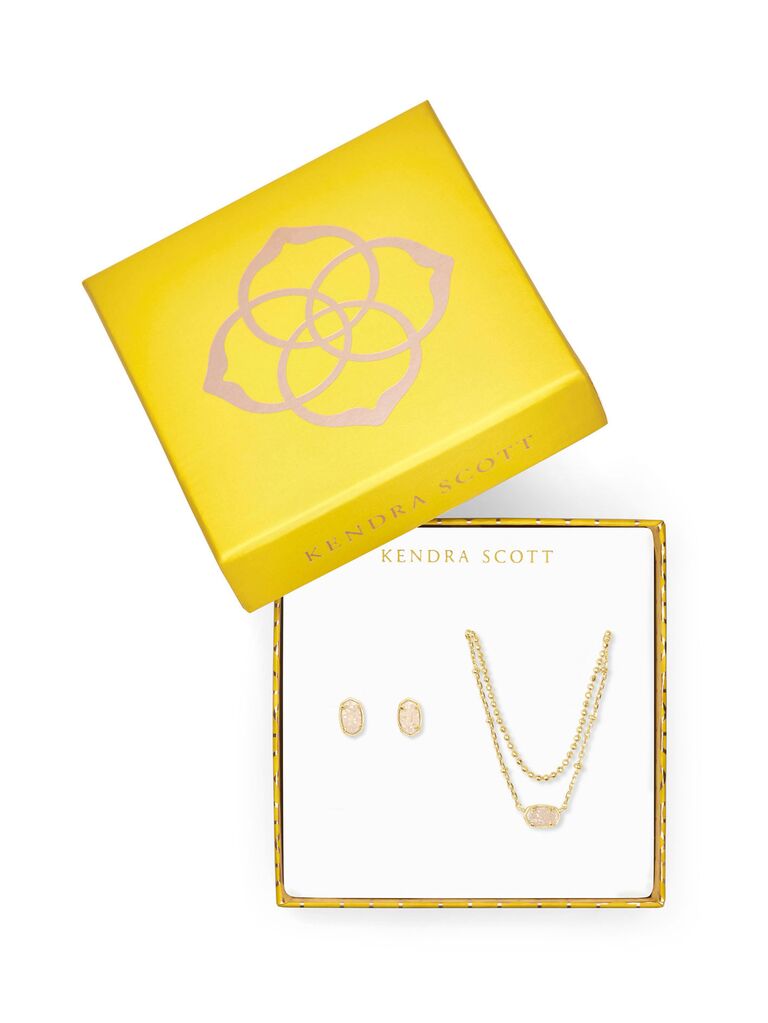 You can't go wrong with one of Kendra Scott's popular drusy necklaces and matching stud earrings. This necklace has an iridescent stone attached to a double gold-plated chain. Best of all, the jewelry set comes gift wrapped.
Freshwater Pearl and Crystal Necklace With Stud Earrings Set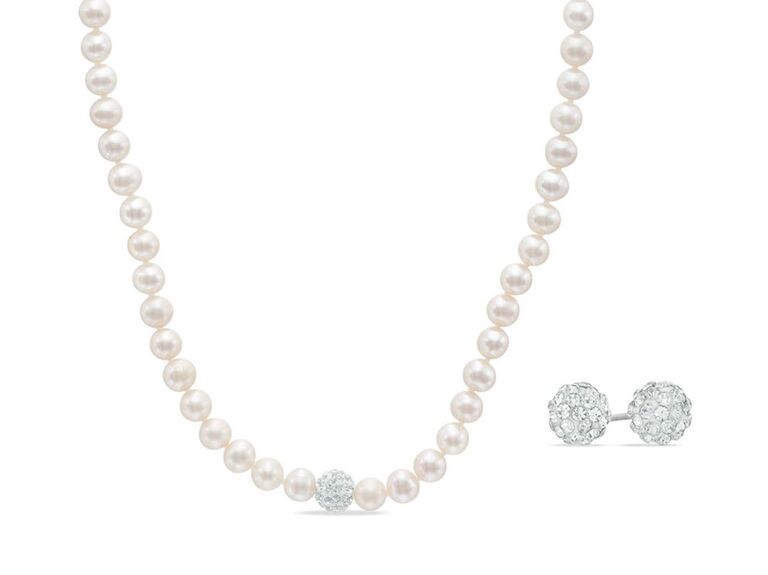 If you're looking for classic wedding jewelry for your bridesmaids, pearls never go out of style. On this necklace, cultured freshwater pearls pair with a crystal-studded center bead. Matching crystal stud earrings complete the chic set, which is great for accessorizing formal attire.
Swarovski Pavé Crystal Necklace and Hoop Earrings Jewelry Set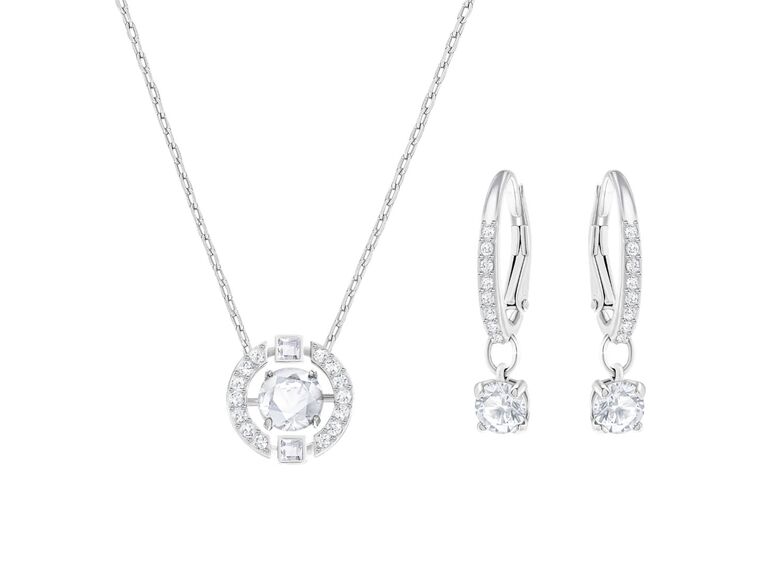 This bridesmaid jewelry set is classic elegance. Pavé crystals line silver hoop earrings with sparkling dangled stones. The round pendant necklace features a unique floating crystal framed by even more sparkle.
Gold Circle Necklace and Matching Bracelet Gift Set
Remember the song, "A circle's round, it has no end, that's how long, I want to be your friend"? This hoop bridesmaid jewelry set celebrates friendship, making it the perfect gift for your bridesmaid proposal or thank-you. The necklace and bracelet are made from 14K gold with minimalist circle pendants for a pair of everyday accessories.