Exclusive: Caila Quinn & Nick Burrello Reveal Their Full Wedding Album
The day included sentimental nods to family and a 'Greatest Showman' first dance song. Get the details.
After a year of unexpected pivots and planning alterations, Caila Quinn and her husband, Nick Burrello, are officially married. On May 29, 2021, the pair exchanged vows in a scenic, sunny estate wedding in Sarasota, Florida. "Being 'husband and wife' is wonderful," Quinn tells The Knot. "I wanted to shout it from the rooftops too. We both took a moment to pause and look out at all of our guests to take in the moment. And then we were ready to party."
The couple's scenic, outdoor ceremony took place at the lavish and historic John and Mable Ringling Museum of Art in Sarasota, Florida. The emotional nuptials included handwritten vows by the bride and groom, cultural nods throughout the proceedings, and several surprises, including a flash mob-style Broadway performance that completely surprised the guests and the groom. The bride was a vision in a strapless ballgown with a form-fitting illusion bustier that she chose from Kleinfeld while appearing on an episode of TLC's Say Yes to the Dress. The groom looked sharp in a Balani custom tuxedo.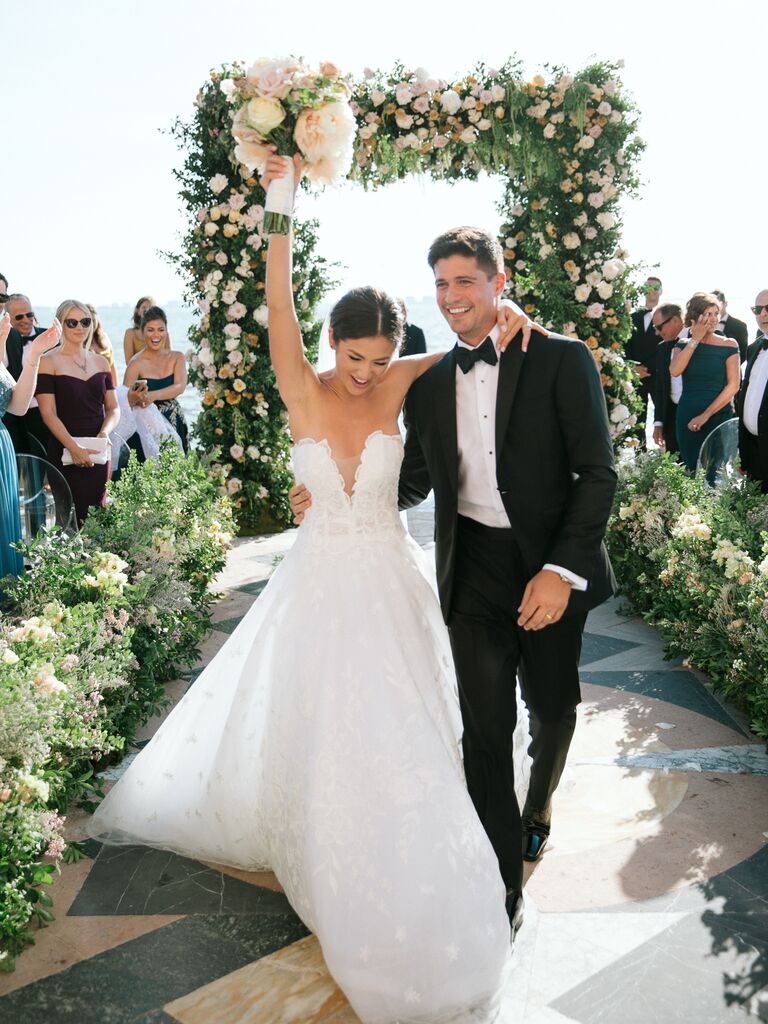 The event was followed by an open-air reception in the venue's courtyard. Like a million-plus couples, the newlyweds had all-but-planned their weddings (yes, plural) when COVID-19 decided to stay put for a bit longer. They ended having to scrap their initial plans for something closer to home that still had the feel of a European getaway, which was their original vision. Despite the changes, the day was everything and more to the Burrellos.
"After our nuptials, I felt like I was floating on a cloud," Quinn reflects. "I just kept looking into Nick's eyes trying to be frozen in that moment of time. I even remember being at the altar after we exchanged rings and saying, 'Wait, does this have to end?'" As their marriage begins, here are the ways Caila Quinn Burrello and her husband, Nick Burrello, personalized their wedding day.
The Couple's Wedding Photos and Details
Ever the early riser, Quinn stirred awake to a "very calm and natural" scene the morning of her wedding. "I woke up at 6 in excitement and started the morning with a 30-minute bath and prayer as I gazed at the sunrise and thanked God for this cloud-free day," she grins. "I was surprised by how seamlessly getting ready just flowed into taking pictures."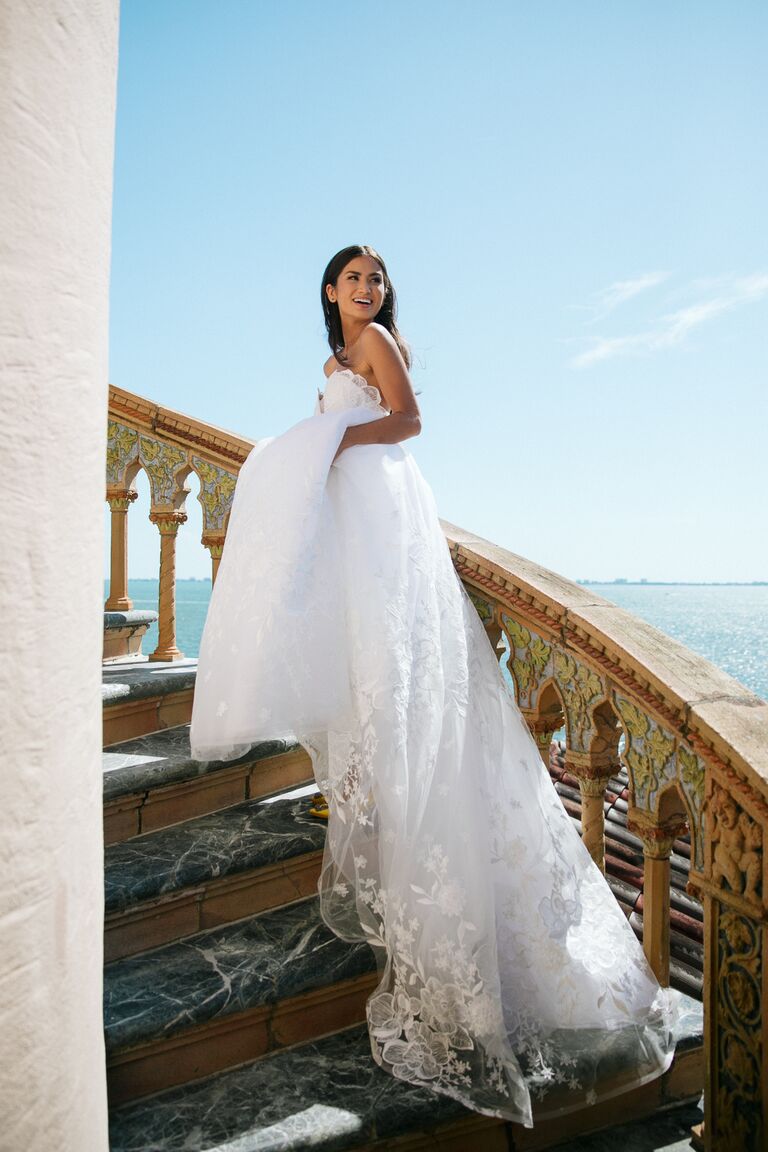 The Wedding Welcome Party Doubled As an Open Mic Night
The couple's wedding weekend kicked off with a welcome party in a hotel courtyard, where guests gathered for an open bar and another "open" scenario: an open mic night. "I love when a group gets to know one another on a personal level," muses Quinn, "so we opened up the mic to all of our guests to share playful and harmless stories." Participants included the father of the groom, who commenced the evening with a toast, as well as members of the wedding party, among other loved ones who've known the couple for years.
The Couple Honored the Bride's Heritage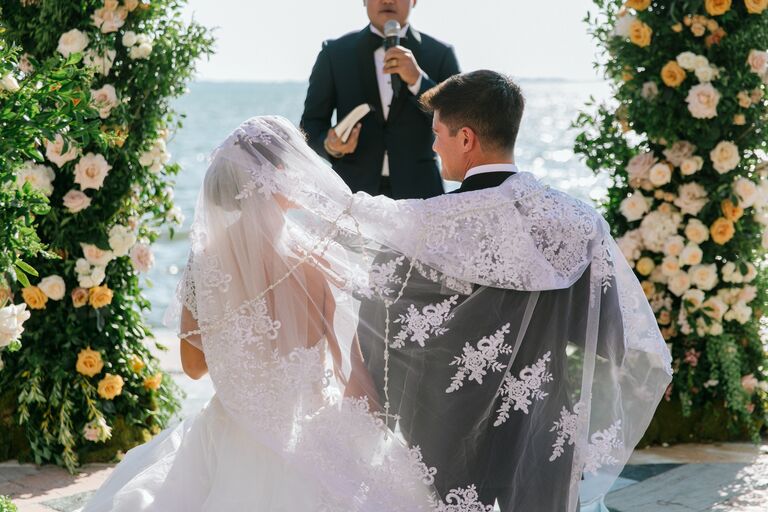 Quinn, who is part Filipina, wanted to honor a late loved one by nodding to her culture into the ceremony. "When our pastor asked us how we wanted our wedding to feel, our response was, 'deeply personal.' Adding personal touches that honored our family and my Filipino culture was very important to me," she says. In 1991, Quinn's parents partook in a cord and veil ceremony, which was fully embraced by Quinn on her wedding day.
While the couple rested with a veil over their shoulders, the parents of the groom placed a cord around their heads to symbolize lifelong commitment. "I remember seeing this as a little girl and always wanting to honor my Lola [grandma] by incorporating a piece of her culture for my mom into my wedding day," reflects Quinn. "I might be half-Asian, but there is a strong part of me that identifies with Filipino traditions of family and faith."
Their pastor and officiant then declared: "A Filipino tradition, I would like to invite the groom's parents to join us and place a cord over you. This cord symbolizes an infinite bond of love you share that keeps your relationship strong in the face of adversity. May this cord resting on both of your shoulders remind you are equals in life. May it remind you to face your life together courageously and to be mutual in support of each other. And, may your love grow stronger and bind you closer together throughout the years."
The Ceremony Programs Included Several Sentimental Touches
The bride and groom wanted to honor their parents further on the wedding day, and one meaningful way to do so was through their ceremony programs. "I should mention we were very nontraditional by not listing out the bridal parties in the program. [Nick had 10 groomsmen and I had 7 bridesmaids.] It just felt too formal… Instead, we simply honored our parents, which felt more meaningful," explains the bride. "Nick and I are truly grateful for how supportive our parents have been throughout all of the chapters of our lives. As a little surprise, we printed photos of our parents on their wedding days with a thank-you note."
The same program also included a sketch of the Ca' d'Zan Mansion, where the ceremony was held. Minted Weddings letter-pressed the stationery, while a personalized gold wax seal from Artisaire Crafted that read "C & N" for Caila and Nick made th.
The Bride Surprised the Groom With a Broadway Performance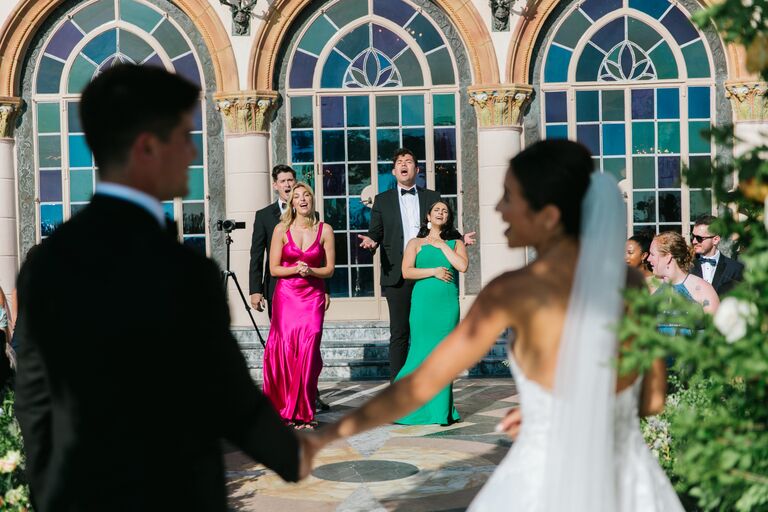 During COVID, Broadway was shuttered effectively. "For over a year, I've been planning a surprise singing musical performance in the middle of our wedding vows," says Quinn. "Nick didn't know about it, nor did the guests. Not even my parents knew about it. I flew in incredibly talented Broadway singers to surprise our guests after our vows and sing 'Can't Take My Eyes Off of You' by Frankie Valli. Like a flash mob, one singer at a time stood up and harmonized to this song that represents how I feel about Nick… He is too good to be true."
Like true pros, the bride's wedding planning team shielded her from any snafus that occurred throughout the day. "I just enjoyed every second, but honestly, that was a big part due to our wedding planners keeping any hiccups from us," says Quinn. "I later found out that the surprise Broadway performers I flew in from New York got lost on the way to our wedding venue and almost missed the ceremony! But luckily, our planner hopped on a golf cart and picked them up on the other side of the venue so they could make the ceremony in time."
The moment ended up being the bride's favorite part of the day. "Aside from hearing Nick's romantic vows, which made me tear up, my favorite part of the day was surprising him during our wedding ceremony," she recalls. "He was completely shocked and loved that we just had a playful moment with our guests singing along with the group of four performers who danced down the aisle."
There Were Nods to the 'Greatest Showman' Throughout the Wedding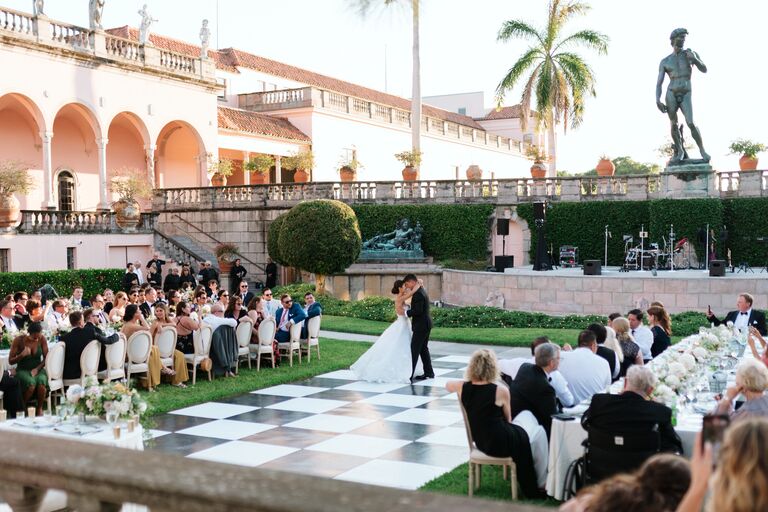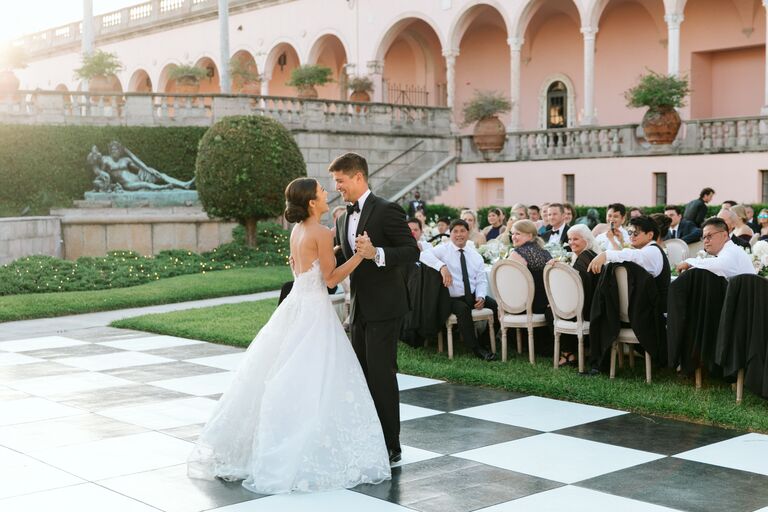 With a venue like The Ringling Museum, the couple's love story fit neatly into the theme with a few noticeable touches like their first dance song: "A Million Dreams" from The Greatest Showman. "It was the first movie we saw together when we first started dating," recalls Quinn. "We both feel the playful lyrics speak to us with our 'pave our own path' and 'let's travel the world' relationship. Our favorite line of the song is, 'I don't care. Even if they call us crazy. We can live in a world that we design.'" Their live band also performed hit tunes from the flick throughout the reception too.
Charity Donations Were Made in Lieu of Favors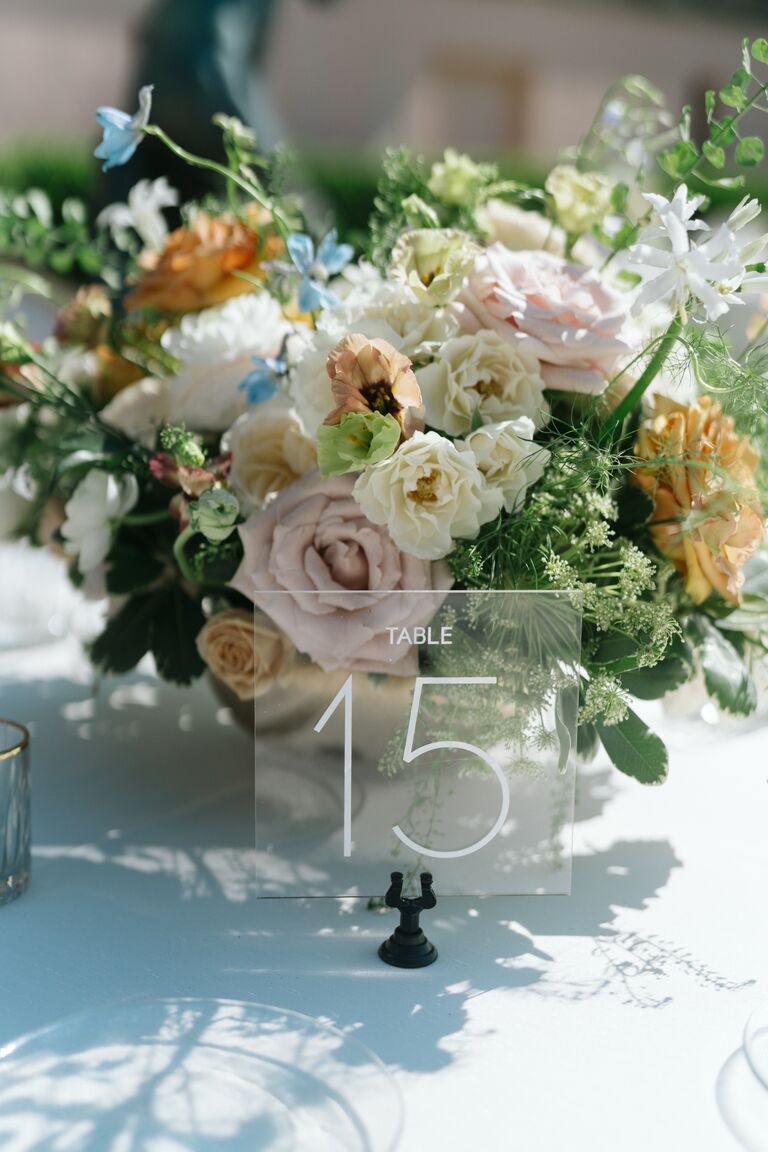 Ode and Bastille Flowers, based in New York City, designed a dreamy floral arch that was then repurposed and deconstructed into reception decor. Flowers enhanced the historic feel of the museum, which was once constructed as a love story by John Ringling to his wife, Mable, after their travels throughout the world and particularly their affinity for Italy. Sarasota-based planner NK Productions executed the black-tie affair. "Our wedding planning team at NK Productions stayed with Nick and me the entire day," she recalls, "and didn't let us lift a single finger."
The couple decided to step outside of the box with their favors and went the charitable route to honor their guests on their wedding day. "Instead of giving the guests wedding favors and seeing them all thrown in the trash, we opted to gift a donation in their honor to sponsor two children for a year with Save the Children," says the bride.
Florals Were Repurposed to Reduce Waste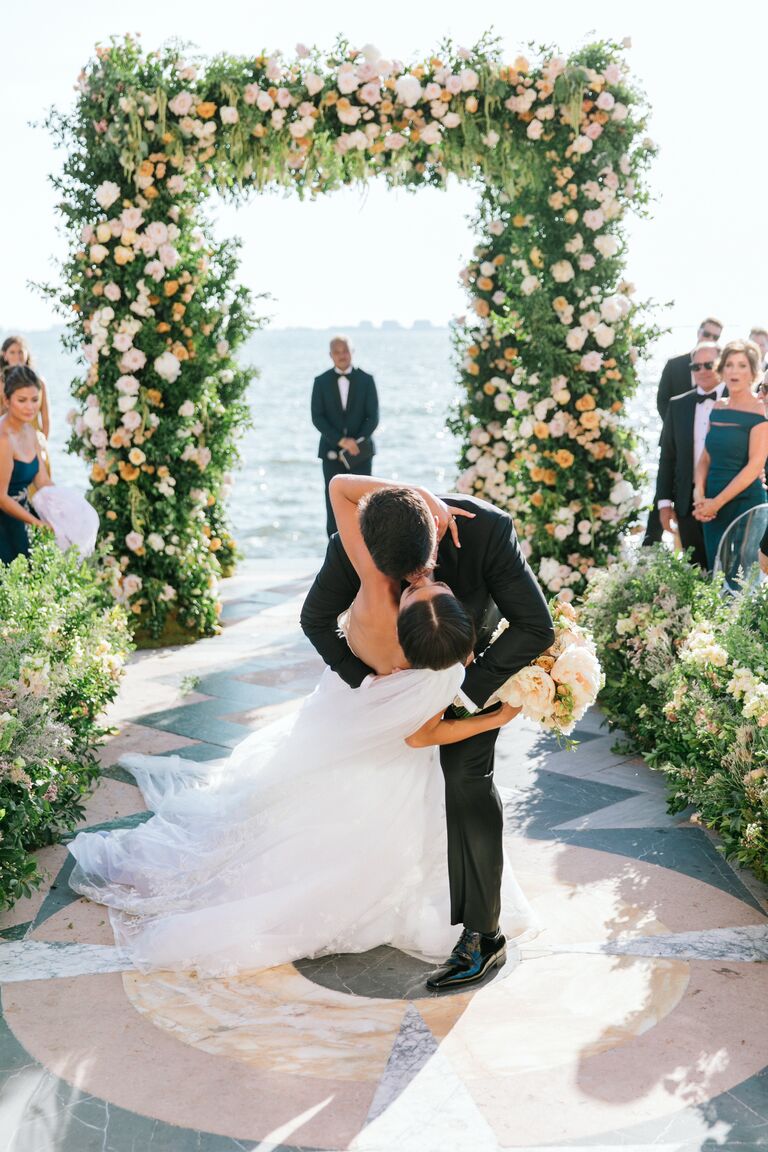 Similar to the favors, the couple wanted to repurpose their florals across the night to minimize waste and continue the story through the progression of the weekend. "Our floral designers at Ode & Bastille NYC Florals created beautiful floral moments that were repurposed across multiple events. For example, the rehearsal dinner florals from Friday was saved and used the next day at our wedding to adorn the marble steps to our venue and the powder rooms."
Their floral designer Emily Pinon especially crafted the palette to represent the couple's personas. "I originally thought simple white florals over garden greenery would be enough, but she inspired us to reflect our personality in our blooms and took our courtyard reception garden to the next level," explains the bride. "With the ceremony, the focal point of our waterfront wedding ceremony was a stunning 10-foot tall floral arch. Like a whimsical garden, the aisle was lined with greenery and English roses. Being from New York, Nick and I chose a modern element with clear acrylic chairs for guests as we didn't want to obscure the water view."
The Couple Commissioned a Vintage Travel Poster of Their Own
With an ornate venue like the Ringling Museum, the couple wanted to embrace a vintage keepsake from the day that would work immaculately with the decor. "My dream was to have long family-style tables with abundant florals and candles as a nod to our warm Italian theme," says the bride. "One of my favorite decor pieces was a custom wedding art piece we had made to look like a vintage travel poster. Designed and printed by Alexander & Co, this five-foot-tall art piece welcomed guests into our wedding and will be hung in our home as newlyweds."
The Wedding Cake Paid Tribute to the Venue at Sunset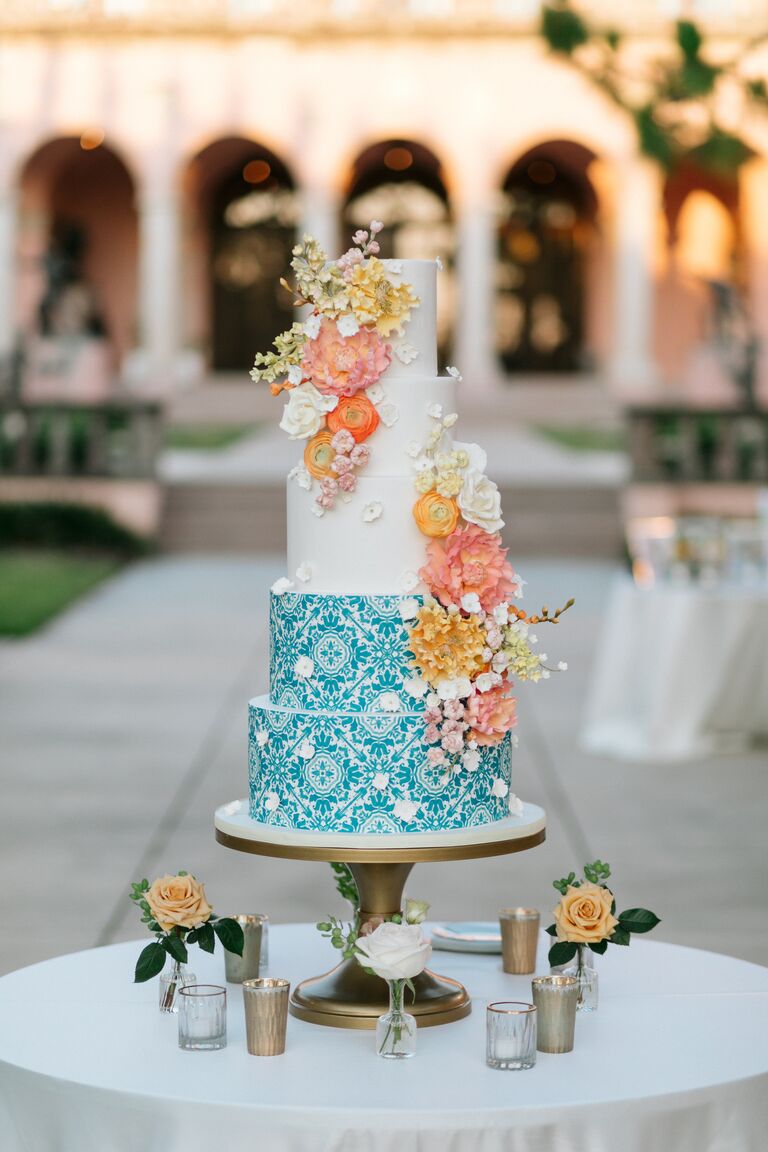 The couple asked pastry chef and artist Julie Deffense to design their one-of-a-kind cake. The color palette included a base of white with blue-and-white tiles. The tiers also included sugar flowers in blush, whites and greens with orange accents to pay tribute to the wedding venue's spectacular sunset colors. For taste, the pair chose raspberry champagne and vanilla confection topped with fresh raspberries, seedless raspberry jam and white chocolate Swiss meringue buttercream.
Their One Wedding Registry Item Will Last a Lifetime
Speaking of cake, there was one particularly sentimental and forward-thinking item from the registry that will be repurposed for life events. "It might be our cake stand from Williams-Sonoma. It is one item on our registry that gets me emotional and I can picture having through all stages of our life," explains Quinn. "I can picture our cutting our future kids' birthday cakes on it, laying our cookies after soccer practice, even have them decorate a messy cake for dad on Father's day on it."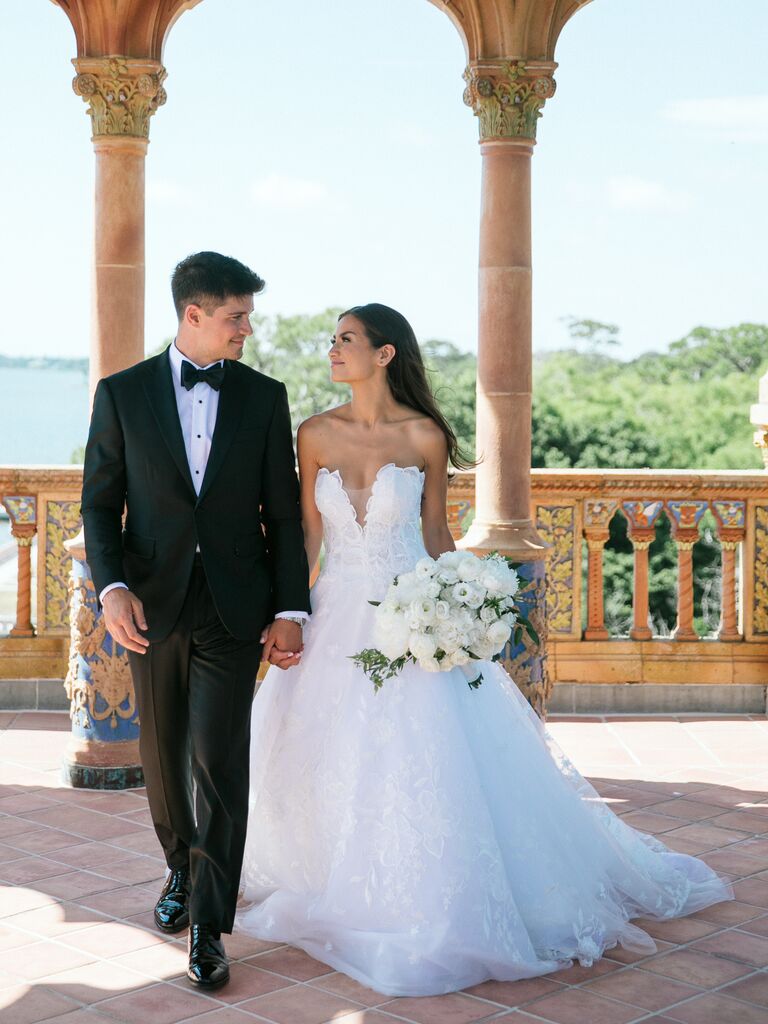 Venue: John and Mable Ringling Museum of Art | Planning and Production: NK Productions | Photography: Stephanie Sunderland | Ceremony Dress: Kleinfeld Bridal | Veil: Jane Rhyan | Groom's Attire: Balani Custom | Florals and Design: Ode and Bastille Flowers NYC | Videographer: Moon & Back Co.| Cake: Julie Deffense Artistry | Stationery: Minted Weddings | Hair & Makeup: Michelle Elise Artistry
The Couple's Wedding Planning Details and Pivots
While witnessing the mass postponement of 2020 weddings, the couple still went ahead with planning their 2021 nuptials: the first, a destination getaway in Italy, and the second, an at-home, stateside event for loved ones in Ohio. After putting down deposits, distributing save-the-dates, and proceeding with planning, the couple made the challenging call this fall to scrap both weddings.
"There were three main factors for us to cancel our weddings," says Quinn, who starred on season 20 of ABC's The Bachelor. "First, it was a decision deadline of January, [which was] when we'd move forward with our Italy wedding or we'd cancel. It gave us time to breathe and come up with our decision individually, and then come up with a decision together."
The pair wanted two distinct weddings to celebrate their union, starting with a villa ceremony in Lake Como, followed by a family-and-friends gathering in Ohio several months later. Even while planning amid COVID-19, Quinn and Burrello had high hopes for a smoother wedding experience in 2021, though it ultimately became evident that travel would still be arduous for much of the world—even with the possibility of a vaccine.
As Burrello and Quinn grappled with the decision, they confided in a close group of loved ones: among them, the father of the bride and a friend who works in medicine. "It was important to get that reality check from people we trust," recalled Quinn. "The third factor… was decided on the financial risk. We asked ourselves, 'Are we willing to lose this amount of money?' It was right before our second round of deposits were due for our Italy wedding… and we weren't willing to risk that."
"It wasn't only our risk: it was everybody else's risk," Burrello added of their guests. "They had to go and book flights, and we wanted to consider the [guests] as well." Ultimately, it prompted the pair to overhaul both weddings and start anew.
Their Change-the-Date Plans
After mourning their original weddings, the couple set forth to tackle the next step: their realistic May 2021 wedding. "We have decided to move our wedding to Sarasota, Florida," Quinn previously announced. "It's where we got engaged. It's romantic, yet it has an international feel. We wanted to feel like we were at a destination wedding."
The couple's dream venue, the John and Mable Ringling Museum of Art, just happened to be available on the original date of their Italy wedding of May 29, 2021. "It was built by Italian masons and designers, so it feels like you're transported [to a different era]," she said. "We were able to reserve the same date as our original wedding. A lot of our vendors were able to transfer over… including these amazing creators who've reserved that date. It was seamless to say, 'Same date, different location.'"
Laughed Burrello, "And it's easier to get to than Italy."
After determining their new date and venue, the pair ended up embracing an overall new theme. "Our destination of Sarasota does represent who we are with travel, we love doing that as a couple so that aesthetic will play in," she explained. "We're going to play up our florals, along with décor and personal details. We want to create pamphlets with everyone's photos and names, it's like a little passport. It's an itinerary. So everyone will know who's invited to the wedding."
With the pivot, they've had to communicate the changes to loved ones, this time with a comical approach to lighten the mood. "We're really leaning into humor," Quinn said. "We actually ordered our change-the-date cards with The Knot. We found out you have a new paper program, we love the design and the sense of humor. The saying we picked was, 'Let's try this again.' It's light-hearted and everyone will laugh at it. It's a celebration that's just as sweet and wonderful."
What Planning a Wedding During COVID Has Taught Them
When Burrello proposed over the holidays, the couple didn't imagine an engagement amid COVID-19; however, their relationship has flourished in a myriad of ways. "Honestly, we do everything together… We love to explore New York City and we've taken advantage of doing touristy things, like walking the Brooklyn Bridge and exploring this cool city together," Burrello explained. The pair has since moved out of NYC, but they're excited to kick off this next chapter known as marriage.
Burrello noted his newfound admiration for his fiancée's resilience, while Quinn has a deeper appreciation for her future husband's patience. "This whole pandemic has tested everyone's patience, and with every new crazy idea, and with me coming to the realization of letting go of our dream wedding, he was always more realistic," Quinn mused. "And he let me come to that realization in my own time."
"We both fell in love with the dream of [a wedding in] Italy," Burrello added. "She's really resilient. It's so hard when you decide to move your date and find a new venue a week later. That takes crazy effort. I would like to say I helped out, but she was making all the phone calls. For a woman who's been dreaming of her wedding her whole life, to cancel two weddings and to make calls for a new one, that takes a lot of courage."
All the changes have assured the pair of one point in particular: their love for each other, which vendors across the industry have noted, is not canceled. "What it taught me, in particular, is not to lose sight of what's important. You have a dream of a place you really want to get married, but don't lose sight of what's important, which is your relationship at the end of the day," Burrello said. "There are lots of things when you're planning a wedding, even the things down to the knives, plates, florals, become important, but don't lose sight of the greater vision. You're getting married and no matter when or how it happens, it's yours."
"If anything, it's taught me to really appreciate my partner and affirm him with all the love languages: Say, 'Thank you, I love you.' Be there with your partner by showing up," Quinn added at the time. "We've certainly grown closer and strengthened our relationship."
Nick & Caila's Love Story Details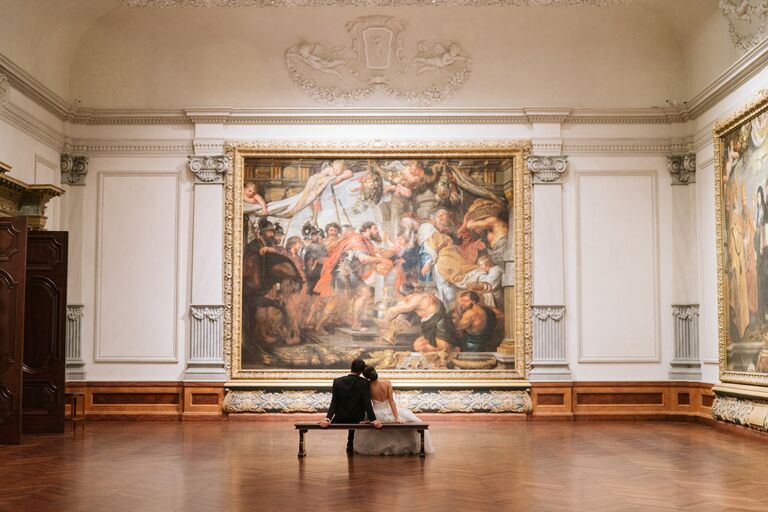 The couple first met in August 2017, through mutual friends. Quinn wrote about the fateful encounter a year later on her blog, With Love Caila. "The polite man you are… you introduced yourself to my bevy of girlfriends, saving me for last," she wrote of Burrello, who works in finance. "'Pleasure to meet you,' I blushed in the dark. He was even cuter in person."
Fellow blogger Olivia Rink, who's also currently engaged and planning her wedding, was the matchmaker. "[She] had briefly pulled up a picture earlier that night in an effort to set us up. I really wasn't even looking for someone at the time, having been in New York for over two years - I thought all the good ones had deserted," Quinn added on her blog. "But Olivia sold me with, 'I feel like you guys are similar. He's a thoughtful listener.' So from one party to this rustic bar, I trusted my friend."
In January 2020, the couple announced the news of their engagement after Burrello proposed during a visit to her grandparents in Sarasota, Florida. For the occasion, he rented an Airbnb for both Quinn's parents and his parents, so that they would be able to celebrate with the couple post-proposal. It was at a romantic dinner for two that he popped the question with a 2.5-carat radiant diamond set on a pave diamond band from the Clear Cut.
About one in five couples meets their future partners through mutual friends, whether it be a set-up situation or via friends of friends. The most popular avenue of meeting a significant other, however, remains dating apps, according to The Knot Jewelry & Engagement Study.