Engaged Soccer Star Carli Lloyd is Wearing Wedding Dress Designer Matthew Christopher to the ESPYs Tonight
We got the exclusive on what the Women's World Cup champ will be wearing to the ESPYs and the Kids' Choice Awards.
by shelley brown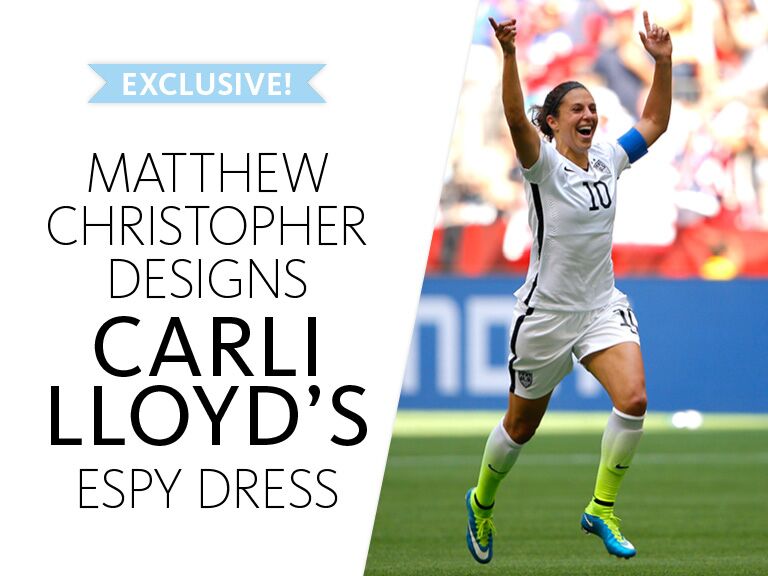 Remember when we showed you Women's World Cup hero Carli Lloyd's stunning engagement ring? Well, the soccer star is swapping her uniforms for evening gowns by bridal designer Matthew Christopher at tonight's ESPY Awards as well as the Kids' Choice Awards tomorrow night—and we got the inside scoop!
Lloyd, who describes her style as "trendy but comfortable," says she chose Matthew Christopher gowns because his styles "define glamour," and we couldn't agree more—the New York–based designer is known for his dramatic details and showstopping silhouettes. Lloyd's ESPYs dress, a gorgeous black, beaded column gown with a sweetheart neckline, is a head-turning choice for Lloyd's first red carpet event since she helped bring the USWNT team to victory in the FIFA Women's World Cup.
"Although I have an athletic body, the dress fits my shape perfectly," Lloyd says. "It's the perfect combination of elegant and sexy." Lloyd will pair the slinky evening gown with Royal Asscher diamonds, an undone updo and dramatic eye makeup with a soft nude lip. "I plan to glam it up. It's such an honor to be there," she says.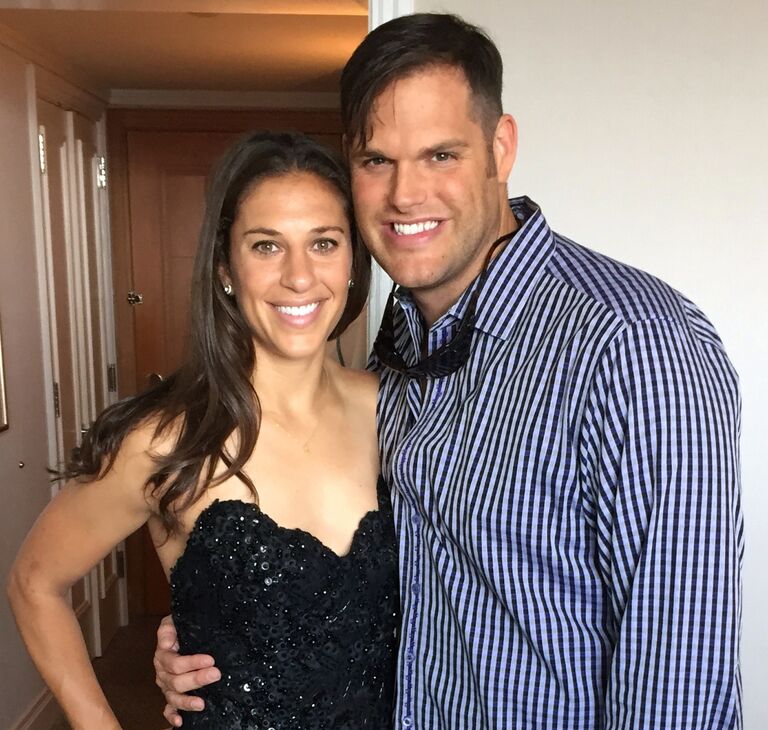 Carli Lloyd and Matthew Christopher at her dress fitting

Christopher, who helped guide Lloyd through her gown selection and fittings (and will even be Facetiming with her before the ESPYs tonight), says he wanted to help Lloyd choose elegant gowns that wouldn't overpower her down-to-earth personality. "I think they complement her personality without overdoing it," he says. "It came down to comfort and style and a little bit of glamour. She loves getting dressed up because she never gets to do that—she's always practicing."
As for what she'll be rocking at the Kids' Choice Awards, Lloyd chose another black number, but with a more playful silhouette and fashion-forward feel. "I normally wouldn't choose something like that for myself, but it felt so edgy and different—so I went for it! I think this event is the time to take a fun risk." Lloyd plans to keep her hair and makeup youthful and fresh with soft waves and a bold lip.
Christopher, who turned both of Lloyd's gowns around in only one day, said outfitting the rising star was a dream come true. "She's so gracious and kind," Christopher says. "She's America's sweetheart and overnight everyone knows who she is, but I love that she keeps the integrity of who she is. That is what's fabulous about her."
Want more? Shop Matthew Christopher wedding dresses here!