Meet the Celebrity Stylists & Artists Behind Hollywood's Biggest Names
Find out why the forces behind the stars aren't so different from wedding pros.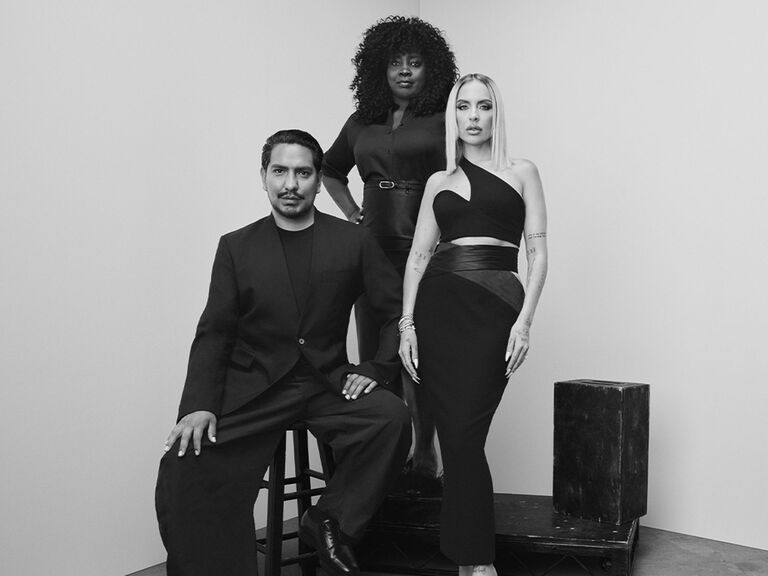 Photography by AB+DM; Cover Talent: Alexx Mayo, Kim Kimble and Maeve Reilly
It turns out the beauty teams and celebrity stylists behind the stars… they're just like wedding professionals. Envision Beyonce's artfully tresses blowing to the side on the Dangerously in Love album cover, Lizzo's bleached bubble gum eyebrows stopping scrollers in their tracks on social media, and Hailey Bieber taking personalization to the next level with an inscribed wedding veil. In today's unceasing cycle of celebrity red carpet appearances, tours, creative projects, street style shots and paparazzi pics, premieres, galas and so much more, the forces behind the muses are more relevant and influential than ever.
In fact, celebrities strive to convey the best aspects of their creative vision and personalities through their wardrobe, hair and makeup. The glam team and styling departments behind these faces endeavor, relentlessly, to create and execute as image makers on behalf of their clients. Like wedding professionals and vendors, celebrity stylist Maeve Reilly, makeup artist Alexx Mayo and hairstylist to the stars Kim Kimble all know what it takes to pull off a trendsetting and provocative look. Though they work behind the scenes, they're rightfully featured front and center on the cover of The Knot Fall 2023 Issue.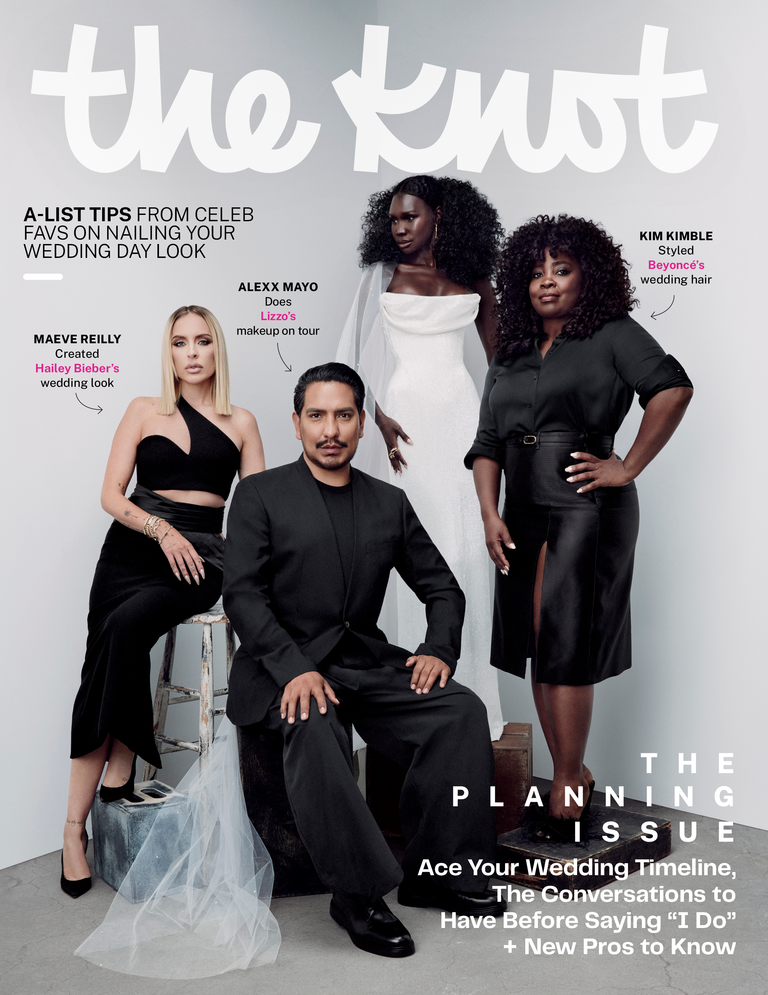 Maeve Reilly, Celebrity Stylist
About four years ago, interest in Maeve Reilly's business reached a fever pitch. It was she who styled model Hailey Bieber's stunning wedding look—an elegant lace gown by the late Virgil Abloh—and the role catapulted her to fame. The bride was still Hailey Baldwin at the time, reflects Reilly, who is also the pro behind Megan Fox's wardrobe. "It was prewedding, and it was all snowballing at that point."
Kim Kimble, Celebrity Hairstylist
These are reasons why big names trust Kim Kimble: She's a professional who puts the work in. "I put that energy out there and get good energy back. You put the hard work in and you reap the benefits," she says in a steady tone. She gives the same advice when it comes to hiring pros for your wedding day. "This is your day. You want to put the trust in someone else who knows what they're doing," Kimble says.
Alexx Mayo, Celebrity Makeup Artist
He is the principal on Lizzo's glam team and the beauty professional credited behind a few of Tinashe's and former client Mariah Carey's sultriest looks. "I look back and see where I started," says Mayo. "Having this intense imagination, I overcame a lot of hard circumstances to get to where I am now: moving to LA and manifesting this life for myself. I feel very grateful to be where I am and to have done some of the things that I've done. I always talk about this on social media: dreams really can come true, because they have for me."
Want to explore their cover shoot and more wedding planning tips? Subscribe to The Knot Magazine here.