The 20 Best Harp Wedding Songs
From "Canon in D" to Alison Krauss, these are the top harp wedding songs.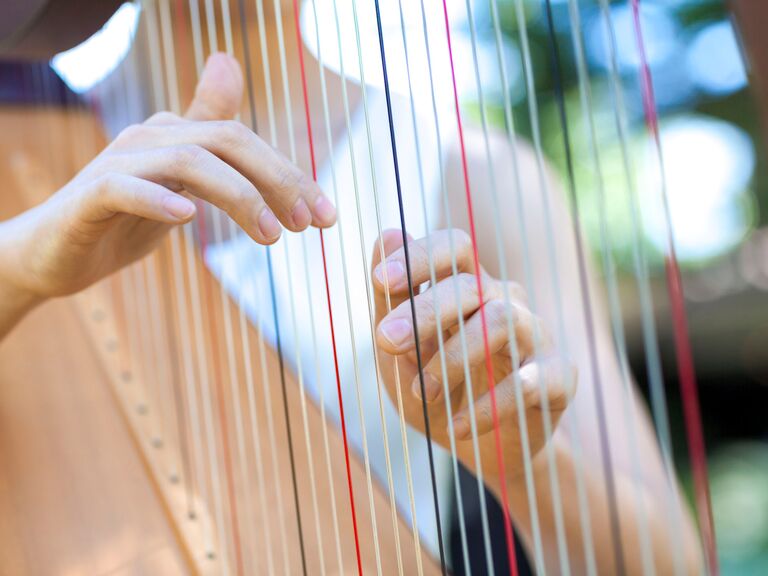 Recep BG by Getty Images
As you plan your big day, you'll need to decide which wedding songs you'll play when you walk down the aisle (also known as the processional) and when you and your new spouse exit the ceremony as newlyweds (the recessional). While wedding music is a personal choice, consider hiring a harpist if you want a traditional vibe. They can turn any modern jam—like an Ed Sheeran or Christina Perri ballad—into a lyric-free performance. Or, if you truly want to keep it old school, you can also choose classics like "Canon in D" or "Prelude in C Major". Here, we've selected the top 20 harp wedding songs for the most romantic day of your life.
"All You Need is Love," The Beatles
When you think of your soon-to-be spouse, you know that all you need is love. What's amazing about this powerful melody is that it's instantly recognizable across multiple generations since it's one of the biggest hits from The Beatles. It's a solid harp music choice for walking down the aisle.
"When You Say Nothing At All," Alison Krauss
Can you name the movie where you first sang along to this classic romantic song? (Psst: it's the popular rom-com, Notting Hill!). It's pretty perfect for the first time you see your partner — you might not say a word, but the love on your face will say it all.
"A Thousand Years," Christina Perri
While Christina Perri's modern love song was first made famous in the Twilight movie series, it has proved to have staying power over the decades. For those couples who don't want to go for a traditional "Here Comes the Bride" vibe, "A Thousand Years" as a harp cover offers an ethereal feel.
"Someone You Loved," Lewis Capaldi
When you first think of this song, you might not think of your wedding ceremony. (After all, the lyrics have quite an underlying sadness.) However, turning it into a harp song provides a soft, indie mood that could set the tone for your alternative wedding.
"Hallelujah," Leonard Cohen
If you could have belted out any song when you finally met your partner after years of swiping and dating, you would have picked this one. With lyrics, it's a deeply emotional ballad. But when a harpist performs, it presents dramatic highs and lows—sort of like the journey to finally walking down the aisle.
Find your kind of venue
From barns to ballrooms, discover reception venues that feel like you.
"Young and Beautiful," Lana Del Ray
As you put together your playlist to determine what harp cover is best for your big day, don't miss out on this classical music approach. Originally part of the soundtrack for The Great Gatsby, this song oozes sultry romance. Though it's a bit haunting, it has a lasting message that no matter how old and gray you become, your partner will always love you. On the harp, the tone softens a bit, making it a better fit for wedding songs.
"Beauty and the Beast," Alan Menken
Falling in love might be the oldest tale of all time—and no song is better than this one as a harp wedding song. It's from the classic Disney film, Beauty and the Beast, providing an enchanting and vibrant beginning to your big day.
"Here Comes the Sun," The Beatles
Forget "Here Comes the Bride"—how about "Here Comes the Sun"? Rather than going melancholy and old school romance, you can opt for this upbeat processional for your harpist to play. It's light, happy and reminds us all of those early days of becoming smitten with your partner. Plus, it's by The Beatles, so you can't go wrong.
"Can't Help Falling in Love," Elvis Presley
When it comes to harp songs, there's something majestic and profound about this Elvis Presley top hit. For starters, it's how many people feel when they've finally found "the one": they simply can't help falling in love. As the harpist goes through the chorus and you gracefully walk toward your partner, we bet tears will be falling.
"Bridal Chorus," Richard Wagner
For the couple who wants to stick to tradition, have your wedding harpist play this Wagner piece, commonly known as "Here Comes the Bride". It's classic for a reason, and when performed on the harp, it creates elegance and grandeur to begin your special day.
"Marry Me," Train
Imagine this: you just said 'I do,' and now you and your new spouse are walking into your cocktail hour. The music pauses. And your wedding harpist begins to play this Train hit from 2009. Talk about a dramatic entrance.
"Over the Rainbow," The Wizard of Oz
In 1939, Judy Garland famously performed this song in the classic film The Wizard of Oz. It has a longing and loving feel as you dream of what your future might be. When selected as a wedding harp song, it makes your processional both beautiful and nostalgic.
"(I've Had) The Time of My Life," Bill Medley and Jennifer Warnes
Yes, this song can actually be played on a harp. It makes for a fun recessional song that blends an '80s favorite with a classical vibe.
"River Flows in You," Yiruma
First created by the legendary composer Yiruma in 2001, you might not recognize the name, but on the harp, you'll know the tune. For an elegant and calm beginning to your big day, it's a romantic choice.
"A Whole New World," Alan Menken
Your partner has shown you a whole new world, and now your cocktail hour entrance song can be memorable with this Disney hit. Ask your wedding harpist to play it a bit faster to ignite the crowd's energy, and all of your guests will be cheering you on.
"Canon in D," Pachelbel
You can't go wrong with potentially the most popular harp wedding songs of all time: "Canon in D". This instrumental masterpiece takes listeners on a journey and is ideal for walking down the aisle in style.
"I See the Light," Alan Menken
Disney fans will instantly recognize this song from the 2010 animated movie Tangled. For a harp wedding song, it's a sweet and upbeat choice for your processional.
"Marry You," Bruno Mars
You made it official, you smooched, and now it's time to exit the stage for your reception. Choose this 2019 Bruno Mars song for your recessional. When on the harp, it provides an exciting yet elegant tone, encouraging your guests to get ready to party.
"Prelude in C Major," Bach
This simple and timeless song from Bach dates back to the 1700s. For many, it's the only choice for a processional since it doesn't overpower the wedding ceremony or take attention away from the bride. Your grandmother will be happy with this selection, too.
"Part of Your World," Alan Menken
When you say "I do," you join your world with your partner's. This classic song from the 1989 Disney film, The Little Mermaid is a sweet choice for your processional or recessional. When your wedding harpist plays it, your guests will instantly recognize the tune.